Are you in search of the best help desk software for your small business?
Implementing help desk solutions can enhance your customer support process, streamline request management, and enhance your customer interactions.
In this article, we have carefully selected a few of the finest help desk software options that can be utilized in conjunction with your WordPress site.
Why Do You Need a Help Desk Software?
Utilizing help desk software simplifies the management of customer support requests, resulting in enhanced service provision to your customers. This, in turn, leads to increased customer satisfaction and improved customer retention, ultimately contributing to greater long-term profitability for your business.
During the initial stages of your online presence, it may be manageable to handle all customer support requests through your business email address.
However, as your WordPress website expands, maintaining the same level of customer support can become challenging. Incorporating help desk software into your business elevates the caliber of your customer interactions and grants you a competitive edge within your industry.
Let's Compare the Top 7 Help Desk Software
1. Help Scout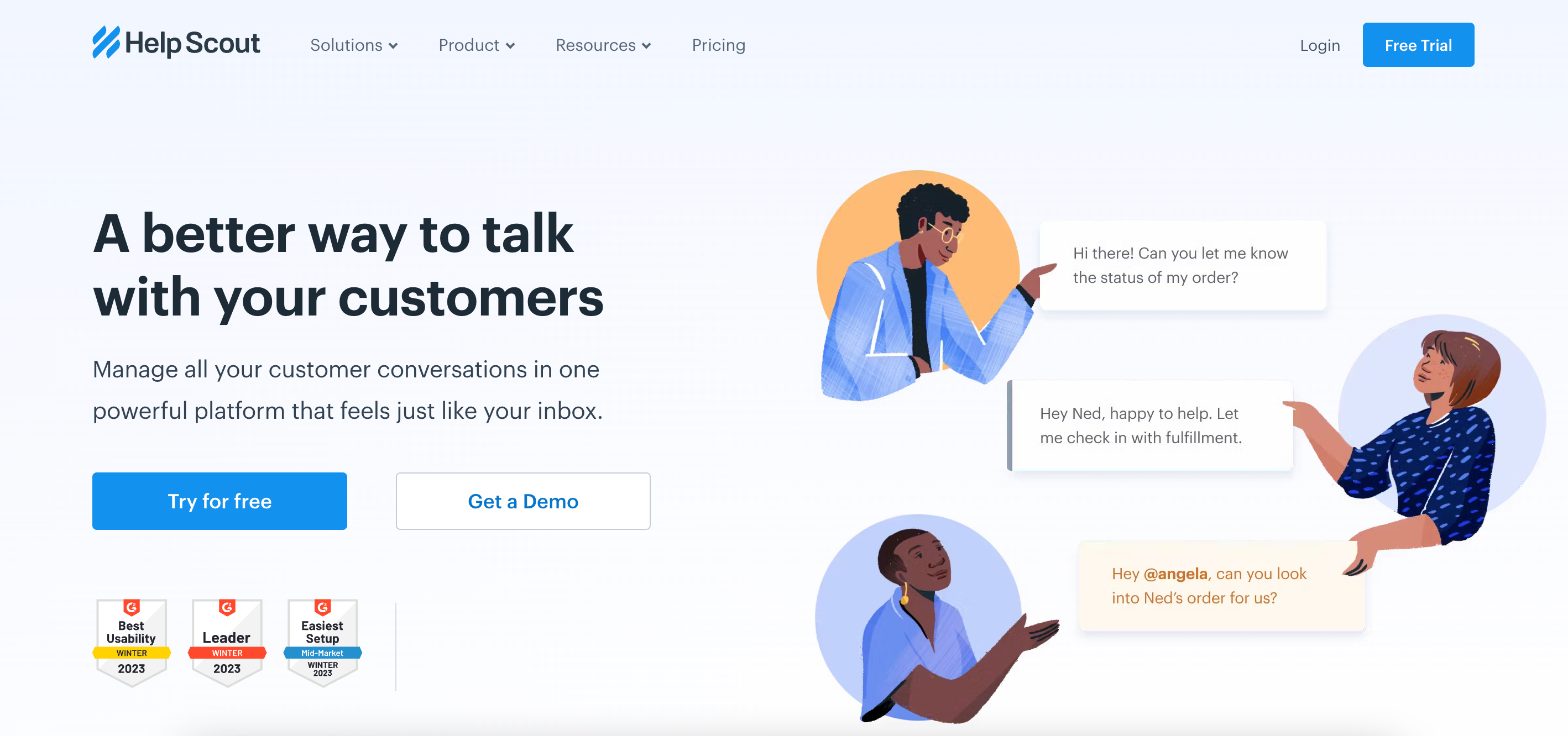 Help Scout stands out as an exceptional all-in-one help desk software solution available in the market. It encompasses a comprehensive range of features that effectively streamline your help desk and customer support processes.
With Help Scout, you can effortlessly manage both chat and email support requests from a unified platform. This ensures that your customers can reach out through their preferred communication method, while your support team can efficiently handle requests from a single queue.
By utilizing saved replies, you can expedite support responses, enabling your team to promptly address common inquiries.
Moreover, Help Scout incorporates a built-in knowledge base feature, empowering you to establish your own help center. This significantly reduces the overall volume of support requests, as your users can find solutions to their issues independently.
The software also offers comprehensive reporting capabilities, providing you with valuable insights into the performance of your team. You can identify areas of excellence and pinpoint areas that require improvement.
With the time tracking report, you can monitor where your support team allocates the most time, enabling you to enhance your product workflows.
Additionally, Help Scout offers a live chat feature known as Beacon, which serves as an additional support channel. It intelligently suggests articles to assist users in resolving their problems. If a solution cannot be found, users have the option to engage in a chat with your team.
Pricing of Help Scout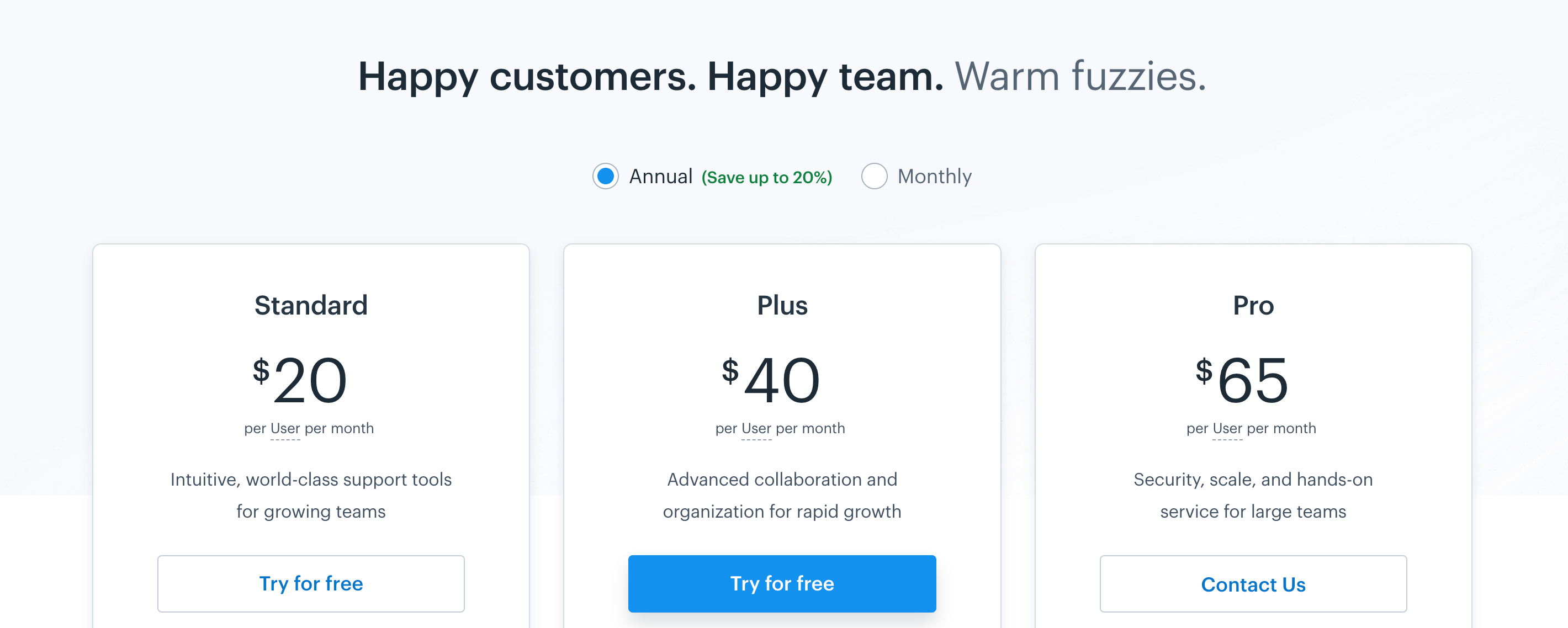 The starting price for the Basic plan is $20 per user per month if you go for the annual plan, offering features such as 3 mailboxes, live chat, and additional functionalities. If you have a larger team, the Plus plan is available starting at $40 per user per month.
2. HelpDesk.com

HelpDesk is an incredibly user-friendly help desk tool and ticketing software. It offers an intuitive and straightforward approach to centralize all your messages in a single location.
Regardless of the source, whether it's contact forms, incoming emails, live chat, and more, HelpDesk gathers all requests into a unified dashboard and generates corresponding tickets.
The software boasts advanced ticketing capabilities, including sorting and tagging features, allowing you to prioritize important messages effectively.
Moreover, HelpDesk provides valuable collaboration tools for your support team, such as multiple mailboxes, agent groups, and private notes for support tickets. These features foster enhanced teamwork and overall support efficiency.
To optimize response time, HelpDesk offers automation features like automated task assignments, canned responses, and customizable automated workflows.
For those operating IT help desks, HelpDesk offers specialized features for IT service teams. You can create support agent groups responsible for specific areas such as subscriptions, sign-up processes, end-users, and more.
Additionally, HelpDesk enables you to establish an IT support help desk for internal teams, facilitating employee familiarization with your software and processes.
Furthermore, HelpDesk seamlessly integrates with LiveChat, enabling you to manage help desk tickets and resolve customer issues directly within the live chat interface.
You'll also discover a range of additional integrations, including HubSpot, Salesforce, Zapier, Slack, and more. These integrations can be leveraged to enhance your support workflow and overall efficiency.
Pricing of HelpDesk.com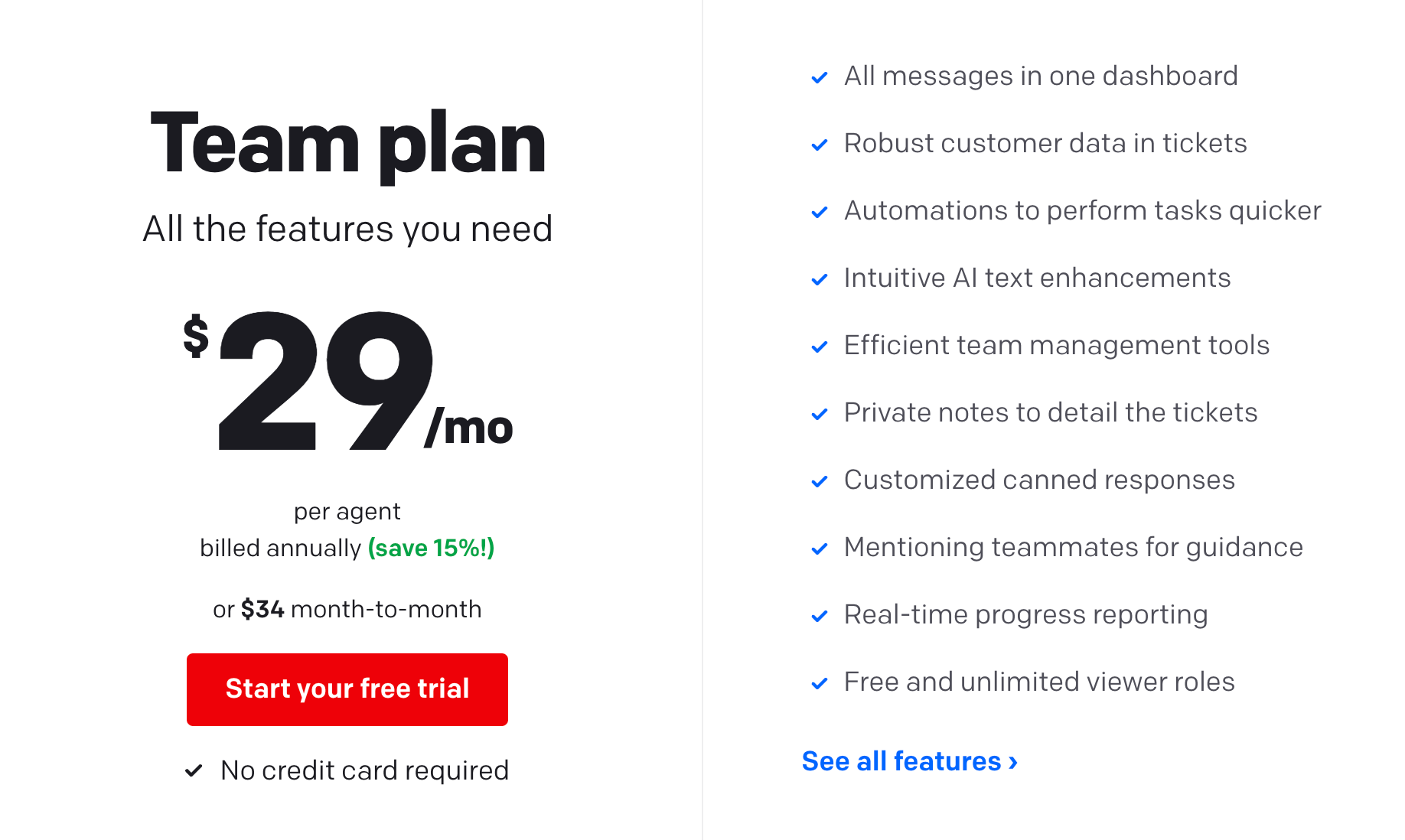 Teams can avail of the pricing starting at $29 per agent per month, which encompasses a comprehensive ticketing system, a chat history spanning 60 days, and additional features.
3. Heroic Inbox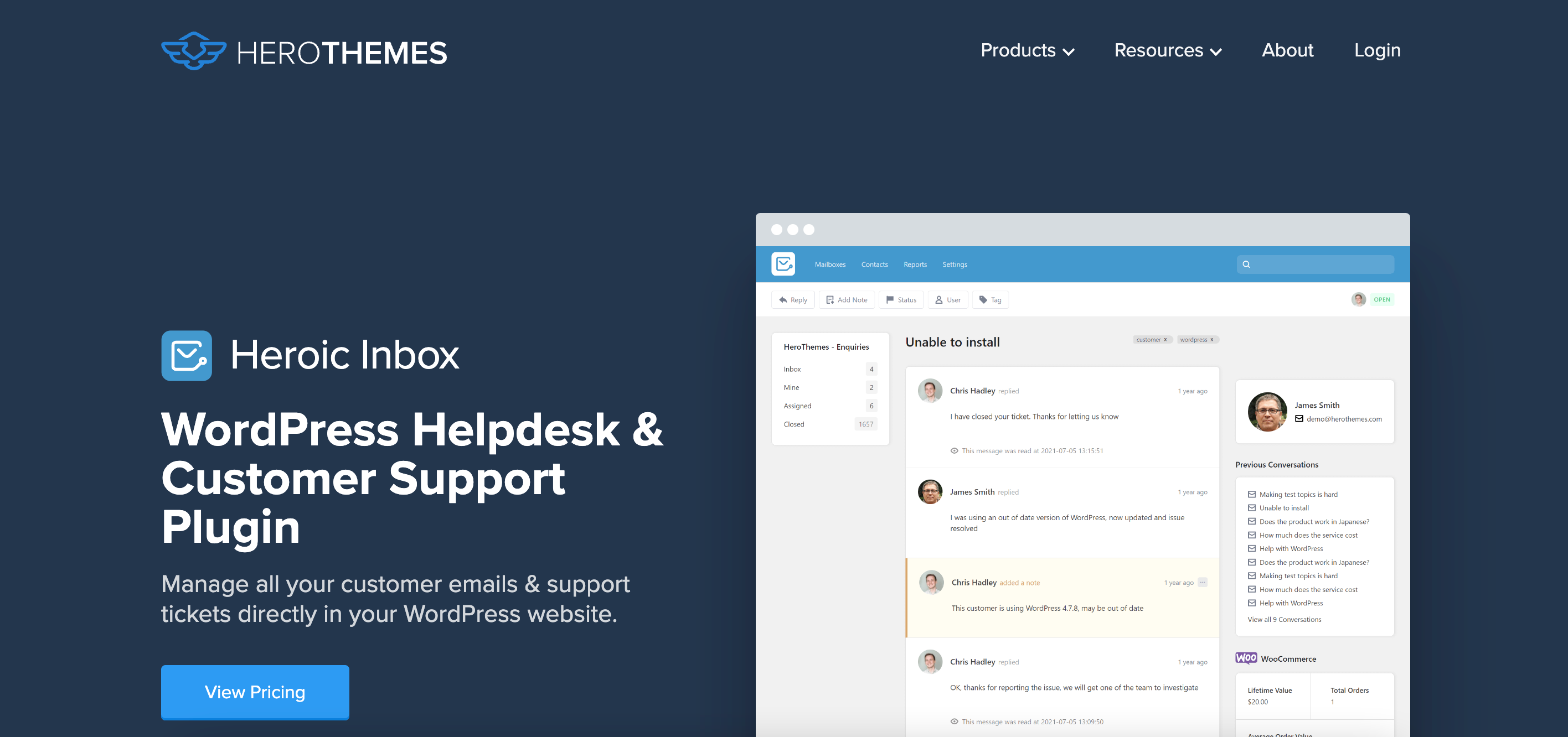 Heroic Inbox emerges as the ultimate help desk and customer support plugin for WordPress. It empowers you to efficiently manage all your emails and support tickets directly from your WordPress dashboard.
With Heroic Inbox, you have the flexibility to add unlimited inboxes in a centralized location, catering to various purposes such as sales, customer service, support, partnerships, and more. Additionally, you can engage in unlimited conversations within each inbox, resulting in cost savings compared to alternative solutions.
Collaboration among team members is seamless with Heroic Inbox. You can effortlessly assign inbox access and delegate specific messages to the appropriate individuals, facilitating smooth teamwork.
Furthermore, the plugin enables you to incorporate notes into conversations, visible only to your team members. This feature proves invaluable for sharing information and coordinating responses effectively.
Moreover, Heroic Inbox consolidates all customer data, including previous conversations, into the sidebar. This ensures that you have access to all vital information necessary for providing support, enabling a comprehensive and personalized customer experience.
Setting up Heroic Inbox is a breeze. Simply install the plugin, establish connections with Gmail or Google Workspace email accounts in just a few clicks, and you're good to go.
The plugin also offers a range of additional noteworthy features. These include auto responders, read receipts, ticket history, saved replies for standardized responses and time-saving on repetitive tasks, and much more.
Pricing of Heroic Inbox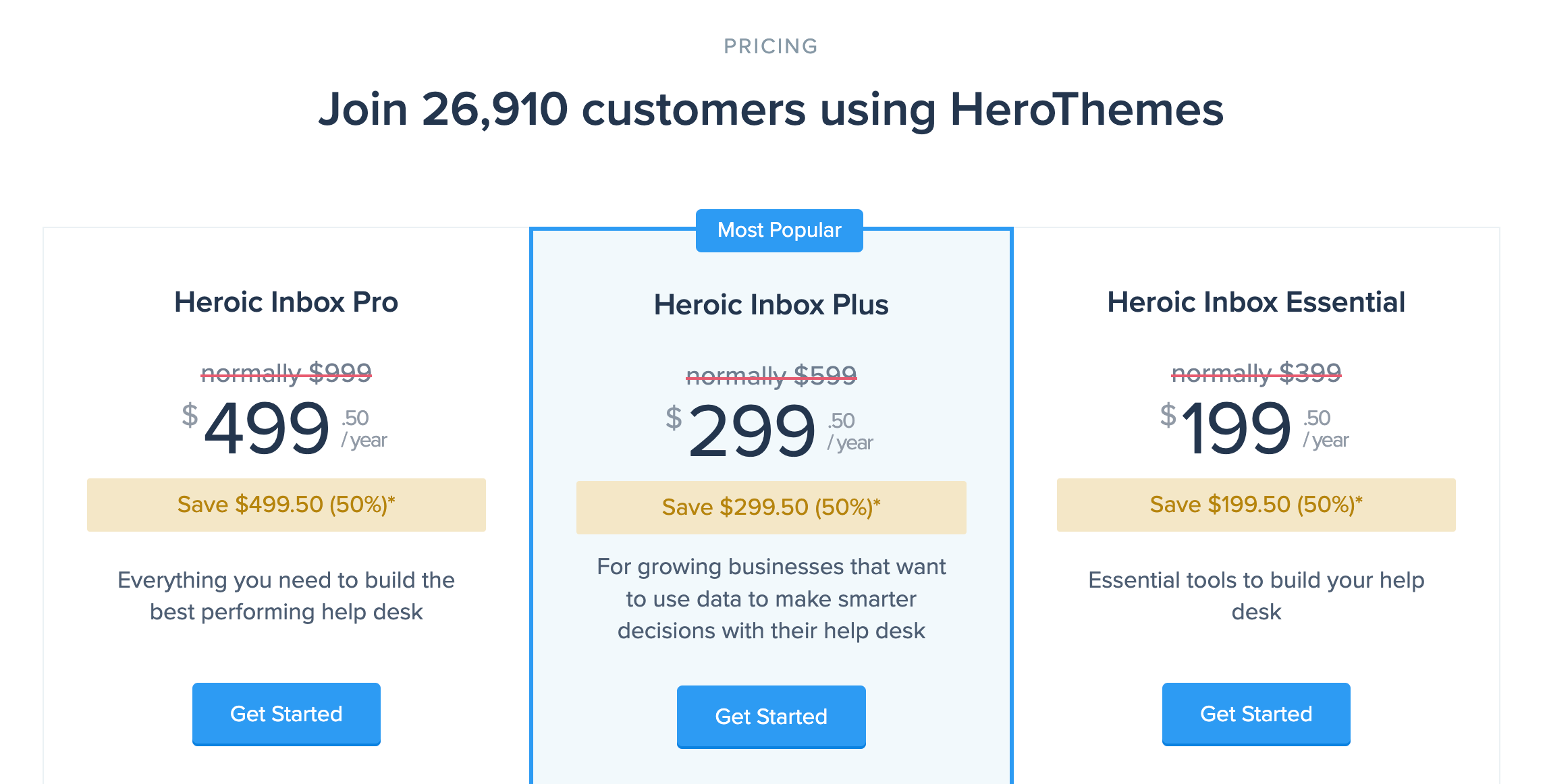 To utilize Heroic Inbox on a single website, the cost is $199 per year. Unlike several other help desk solutions mentioned here, Heroic Inbox does not impose per-user limits or pricing, providing you with the flexibility to scale your team without additional expenses.
4. Hubspot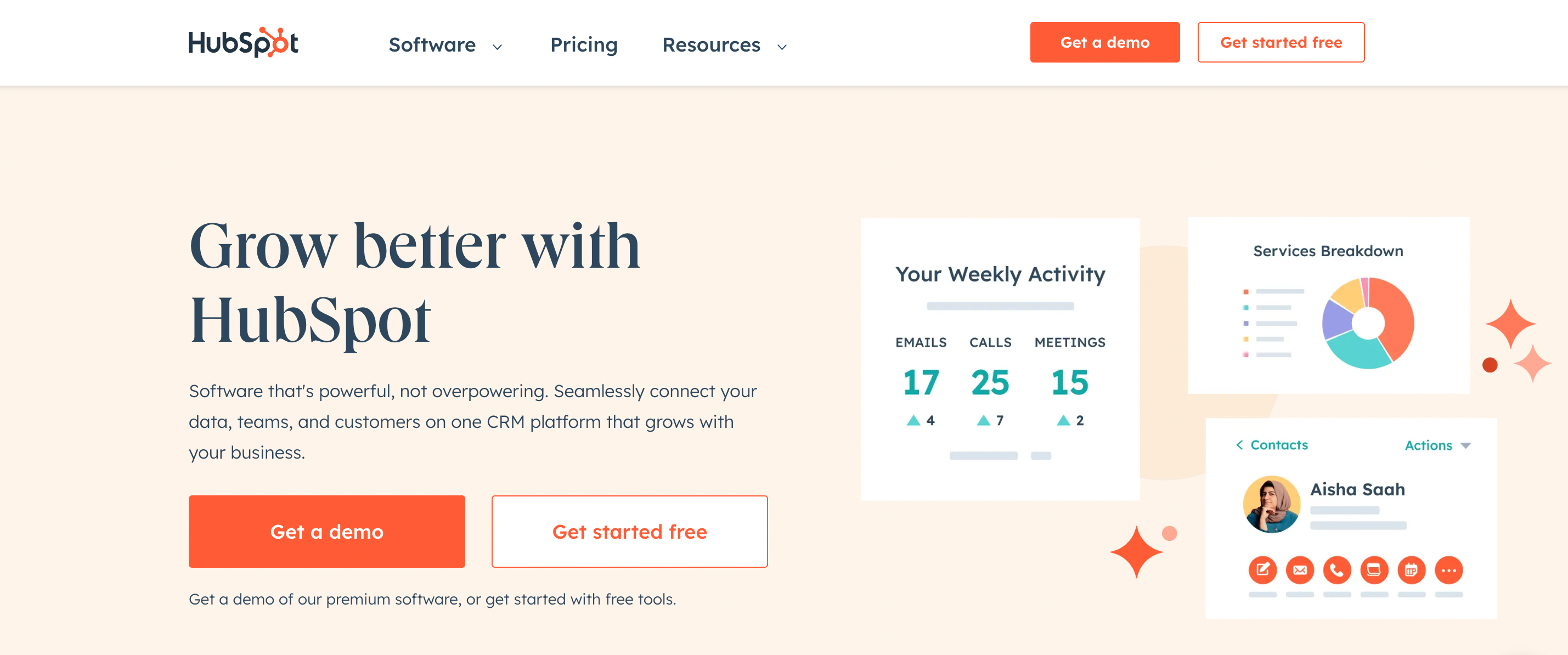 Hubspot offers a comprehensive suite of customer management tools that cater to the needs of business owners, aiming to enhance customer satisfaction and foster better relationships.
Among its offerings is user-friendly help desk software and a ticketing system, which prove instrumental in effectively managing long-term customer service requests.
Hubspot also provides one of the top CRM solutions tailored for small businesses, seamlessly integrating with the customer service management software.
The service desk software and ticketing system consolidate all support requests into a unified dashboard, accessible to your entire team.
With Hubspot, you can effortlessly monitor crucial support metrics such as ticket volume and agent response time. This empowers you to gauge your performance, ensuring you meet your goals and fulfill customer service level agreements (SLAs).
Additionally, Hubspot encompasses a range of supplementary features. These include knowledge base software, enabling customers to independently resolve their issues, as well as routing and automation capabilities, which streamline processes and save you valuable time.
Moreover, bundled live chat and chatbot functionality enable real-time communication with your customers, facilitating prompt and effective support interactions.
Pricing of Hubspot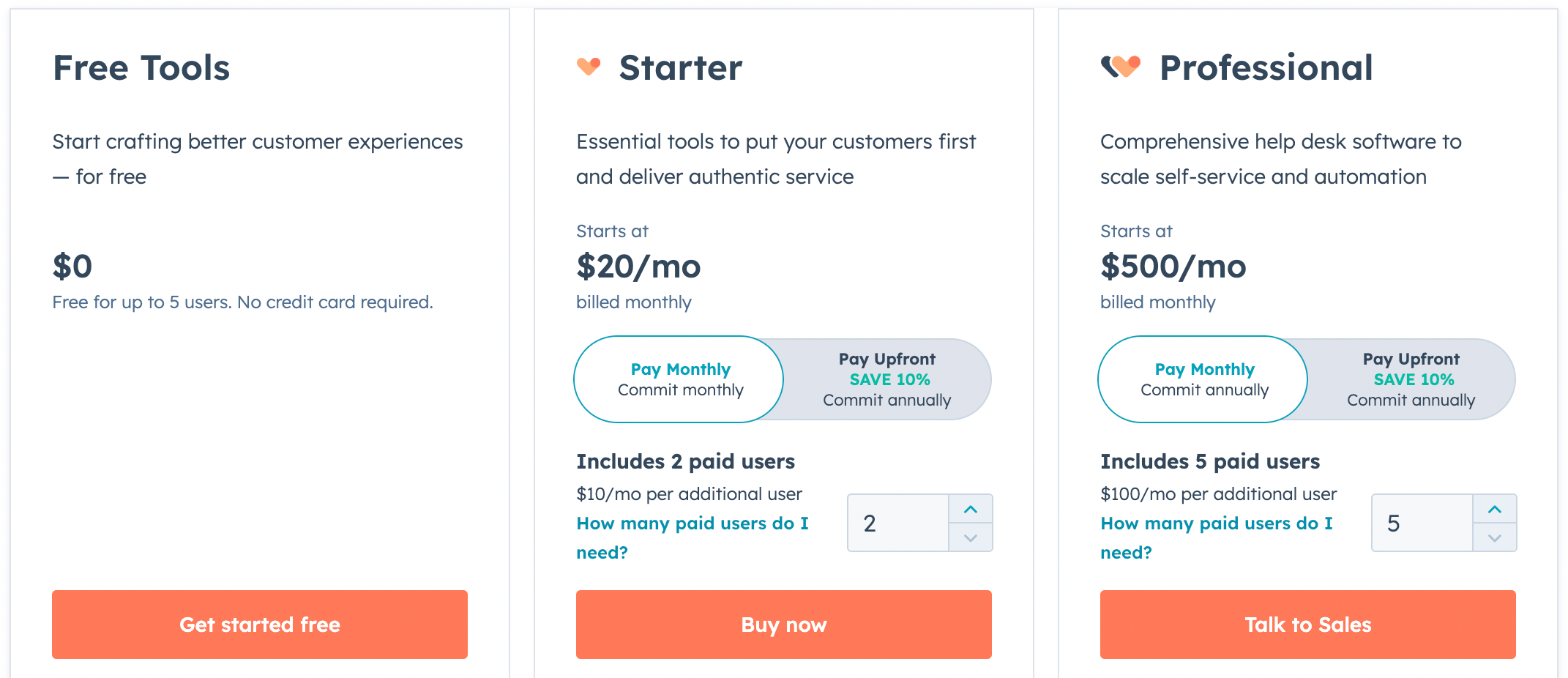 All users have access to a free plan. For those seeking enhanced features and support, paid plans begin at $20 per month for individuals and small businesses. These paid plans provide access to additional automation tools and the ability to accommodate a greater number of team members.
5. Freshdesk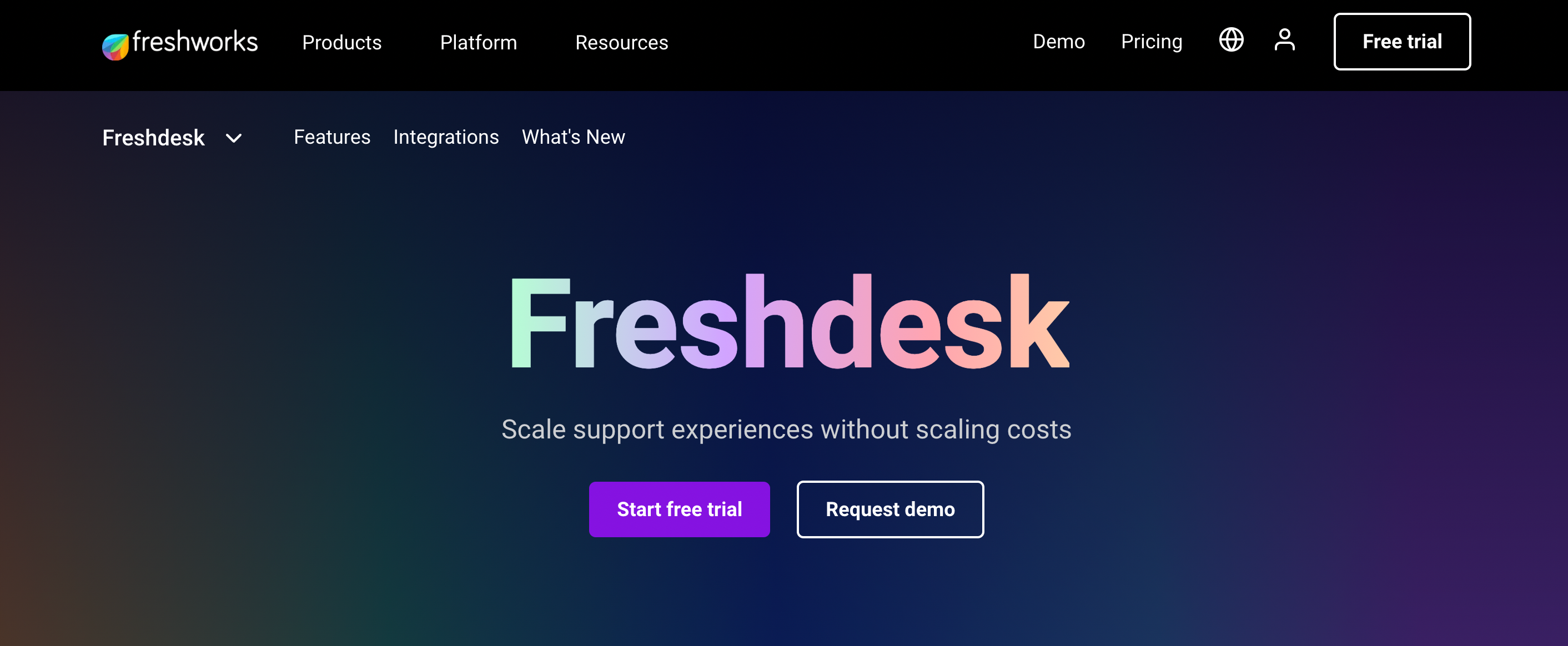 Freshdesk stands as another well-known cloud-based help desk provider catering to businesses. It boasts an intuitive user interface while offering an array of advanced features.
The help desk system incorporates a shared inbox, facilitating seamless collaboration, swift issue management, and escalation. Additionally, it allows task routing based on team member availability.
In addition to the core help desk functionalities, Freshdesk provides chatbots, live chat, modern messaging, automation features, and omnichannel support, among other capabilities.
The software comes equipped with built-in reporting and data analysis tools, enabling you to refine your support processes across various communication channels. Furthermore, the social media integration feature converts messages and brand mentions into tickets for efficient tracking and responses.
Freshdesk also offers an assortment of tools to assist in the creation of a self-service portal. These include forum support, FAQ creation, a help widget, and more, empowering customers to find solutions independently.
Pricing of Freshdesk

The software's basic version begins at $15 per month, while comprehensive omnichannel support plans start at $79 per month when billed annually.
For those looking for a no-cost option, there is a free version of the support software available, accommodating up to 10 agents. However, this free version only includes ticketing and knowledge base features.
6. LiveChat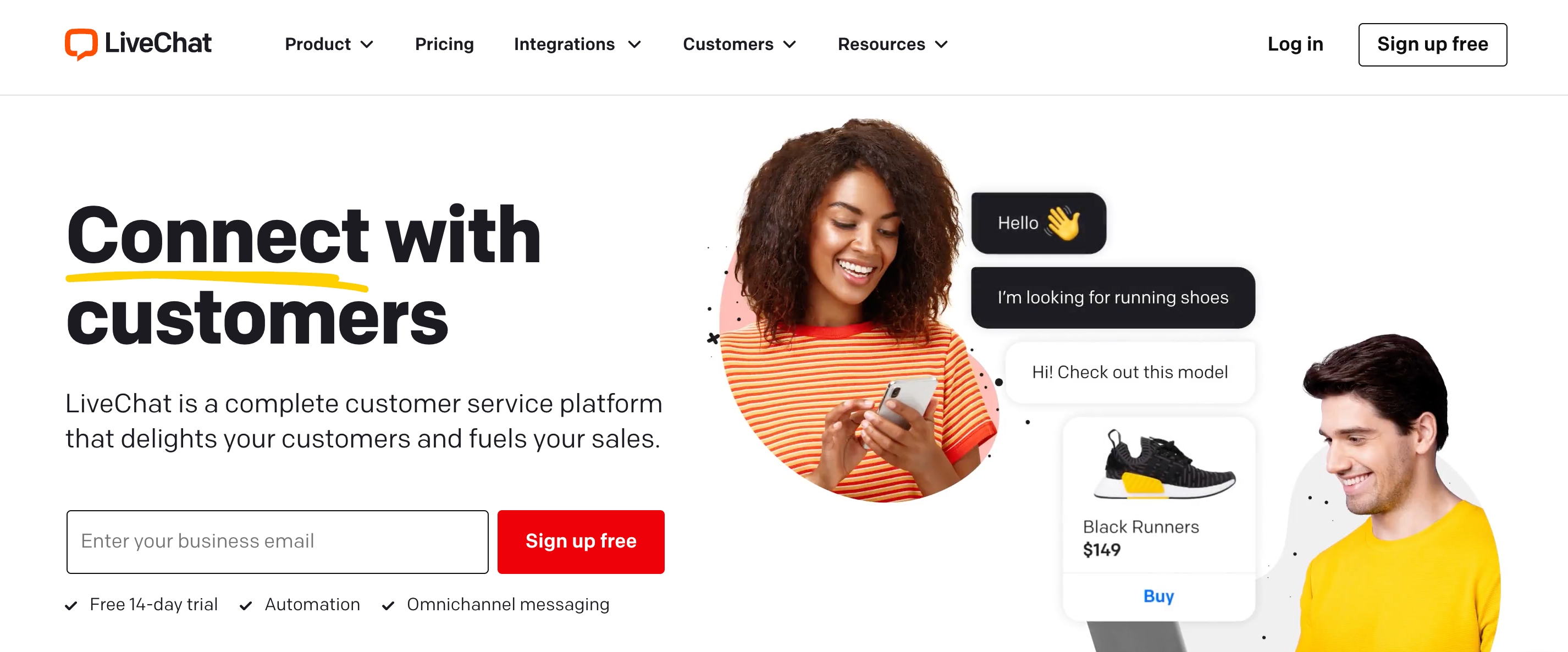 LiveChat excels as the leading live chat software available, empowering you to swiftly incorporate live chat support onto your website, enabling instantaneous responses to customer inquiries.
The LiveChat applications are user-friendly and compatible with mobile, desktop, and tablet devices, supporting both Android and iOS platforms. This ensures that your support team can address requests without the need to log into the WordPress dashboard.
Additionally, LiveChat offers a convenient WordPress plugin, simplifying the integration process with your website.
You have the flexibility to configure LiveChat to operate during non-work hours, allowing all live chat requests to be seamlessly directed to your help desk management system.
The chat window can be easily customized to align with your website's branding, ensuring a cohesive and immersive customer experience.
An outstanding attribute of this tool is its speed. The chat window loads faster compared to other providers, delivering a seamless experience across all devices.
LiveChat seamlessly integrates with other customer support and marketing tools you may already be utilizing, such as HelpDesk, HubSpot, and Google Analytics.
Moreover, you will discover additional support tools within LiveChat to enhance the quality of your support. These include visitor tracking, a smart API that integrates with your knowledge base, and more, further augmenting your support capabilities.
Pricing of LiveChat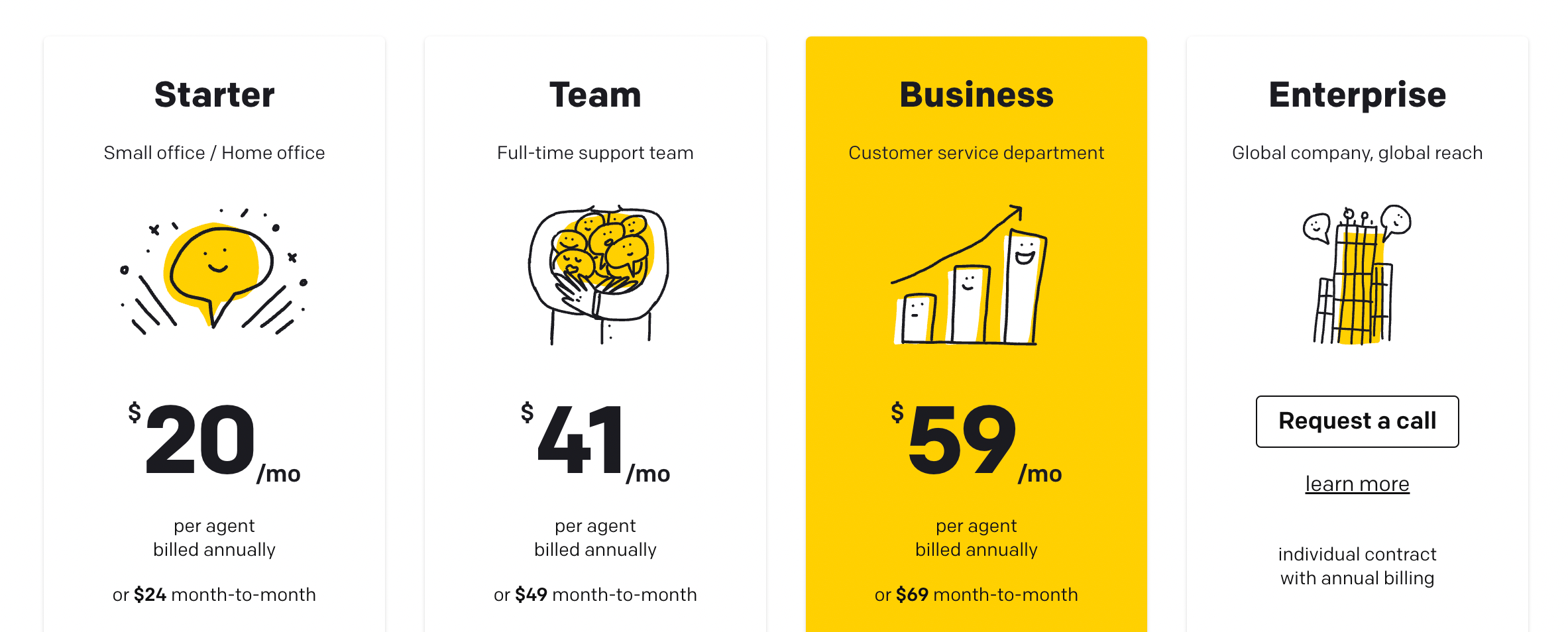 Tailored to accommodate businesses of various sizes, LiveChat offers plans that cater to your specific needs. The starter plan, which is available at $20 per agent per month when paid annually, presents an excellent entry point. Additionally, LiveChat provides a 14-day free trial, allowing you to explore and evaluate the service firsthand before making a commitment.
7. Chatbot.com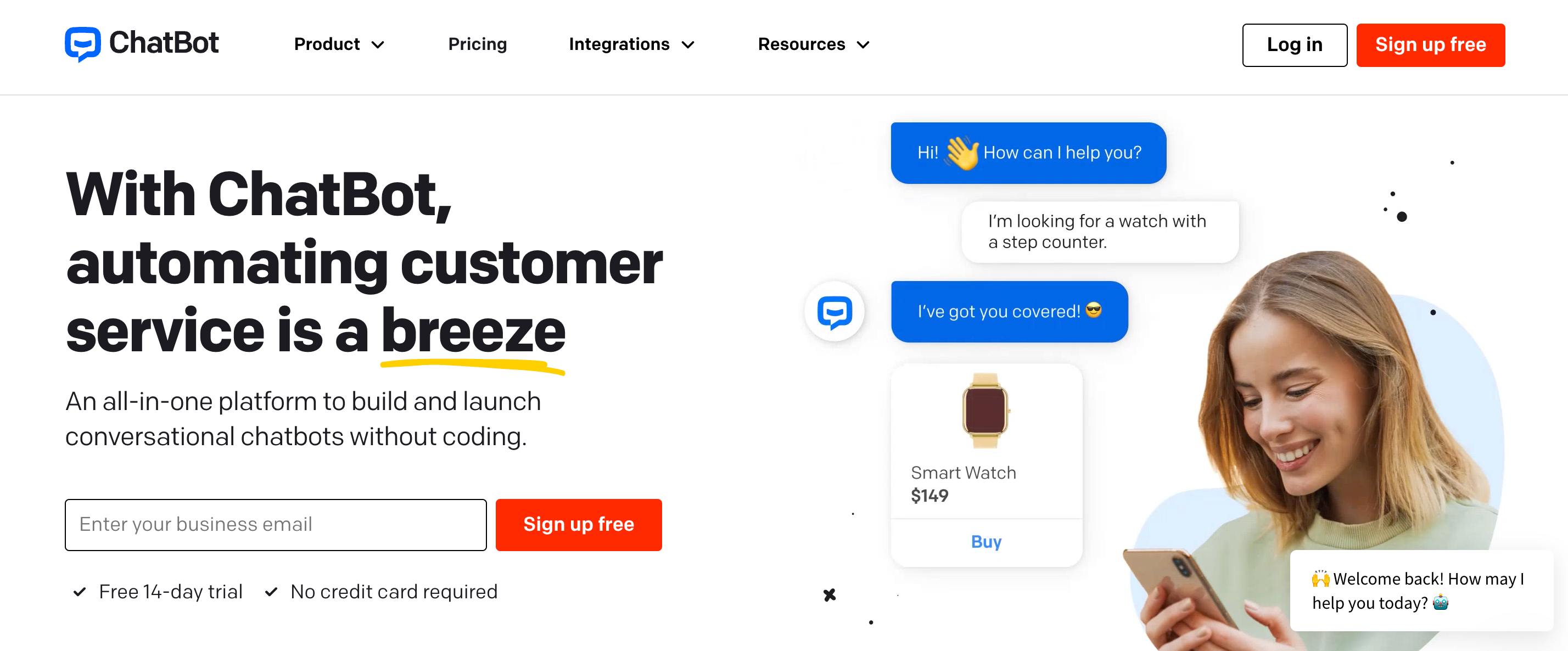 Chatbot.com emerges as the leading AI chatbot software available today, empowering small businesses and startups to enhance their customer service through the creation of their own AI chatbot.
Utilizing the intuitive drag-and-drop builder, you can swiftly develop a customer support chatbot tailored to your specific needs.
Moreover, Chatbot.com provides a library of industry-specific templates, enabling you to construct a unique chatbot that addresses user inquiries and scenarios effectively.
Seamless integration with WordPress, WooCommerce, and your preferred live chat and customer service software further amplifies the software's capabilities.
By incorporating ChatBot.com into your customer service workflow, you can optimize efficiency and liberate valuable time for your support staff, ultimately enhancing the overall customer service experience.
Pricing of Chatbot.com

The pricing for Chatbot.com begins at $52 per month when billed annually, providing coverage for up to 1,000 monthly chats. Depending on your specific requirements, there are additional pricing tiers available.
To help you assess the suitability of chatbots for your business, every plan includes a 14-day free trial. This allows you to experience the functionality and benefits firsthand before making a commitment.
Comparison Table
Tool
Price
Reviews
Help Scout
Starts at $20 per user per month (billed annually)
4.4 
based on 392 reviews
HelpDesk.com
Starts at $29 per agent per month (billed annually)
4.6 
based on 29 reviews
Heroic Inbox
Starts at $199.5 per year for a single site
N/A
Hubspot
Paid plans start at $20 per 2 users per month (billed monthly)
4.4 
based on 2,003 reviews
Freshdesk
Paid plans start at $15 per agent per month (billed annually)
4.4 
based on 2,794 reviews
LiveChat
Starts at $20 per agent per month (billed annually)
4.5 
based on 746 reviews
Chatbot.com
Starts at $59 per month (billed annually)
4.4 
based on 20 reviews
Conclusion
In conclusion, implementing a reliable help desk software solution can significantly benefit small businesses by enhancing customer support workflows and improving overall customer relationships.
By centralizing customer support requests, streamlining ticket management, and providing efficient communication channels, help desk software empowers businesses to deliver prompt and personalized assistance to their customers.
The right help desk software can optimize support processes, increase customer satisfaction, and ultimately contribute to long-term business growth. With a variety of options available in the market, small businesses can select a help desk software solution that aligns with their specific needs and budget, allowing them to provide exceptional customer support and gain a competitive edge in their industry.
FAQ
What is help desk software, and why do small businesses need it?
Help desk software is a tool designed to streamline and manage customer support requests. Small businesses can benefit from help desk software as it allows them to efficiently handle customer inquiries, track tickets, provide timely responses, and improve overall customer satisfaction.
Can help desk software be customized to match a small business's branding?
Yes, many help desk software solutions offer customization options, allowing small businesses to align the software's interface, colors, and branding elements with their own company's identity. This helps create a consistent and personalized customer experience.
What features should small businesses look for in help desk software?
Small businesses should consider key features such as a ticket management system, email integration, live chat support, knowledge base creation, automation capabilities, reporting and analytics, scalability, and ease of use when selecting help desk software.
Assessing the specific needs of your business and the level of support you aim to provide is crucial in choosing the right software.
Can help desk software integrate with other business tools?
Yes, many help desk software solutions offer integrations with popular business tools such as CRM systems, asset management tools, project management platforms, communication tools, and e-commerce platforms.
These integrations help streamline workflows and allow for seamless data sharing between different software applications.