8 popular review widget types
Trustindex simplifies the process of tailoring your OpenTable reviews widget to suit your specific requirements! Our varied options of layouts, styles, colors, and other features enable you to craft the ideal widget for your website. Furthermore, seamlessly integrating OpenTable reviews into your website is effortless with our services!
Slider – Slide through reviews continuously.
Grid – Display the OpenTable reviews in an organized grid with multiple rows and columns.
Button – Display a button summarizing your overall review score.
Badge – A badge will show your overall rating.
List – Longer reviews can be displayed in one column.
Floating – See a longer view of reviews by hovering your cursor over them.
Pop-up – Access a pop-up widget.
Sidebar – Include a review widget in the sidebar of your website.
10 Amazing Opentable Reviews Widgets in 2023
Silder I. – Light background
Silder I. – Light Minimal
Slider III. – with badge – Light border
Slider I. – centered – Drop shadow
Grid – Light background
List I. – Light background
Button IV.
Button III.
HTML Badge I.
Sidebar Slider III.
How to Embed OpenTable Reviews Widget on WordPress for Free
You don't require a credit card! Our plugin simplifies the process of adding OpenTable reviews WordPress plugin to your WordPress website, completely free of cost. Follow the straightforward steps, and an attractive widget will showcase your OpenTable ratings on your website, bolstering customer trust.
Install plugin on WordPress
To take advantage of the free WordPress plugin, you must install it on your website and then enable it. We offer free usage display for up to 10 OpenTable reviews.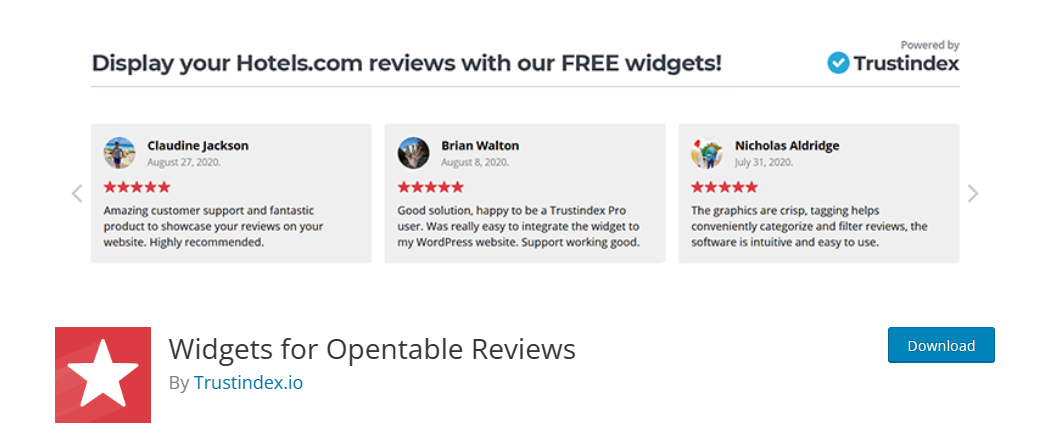 Connect URL for OpenTable
To get your reviews synced with your OpenTable profile page, go to the WordPress Admin, and you'll see a new menu. Insert your URL, click the "Check" and "Connect" buttons, and the free plugin will start syncing.

Widget layout
After deciding which type of widget you'd like to use, such as sliders, lists, grids, badges, and so on, press the blue "Select" button beside it in the plugin's admin dashboard.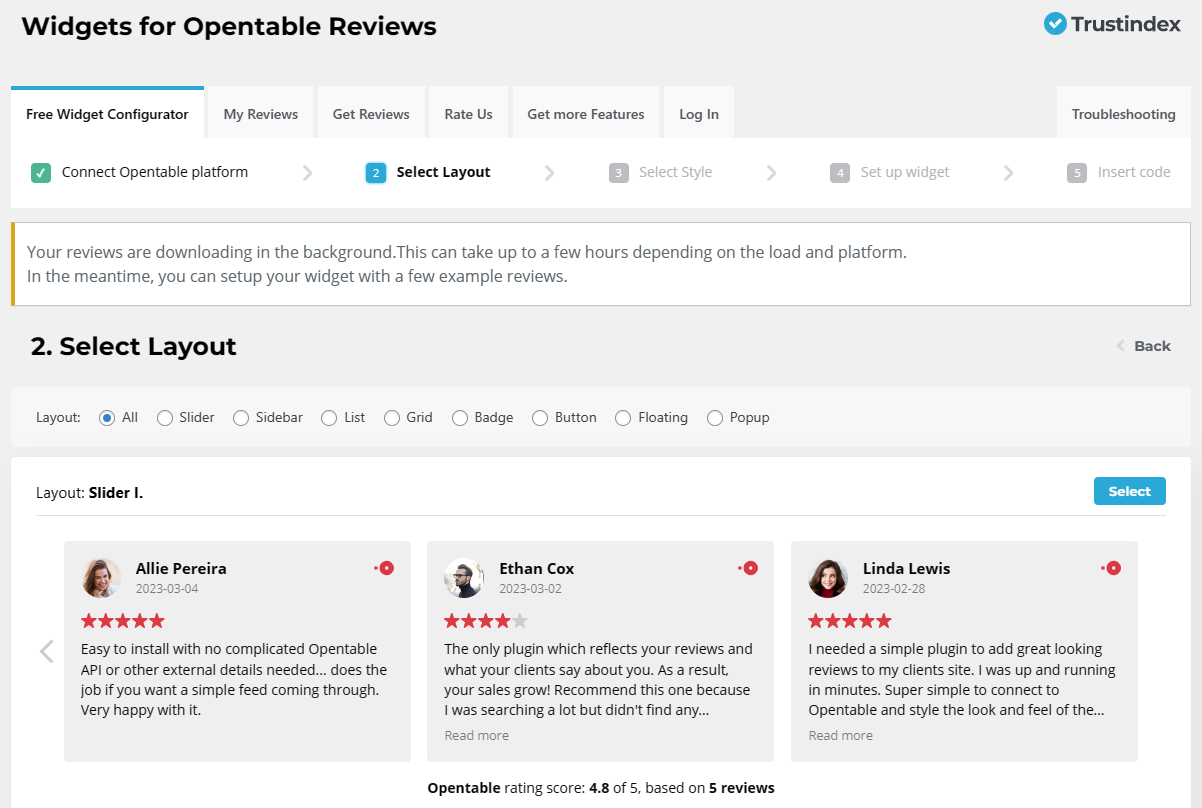 OpenTable widget style
Once you have arranged the widget, you can make additional alterations to it so that it perfectly suits your needs.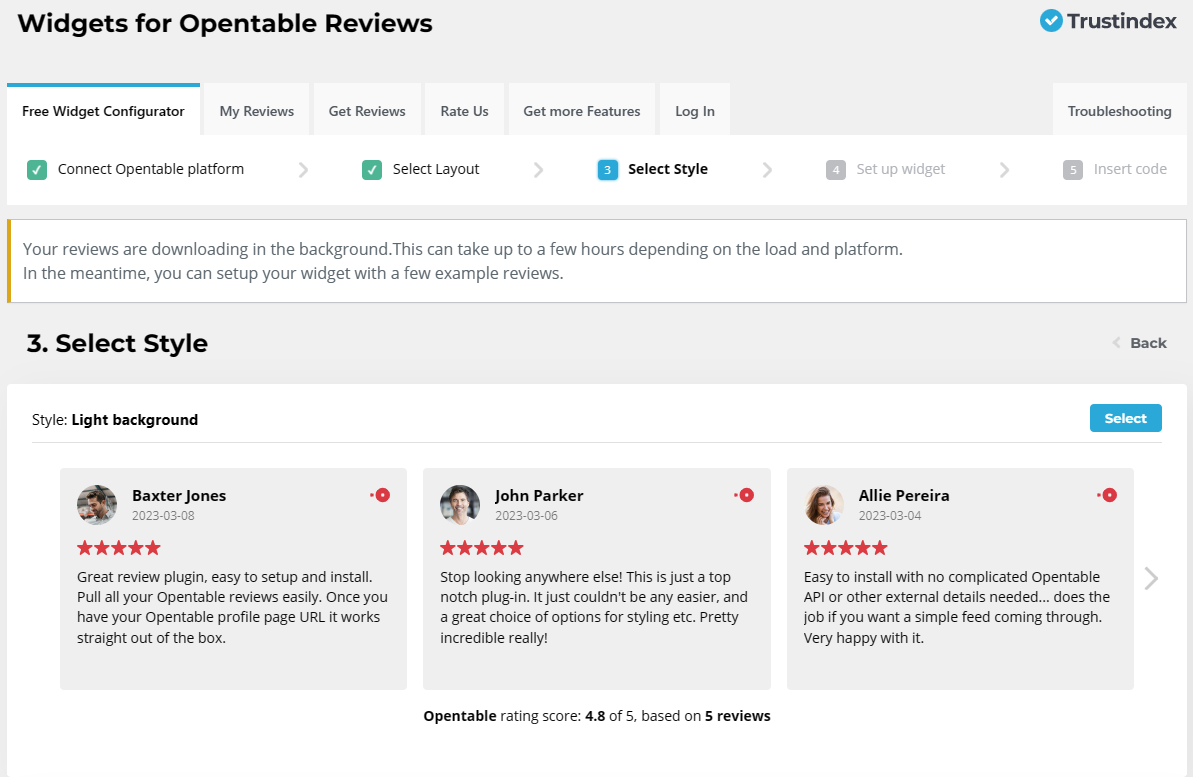 Settings
Prior to embedding the OpenTable review widget, you have the option of customizing settings, like selecting to view only positive reviews.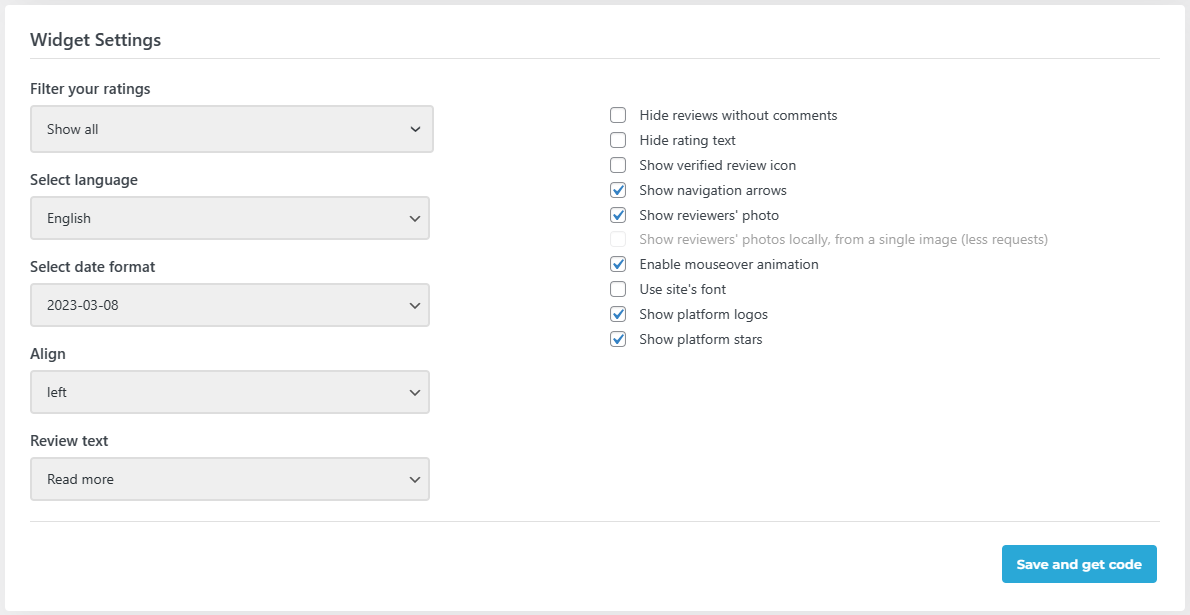 Save and insert code
After you complete your task, press the "Save and get code" button and paste the shortcode into your website. It is a straightforward method for including OpenTable reviews on your page.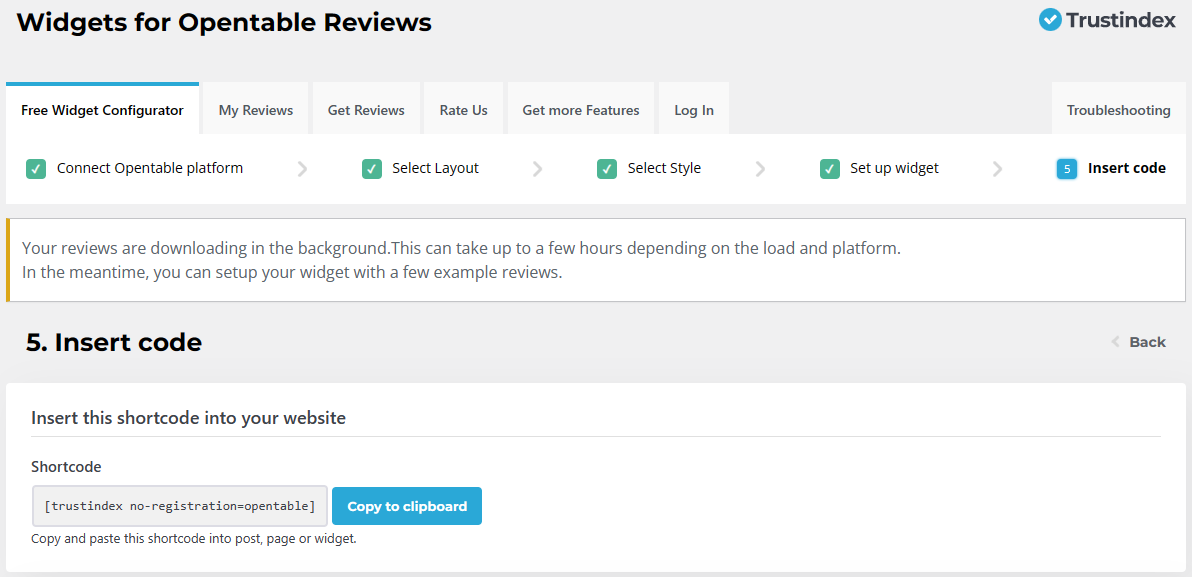 How to Embed OpenTable Reviews Widget on Any Website
At Trustindex, integrating OpenTable reviews into your online store or website is made effortless and uncomplicated. The setup process is trouble-free – all you have to do is sign up for a free account with us and follow our user-friendly instructions.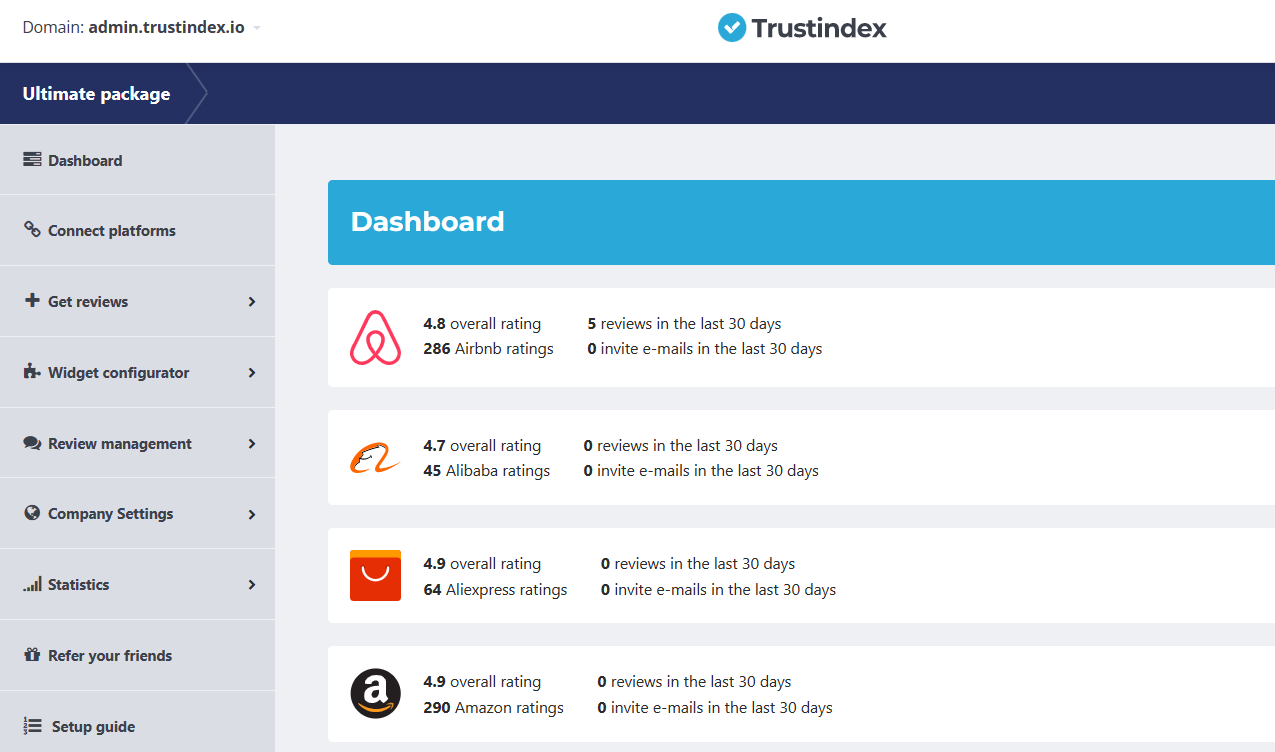 Connect OpenTable page
Once you have logged in, you can link your Trustindex account to any websites that host your reviews by clicking the "Connect Platforms" option. To connect your OpenTable business page, select this option from the menu.

Create the widget
After linking your account to OpenTable reviews and completing the synchronization, you can move on to the configuration page.

By using this tool, you can preview the widget design and styling with just a few clicks. Once you have selected the perfect widget, you can customize it to fit your requirements.
Style and settings
The Style Editor widget allows you to tailor the settings and look of your OpenTable reviews however you'd like!
You can decide to display all reviews, only good reviews with review tags and filters, modify the colors of the review text, and much more – the possibilities are infinite! OpenTable reviews supports multiple languages as well.

Embed OpenTable reviews widget
Once you have customized the review widget to your specifications, you can save and copy the generated code. Insert the new review widget link into the appropriate part of your web page, as indicated by your admin.

You can choose between WordPress shortcodes and HTML code. Once you have done this, the review widget will be visible on your website.
If you need help with inserting your widget, just contact our Customer Support team.
7 Best Features of Trustindex reviews widgets
By implementing Trustindex widgets on your website, customers can access their favorite OpenTable reviews to use as social proof to boost sales. There are numerous advantages to taking this approach, such as:
User-Friendly Interface
Crafting remarkable website widgets is effortless on our modern and intuitive platform. With comprehensive analytics available on our admin dashboard, you can monitor your website widget's performance. Our style editor also features a preview option, enabling you to see the impact of any modifications you make to the settings instantly.
Automated Updates
Choose the frequency of your widget reviews, ranging from daily, weekly, to monthly refreshes.
Review Synchronization
Integrating OpenTable reviews into your website is simple with Trustindex. It only takes a few clicks to enable automated synchronization of your reviews.
Customizable Widgets
With Trustindex, enjoy the freedom to customize your widget for free, ensuring that you and your customers are happy with the results when integrating OpenTable Reviews.
Endless Settings
Our widgets offer endless customization possibilities, from filters and tags to manual selection, links, and colors, providing you with a personalized experience.
Responsive Design
Our widgets are responsive and designed to adapt to various screen sizes, ensuring seamless mobile viewing.
Hide Negative Reviews
If negative ratings are causing you distress, you can opt to hide them from your widgets whenever necessary.
4 ways to collect OpenTable Reviews fast and easily
Let us help you increase your business growth and improve your customer experience! We can provide you with strategies for getting more reviews from OpenTable customers aside from using an OpenTable widget.
Simplify Review Collection with Automated Emails
Our tool streamlines the process of collecting customer reviews by enabling the creation of automated emails. With ease, you can construct emails that will be sent to your customers requesting reviews.
Collect Reviews from In-person Shoppers with QR Codes
Generating a scannable QR code in just 60 seconds is all it takes to direct your physical store customers to your online review platform. This ensures that no reviews from in-person shoppers are missed.
Tap into the Power of NFC Cards for New Reviews
Trustindex review cards enable customers to leave a review on your preferred platform with a simple tap of their phone. NFC technology simplifies the process of directing customers to the review platform after they complete their purchase.
Boost Your Online Reputation and Sales with Integrations
The Trustindex Customer Reviews Collector app is an effective tool for increasing your online reputation and sales. Installing the app on Shopify and WooCommerce sites is a breeze, providing you with the extra reviews you need.
The advantage of OpenTable reviews widgets
Demonstrating your trustworthiness and delectability is more impactful than mere assertions. With your widget, visitors can easily glimpse the overall sentiment of your reviews via the 5-star rating.
Additionally, the total number of reviews you have is prominently displayed, adding a layer of credibility, particularly if you have amassed hundreds or thousands of reviews. Furthermore, each of these components is clickable and redirects users to your OpenTable profile, ensuring absolute transparency.
Display OpenTable reviews aggregated
You have the option to customize your reviews widget by combining reviews from different websites and applications with your own ratings. Here are some possible sources of reviews to add to your widget with other free review plugins as well:
The power of OpenTable reviews
People are more likely to dine at a place with a proven track record of customer satisfaction. Reviews from your previous visitors can help you establish trust and build credibility, resulting in increased sales and better search engine rankings. Therefore, it is essential to ensure that your current customers are happy with your services, and customer service, as their reviews can be the difference between success and failure between restaurants.
Frequently Asked Questions
How do I collect more reviews?
Our review request button, designed in a button style, makes it easy for you to direct your visitors to obtain more ratings on OpenTable or Trustindex. Additional free review plugins are also available with Trustindex.
Can I edit the widget size?
Your Trustindex widget will expand as long as it has room for it, so inserting it into an appropriately sized box is best.
Is it compatible with all CMS and website building platforms?
Trustindex widgets are compatible with just about every website CMS or website building platform, including but not limited to Adobe Muse, Blogger, Elementor, HTML, Squarespace, and more.
Are the widgets responsive in the professional review software display?
No matter what device your users are using, the widget will guarantee a great experience – from a desktop to a smartphone!