8 most common website widget types
Trustindex allows for limitless customization with a variety of layouts, styles, colors and more.
Slider – displays your reviews next to each other, in a cycle
Grid – displays many reviews in columns
Button – concise way of displaying your overall ratings and making them clickable
Badge – displays your overall rating without needing much space on your site
List – lists your reviews in one column, best for displaying longer texts
Floating – when clicking or dragging your cursor over them, they show reviews in a longer format
Pop-up – show reviews in a pop-up window on your website
Sidebar – for displaying reviews on the sidebar of your site
10 Best Google reviews Widgets in 2023
Silder I. – Light background
Silder I. – Light Minimal
Slider III. – with badge – Light border
Slider I. – centered – Drop shadow
Grid – Light background
List I. – Light background
Button IV.
Button III.
HTML Badge I.
Sidebar Slider III.
How to embed Google reviews widgets into WordPress for Free
We will guide you through the steps you need to take in order to get a beautiful website widget with your Google reviews displayed on your WordPress website. Embed Google Reviews widget easily and for free.
1. Install the plugin
To start, you must install and activate the plugin on your website. If you are using WordPress.com, you need to be subscribed to a WordPress.com plan that allows you to install plugins.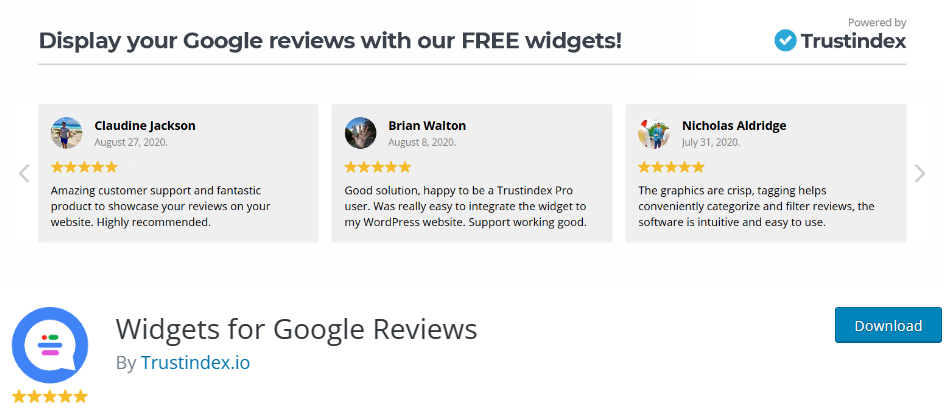 2. Connect Google Place ID
After installing and activating the Trustindex.io plugin, you can begin the process of adding your Google business listing by accessing the new menu on your WordPress Admin. No need for a Google API key.
To begin, you must enter your Google Place ID to inform the plugin which business's Google reviews you would like to show in the pop-up window after clicking Connect.
3. Customize the review widget layout
Once you click the 'Connect' button, the plugin will automatically retrieve genuine Google Reviews for your company.
You can select from a number of formats, such as sliders, lists, grids, badges, and more.
After finding the layout that you like, press the blue 'Select' button beside it.
Then, you can customize the style of the layout you have chosen.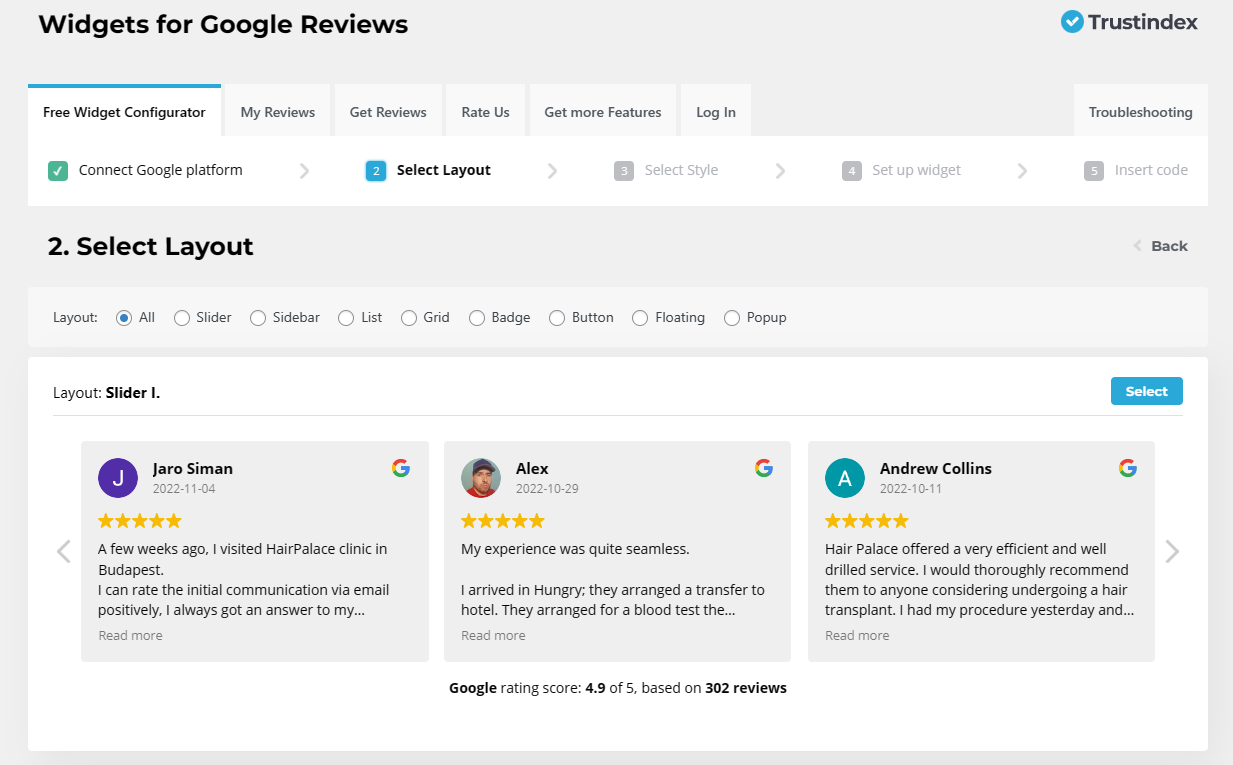 4. Choose the review widget style
After picking your layout, you can further personalize the widget theme by deciding on different background colors or borders.
Once you're satisfied with the look of your Google reviews widget, click on Select.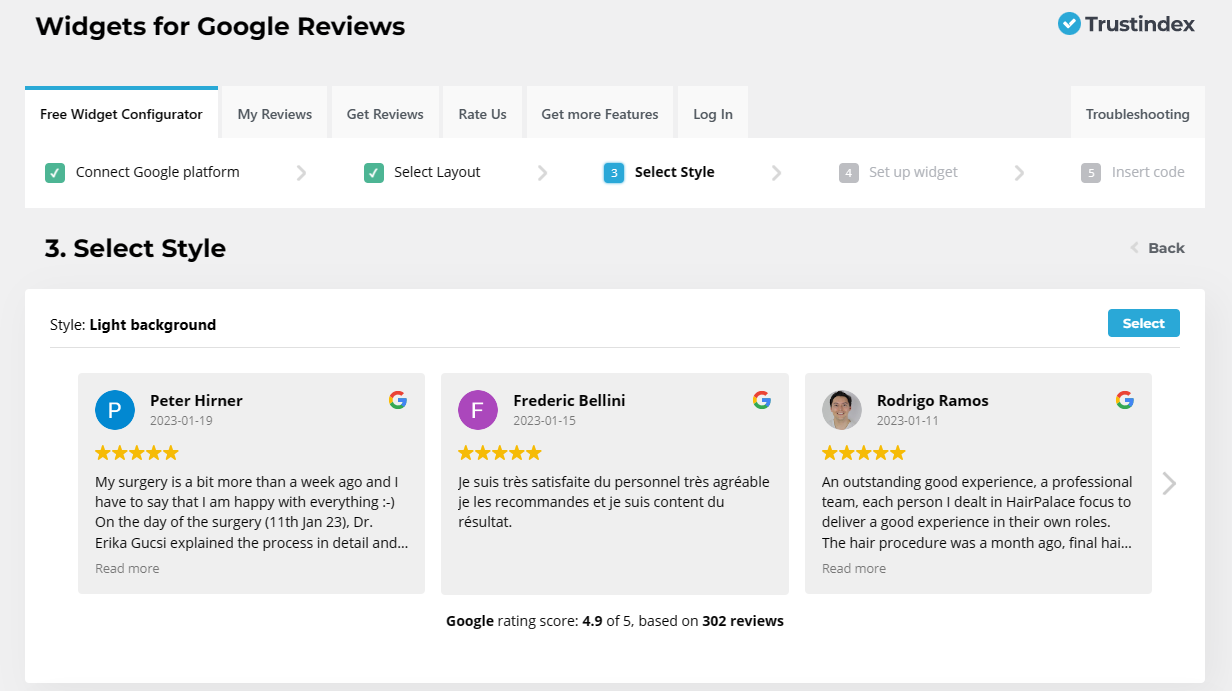 5. Modify the widget settings
After that, you can set up the way your widget operates, like deciding which Google reviews to show and if a reviewer's profile picture should be included. For instance, you could select a preferred language or star rating filter for the Google reviews widget to only show positive reviews and completely filter out negative reviews.
When you're finished with customizing, click Save and get code.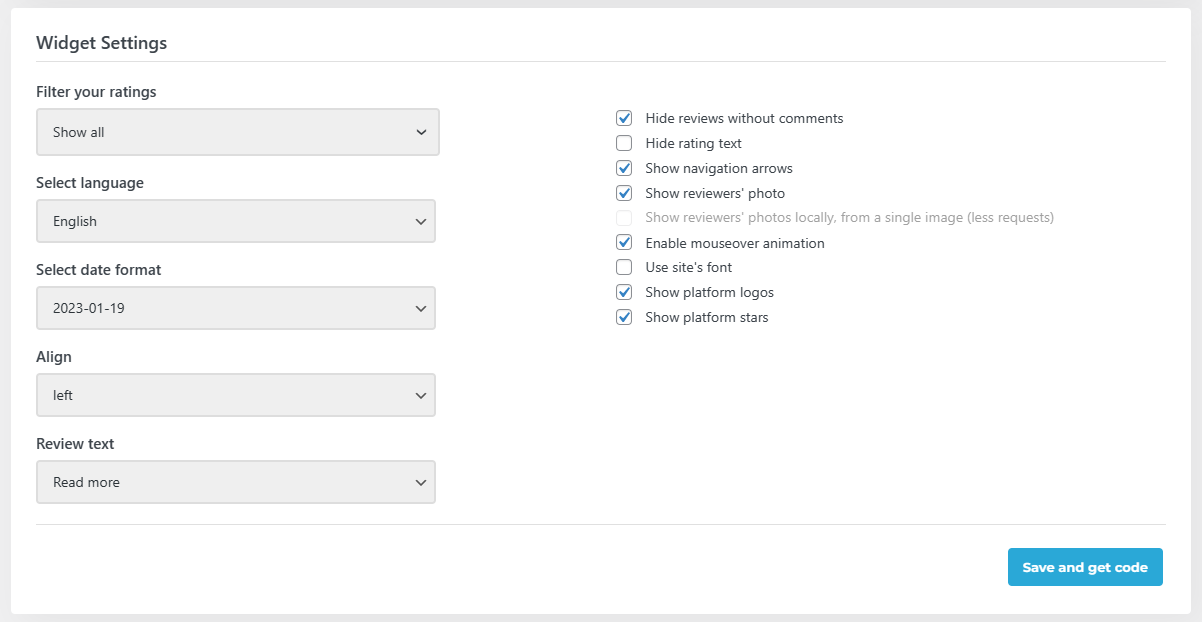 6. Copy and embed Google reviews widget
At the end, you need to click Copy to clipboard and insert the shortcode provided by the plugin to the position where you would like to show your Google Reviews widget on your WordPress website.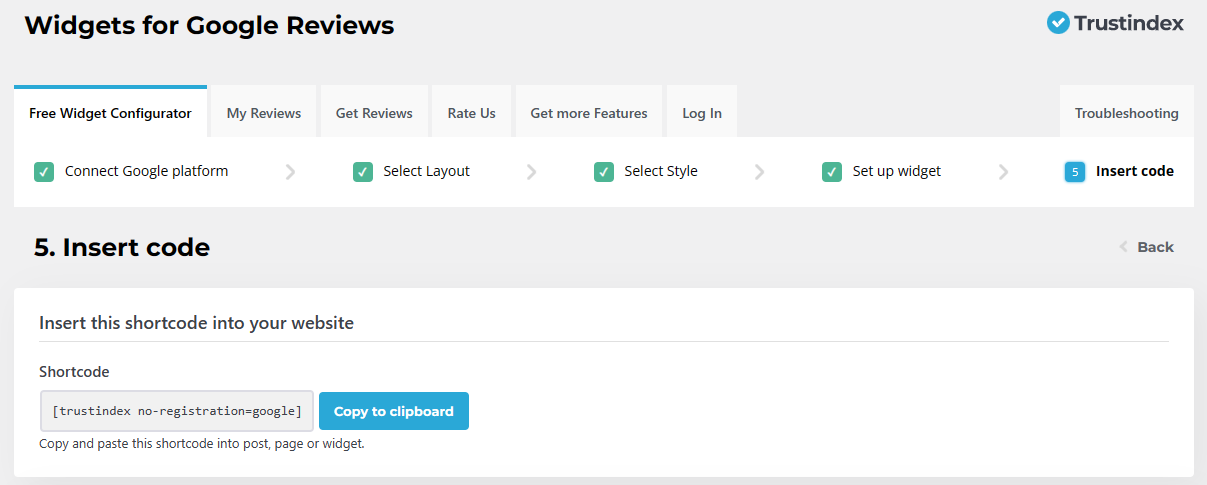 That's all! Embedding Google reviews into your website takes no time now.
How to embed Google Reviews into any website automatically
Reviews are the first thing your potential customers check before buying from you. Why not make it easy for them with a Google reviews widget? Showcase Google reviews on your site easily with just a few clicks.
Embedding Google Business reviews on your website is a straightforward process with Trustindex. Here are the steps to get started:
1. Set up your platforms
First, after logging in, you have to connect your Trustindex account to the platforms you have reviews on under the Connect Platforms menu. This is where you need to connect your Google Business profile.
Currently, you can choose from 120+ platforms, and we're continuously adding new platforms to the list.

Once you made the connection, you can connect another Google location or start creating widgets.
2. Add a new website widget
Once you have successfully connected your Google Business account, and have your Google Business reviews synced, you may begin to configure your Google Reviews widget.

You can choose from 35+ widget layouts and 25+ styles to best fit the pages of your website.
In the configuration page, you can quickly configure a preview to see how a given widget layout and style would look on each platform.
After selecting your widget, you can fully customize it.
3. Edit widget theme
After deciding on a preferred style, you will enter the Style Editor.
This is where you can fully customize your Google review widget theme and the settings.
Whether you want to add filters to show only positive reviews, tags, opt to only show detailed reviews or even more fresh reviews, or tweak the style to your liking from colors to texts, you will find everything here in order to create the Google reviews widget that's perfectly suited to your brand and website.

4. Save and insert
After you're satisfied with the configured Google reviews widget, make sure to save it and copy the code from the pop-up window. The system offers a code for HTML website or WordPress website alike.
Now all you have to do is insert the widget on your website – wherever you feel like it.
Not sure how to embed Google reviews widget into your site? See our detailed guide here.
7 Best Features of Trustindex reviews widgets
Trustindex widgets can help you boost your sales dramatically by displaying your customers' most favorable Google reviews on your site.
1. Easy-to-use interface
Create amazing website widgets with our modern and beginner-friendly system. The style editor's preview function will let you see the changes you made to the settings in real-time, and follow up on your widget's performance with our insightful analytics in the admin panel.
2. Automatic updates
Choose the frequency at which you want the software to update the Google reviews displayed in your widget. Whether it's monthly, weekly or daily updates you're looking for – we got them.
3. Unlimited reviews
Trustindex syncs with all your Google reviews. Embed reviews easily.
4. Google Rich Snippets
Rich snippets provide additional information about a webpage, such as reviews. With Trustindex, you can easily have your star rating displayed in the search results.
5. Over 35 widget layouts and 25 widget styles
With the plethora of style options Trustindex has to offer, you'll be sure to create something you and your customers love.
6. Complete customization
We offer everything you need for complete personalization: filters, tags, manual selection, links, color and text modifications.
7. Responsive widgets
No need to worry about making modifications to the display setting for various screen sizes – the widget will adjust itself automatically. Moreover, the alignment of the website remains unaffected, maintaining the sleek look of the site across all devices.
4 ways to collect Google reviews fast and easily
Create a positive customer experience by generating and embedding genuine Google My Business reviews on your website. Doing so will help grow your business, and turn customers into promoters of your brand or local business.
1. Email campaigns – Automatic review collection
A powerful tool for easy and automatic review collection. With the help of our system, create automatic review collecting emails that will be sent out to your customers.
2. QR Codes – Collect reviews offline
Configure a scannable QR code in under 1 minute that lets you direct your in-store buyers to your company's review platform online. No more forgotten reviews from offline customers.
3. NFC Cards – Get reviews with one quick tap
Trustindex review cards work with NFC technology. After a successful purchase, you can direct your customers with a single tap of their phone to the review platform of your choice, so they can easily leave a review on the spot.
4. Integrations – Unlimited review invitations
Skyrocket your online reputation and sales with the Trustindex Customer Reviews Collector app. Easy to integrate with Shopify and WooCommerce, this tool will surely get you that review boost you wanted.
Why are Google review widgets important?
Showcase your excellent rating to boost sales. Display Google Business reviews on product pages to leverage your rating and drive more sales. By featuring your Google Places ratings and reviews on your site, you can showcase the positive experiences of your customers, encouraging website visitors to try out your products and services.
Some people don't realize how powerful Google reviews can be. With transparency becoming increasingly important to consumers, over 80% of them now read online reviews as they serve as powerful social proof when evaluating a product's quality or a company's trustworthiness, especially reviews from Google Maps and Google search results. Incorporating a Google ratings widget into your website can help build trust with your customers, specifically if you're an online business.
Unlock the potential of customer-business interaction by enabling your website visitors to tell you what they think of your product or service through Google reviews. Improve the quality of your product by listening to the customer feedback they provide.
Google Reviews impact your SEO
Enhancing your search engine optimization (SEO) and improving your click-through rate (CTR) can have a positive impact on your local search rankings. According to an official Google local search site, following best practices for SEO can help your website content stand out. Additionally, having more reviews may also boost your local rankings in search engine results. Furthermore, search engine star ratings can also be beneficial in increasing SEO and CTR.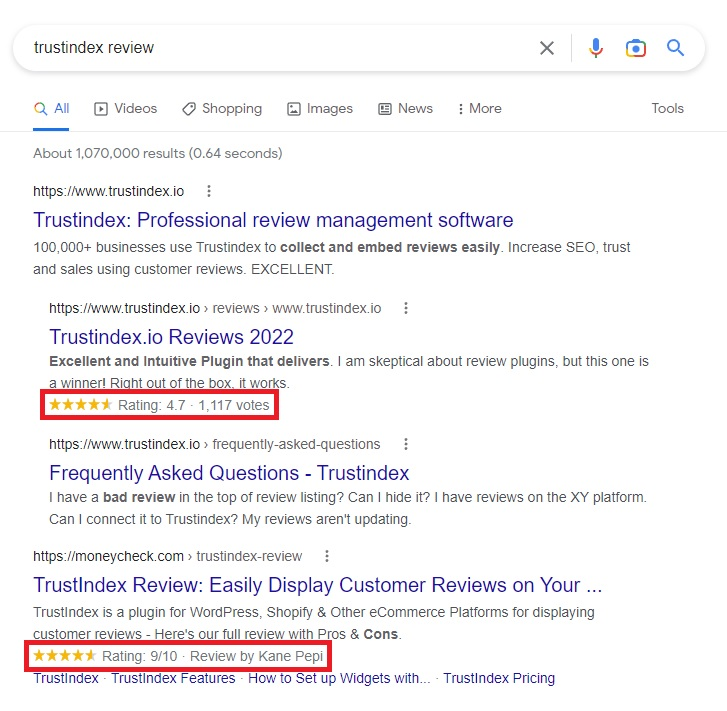 Google Rich Snippets are a type of structured data markup that can be added to a website's HTML to improve the way it appears in search results. Rich snippets provide additional information about a webpage, such as reviews, product information, and event details. This helps users find more relevant information quickly, and can also lead to higher click-through rates for websites.
Increase credibility by displaying Google reviews
Boost the reach of your business page and showcase Google My Business reviews on your website with our Google reviews widgets. It will enable you to showcase your reviews along with the reviewer's name, image, and a link to your Google account for more current feedback.
This is an effective way to demonstrate the trustworthiness of your brand!
You can filter the reviews to show only the best ones, customize the text style, display ratings, and easily embed the best ones.
Automatic updates guarantee that any new reviews won't be overlooked on your website.
Display Google reviews aggregated
Customize your Google reviews widget by combining the reviews with your ratings from other platforms. Here are some options:
Why do I need a Google Reviews widget?
Increase the credibility of your business and display reviews on your website. Doing so will demonstrate the trustworthiness of your company to millions of potential new customers.
You may not have known that by utilizing user-generated content (UGC) for search engine optimization (SEO) benefits, your organic traffic can increase by as much as 30%! The reasoning is straightforward: more reviews will result in a higher ranking, and in turn, more sales and conversions.
Frequently Asked Questions
Is it possible to add the Google Reviews code on any website?
You can incorporate Google Reviews into any content management platform by using a widget. It is a simple process.
Are the review widgets compatible with all CMS platforms and website builders?
Trustindex widgets are compatible with just about every website CMS or site builder, including but not limited to Adobe Muse, Blogger, Elementor, HTML, Squarespace, and more.
Best way of embedding Google Business Reviews into my website?
Testimonials are an important factor in convincing potential buyers to make a purchase, and Google Business Reviews is an effective platform for providing reliable customer feedback.

You can showcase customer reviews on your homepage and individual product pages, and find examples of Google Reviews for inspiration.

Customizing reviews to match your design will further emphasize their impact.
How does the widget collect reviews?
Once you paste the Google business ID or business name into the connection field and click 'Connect', the reviews will be displayed immediately.
How do I embed reviews from Google in my widget?
Getting customer reviews from Google is essential in any marketing strategy. The platform ensures the authenticity and accuracy of reviews, as automated testimonials are not allowed.

To find the Google Place ID for your business, you can either head to Google My Business or search for your business's name and address.

After finding the ID, connect it in Trustindex (admin or plugin) & copy and paste the installation code into the backend of your website, and the reviews will be displayed.
How to add reviews from Google Place to my widget?
Google Location Reviews are reviews from people who have visited certain places, which can be seen on Google Maps.

To add a Google Places widget to your website, you'll need to select a template that fits your website's design. Then, enter your Google Places ID in the designated field.

After doing this, the reviews will be displayed in the widget, and you'll be able to show them on your website with the code.

Can I filter Google place reviews?
Yes, you can filter reviews by tags (to include or exclude specific keywords), star-rating to only display positive reviews and limit the number of reviews shown.
How to embed Google Reviews on a website?
1. Configure your Google Reviews widget with Trustindex (in the admin or with the plugin).
2. Save and copy the code.
3. Go over to your website admin panel.
4. Insert a custom code element on the desired page.
5. Paste the code and don't forget to save.
If you have a website builder that supports custom HTML fields, it is simple to insert the widget installation code into it.
Once you have completed this easy installation, your widget will show up on your website!