8 most used website widget types
With Trustindex, you can customize your experience as much as you want with an array of layouts, styles, colors, and beyond.
Slider – displays your reviews in a cycle
Grid – reviews are shown in columns
Button – clickable rating summaries
Badge – show your overall rating in a compact way on your website
List – display longer texts in one column by listing your reviews
Floating – by hovering your cursor over them, you will be able to see the reviews in a more extended version
Pop-up – display customer reviews in a pop-up window
Sidebar – showing reviews in the sidebar of your website
10 Amazing Facebook reviews Widgets in 2023
Silder I. – Light background
Silder I. – Light Minimal
Slider III. – with badge – Light border
Slider I. – centered – Drop shadow
Grid – Light background
List I. – Light background
Button IV.
Button III.
HTML Badge I.
Sidebar Slider III.
How to embed Facebook reviews widgets into WordPress for Free
We will provide you with the guidance necessary to embed an amazing website widget that showcases your Facebook reviews on your WordPress site for free.
Install the plugin
If you are using WordPress.org, you must first install the Widgets for Social Reviews & Recommendations plugin on your website. Activation is then required to begin using it on your website.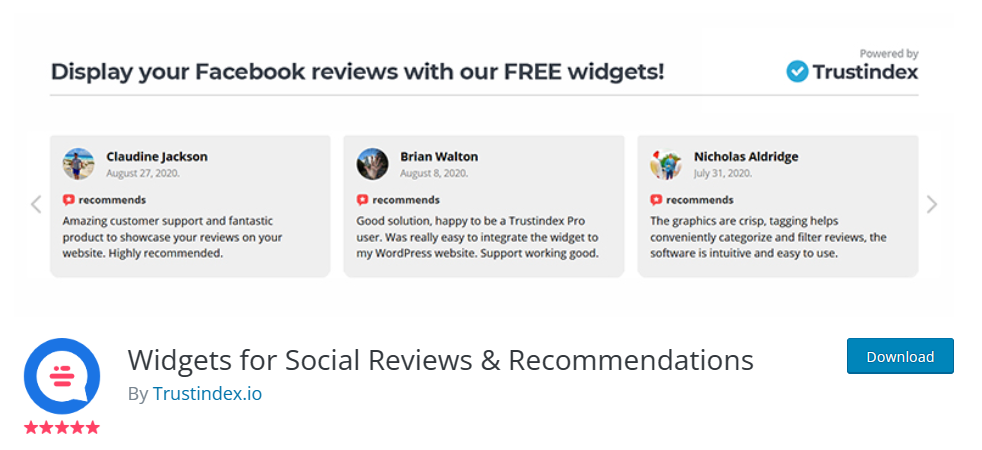 Connect Facebook page reviews
Once you have installed and activated the Trustindex.io plugin, you can start the process of adding your Facebook business page by going to the new menu in your WordPress Admin.
After clicking Connect, the plugin can sync your reviews.
Customize widget style and layout
Once you have clicked the 'Connect' button, the plugin will automatically retrieve the Facebook Reviews for your business.
Then can customize the widget and opt for one of several formats, such as sliders, lists, grids, badges and more. To apply the chosen layout, just press the blue 'Select' button next to it.
Once you have done that, you can further personalize the look of the layout.
When you are pleased with the appearance of your Facebook review widget, press "Select".
Modify the widget settings
Before embedding the Facebook review widget, you have the option to modify some settings to your liking.
For your Facebook widget, you can choose a language or a star rating that will only display positive reviews, blocking out any negative ones, and so on.
When you're finished with customizing, click Save and get code.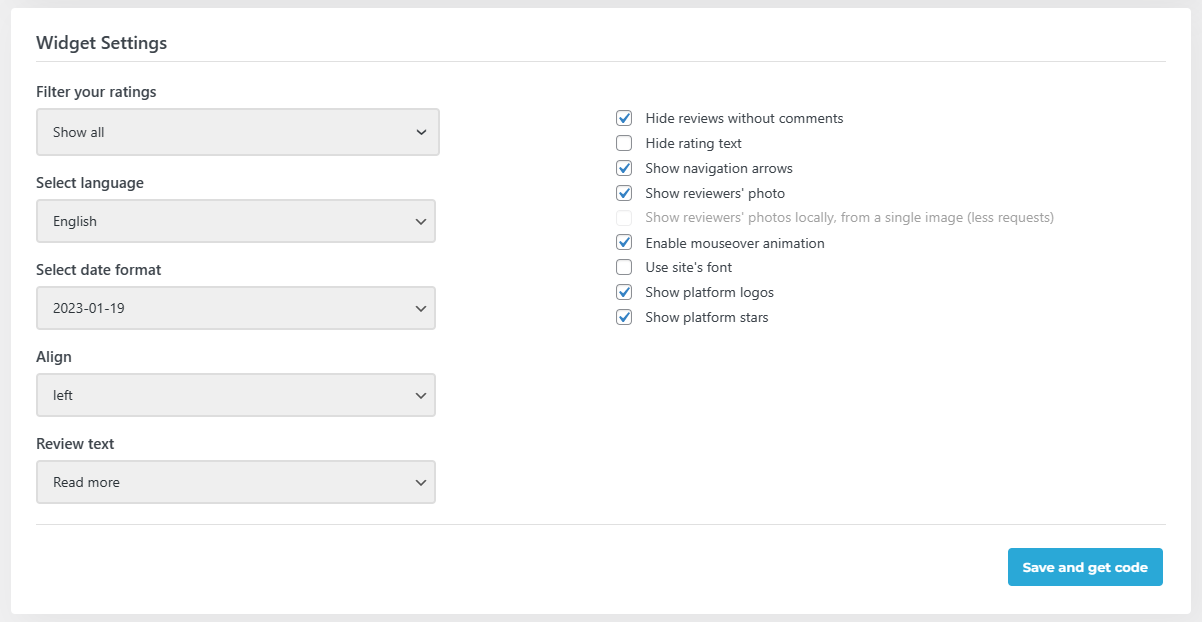 Embed Facebook review widget
After you have finished, click Copy to Clipboard and insert the shortcode provided by the plugin into the desired area of your WordPress website to display the Facebook Review widget.
That's all! Embedding Google reviews into your website takes no time now.
How to Embed Facebook Reviews into Any Website
Embedding Facebook reviews on your website is a breeze with us. Here is a step-by-step guide on how to do it:
Set up your platforms
After logging in, you must connect your Trustindex account to the platforms you have reviews on by using the "Connect Platforms" menu. Here, you will need to connect your Facebook page.
Currently, you can choose from 120+ platforms, and we're continuously adding new platforms to the list.

Once you have established the connection, you can either connect Facebook page or begin creating widgets.
Create a website widget
After connecting your platform and syncing your Facebook reviews, you can start setting up your Facebook Reviews widget.
With over 35 widget layouts and 25+ styles to pick from, you can easily customize the pages of your website.
On the configuration page, you can preview how a widget layout and style will appear on each platform with just a few clicks.
Once you have chosen your widget, you can personalize it to your preferences.
Edit widget style
Once you have chosen your desired style, you will be taken to the Style Editor.
Here, you can make all of the necessary adjustments to your Facebook review widget and its settings.
If you desire to display only favorable reviews, the most recent reviews, add tags, or personalize the colors and text to your preference, you will find all the tools here to construct a Facebook review widget that is ideally suited to your brand and website.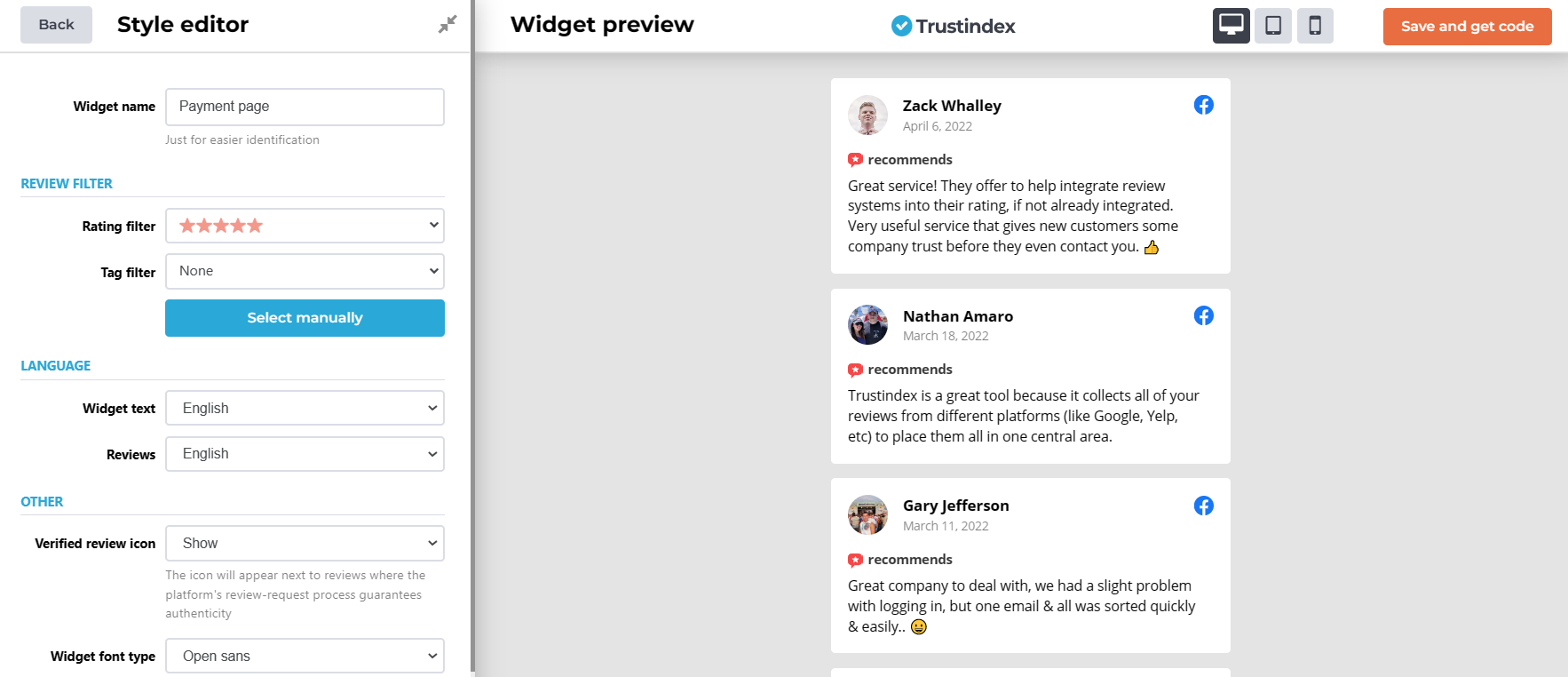 Save and insert
Once you are happy with the setup of your Facebook review widget, remember to save it and copy the code from the appearing window. The system provides codes for both HTML websites and WordPress websites.
Now all you have to do is insert the code into your website – wherever you feel like it.
Unsure how to embed Facebook reviews feed widget into your site? See our detailed guide here
5 Best Features of Trustindex reviews widgets
By using Trustindex widgets, you can experience a dramatic increase in sales by showcasing your customers' best Facebook reviews on your website.
1. Easy interface
Design incredible website widgets with our up-to-date and user-friendly system. Utilize the style editor's preview feature to instantly view the modifications you made to the configuration.
2. Updates automatically
Select how often you'd like the software to refresh the Facebook reviews displayed in your widget. We offer options for monthly, weekly, and daily updates – whatever suits your needs!
3. Authentic reviews
Trustindex gives a verified tick for reviews where the platform's review-request process guarantees authenticity.
4. Over 35 widget layouts and 25 widget styles
Trustindex provides a huge selection of style choices, so you can be confident you'll design something you and your customers will love.
5. Responsiveness
Don't be concerned about having to adjust the display setting for different screen sizes – the widget can adjust itself automatically.
4 ways to collect Facebook reviews fast and easily
For successful customer retention, establish a positive customer experience by posting genuine reviews from your Facebook page on your website. This will help your business grow, and customers will become promoters of your brand or local business. Here's how we can help you get more Facebook reviews.
1. Email campaigns – Collect reviews automatically
Our system provides an efficient way to easily collect customer reviews. Automated emails can be created to request feedback from customers, streamlining the review collection process.
2. QR Codes – Offline review collection
In just one minute, you can set up a scannable QR code to direct your in-store customers to your company's online review platform. This way, you'll never miss out on a review from an offline customer again.
3. NFC Cards – New reviews with a quick tap
Trustindex review cards utilize NFC technology. Once a purchase has been completed, customers can be directed to the review platform of your choice with just one tap of their cell phone, allowing them to conveniently leave a review on the spot.
4. Integrations – Limitless review invitations
Boost your online reputation and sales with the Trustindex Customer Reviews Collector app. This app is effortless to integrate with Shopify and WooCommerce, so you can quickly get the review surge you're looking for.
4 Reasons to Embed Facebook Review Widget On Website
1. Boost customer confidence
Display genuine reviews and feedback to build credibility and instill trust in your brand.
2. Boost your sales
Utilize your impressive rating and positive Facebook reviews to generate more sales.
3. Bridge the gap between brand and user
Strengthen the connection between users and brands and gather social proof by utilizing our free Facebook widget. This tool enables customers to post reviews, fostering a positive relationship between both parties.
4. Convince potential customers
When you embed Facebook reviews into your website, you can speed up your customers' buying decisions, as their purchasing journey is highly influenced by your presence on the social media platform. Website visitors and Facebook users often look up a company's reviews before committing.
Display Facebook reviews aggregated
Customize your Facebook reviews widget by combining the reviews with your ratings from other platforms. Here are some options:
Why do I need a Facebook Reviews widget?
Boost your reach and showcase your Facebook customer reviews directly on your site with our Facebook reviews widgets!
This is an excellent way to show off social proof and demonstrate the trustworthiness of your brand and filter the reviews to show only the best ones, customize the text style, display Facebook reviews, and more – with automatic updates to guarantee that any new reviews won't be overlooked on your website.
Frequently Asked Questions
What is a Facebook Review widget?
With a Facebook review widget, you have the ability to display customer reviews about your business right on your website.
How to add Facebook reviews on your website?
After configuring your widget with either the free plugin or in your Trustindex account, you have to click 'Save and get code' to get your review widget code. Then you can add Facebook reviews to your site easily.
Are the reviews widgets compatible with all CMS platforms?
Trustindex widgets are compatible with just about every website CMS or site builder, including but not limited to Adobe Muse, Blogger, Elementor, HTML, Squarespace, and more
Where should I add Facebook reviews widget on my website?
Once you have tailored the widget to your liking, you can display the Facebook reviews widget in multiple areas of your website.
Can I modify my widget after I embedded Facebook reviews into my website?
If you need to make any edits to the widget, you can do so directly in the admin panel.
Once you've made all the changes you want, press the save button and they will be applied to your website.