8 most useful review widget types
At Trustindex, we make it easy to customize your Etsy reviews widget to meet your exact needs! With a selection of different layouts, styles, colors, and more, you can create the perfect widget for your website. Plus, adding Etsy feedback to your site is a breeze with us!
Slider – Continuously slide through reviews.
Grid – The Etsy reviews are displayed in a grid pattern with multiple rows and columns.
Button -A button summarizing your review score.
Badge – A badge displaying your overall rating.
List – One column to display longer reviews.
Floating – Get a longer view of the reviews when hovering your cursor over it.
Pop-up -A pop-up widget.
Sidebar -Add a review widget for the sidebar of your website.
10 Amazing Etsy Reviews Widgets in 2023
Silder I. – Light background
Silder I. – Light Minimal
Slider III. – with badge – Light border
Slider I. – centered – Drop shadow
Grid – Light background
List I. – Light background
Button IV.
Button III.
HTML Badge I.
Sidebar Slider III.
How to Embed Etsy Reviews Widget on Any Website
Trustindex makes it simple and straightforward to integrate Etsy reviews into your online store or website. Setting up is hassle-free – just create a free account with us and follow our easy-to-follow instructions.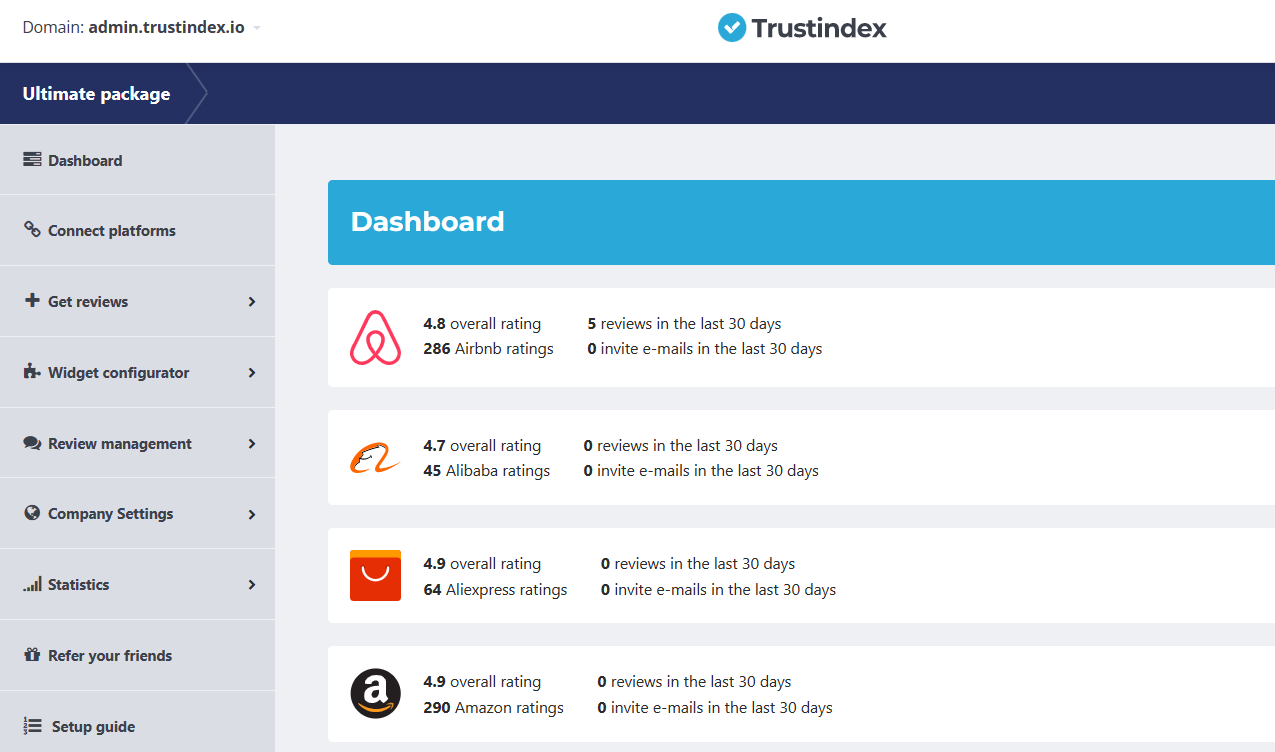 Connect your Etsy page
After logging in, you can link your Trustindex account to the sites that host your reviews by selecting the "Connect Platforms" option. To connect your Etsy business page, please click on that menu.

Create your widget
Once you have connected your account to Etsy reviews and gone through the synchronization process, you can proceed to the configuration page.

Here, you can quickly preview the widget design and styling with only a few clicks. Once you have chosen the ideal widget, you can change it to meet your needs.
Adjust style and settings
With the widget Style Editor, you can customize the settings and appearance of your Etsy reviews to show all the reviews, or only good reviews with review tags or filters, change the colors of the review text, and more – the customization options are endless!

Embed Etsy reviews widget
After customizing the review widget to your specifications, you can save and copy the generated code. Paste the code into the relevant section of your web page, as provided by the admin.

Options include both WordPress shortcodes and HTML code. Upon completing the task, the review widget will be displayed on your website.
7 Best Features of Trustindex reviews widgets
Adding Trustindex widgets to your website can provide your customers with ratings from their favorite Etsy reviews as social proof to increase sales. Here are some of the key benefits these widgets can offer:
Easy use
Our platform is modern & user-friendly, making it effortless to craft incredible website widgets. With the detailed analytics from our admin dashboard, you can keep an eye on the performance of your website widget. The style editor also offers a preview option, so you can view the outcome of any changes you make to the settings instantly.
Automatic updates
You can choose the frequency of the reviews on your widget, ranging from monthly, weekly, to daily refreshes.
Review syncing
Thanks to Trustindex, integrating Etsy reviews into your website can be done with just a few clicks. Automated synchronization of your reviews is then enabled.
Custom widgets
By employing Trustindex, you get a variety of free customization possibilities to customize your widget, making sure both you and your customers are satisfied with the results when integrating Etsy Reviews!
Endless settings
Our widgets give you the option to customize your experience with things like filters, tags, manual selection, links, and colors!
Responsive widgets
There's no need to worry about changing the display settings for different screen sizes – mobile view is not an issue.
Hide negative reviews
If you're feeling discouraged by negative ratings, you can always hide them in your widgets if you need to.
4 ways to collect Etsy Reviews fast and easily
Maximize your business growth and promote your customer experience with us! We can show you how to get more reviews from Etsy customers other than using an Etsy widget.
Email campaigns – Collect reviews automatically
Our tool makes collecting reviews from customers simple and effortless. Our system makes it possible to construct automated review collection emails that will be sent to your customers with ease.
QR Codes – Collect reviews offline
You can quickly and easily generate a scannable QR code in just 60 seconds that will direct customers who shop in your physical store to your business's review platform on the internet. By doing this, you can make sure that no reviews from in-person shoppers are missed.
NFC Cards – New reviews with a tap
With Trustindex review cards, customers can leave a review on your preferred platform with a simple tap of their phone. NFC technology makes it easy to direct customers to the review platform once they have completed their purchase.
Integrations – Review invitations
The Trustindex Customer Reviews Collector app is ideal for increasing your online reputation and sales. It's simple to install on Shopify and WooCommerce sites, giving you the extra reviews you need.
Why are Etsy reviews widgets important?
Make Etsy Reviews more visible on your product pages or website with our new widgets. These widgets show in-depth reviews, including the reviewer's name, photo, and a link to their Etsy profile.
If you're looking to bolster customer trust in your brand, there are many ways to do so! Showcasing positive reviews, displaying ratings by tagging, and more can all contribute to the social proof of your business. Plus, thanks to automated updates, you can make sure that no reviews are ever left out of your website.
Display Etsy reviews aggregated
You can customize your reviews widget by combining reviews from different sites and apps with your ratings. Here are some possible choices to add reviews from different sites:
Use the power of reviews
Your current customers' feedback is essential to your success on e-commerce platforms. People often take into account the opinions of others when deciding what to buy, so if a product online has limited or no reviews, it is probable that no one would buy it.
If a product has favorable reviews and a lot of praise for its quality, it is more likely that the potential customer will complete the transaction. Positive reviews on Etsy can increase your credibility and significantly increase your profits, as well as improve your search engine rankings.
Frequently Asked Questions
What's an Etsy Reviews widget?
This tool allows you to get reviews from your Etsy profile directly onto your website. Your customers will be able to see all of the wonderful comments from your satisfied clients, and this will help them understand how special your artwork truly is.
How to get the code for the widget to embed Etsy reviews?
You are able to get the widget code after successfully connecting your Etsy page in the admin and configuring the widget. Just save and embed Etsy reviews widget into anywhere you like.
How do I add Etsy reviews to my website?
Follow the directions above in order to get these steps correct:
1. Connect your Etsy page in the admin.
2. Set the layout, style, and settings to your liking.
3. Click on Save and paste the code into the preferred place on your own website.
If you ever need further help, just contact our support team.

Is it compatible with all CMS and website building platform?
Trustindex widgets are compatible with just about every website CMS or website building platform, including but not limited to Adobe Muse, Blogger, Elementor, HTML, Squarespace, and more.
Where to display my Etsy reviews widget on my website?
By posting reviews of your business on your homepage, you can take full advantage of your customer ratings and show off the quality of your business. Demonstrate that your handcrafted items are widely sought after and highly valued by consumers.
How to collect reviews using the widget?
With our button-style review request button, you can redirect your visitors easily to collect more ratings on Etsy or Trustindex.
Can I use a slider layout?
Of course! You can use layouts like sliders, badges, buttons, grids, lists and more.
Can I filter the widget to show only positive reviews?
Yes, you can filter reviews by star ratings, to only show 5-star, 4-star, etc. rated feedback in your widgets.
Can I modify the number of reviews in the widget?
If you want to make any changes to the widget, you can do so directly from the admin dashboard. After making the adjustments, press the save button and they will be applied to your website automatically.