8 best review widget types
Trustindex makes it simple to customize your widget to fit your exact requirements. You can choose from a variety of layout, style, color, and other options. Plus, incorporating Ebay feedback onto your website is easy with this service.
Slider – Display reviews in a continual cycle.
Grid – The reviews are laid out in a grid-like formation, containing multiple rows and columns.
Button – Clickable summary ratings
Badge – a badge that displays your overall rating.
List – Organize extended reviews by creating a single column to display them in an orderly manner.
Floating – If you place your mouse cursor over them, you can get an extended view of the reviews.
Pop-up -Show customer feedback in a pop-up window component.
Sidebar -Include a reviews section in the sidebar of your website.
10 Amazing eBay Reviews Widgets in 2023
Silder I. – Light background
Silder I. – Light Minimal
Slider III. – with badge – Light border
Slider I. – centered – Drop shadow
Grid – Light background
List I. – Light background
Button IV.
Button III.
HTML Badge I.
Sidebar Slider III.
How to Embed eBay Reviews Widget on WordPress for Free
Get some guidance to embed a great website widget that displays your eBay reviews on your WordPress website for free.
Install the plugin
First, install the Widgets for eBay Reviews plugin on your website and activate it.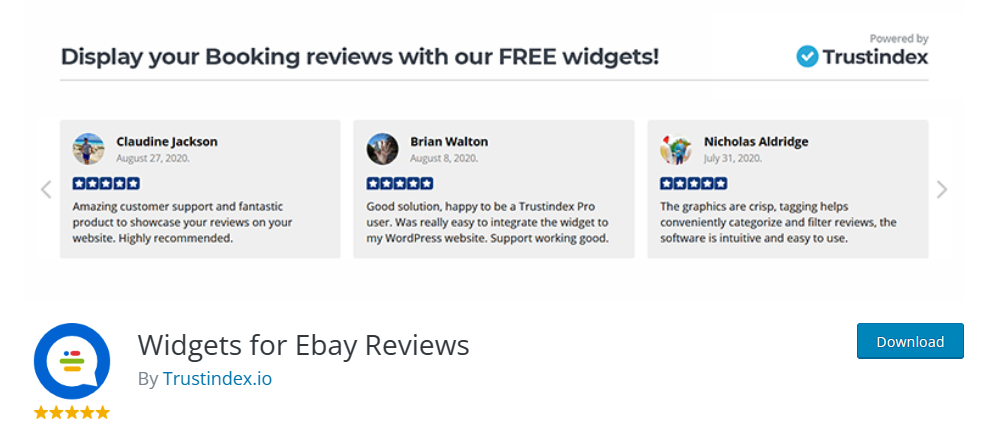 Connect the reviews
Add your eBay profile page to your WordPress Admin by navigating to the new menu. Once there, click the "Connect" button, and the plugin will begin synchronizing your reviews.

Customize widget layout
Once you have chosen the widget layout, like sliders, lists, grids, badgesand more, you can press the blue 'Select' button next to it.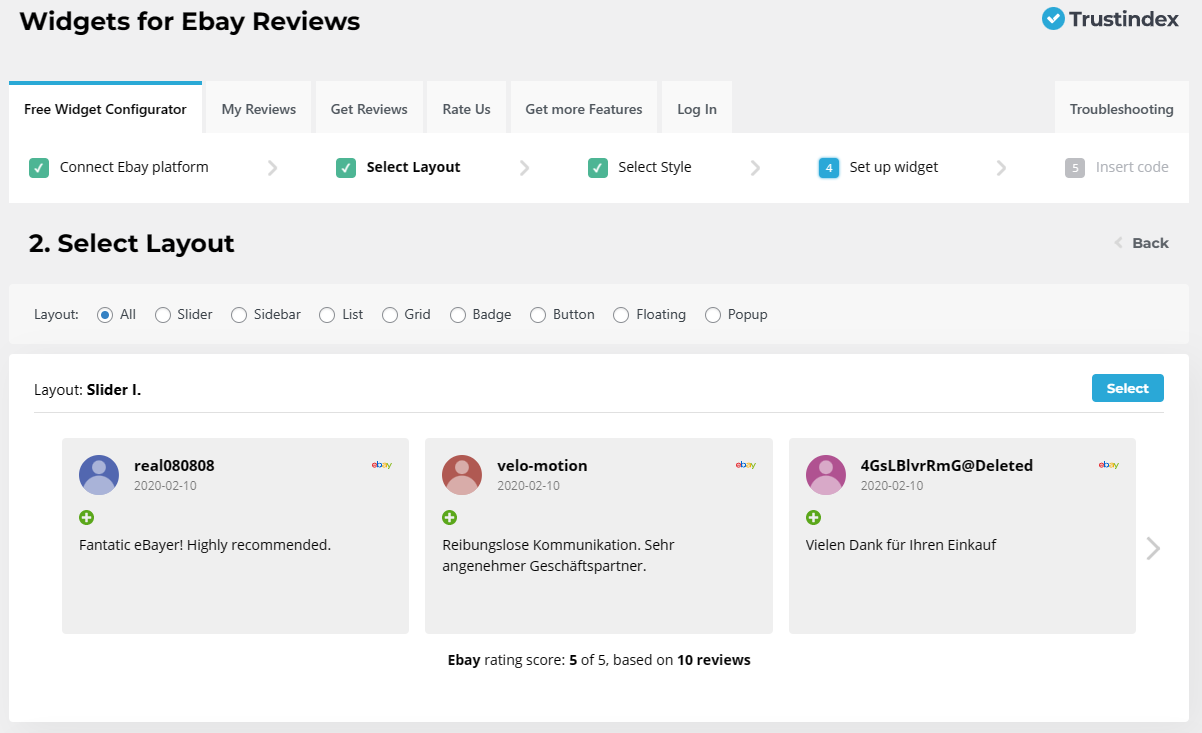 Customize widget style
After layout, you can further customize the look of the widget to make it your own.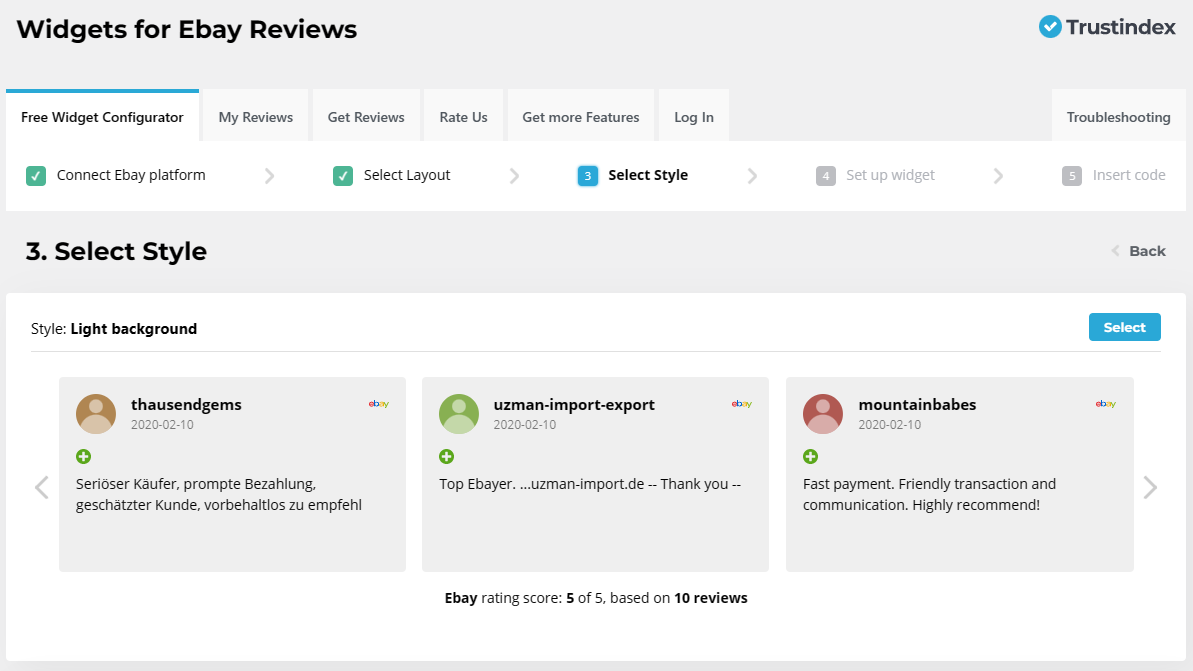 Adjust settings
You have the option to modify some settings to your liking prior to embedding the eBay review widget, such as only showing the positive reviews and more.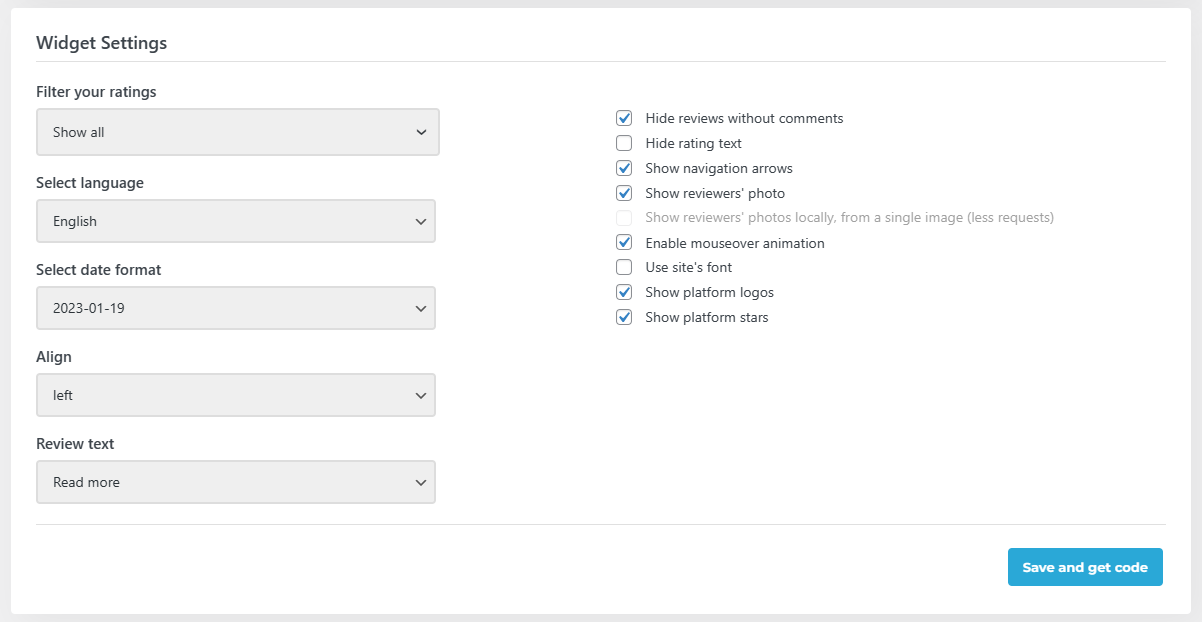 Save and insert
When you're finished, click 'Save and get code' and insert the shortcode into your web page.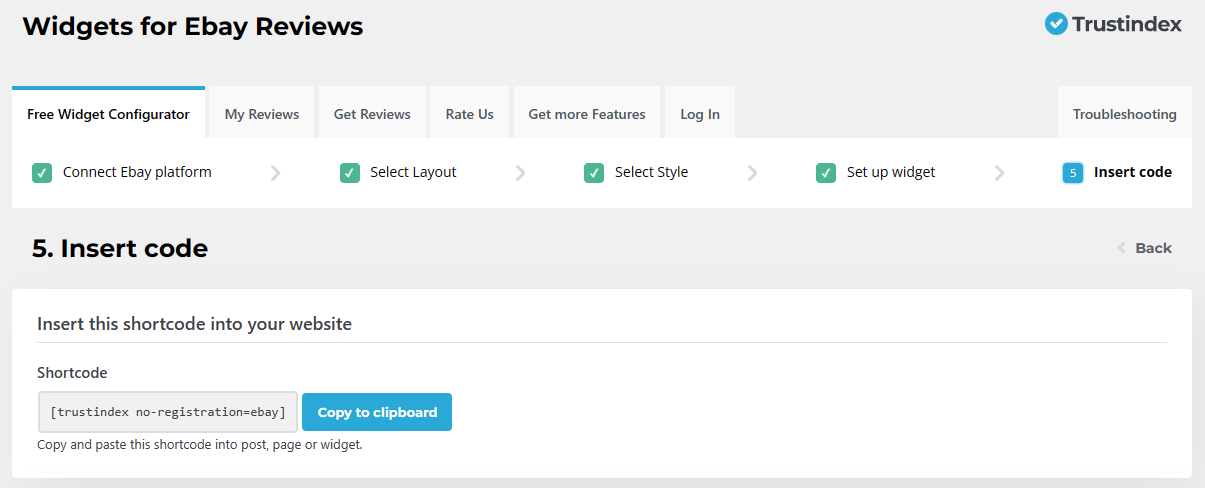 How to Embed eBay Reviews Widget on Any Website
It's easy to add eBay reviews to your own website with us! Here is a step-by-step guide on how to do it, after creating a free account at Trustindex.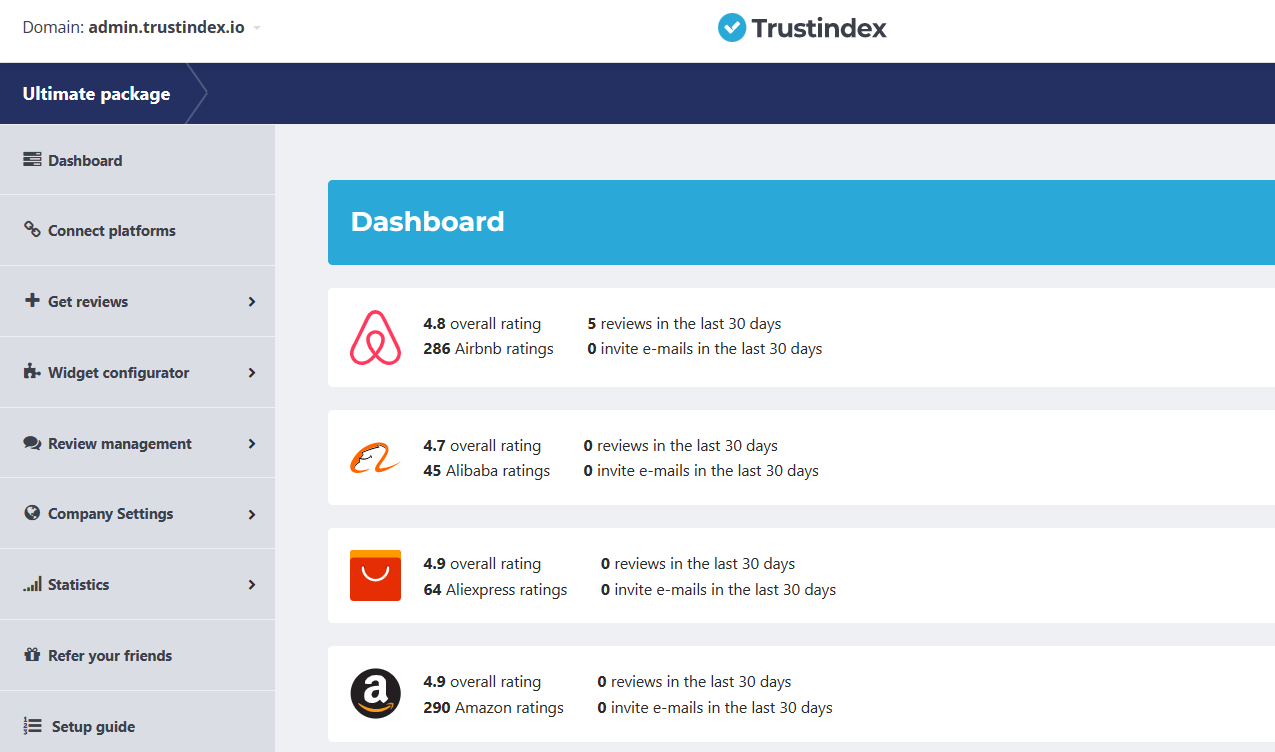 Set up the platforms
Once you have logged in, you can link your Trustindex account to the platforms your reviews are on by selecting the "Connect Platforms" menu. Connect your eBay business page here.

Create widget
Once you've linked your platform and synced your eBay reviews, you can begin configuring your eBay Reviews widget.

At the configuration page, you can take a look at how a widget layout and style will show up with only a couple of clicks. After selecting your widget, you can customize it to your own liking.
Edit widget style
Within the Style Editor, you can customize your eBay rating widget and its settings. Add tags or filters to only show your positive feedback or change the color of review text.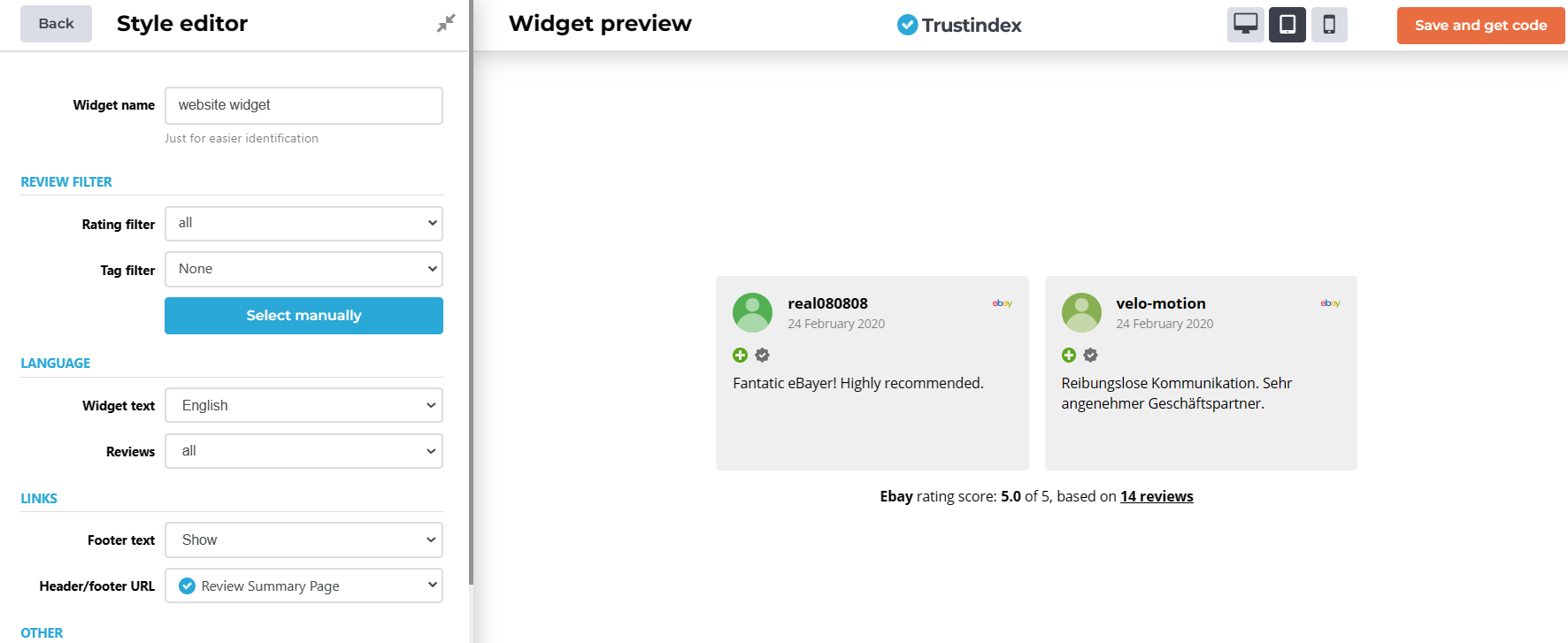 Save and insert
After configuring your review widget to your satisfaction, just save it and copy the code. Then, you only need to insert the code into your own website, at any desired location.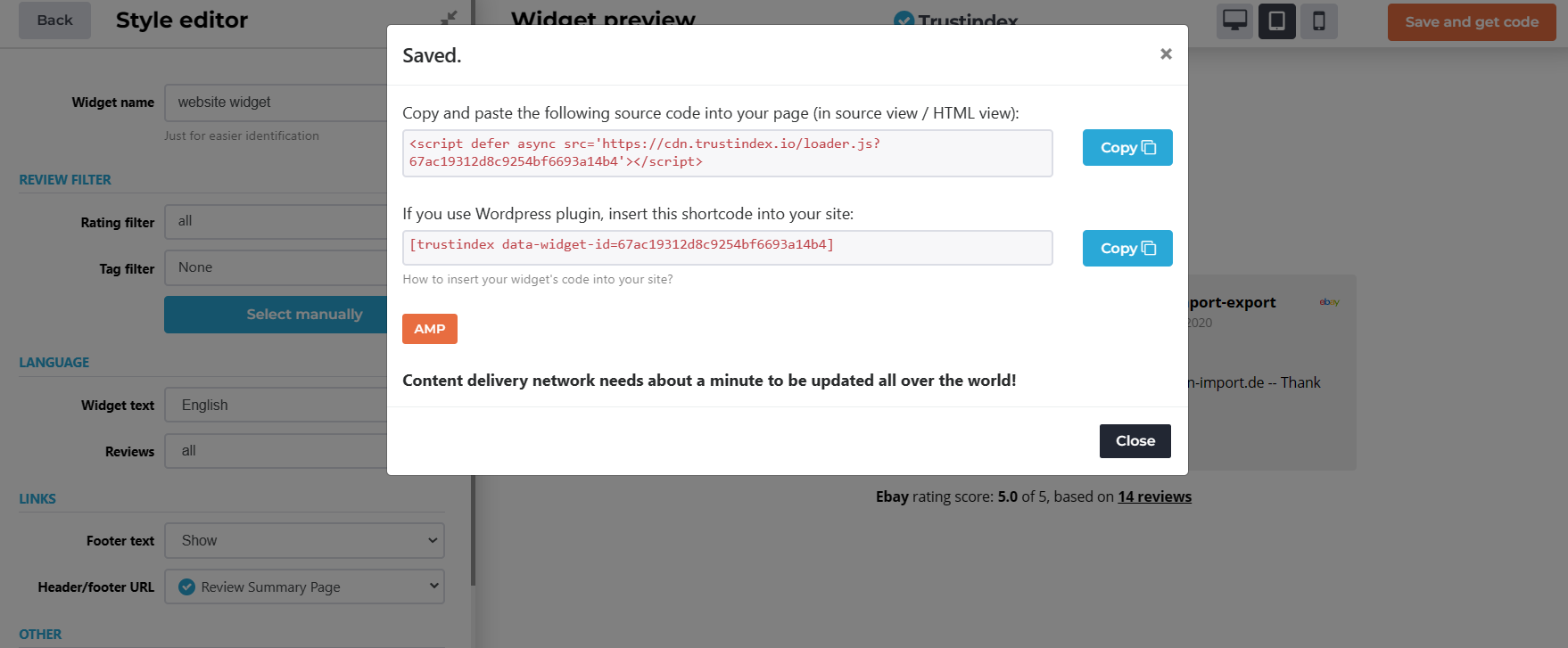 7 Best Features of Trustindex reviews widgets
By integrating Trustindex widgets into your website that showcase ratings from your customers' top eBay reviews, you can expect to see a boost in sales. Here are some of the key features that these widgets provide:
Easy-to-use tools
Our admin panel offers comprehensive analytics to monitor the performance of your widget, while the style editor with its preview option allows you to quickly view any changes you make to the settings. With our modern and user-friendly platform, creating amazing website widgets is made easy.
Automatic refresh
Choose how often you want the reviews in your widget to be updated – you can pick monthly, weekly, or daily – and we'll take care of it!
Syncs with all your reviews
It only takes a few clicks to integrate Ebay reviews into your website, thanks to Trustindex!
Custom styles
When integrating eBay Reviews into your page, Trustindex provides you with a multitude of styling options, making sure that both you and your customers are satisfied!
Personalization
With our widget types, you can customize your experience by utilizing filters, tags, manual selection, links, color, and many other options!
Responsiveness
Don't fret over personalizing the display options for different screen dimensions – the widget will modify itself autonomously.
Hide negative reviews
Don't be intimidated by unfavorable comments – you can always conceal them in your widgets if it's necessary.
4 ways to collect eBay Reviews fast and easily
Adding authentic eBay reviews to your website can provide an incredible customer experience and help your business grow. We're here to show you how to get more reviews from eBay users – let us assist you!
Email campaigns – Automatic review collection
A powerful tool for easy and automatic review collection. With the help of our system, create automatic review collecting emails that will be sent out to your customers.
QR Codes – Collect reviews offline
Configure a scannable QR code in under 1 minute that lets you direct your in-store buyers to your company's review platform online. No more forgotten reviews from offline customers.
NFC Cards – Get reviews with one quick tap
Trustindex review cards work with NFC technology. After a successful purchase, you can direct your customers with a single tap of their phone to the review platform of your choice, so they can easily leave a review on the spot.
Integrations – Unlimited review invitations
Skyrocket your online reputation and sales with the Trustindex Customer Reviews Collector app. Easy to integrate with Shopify website and WooCommerce sites alike, this tool will surely get you that review boost you wanted.
Why do I need eBay Reviews?
Highlight your fantastic ratings to increase sales. Incorporate eBay reviews on your pages to take advantage of your rating and generate more sales.
By featuring your eBay reviews on your website, you can promote the positive experiences of your customers, inspiring visitors to your site to try out your products and services.
Reviews and rating from prior customers can engender trust in your brand and products, leading to increased loyalty, solid social proof, and a larger customer base.
Having customers recognize and accept your products and services will show that they are of the highest quality. This will lead to fewer apprehensive customers who have never purchased from you before.
Display eBay reviews aggregated
You have the option to customize your reviews widget by combining reviews from other platforms with your ratings. Here are some potential options for other review sites:
Boost trustworthiness by showing real, positive reviews
Increase the reliability and trustworthiness of your business by incorporating an eBay Reviews Widget into your website.
Showcase your credibility, demonstrate your dependability, and gain customer feedback by displaying your customers' online reviews. Achieve your business objectives by emphasizing these reviews.
Frequently Asked Questions
Why Trustindex widgets for eBay feedback?
To configure Trustindex widgets, you don't need to have any programming skills!
You will also have access to powerful features, reliable support for any issue, and the most recent updates.
Is it possible to adjust the dimensions of my widget?
Trustindex widgets will expand as long as it has space and your template does not fix the size. You should add the code of the widget into a box, which is appropriately sized.
Is the eBay Reviews widget from Trustindex fully responsive?
Trustindex widgets are guaranteed to work and look amazing no matter what device they're being viewed on – be it desktop, laptop, or smartphone.
Is Trustindex compatible with all CMS platforms?
Trustindex widgets are compatible with just about every website CMS or site builder, including but not limited to Adobe Muse, Blogger, Elementor, HTML, Squarespace, and more.