8 widely used website widget types
Trustindex allows you to customize your experience however you desire, with an extensive selection of layouts, styles, colors, and more.
Slider – Show your reviews in a loop
Grid – Reviews are displayed in multiple columns
Button – Rating Summaries that can be clicked on
Badge – Display your overall rating concisely on your website
List – List your reviews to show longer texts in a single column
Floating – By placing your cursor over them, you will be able to view the reviews in a more extended form
Pop-up – Show customer reviews in a popup box
Sidebar – Incorporating reviews into the sidebar of your website
10 Amazing Airbnb Reviews Widgets in 2023
Silder I. – Light background
Silder I. – Light Minimal
Slider III. – with badge – Light border
Slider I. – centered – Drop shadow
Grid – Light background
List I. – Light background
Button IV.
Button III.
HTML Badge I.
Sidebar Slider III.
How to Embed Airbnb Reviews Widget on WordPress for Free
We are here to help you create a stunning website widget with your Airbnb reviews for your WordPress website. Follow these steps to get started with our Airbnb plugin!
Install the free plugin
To start, you must install and activate the plugin on your WordPress website. If you are using WordPress.com, you need to be subscribed to a WordPress.com plan that allows you to install plugins.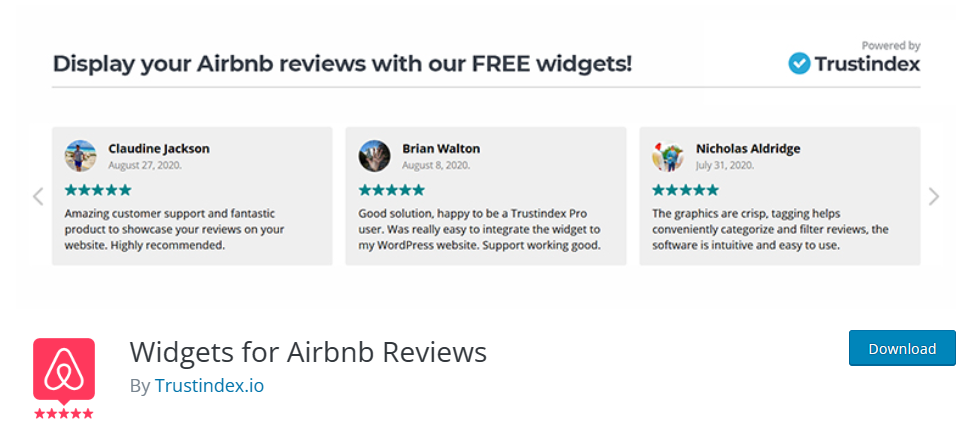 Connect Airbnb URL
Once you install and activate the Trustindex.io plugin, you can start adding your Airbnb listing by going to the new menu option in your WordPress Admin.

To get started, you must enter your Airbnb Business URL before you click Connect.
Personalize the Airbnb widget layout and style
When you press the 'Connect' button, the system will automatically get the Airbnb Reviews for your business.
From a range of formats, you can choose between sliders, lists, grids, badges and beyond.
Once you have located the design that appeals to you, press the blue 'Select' button next to it.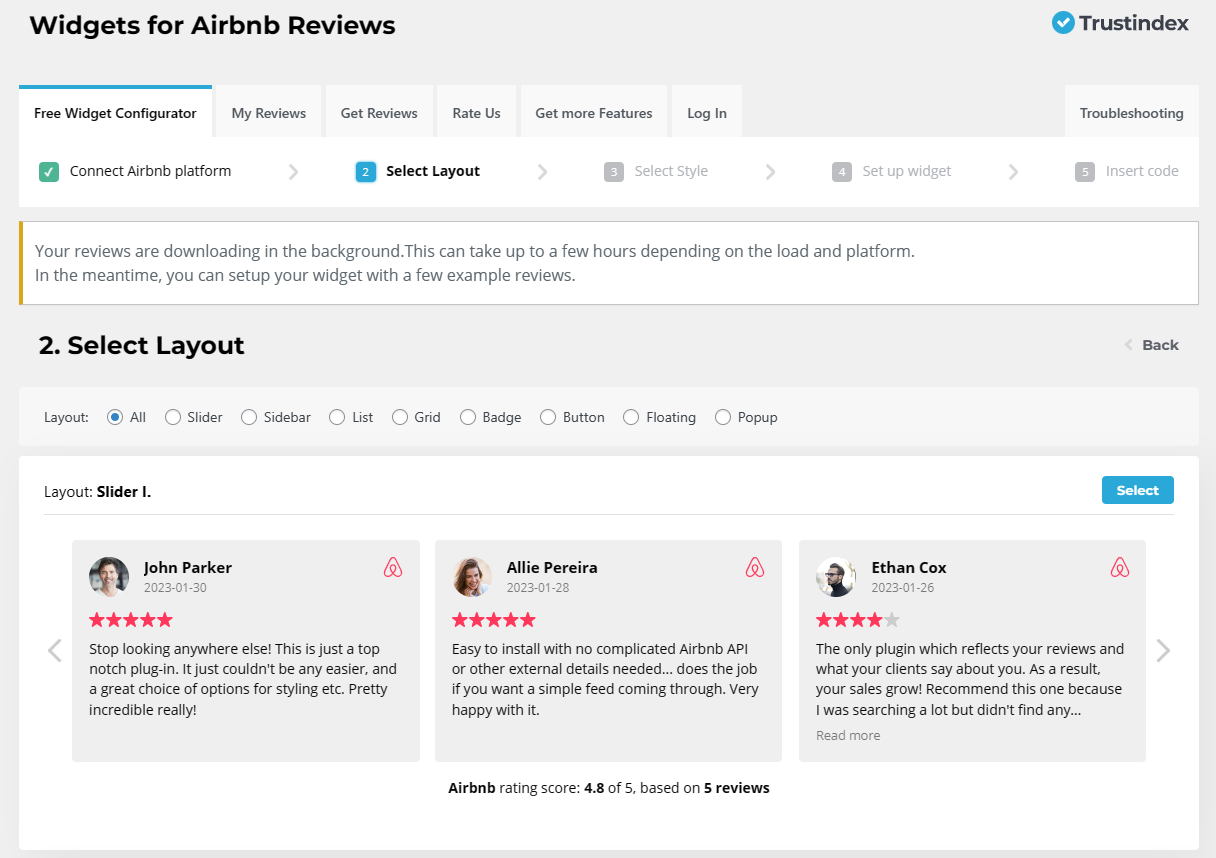 After you have selected the layout you want, you can modify the style to your preference.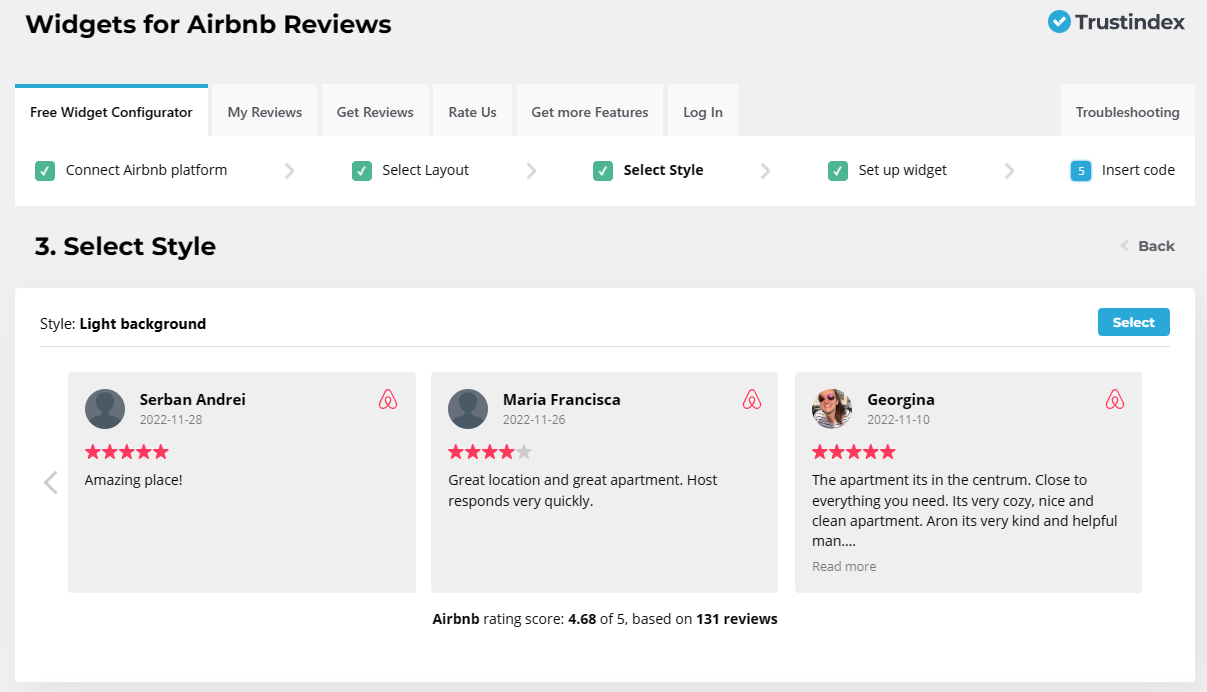 Adjust widget settings
You can customize the style of the layout you have chosen for your widget by selecting a language or star rating that will only show positive reviews, blocking out any negative ones, etc.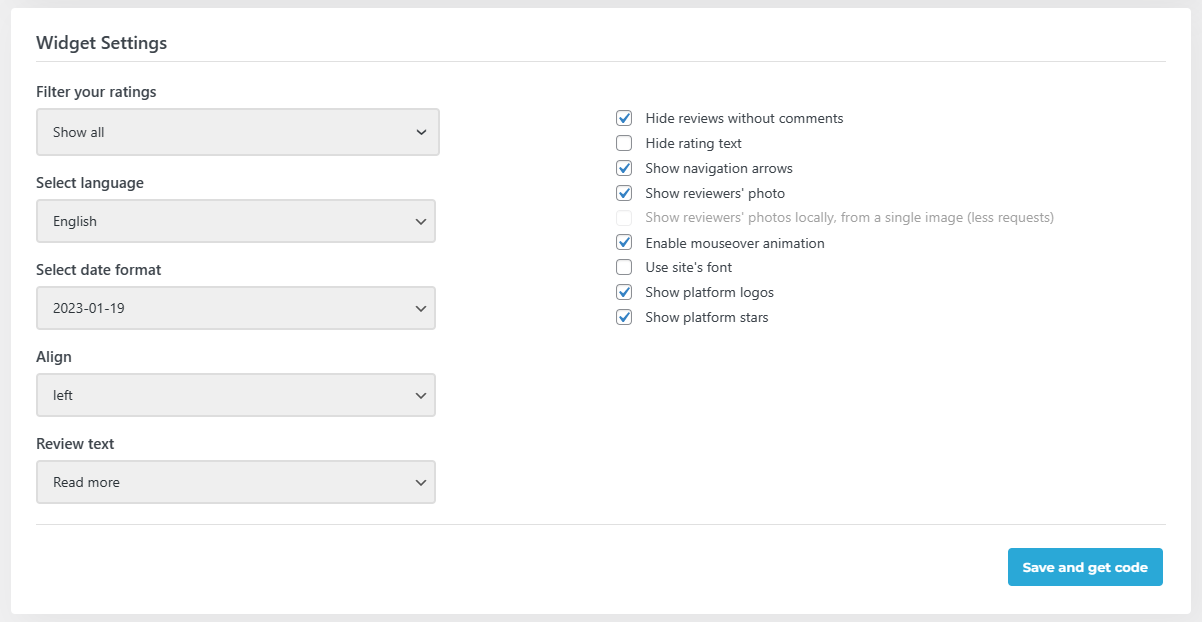 After adjusting, click Save and get code.
Copy the code and embed the widget
Just click "Copy to Clipboard" at the end, and then insert the shortcode into the desired position of your WordPress website (for example, your home page) to display the Reviews widget.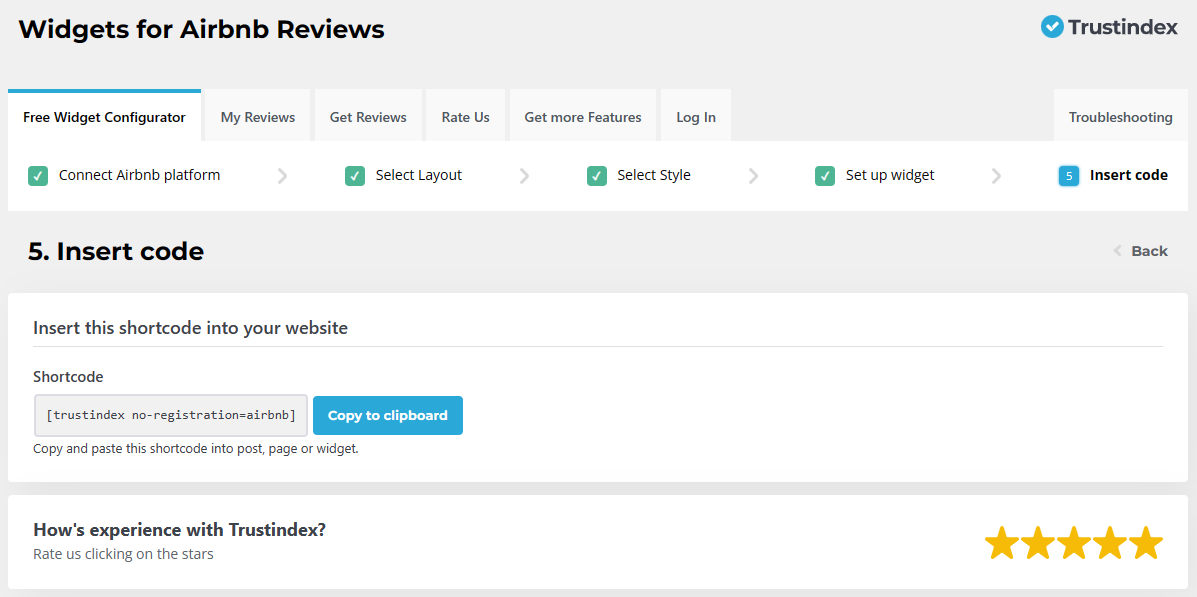 How to Embed Airbnb Reviews Widget on Any Website
Reviews are the first thing your potential guest checks before booking your accommodation. Make the choice easy for them by displaying your feedback right on your website.
Set up your platforms
First, after logging in, you have to connect your Trustindex account to your Airbnb page, under the Connect Platforms menu. This is where you need to connect your Airbnb Business URL.

Add a new website widget
Once you have successfully connected your Airbnb page, and have your Airbnb customer reviews synced, you may begin configuring your widget.

You can choose from 35+ widget layout and 25+ style to best fit the pages of your website.
In the configuration page, you can quickly configure a preview to see how a given widget layout and style would look on each platform.
After selecting your widget, you can fully customize it.
Edit the widget style
After deciding on a preferred style, you will enter the Style Editor.
Here you can alter the design of your Airbnb review widget and adjust its configuration to your preferences.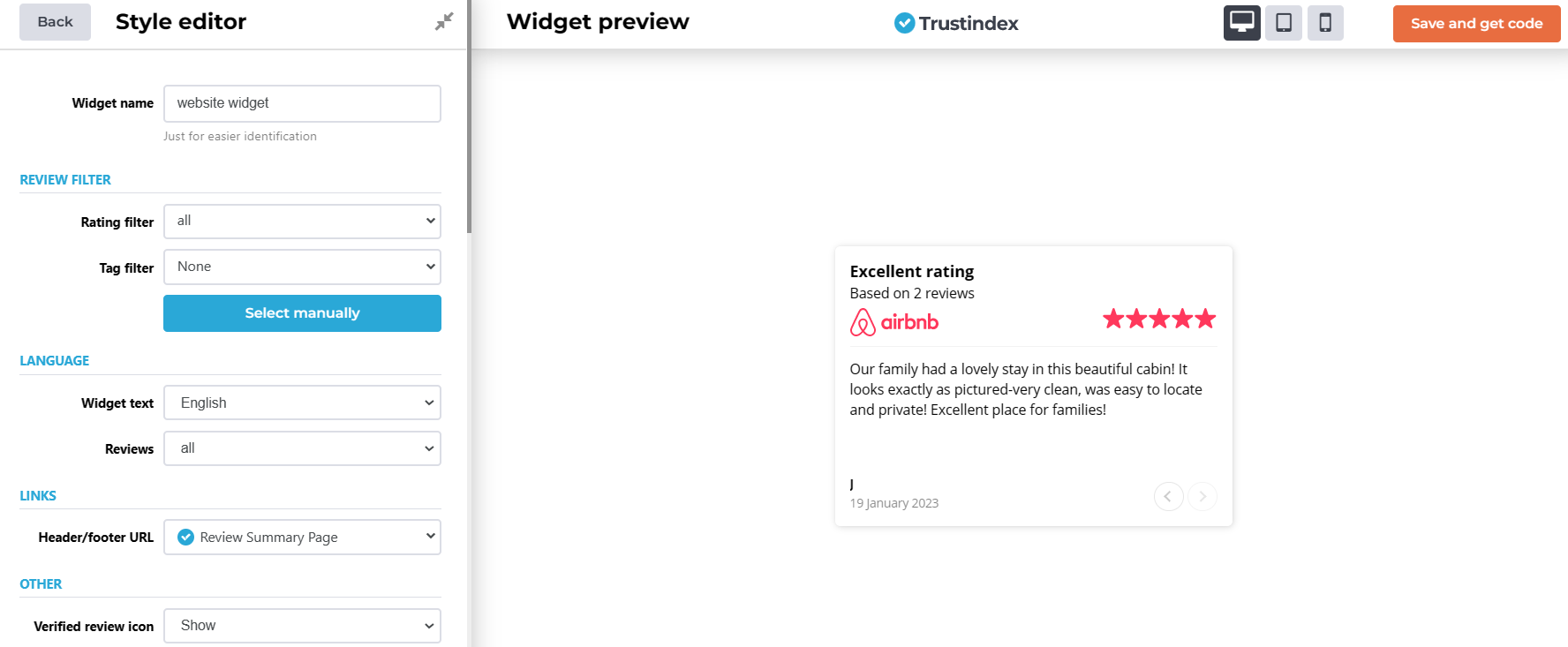 If you are looking to customize the Airbnb reviews widget to suit your brand and website, this is the place to be! Here, you can apply filters to show only positive reviews, add tags, and modify the design from colors to texts.
Save and embed code
Once you are content with the way you have set up your Airbnb Reviews widget, make sure you save it and copy the code from the pop-up window. The system provides codes for both HTML website and WordPress website types.
You just need to paste it into your web page in the desired location to display all your Airbnb reviews widget for your website visitors.
Not sure how to embed the reviews widget into your site? See our detailed guide here.
5 Best Features of Trustindex widgets
Adding Trustindex widgets to your website can significantly increase your sales by showcasing the most positive Airbnb reviews from your guests.
Simple interface
Customize extraordinary website widgets with our modern and user-friendly system. Utilize the style editor's preview feature . This helpful feature lets you observe the alterations you made to the configurations in real-time, and assess your widget's performance with our insightful analytics in the admin panel.
Updates Automatically
Select the refresh rate for the Airbnb reviews shown in your widget. We can provide you with monthly, weekly, or even daily updates – whatever you need!
Verified reviews
Trustindex gives a verified tick for reviews where the platform's review-request process guarantees authenticity.
More than 35 widget layouts & 25 widget styles
Trustindex has a vast selection of styles to choose from, so you can create something that both you and your guests will love.
Responsive widget for your site
No need to worry about changing the display setting for various screen sizes – the responsive widgets can modify themselves automatically.
4 ways to collect Facebook Reviews fast and easily
We can make it easy for your guests to leave reviews. Embedding real reviews from your Airbnb page on your website can be a great way to foster positive customer interactions. This can lead to increased business and customers who promote your brand or business. We can provide you with more reviews – let us show you how. More reviews = more guests.
Email campaigns – Automatic review collection
Our system offers an effective approach for effortlessly gathering customer reviews. Automated emails can be generated to ask customers for their opinions, simplifying the process of collecting reviews.
QR Codes – Collect reviews offline
It only takes a minute to create a QR code that can be scanned by your in-store customers to access your company's online review platform. This ensures you don't miss out on any reviews from customers who shop offline.
NFC Cards – Get reviews with one quick tap
Trustindex review cards use Near Field Communication (NFC) technology. After a purchase is finished, customers can be sent to the preferred review platform with just one tap of their phone, making it easy for them to leave a review right away.
Integrations – Unlimited review invitations
Grow your digital presence and increase sales with the Trustindex Customer Reviews Collector app. This app is compatible with Shopify and WooCommerce, making it easy to access the customer reviews you need to boost your business.
Why do I need Airbnb Reviews?
Display Airbnb's genuine and dependable guest reviews on your website in order to create a sense of trustworthiness.
The glowing and excellent ratings demonstrate that your accommodation is popular among visitors and is worth visiting. This, in turn, increases the possibility of attracting new revenue due to the influx of new guests.
Display Airbnb reviews aggregated
Customize your Airbnb reviews widget by combining the reviews with your ratings from other platforms. Here are some options:
Raise trust by displaying genuine customer reviews
Boosting your business's trust is simple with the addition of an Airbnb Reviews widget to your website. This will not only help to boost your credibility and display your social proof, but it will also help to collect Airbnb reviews, drive customer feedback for your website visitors and accomplish your business objectives by showing off feedback from your customers, especially when you're in the hospitality industry.
Increase sales by displaying your high ratings
Integrate Airbnb reviews on your website – a great way to create a positive customer experience and grow your business. This will encourage customers to promote your brand and drive sales like no other.
Frequently Asked Questions
Why use Trustindex widgets?
No programming skills are required to set up Trustindex widgets! Additionally, you can benefit from a range of other useful features, reliable technical support, and useful updates. Try our features with a free account.
How do I create an Airbnb review widget?
Completing this task is a cinch! All you need to do is three easy steps: connect, configure, and insert.
How do I display Airbnb reviews on my website?
In order to get the review widget code and add Airbnb reviews to your site easily, you must configure your widget using the free plugin or in your Trustindex account. Once this is done, click 'Save and get code', then embed code on your website.
How do I Integrate Airbnb reviews on WordPress?
With our free plugin, all you have to do is download & activate it. The setup guide will walk you through the style configuration and after saving, you can copy and paste the code into your WordPress website.
Are Airbnb reviews widgets compatible with all CMS platforms?
Trustindex widgets are compatible with just about every website CMS or site builder, including but not limited to Adobe Muse, Blogger, Elementor, HTML, Squarespace, and more.