Finding the best live chat software: One of the crucial aspects of running a business is providing customer support, which can often involve dealing with demanding requests. For instance, some customers may expect immediate assistance from a live representative.
To address this, there are numerous live chat solutions available that can help you cater to such demands.
This article aims to highlight some of the most popular live chat software solutions for 2023. The list is not prioritized, so we recommend exploring each option to determine which one aligns with your requirements.
About Live Chat Support Software
Live chat software is a tool that allows businesses to communicate with their customers or clients in real-time through a chat window on their website or mobile application. It is a form of online customer service that allows businesses to provide immediate support, answer questions, and resolve issues quickly and efficiently in quick chat conversations.
Some common features of live chat software include chatbots, automated messages, real-time visitor monitoring, and integrations with other business tools such as customer relationship management (CRM) software.
Overall, live chat software is a valuable tool for any business looking to improve its customer support and increase customer engagement.
Why Should You Use a Live Chat Software?
Live chat software simplifies the management of sales and support requests through a single platform. It can be used for both customer and staff support and is accessible to remote workers.
Given the increasing reliance on the internet for communication, the importance of live chat cannot be overstated, as it provides a visible and immediate means of addressing customer and staff requests in a simple and easy-to-manage way.
Moreover, live chat software can be omnichannel, meaning that communications can be directed through the organization's website, social media, email, and phone support, ensuring that all requests are accommodated regardless of the channel used.
Live chat software can be used for a range of purposes, from sales and marketing to technical support and customer service. It offers many benefits over traditional customer support channels like email or phone, including faster response times, increased customer satisfaction, and improved conversion rates.
3 Benefits of live chat support software
1. Increase efficiency and save costs
Live chat is a valuable tool for support teams to achieve more with fewer resources. Unlike phone support, agents can handle multiple chats across various channels simultaneously, resulting in improved efficiency and cost savings.
2. Improve Customer Satisfaction
Live chat software is a great way to improve customer satisfaction by providing fast support. Customers want their issues resolved quickly and live chat allows businesses to engage with them promptly.
With the right live chat solution, businesses can provide users with several options such as accessing relevant knowledge base content through a chatbot, requesting to connect with a live agent, leaving a message for internal or external support, and continuing conversations from where they left off.
By offering chatbots and self-serve options, companies can provide 24/7 support to customers.
3. Increase revenue and decrease instances of shopping cart abandonment
Engaging with customers through live chat can proactively reduce online cart abandonment and increase sales. Providing conversational support can help resolve issues immediately, leading to a better buyer's journey and more successful purchases.
For instance, if a customer encounters a problem with the business's online shopping cart, offering support while they are on the page can address the issue that may be delaying the sale.
These statistics demonstrate how live chat can increase the lifetime value of your customers. Furthermore, live chat can also enhance the value of your agents by providing them with the following benefits:
Chatbots and self-service options can handle simple, repetitive questions
Automation can handle tedious logistics such as tagging and routing support tickets
Chat analytics can deliver useful insights
By handling the basic inquiries, chatbots can allow live agents to focus on providing personalized services that build brand loyalty, leading to increased purchases and sales volume.
The Top 14 Live Chat Services
1. LiveChat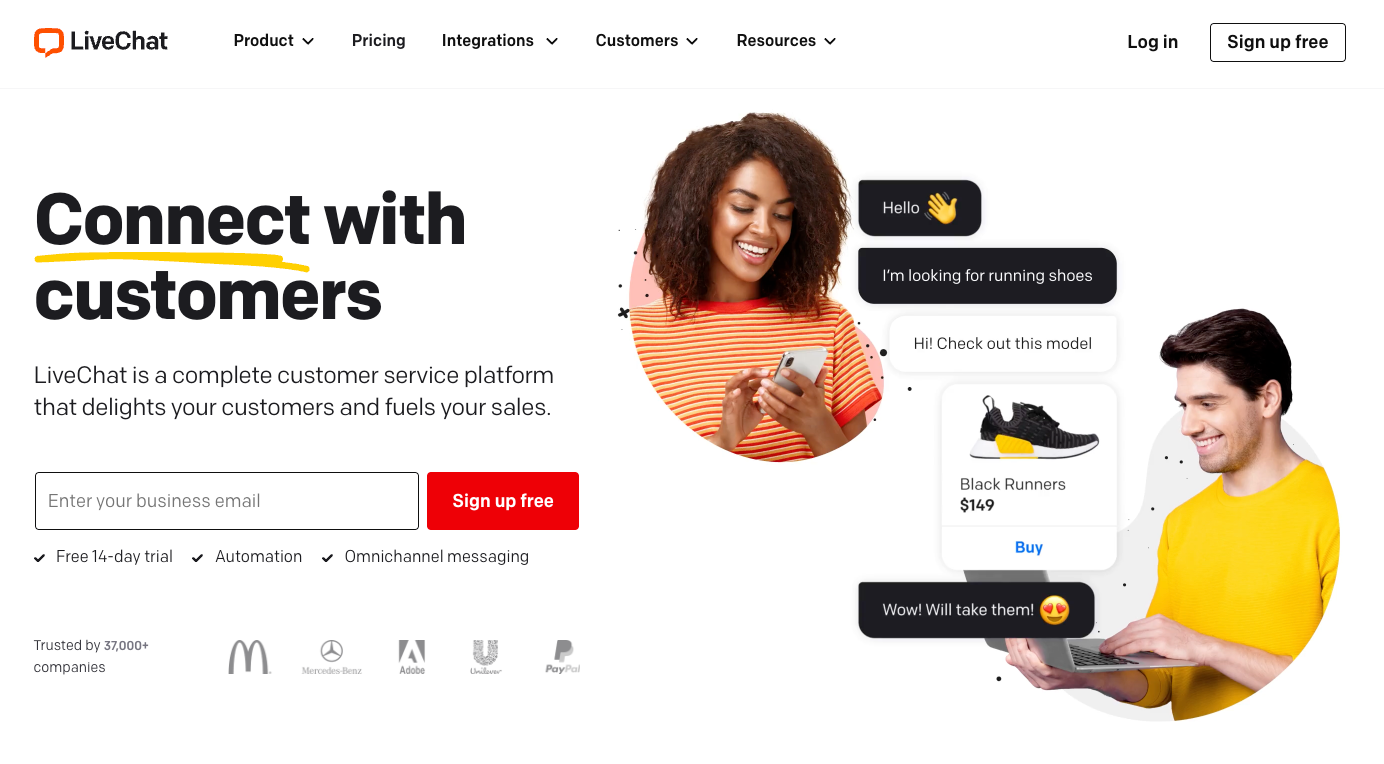 LiveChat is a solution with a simple name and a simple user experience. It offers an intuitive experience for both you and your users. The LiveChat window is aesthetically pleasing and does not obstruct the rest of your website by default. Additionally, you can customize it to suit your needs.
What Does LiveChat have to offer?
LiveChat provides seamless integration with other social platforms, management tools, and messaging apps, such as Salesforce.
Adding the chat widget to your website is quick and easy, and there is even a plugin available for WordPress users.
You can customize greetings which allow you to personalize the chat experience, reacting to factors such as time on site or location.
Additionally, you can view incoming messages and prepare a response before they are finished.
Pricing of LiveChat
LiveChat doesn't have a free plan. Luckily, it offers reasonably priced solutions starting at $20 per agent, per month (if billed annually).
This makes it an affordable option with a lot to offer. Although the Starter plan comes with certain limitations, like a 60-day chat history, and you do not have full control of widget customization.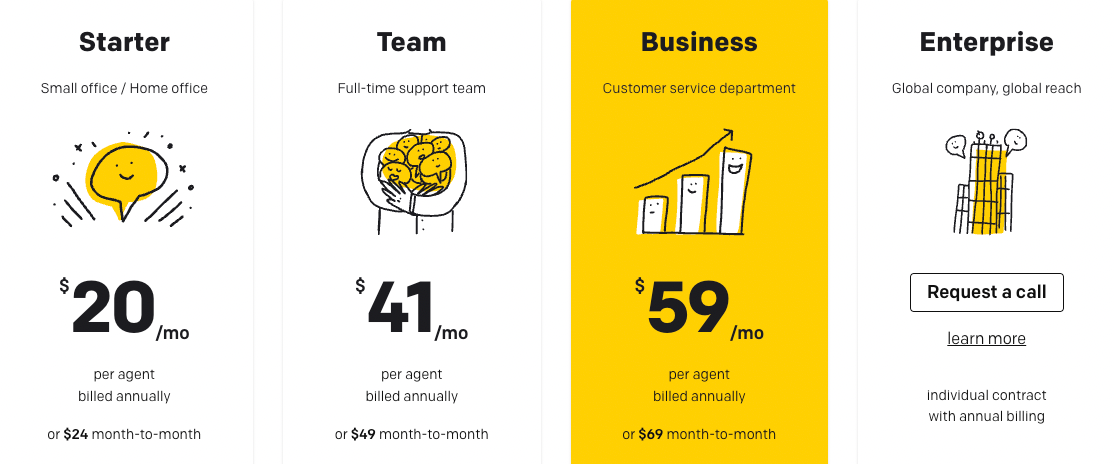 2. JivoChat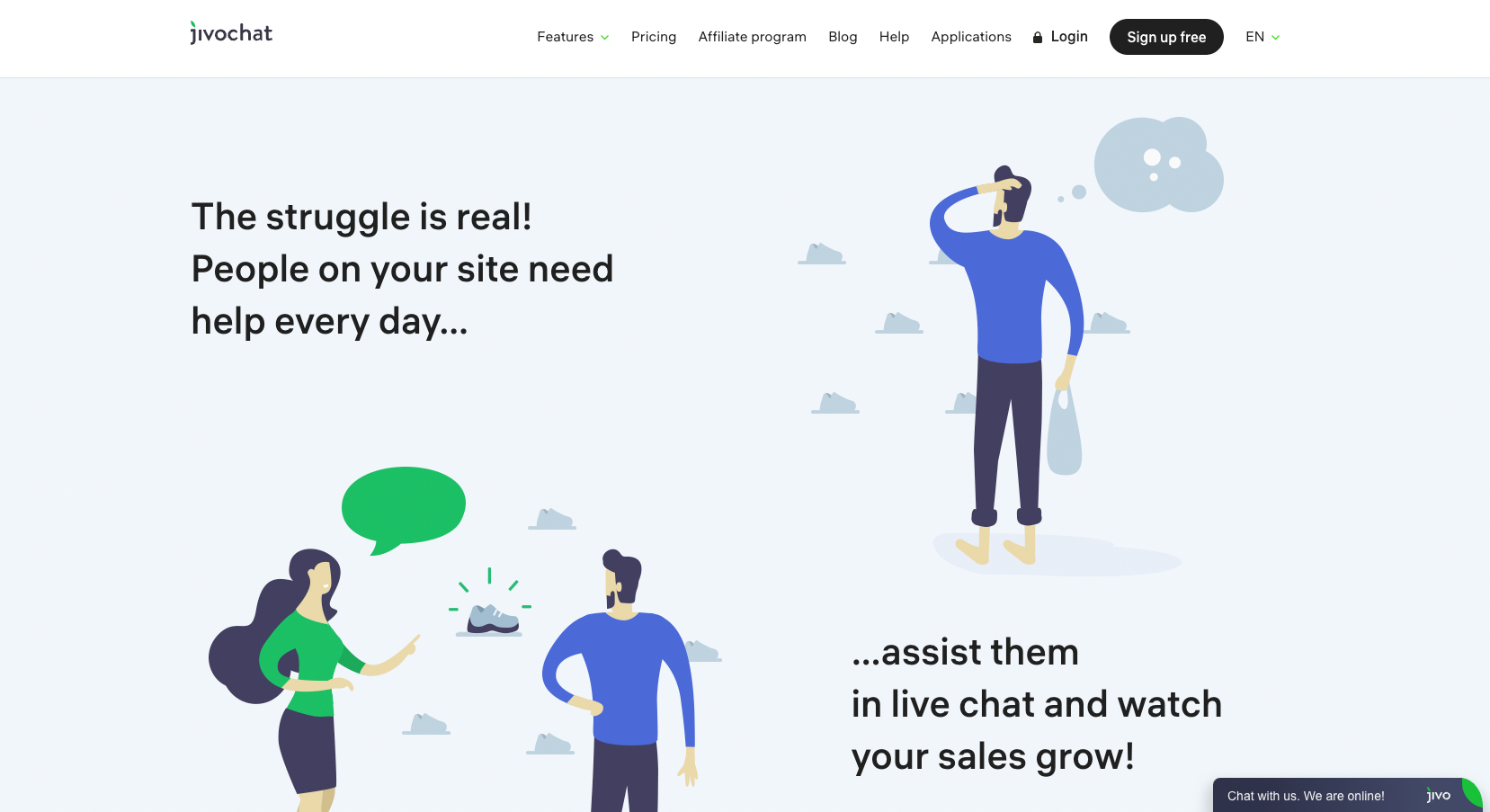 JivoChat is a great option if you're searching for the best live chat software for website support. It is affordable and easy to use, and offers integrations with popular platforms like Instagram, Facebook, and WhatsApp.
With JivoChat, you can connect with your customers wherever they are. Plus, agents can manage calls, chats, and emails from a single inbox for convenience.
What Does JivoChat have to offer?
The software offers a centralized widget that allows you to manage multiple chats simultaneously, with color coding for easy identification.
Additionally, you can preview incoming messages and even prepare canned responses.
The tool also provides an overview of CRM information, click sources, customer locations, and more at a glance.
Pricing of JivoChat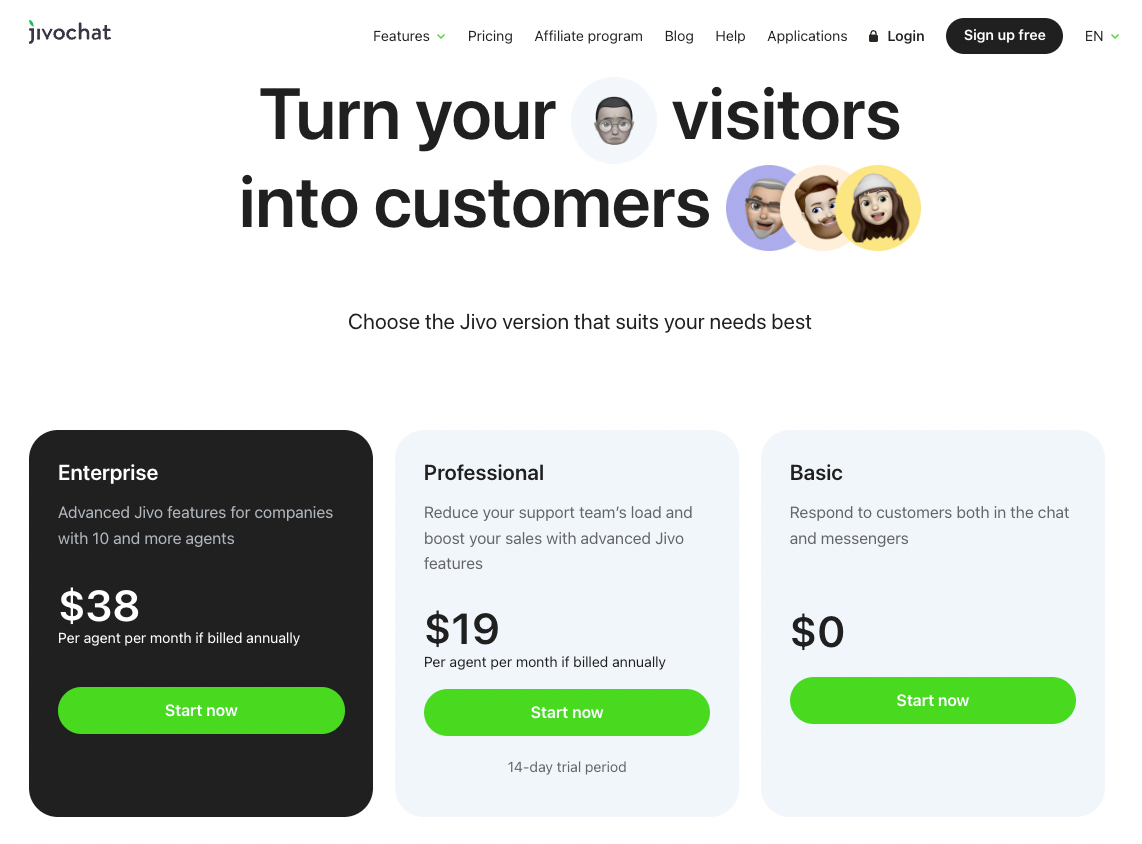 JivoChat offers straightforward pricing, with a basic free tier providing an overview of the live chat software's capabilities. In the case of the basic plan, the chat history is stored for 2 months. For more features, the premium tier is available at $19 per agent, per month. For an additional $33/month per operator, you can unlock a video chat module.
3. Tidio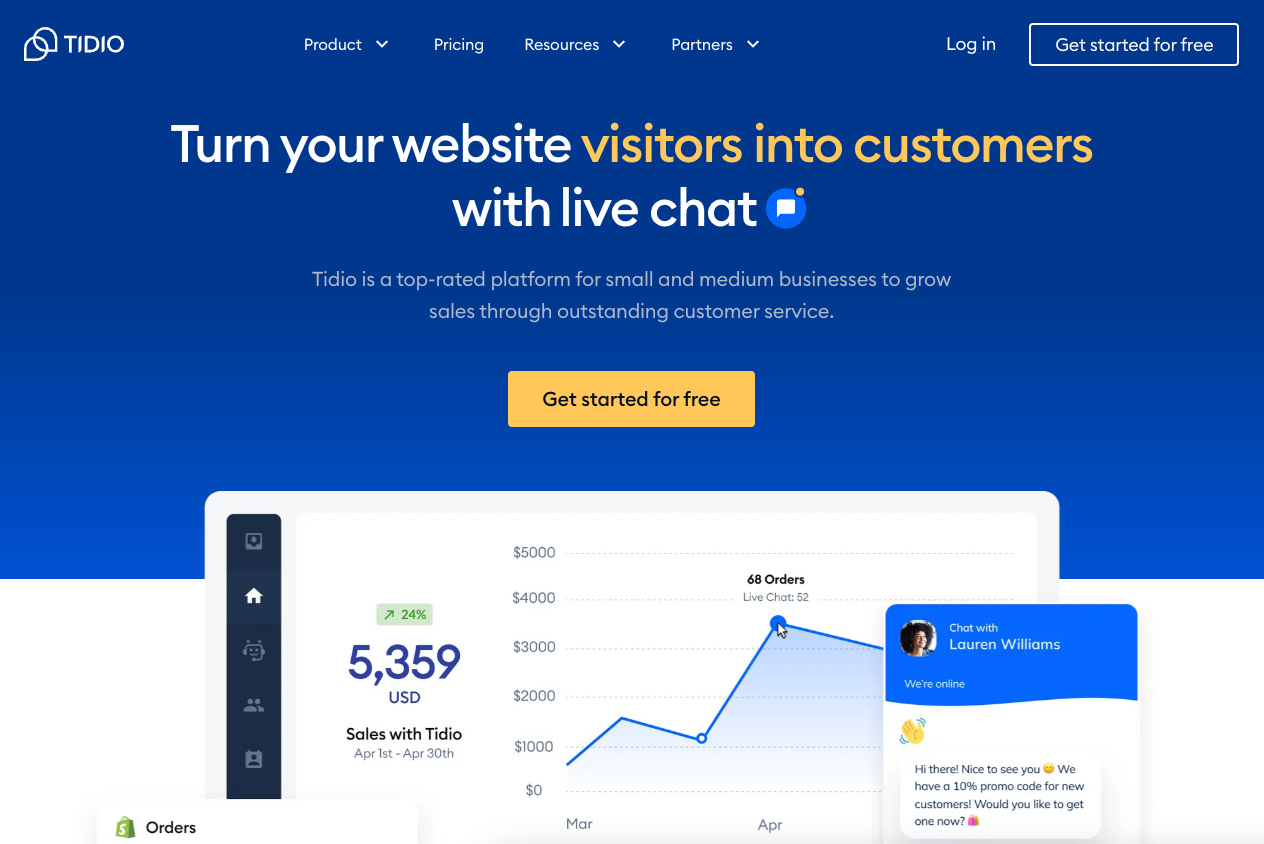 Tidio is a live chat solution designed to prioritize converting users, which can be a crucial metric for businesses, especially eCommerce stores. With its focus on conversion, Tidio offers a robust set of features and functionalities to help businesses keep customers satisfied and eager to make purchases.
What Does Tidio have to offer?
Tidio provides detailed analytics to help you understand who is accessing your live chat, as well as an artificial intelligence (AI) system to monitor and analyze chat results.
Additionally, Tidio offers a live list of visitors that includes the pages they are currently viewing, giving you time to prepare for potential inquiries or questions.
Pricing of Tidio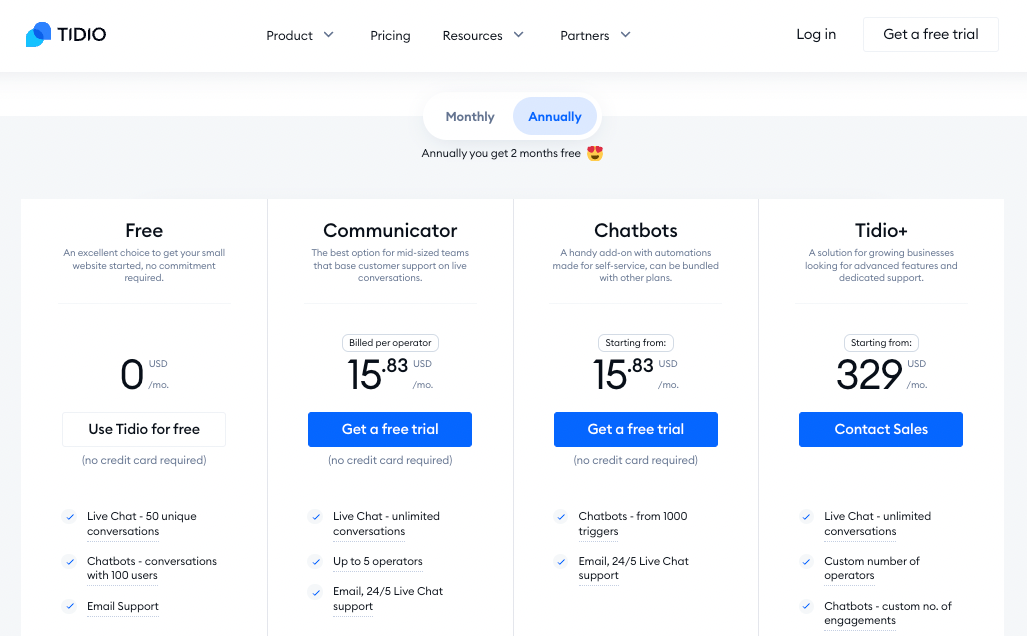 Tidio provides two primary paid options: the Communicator plan, which is human-focused and priced at $15.83 per agent per month (if billed annually), and the chatbot-focused plan, which is starting at $15.83 per month (if billed annually). Naturally, the communicator Plan comes with unlimited chats.
Tidio also comes with a free live chat solution, but it has its limitations. You can have 50 unique chat- and 100 unique chatbot conversations per month.
4. Olark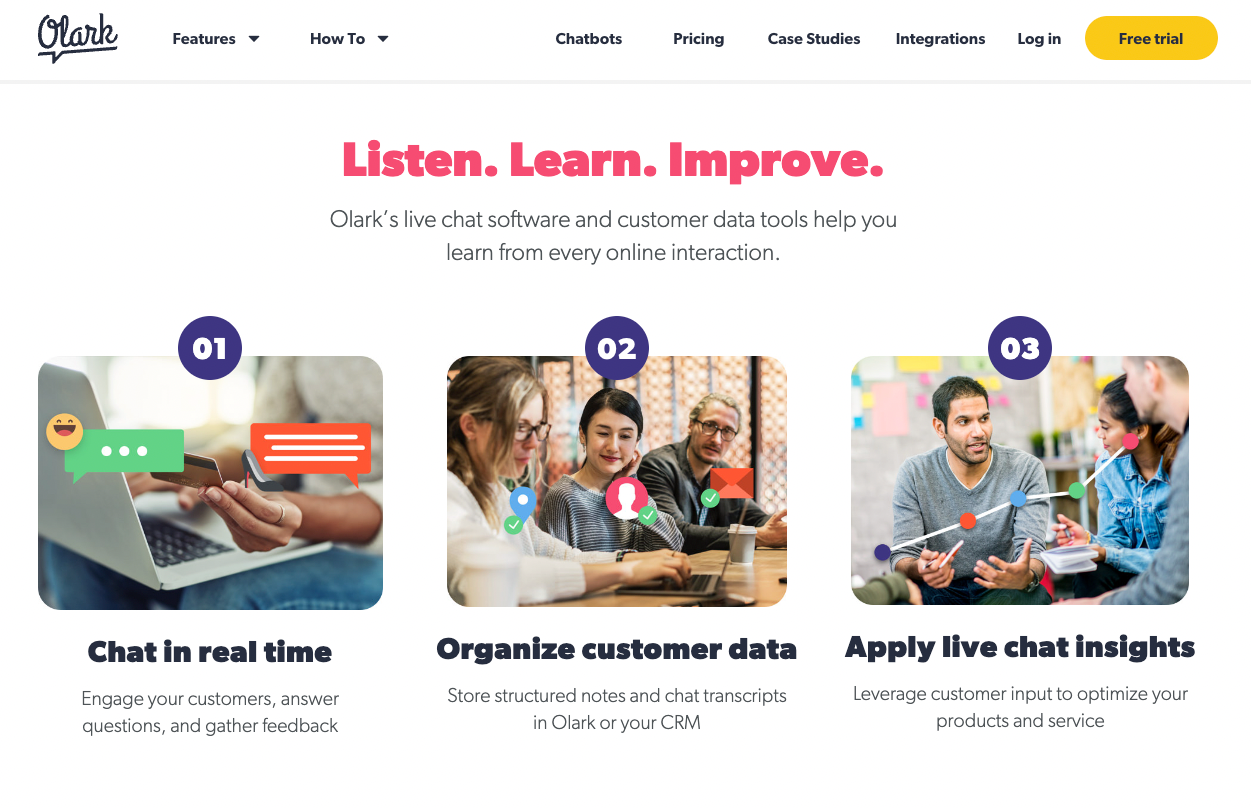 Olark is a feature-rich live chat software solution that offers advanced capabilities for scalable live chat.
In addition, Olark includes useful automation capabilities such as canned responses, automatic engagement with customers, and routing chats to different departments. The platform also delivers live reports and analytics on crucial metrics like customer satisfaction, chat volume, and support agents' performance.
What Does Olark have to offer?
The software provides a plethora of customization options that look visually stunning.
Automation rules can be set up to engage with more users, such as creating automatic greetings and redirecting chats.
Live chat transcripts are available for access to improve customer support, which can be combined with built-in analytics for a more comprehensive view of relevant information to boost customer service.
Pricing of Olark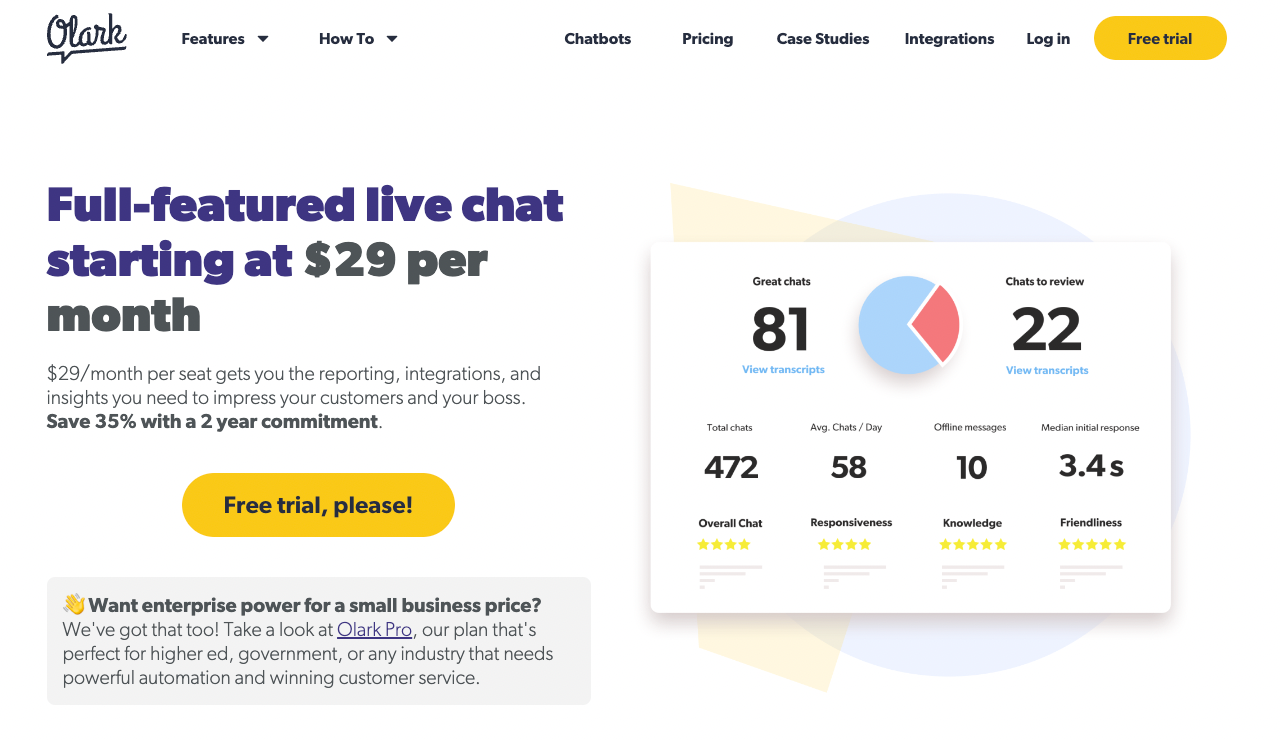 Olark's pricing structure is straightforward, with a rate of $29 per agent per month. They also offer 35% discount with a 2-year commitment.
There is a free 14-day trial, at the end of the trial you can decide to go with the free plan. The free account provides restricted functionality with only one agent and a maximum of 20 chats per month.
5. Smartsupp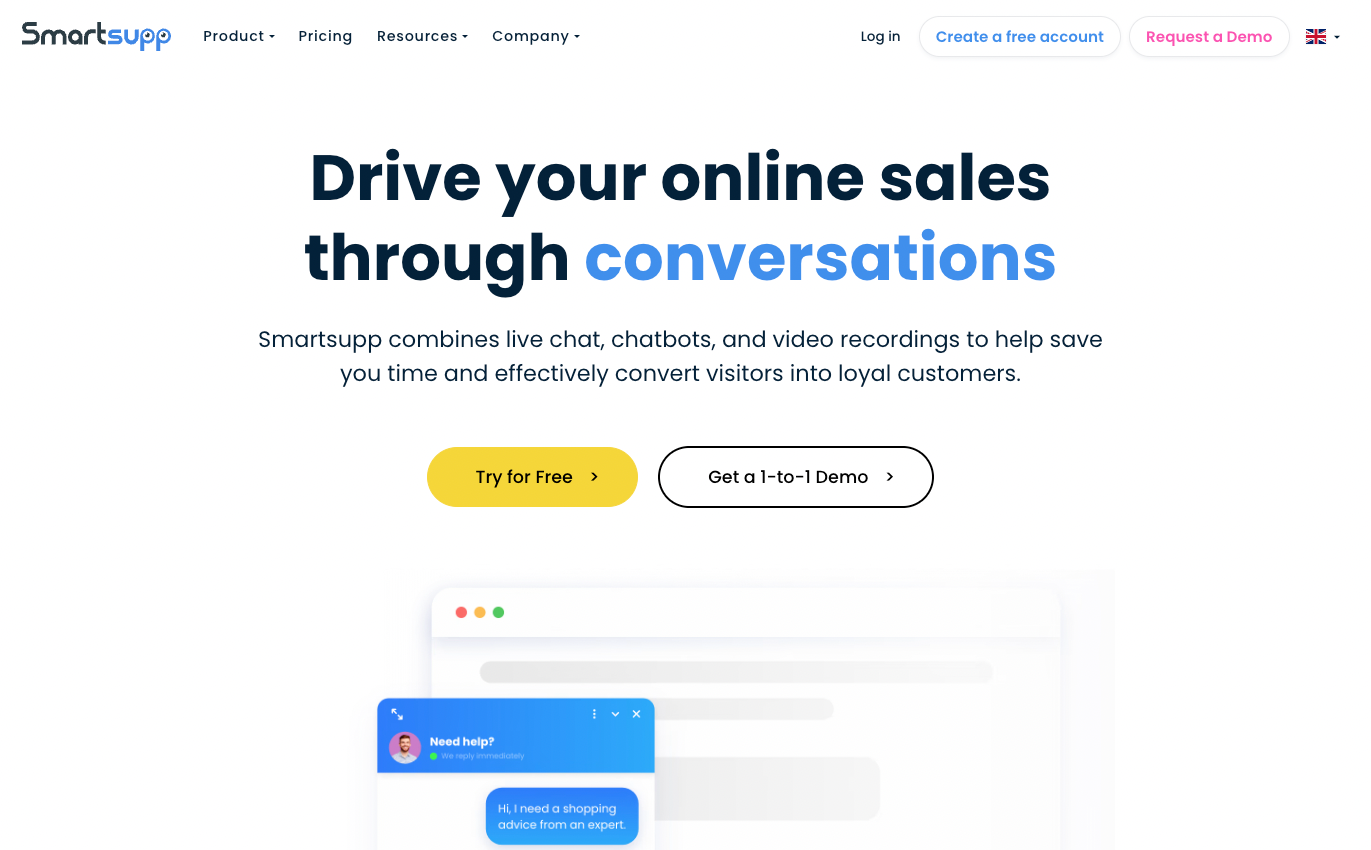 Smartsupp stands out from other major live chat solutions due to its distinctive features. This program allows businesses to communicate with their website visitors in real-time. It offers a range of features such as customizable chat widgets, chat history, and automatic greetings.
What Does Smartsupp have to offer?
Smartsupp provides multichannel integration support, allowing you to integrate it with email, Facebook Messenger, and other channels.
You can customize Smartsupp's chat window to embed it into your site.
Smartsupp also offers a live overview of your on-site visitors, including how much time they spent on your site and their journey.
Pricing of Smartsupp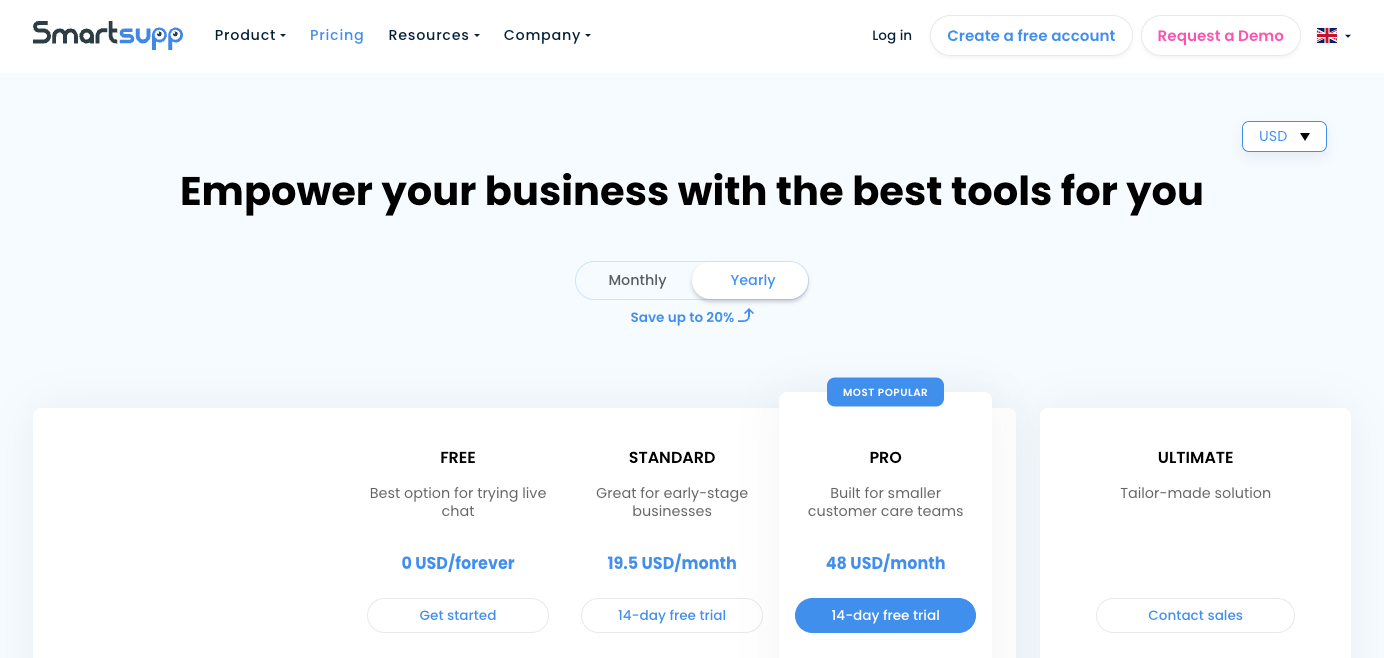 Smartsupp offers a free plan with limited features, but if you need more, you can choose between two paid options.
The Standard plan costs $19.50 per month and includes three agent seats, while the larger plan costs $48 per month, comes with more features, and allows you to have up to ten agents.
6. HubSpot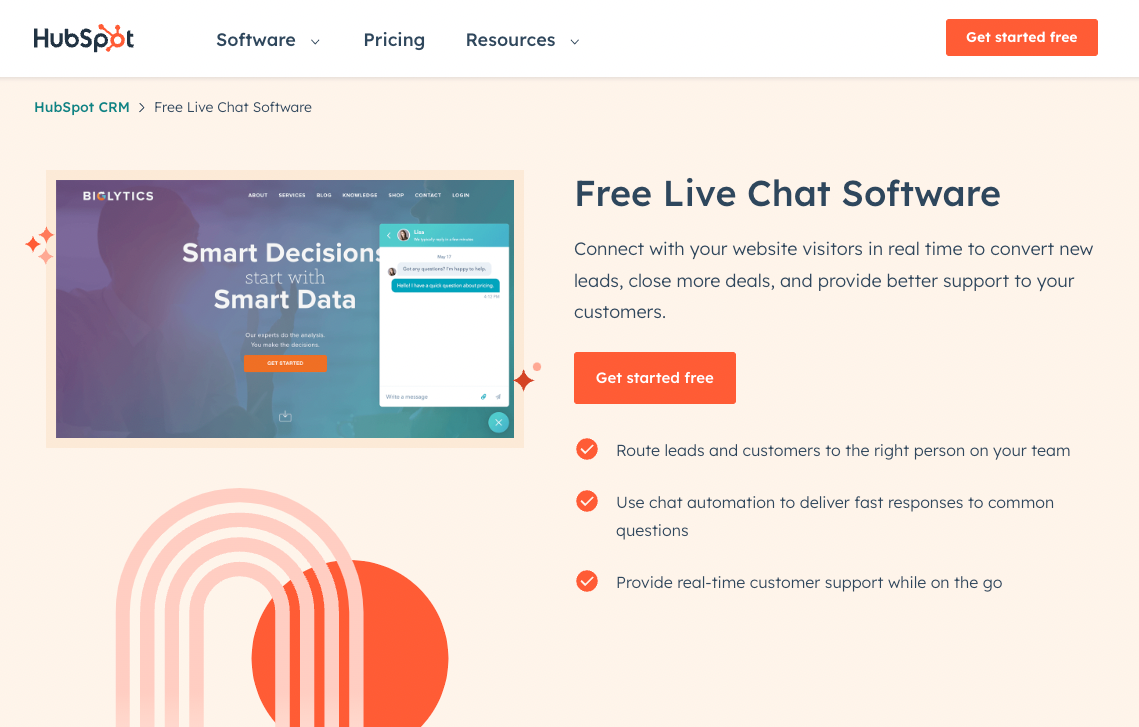 HubSpot, a popular CRM, offers live chat functionality that can seamlessly integrate with the rest of your HubSpot ecosystem, making it one of the best live chat software solutions available.
What Does HubSpot have to offer?
HubSpot CRM offers a powerful live chat functionality that enables you to log chats and connect them to specific customers in your HubSpot CRM.
The platform also provides a comprehensive automation and routing system to help you work more efficiently.
Additionally, you can manage and respond to chats within third-party apps such as Slack, thanks to integrations.
The free HubSpot WordPress plugin allows you to set up live chat from your WordPress dashboard.
Pricing of HubSpot
HubSpot's live chat, like most of its tools, is available for free. These free tools come with certain limitations like the number of contracts you can upload. But in the case of the live chat software, the only visible difference is HubSpot's branding on the chat widget.
7. Intercom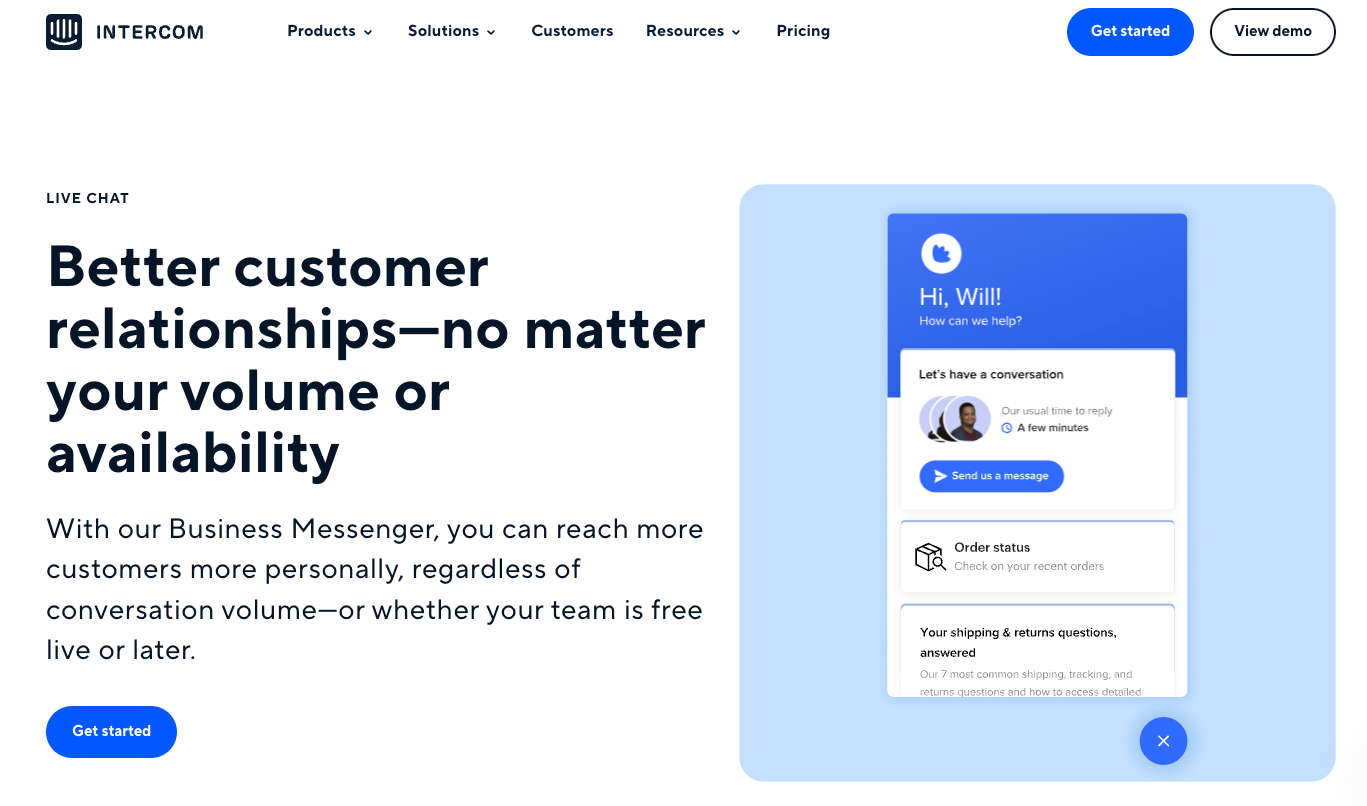 Intercom's Business Messenger offers basic live chat capabilities that can be expanded to manage your entire customer support operation.
What Does Intercom have to offer?
By using a combination of live agents and bots, Intercom allows you to provide users with the appropriate response.
Intercom provides a centralized inbox that stores all customer data, chat history, and other information for quick and easy access.
With Intercom's proactive messaging, you can reach out to customers before they even finish typing their messages.
Pricing of Intercom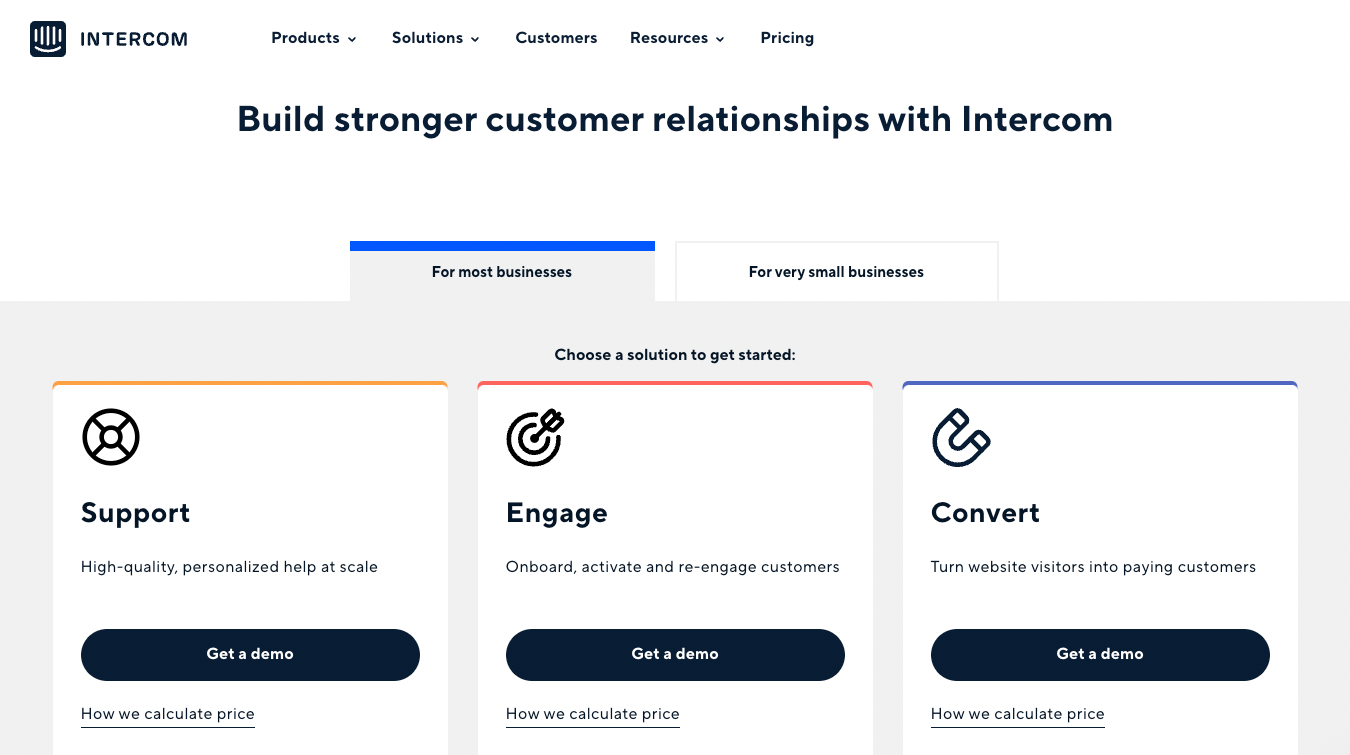 Intercom provides four different plans including Starter, Support, Engage, and Convert. The Starter plan costs $74 per month and is designed for very small businesses. For all the other plans, businesses are asked to contact Intercom for pricing information. You can customize your plans with add-ons if you need some extra functionality.
8. LiveAgent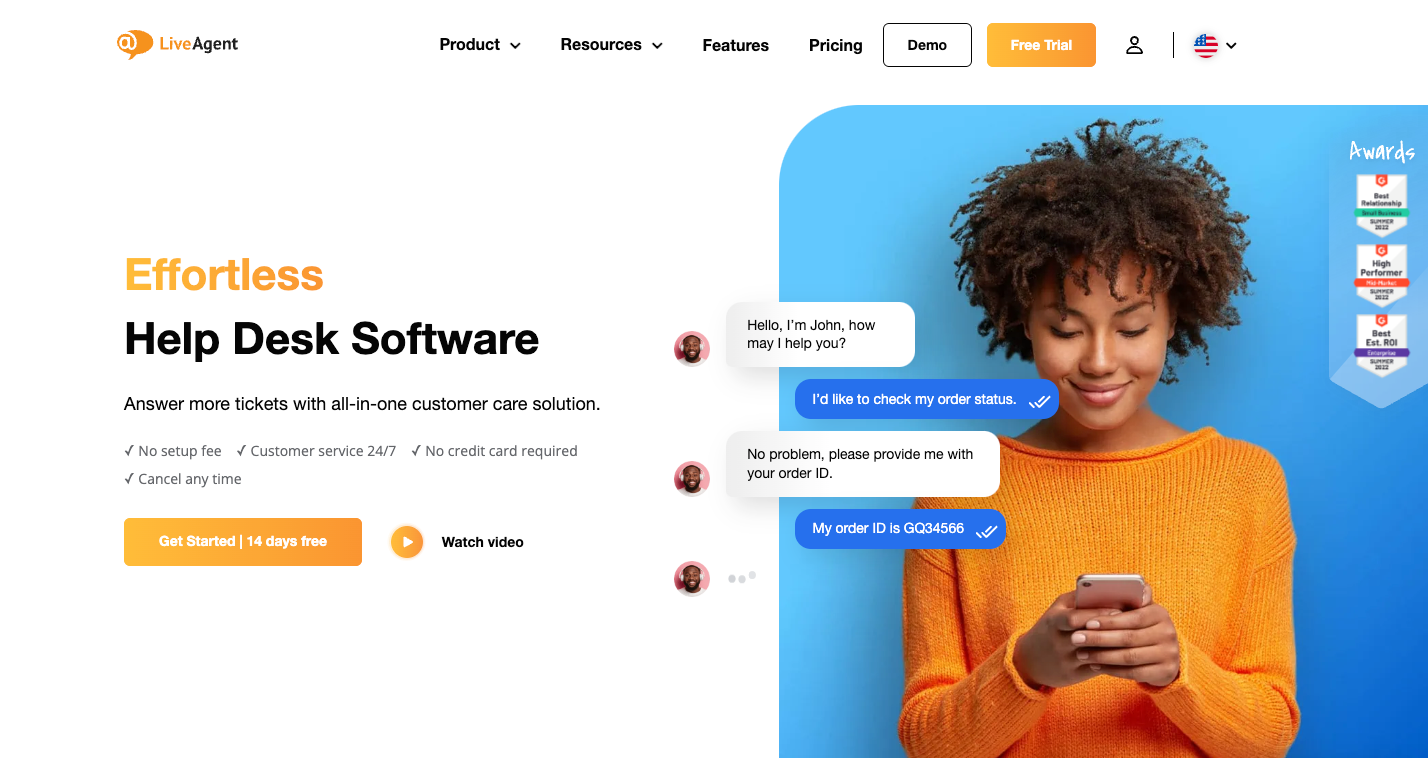 LiveAgent offers a variety of features including live chat, email ticketing, and social media integration. With LiveAgent, businesses can manage all customer interactions from a single platform, allowing for more streamlined and efficient support.
What Does LiveAgent have to offer?
Long-term customers can benefit from the absence of limits on chat and ticket histories in LiveAgent.
Customizable chat invitations in LiveAgent are not only visually appealing but also effective in engaging customers.
LiveAgent also offers a real-time typing view feature, which allows you to see what your customers are typing before they actually hit the send button.
With LiveAgent's built-in analytics and real-time reports, you can track the origin of your users and their behavior on your website.
Pricing of LiveAgent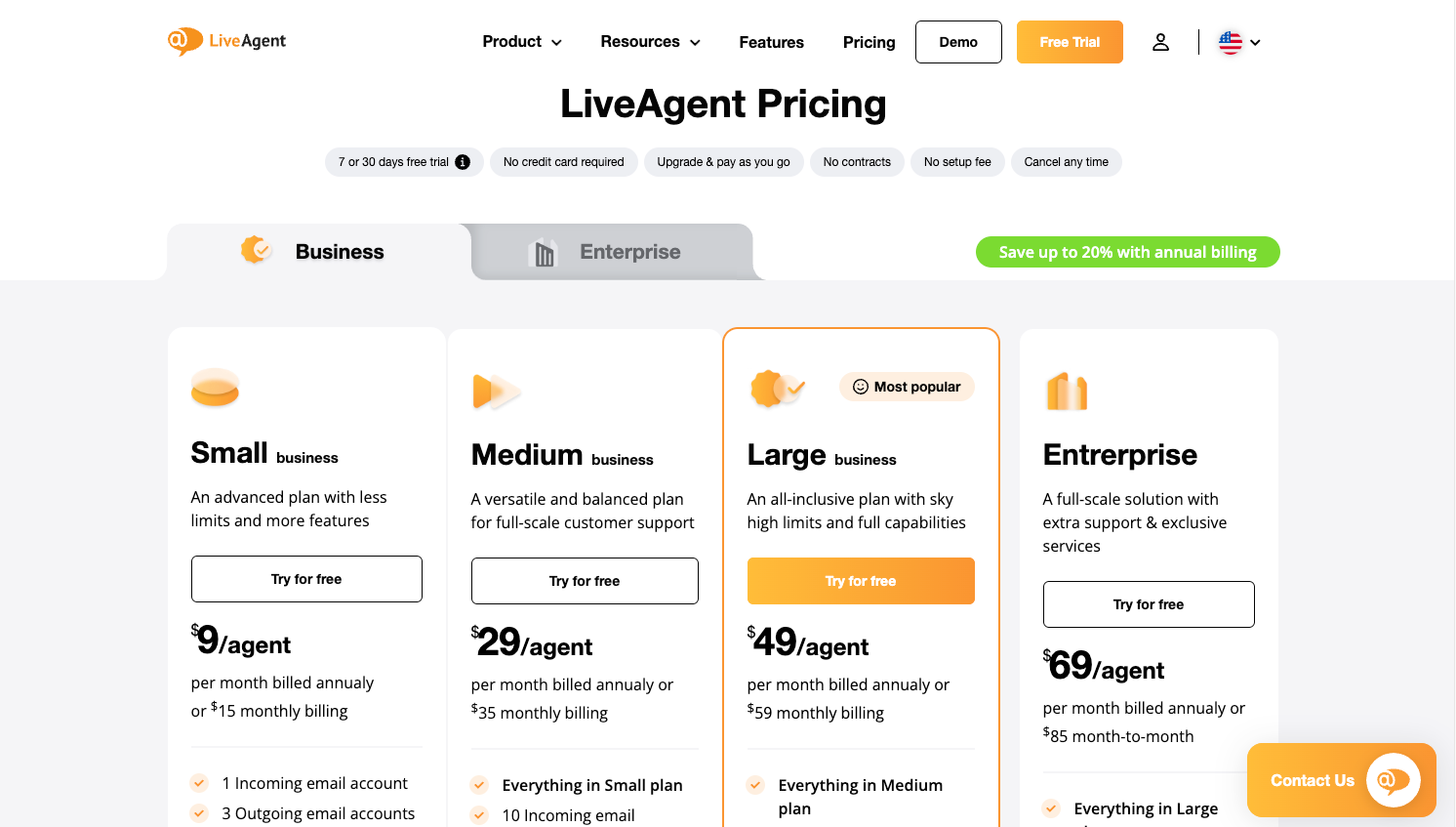 LiveAgent's pricing is competitive, with the 3 basic premium tiers ranging from $15 to $49 per agent, per month (if billed annually). There's a free plan with limited functionality available, like a 7-day ticket history.
9. Zendesk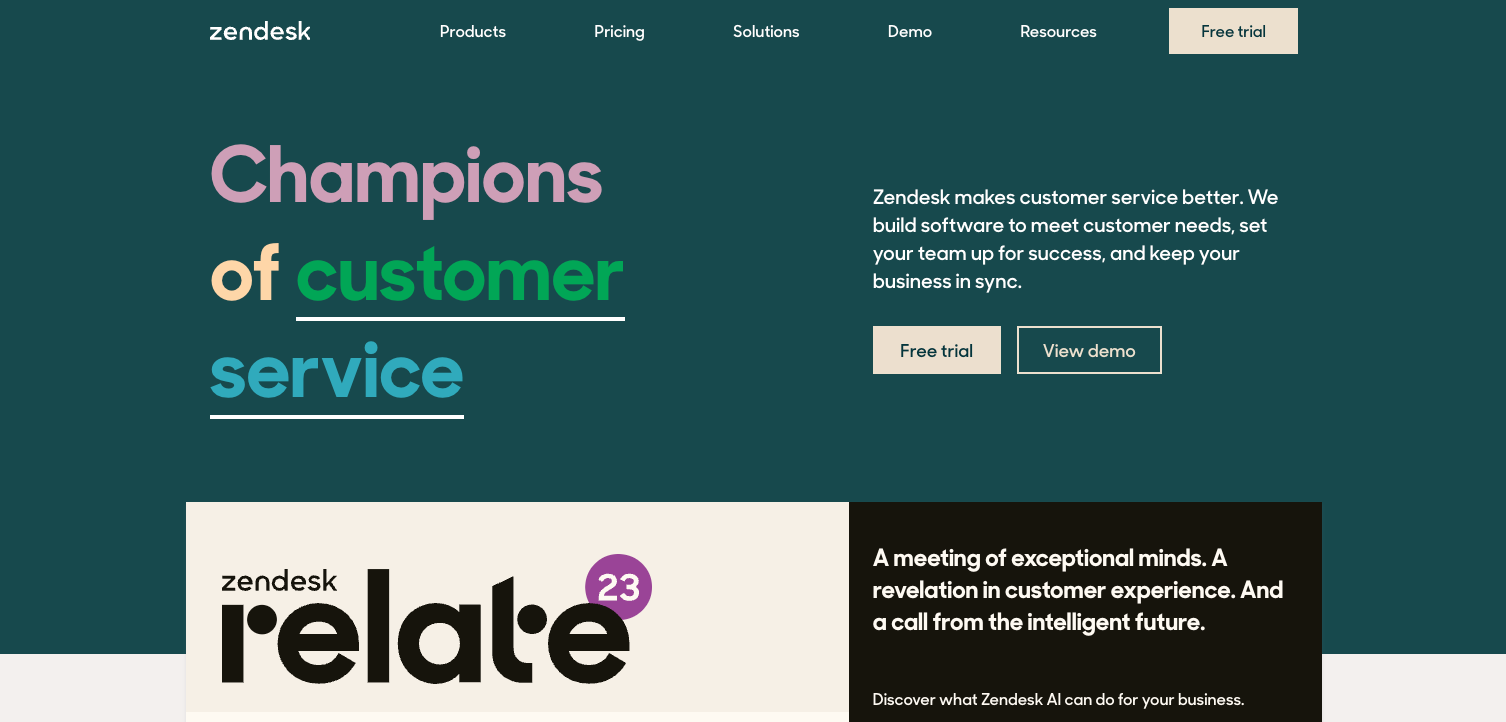 Zendesk is a well-known customer service platform that also provides excellent live chat software. Its range of features and functionality can help you exceed your competition.
What Does Zendesk have to offer?
You can maintain the chat connection across various platforms, allowing you to transfer the conversation seamlessly from your website to WhatsApp.
ClickDesk also offers extensive bot and AI capabilities to optimize your customer service operations.
In addition to an easy-to-use chat widget for your website, WordPress users can take advantage of the dedicated Zendesk plugin.
Pricing of Zendesk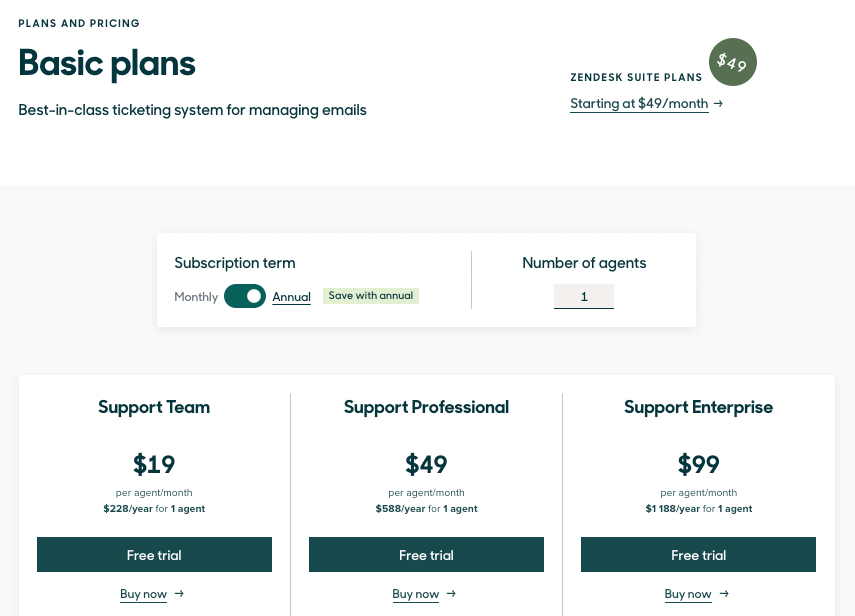 There is even more beyond the mentioned features, so Zendesk offers premium plans starting at $19 per seat per month when billed annually.
10. ClickDesk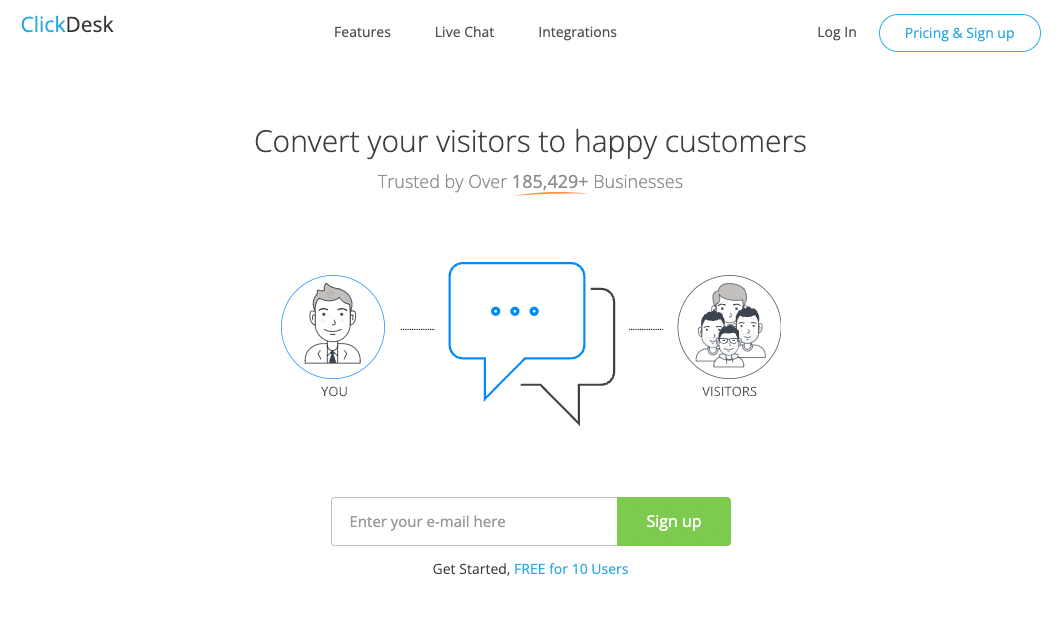 ClickDesk specializes in video and voice calling, but it also offers text-based live chat functionality. The software allows you to customize greetings, request customer information before starting a live chat, and communicate with customers using smartphones, tablets, and computers.
What Does ClickDesk have to offer?
You can customize the live chat window to your needs, and it has a clutter-free design.
You can use either text or video to conduct live chat.
Additionally, you can integrate all your social media channels into the dashboard.
The agent has a clean, making it easy to navigate.
Pricing of ClickDesk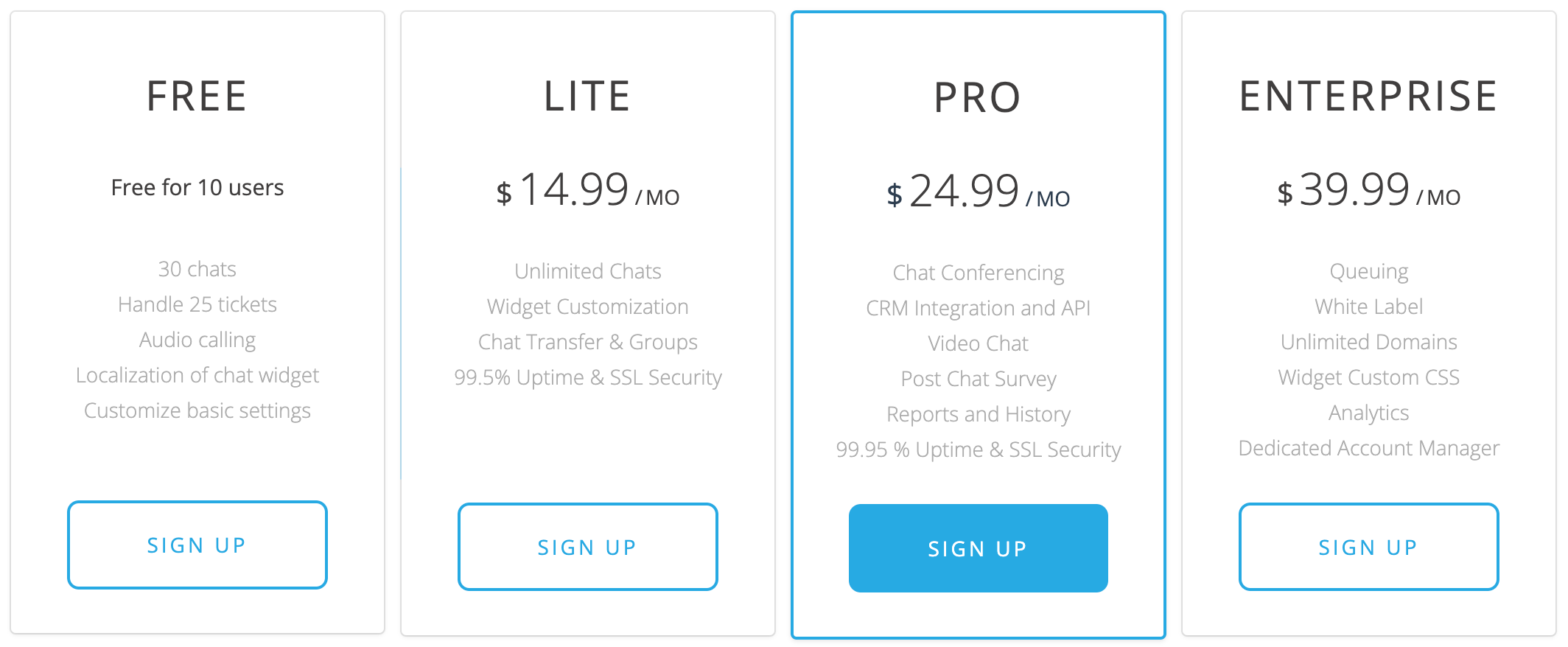 ClickDesk provides a free plan that accommodates up to ten agents, and there are also premium plans available, ranging from $14.99 to $39.99 per agent per month (if paid on a monthly basis, you can get a discount if you commit for at least a year-long plan).
11. Drift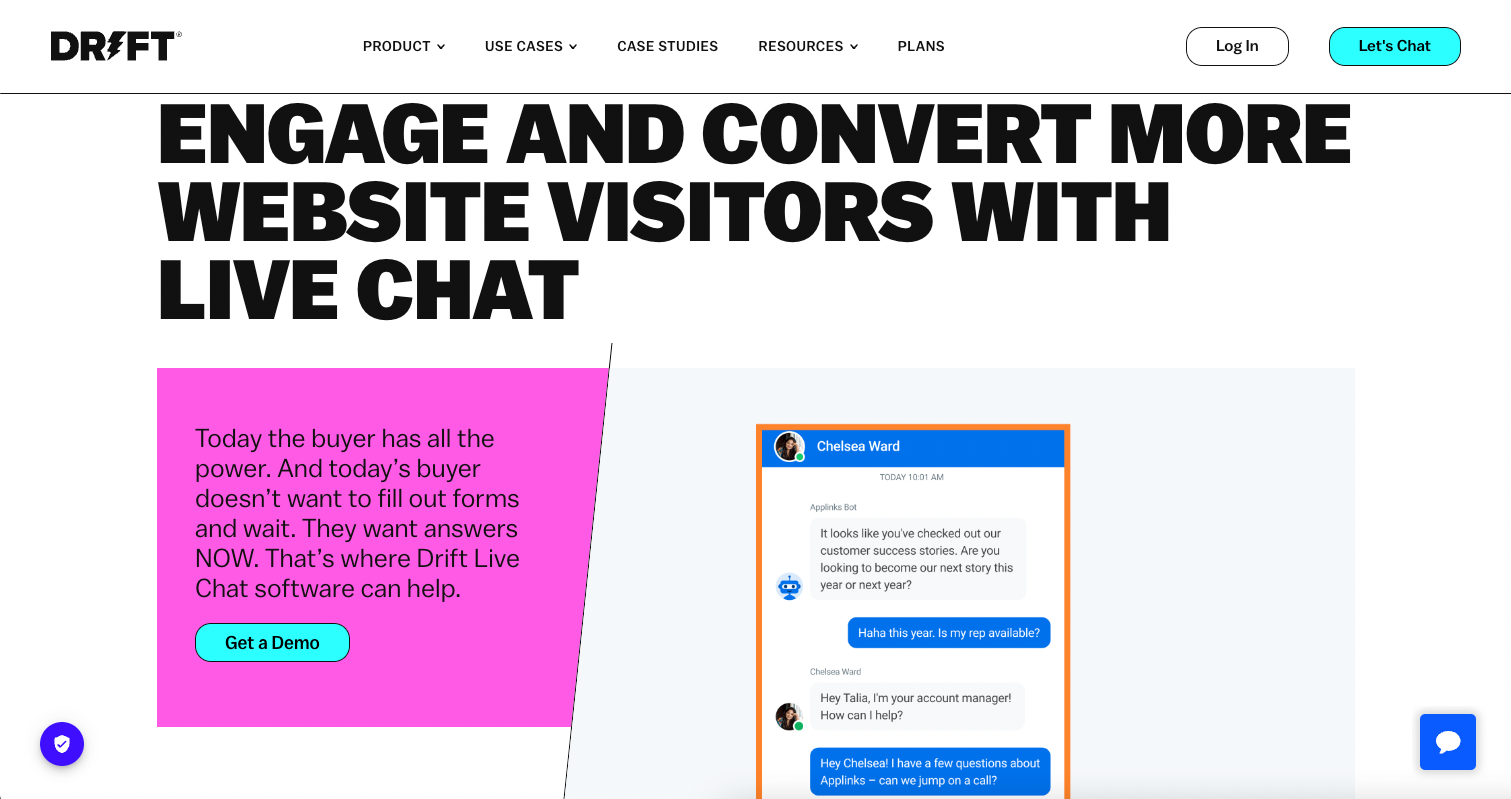 Using Drift chat software, you can automate parts of your chat process, such as lead qualification, meeting scheduling, and accelerating the prospect conversion process with LeadBot.
What Does Drift have to offer?
Drift offers highly-personalized messages targeted to specific accounts or individuals
Sales reps can be informed when a VIP account visits your website
VIP target accounts are greeted with an automated, personalized message from their account owner or sales rep
Sales reps receive a notification when one of the VIP accounts is on your website
Pricing of Drift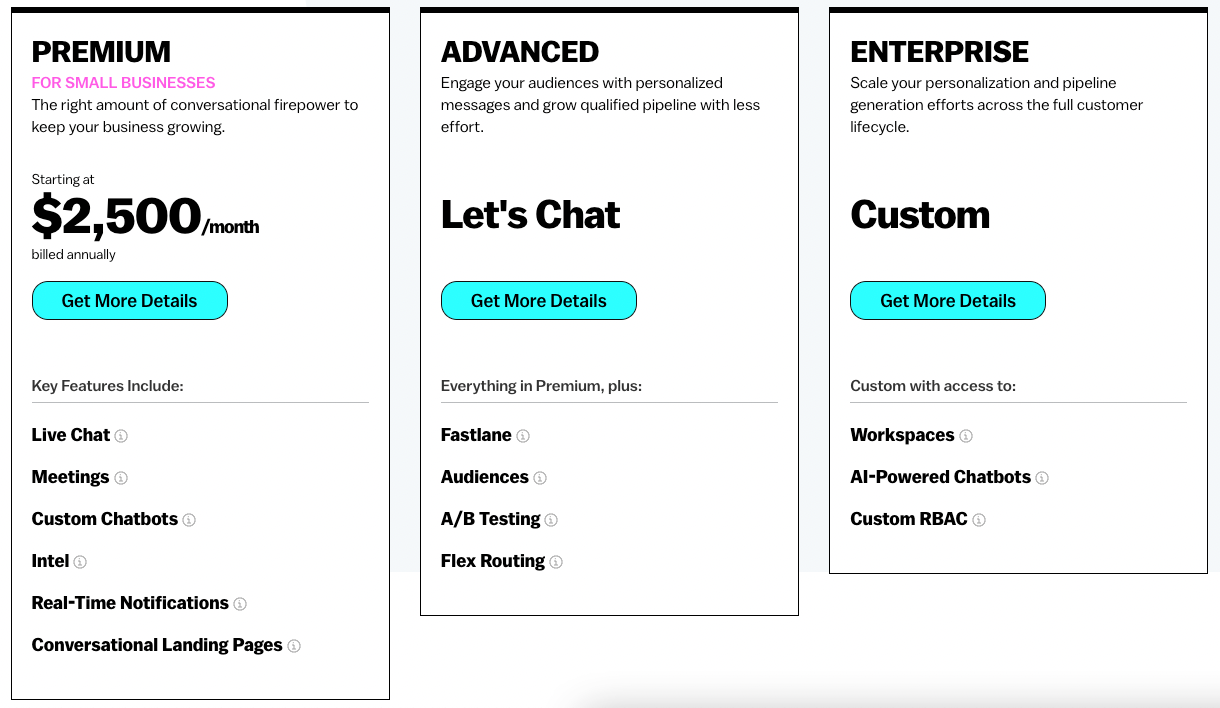 Drift has a free plan with limitations. It also offers a few different premium plans. The Premium plan starts at $2,500 per month if billed annually, for Advanced and Enterprise plan you should get in touch with the team behind Drift.
12. Zoho Desk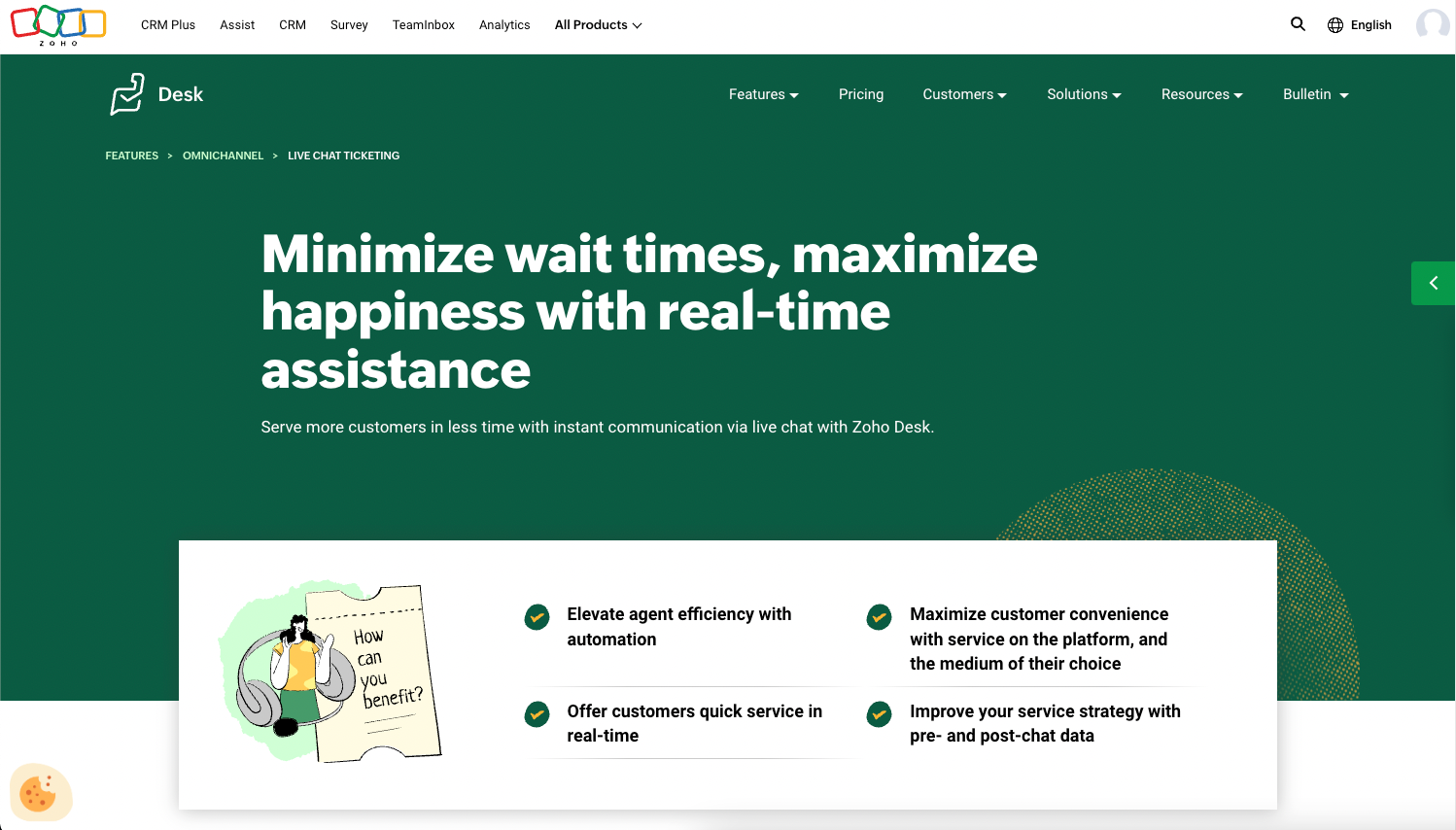 Zoho Desk's live chat software automates simple parts of customer communication, streamlining the customer service experience. While commonly used for customer support, the live chat tool can also benefit sales representatives. If you want a free business email account it is worth checking out Zoho.
What Does Zoho Desk have to offer?
Zoho Desk offers assignment rules for each channel to improve efficiency and provide seamless customer interactions.
The software automates slower parts of the process such as gathering contact information and responding to common questions with canned responses.
Feedback forms within the chat widget allow prospects to provide insight on the helpfulness of responses.
This feedback can help improve the sales process and remove friction from all points of contact.
Pricing of Zoho Desk

Zoho Desk offers a range of plans to fit different business needs, from small businesses to large enterprises. The plans include a free plan, a standard plan, a professional plan, and an enterprise plan. Each plan comes with different features and pricing options.
The free plan includes basic features such as email ticketing, social media channels, and a basic knowledge base. A Standard costs $14, a Professional costs $23, and the Enterprise Plan comes at $40 per agent per month if billed annually.
13. Chatra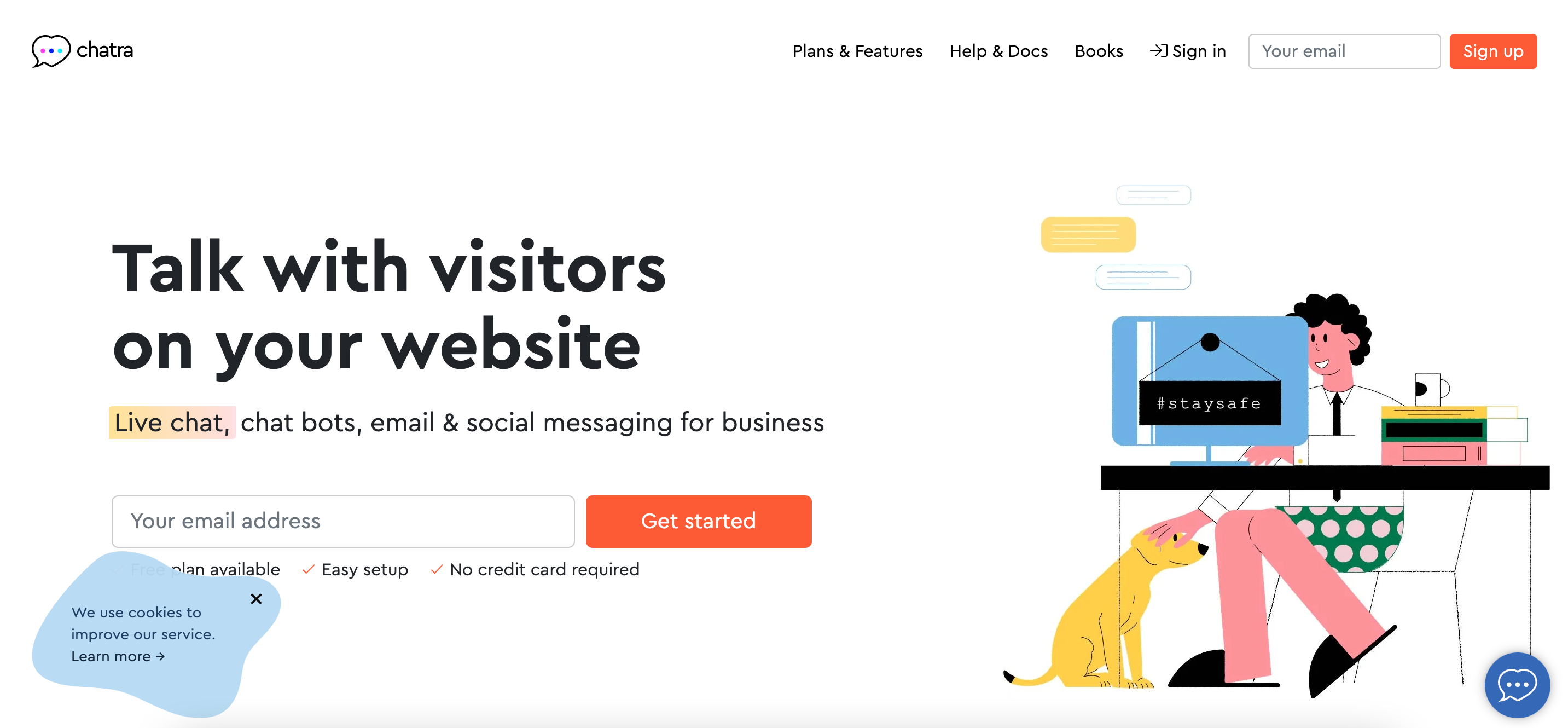 Chatra is a live chat provider that offers a variety of features to help businesses provide exceptional customer service. It allows businesses to chat with customers in real-time, gather feedback, and track customer behavior.
What Does Chatra have to offer?
Chatra offers a variety of features including group chats, read receipts, automated messages, and multilingual chat options.
The group chat feature allows sales reps to speak with multiple decision-makers and includes other representatives or managers in conversations.
Automated messages can be used to target customers on the checkout page and reduce abandoned carts, which helps sales reps reduce friction at every touchpoint.
Pricing of Chatra

Chatra offers a free plan with limited features, as well as paid plans starting at $17 per month per user. The paid plans include more features such as chat transcripts, integrations, and unlimited chat history.
14. ThriveDesk

The ThriveDesk live chat assistant is a good solution specifically designed for eCommerce websites, offering a range of built-in features.
What Does ThriveDesk have to offer?
ThriveDesk's live chat assistant is designed specifically for eCommerce websites, offering a range of built-in features to enhance customer experiences.
Features include instant replies, file sharing, relevant emojis, satisfactory surveys, and sales tracking reports.
The live chat window is only displayed when a representative is available to help, but support requests can be directed to the ThriveDesk email queue or chatbots when no representative is available.
For WooCommerce merchants, ThriveDesk offers order monitoring, details management, cancellation and refund options, and seamless eCommerce management.
Pricing of ThriveDesk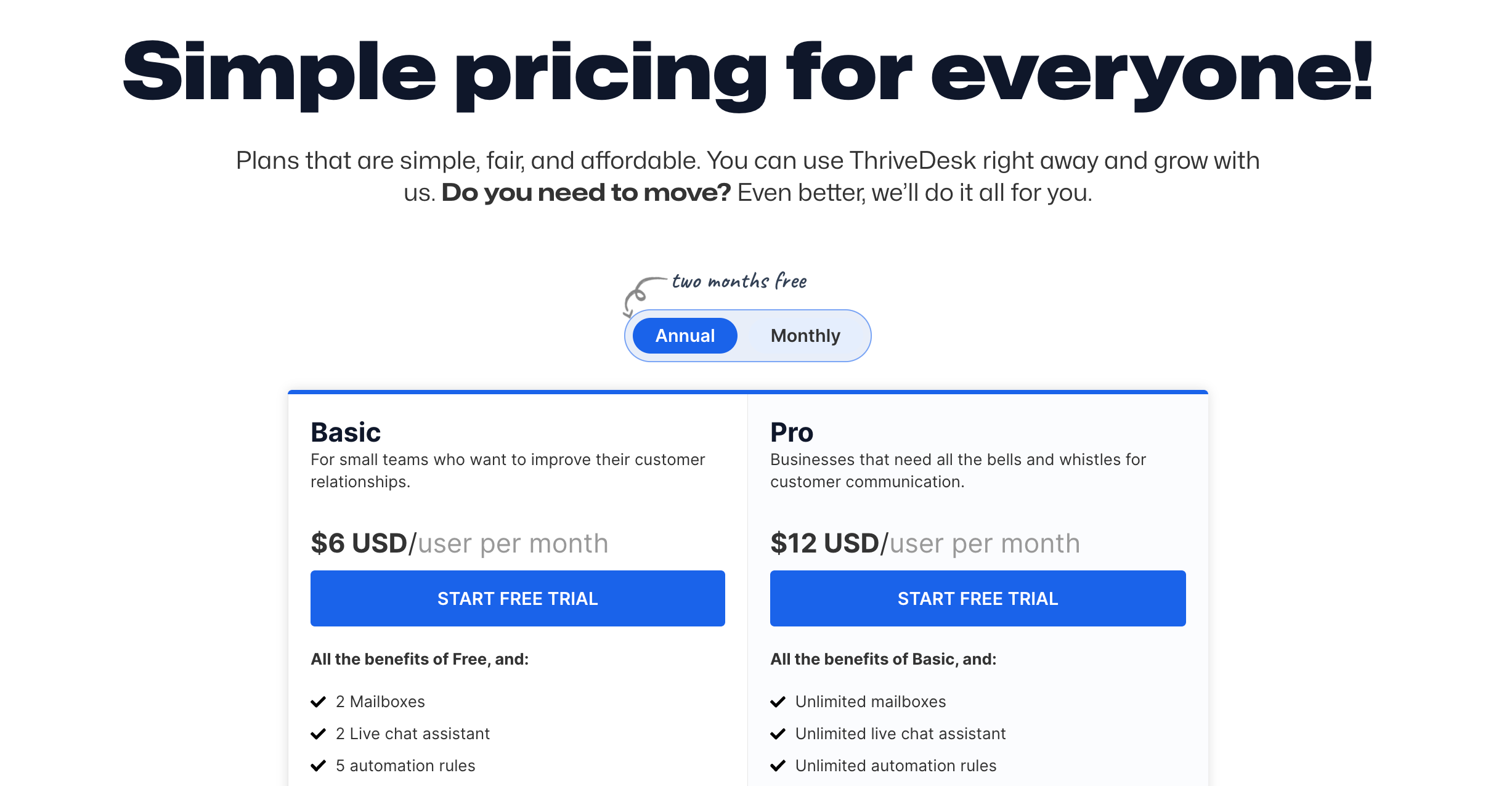 ThriveDesk offers two paid plans, a Basic Plan starting at $6 and a Pro Plan starting at $12 per user per month if billed annually.
Live Chat vs. Help Desk Software: What Is The Difference
If you're in the market for customer support software, you may have come across both help desk and live chat solutions. While both help businesses respond to customer support requests, they differ slightly.
Live chat software adds real-time messaging to your website, allowing human employees to speak directly with customers and creating chatbots that can automatically answer common questions.
Help desk software, on the other hand, is used to manage and respond to customer service tickets. With this software, businesses can create an online help desk where customers can submit support tickets, and agents can view and respond to them through a back-end dashboard.
Who Uses Live Chat Software And Why Is It Important for Them?
Companies of all sizes and across industries utilize live chat software to enhance customer and employee experiences. Live chat enables businesses to provide 1:1 support to prospects, customers, and employees instantly without interrupting their browsing flow.
The benefits of live chat include
increasing sales through proactive engagement,
assisting more users in less time,
anticipating user needs and providing help as needed.
Many businesses prefer live chat to phone support because it is more efficient and cost-effective, easier to scale and analyze chat transcripts, and allows for 24/7 support through AI-powered chatbots.
The best live chat software meets customers where they are most comfortable. Furthermore, live chat is also powerful for internal support, enabling companies to have conversations with employees anywhere, at any time, improving overall employee engagement.
How to Choose a Live Chat Service That Works Best for You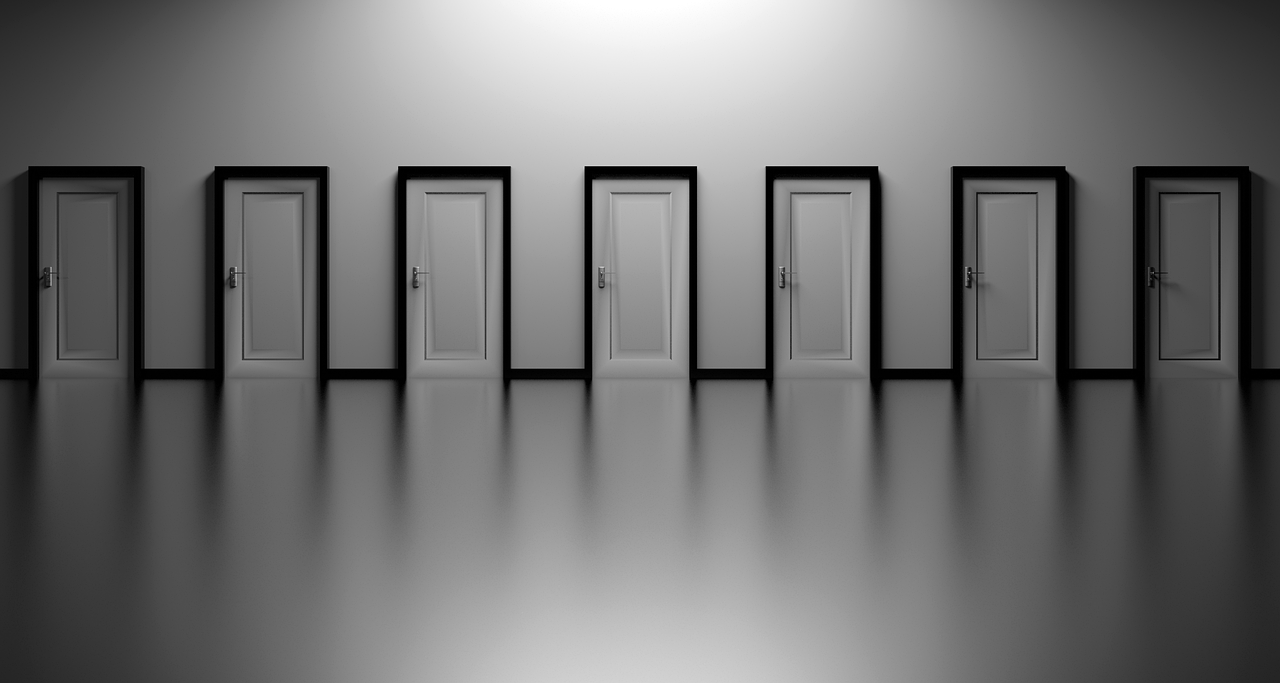 Choosing the right live chat software for your company depends on various factors, such as your business model, desired features, and customer base. One crucial factor to consider is integration with your current support ecosystem.
The software should be powerful enough to handle complex business needs, work seamlessly with your existing tools, and provide agents with a unified view of the customer across channels.
Another key factor is the ease of use and fast implementation. The best live chat software is intuitive, easy to set up, and works right out of the box. Slow implementation and poor integration can add extra costs and time to train agents, making it harder for your team to provide excellent customer service.
Scalability and total cost of ownership are also critical considerations. The ideal live chat software should be flexible enough to grow with your business and enable agents to serve multiple customers or employees concurrently. Fast automated workflows and self-service options can help users solve simple issues. Finally, personalized interactions with support agents can make customers feel more comfortable and foster long-term relationships.
Conclusion
In conclusion, there are many live chat services available for businesses to choose from, each with its own unique features and capabilities. The key to selecting the best live chat service for your business is to consider your specific needs, such as integration with your support ecosystem, ease of use, scalability, and total cost of ownership.
Investing in the right live chat software can have a significant impact on a business. With features like automated messages, personalized responses, and efficient customer support workflows, businesses can increase customer satisfaction and loyalty.
Ultimately, this is leading to higher sales and revenue. In addition, by providing a more streamlined and convenient customer experience, businesses can stay ahead of the competition and establish themselves as leaders in their industry.
FAQ
Why Do I Need a Live Chat Software?
Using a live website chat app can provide better customer service experiences for those who don't want to talk on the phone or wait for days to receive an email response. It offers immediate help, which is much more convenient than navigating a phone menu or waiting for an email reply.
Does It Worth Investing in a Live Chat Software?
Live chat software is a convenient and cost-effective way for companies to offer instant support to customers, and it can also help generate leads and drive sales. Integrated with help desk software, it gives businesses a competitive edge by providing real-time support.
Is There an Actual Human Behind a Live Chat?
Live chat usually involves direct interaction with a human representative from the company. Some businesses may use chatbots initially, but if they advertise the service as "live chat," customers should ultimately be able to speak with a real person.
Which Companies Should Invest in a Live Chat Tool?
Live chat has become an essential tool for small businesses, enterprises, eCommerce stores, and anyone dealing with customers on a regular basis. It facilitates various tasks such as informing potential customers about products or services and assisting existing users with troubleshooting, making it an indispensable part of modern customer service.