8 best review widget types
Trustindex makes it simple to customize your Aliexpress reviews widget to perfectly fit your requirements! You can choose from a variety of layouts, styles, colors, and other options. Additionally, adding Aliexpress feedback to your site is effortless with us.
Slider – Continuously loop through reviews.
Grid – The reviews are laid out in a grid formation with multiple rows and columns.
Button -A review summary button.
Badge – A badge displaying your overall score.
List – Create one column to arrange longer reviews
Floating – If you hover your cursor over them, you can get a longer view of the reviews.
Pop-up -A pop-up widget to display customer feedback.
Sidebar -Add a review widget to the sidebar of your website.
10 Amazing AliExpress Reviews Widgets in 2023
Silder I. – Light background
Silder I. – Light Minimal
Slider III. – with badge – Light border
Slider I. – centered – Drop shadow
Grid – Light background
List I. – Light background
Button IV.
Button III.
HTML Badge I.
Sidebar Slider III.
How to Embed Aliexpress Reviews Widget on WordPress for Free
No need for a credit card! Our plugin makes it easy to add Aliexpress reviews to your WordPress website for free. Just follow the simple steps and you'll have an eye-catching widget displaying your Aliexpress ratings on your website, helping to build trust with customers.
Install the plugin on WordPress
In order to benefit from the free WordPress plugin, you must install it on your website and then activate it.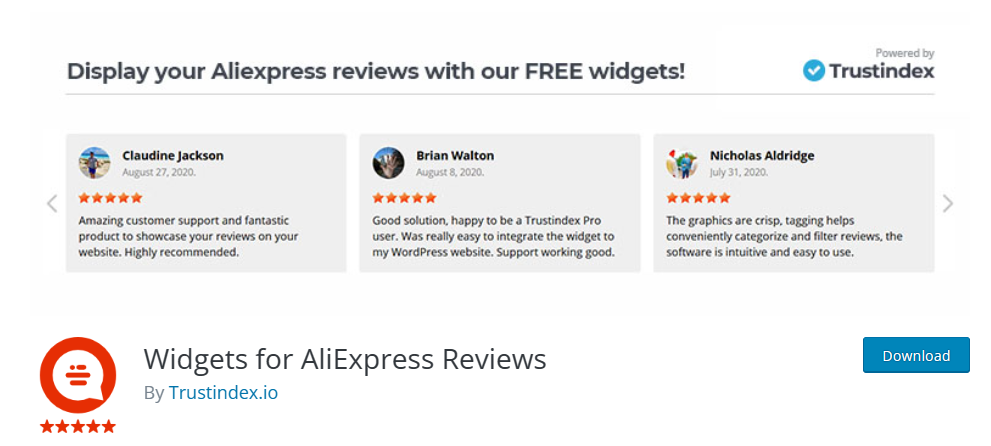 Connect your Aliexpress URL
To begin syncing your reviews with your Aliexpress profile page, navigate to the WordPress Admin and locate the new menu. Click on the "Check" and "Connect" buttons after inputting the URL and the plugin will begin the syncing process.

Select widget layout
Once you have chosen the widget format you want, such as sliders, lists, grids, badges, etc., click the blue "Select" button next to it.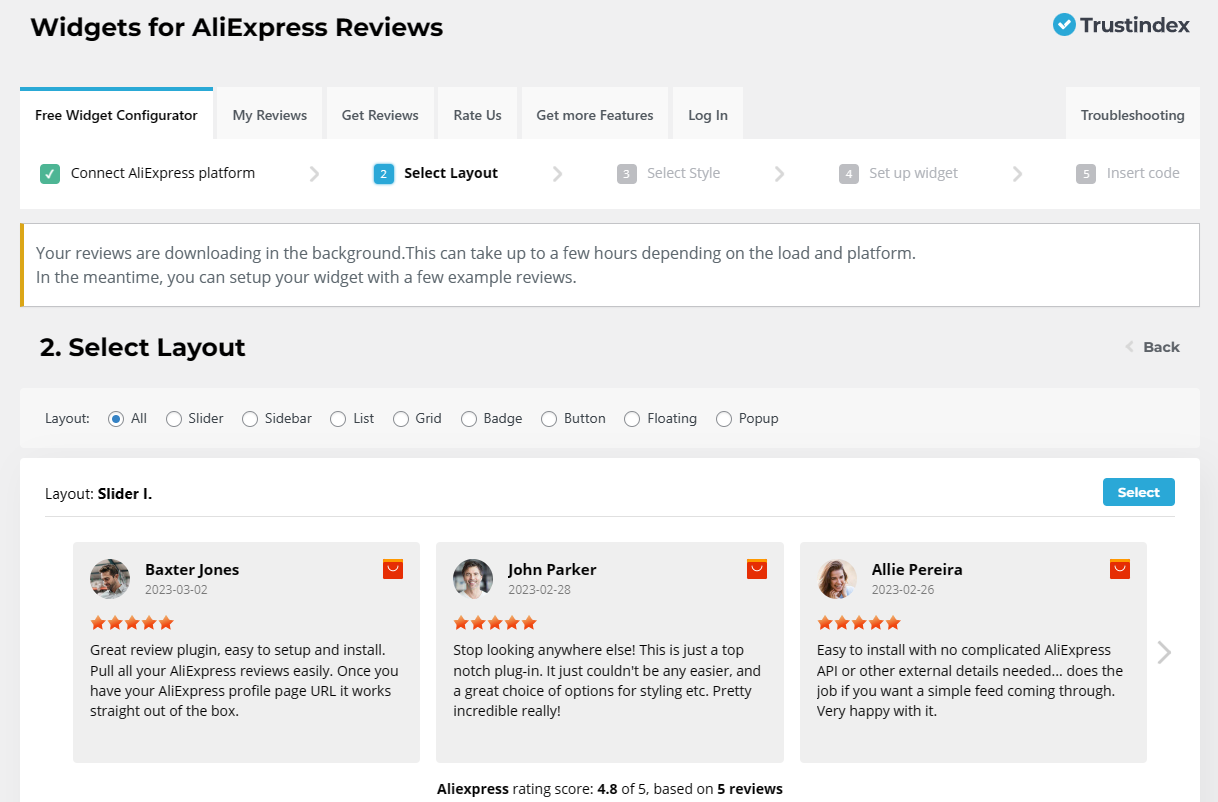 Select widget style
After organizing the widget, you can further customize its look so that it is specifically tailored to you.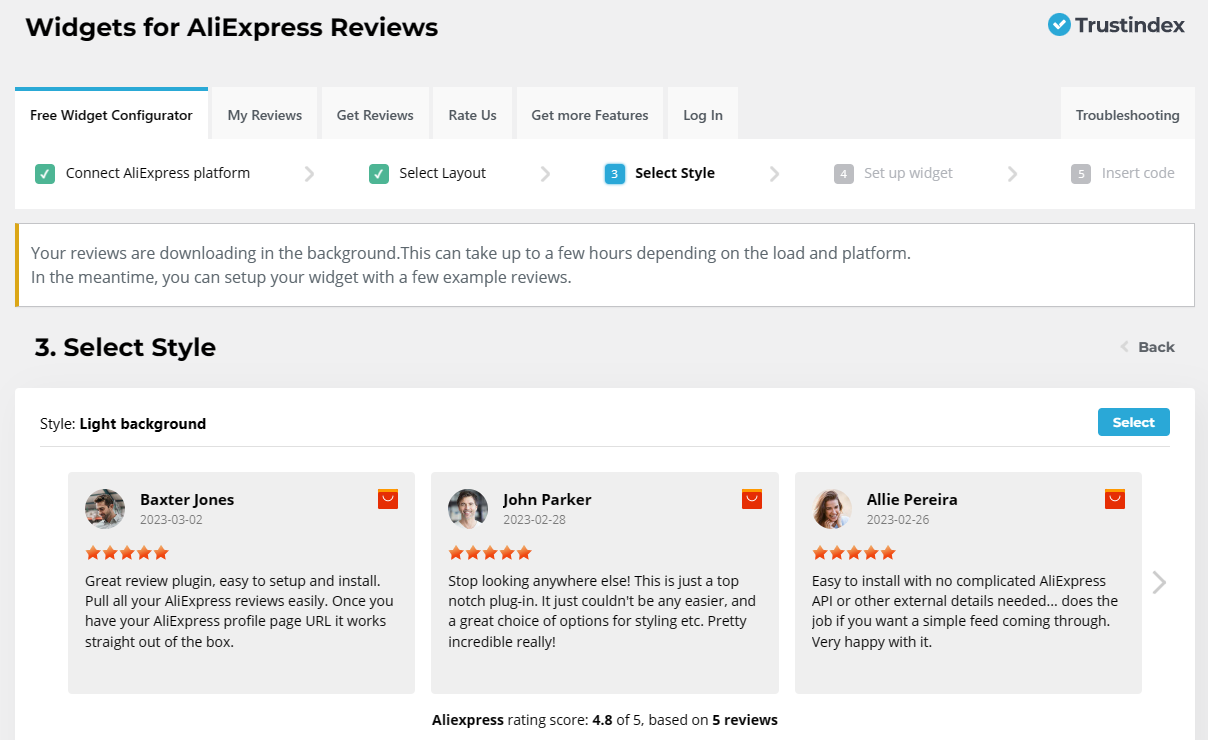 Adjust the settings
You can customize certain settings, such as choosing to only display good reviews, prior to embedding the Aliexpress review widget.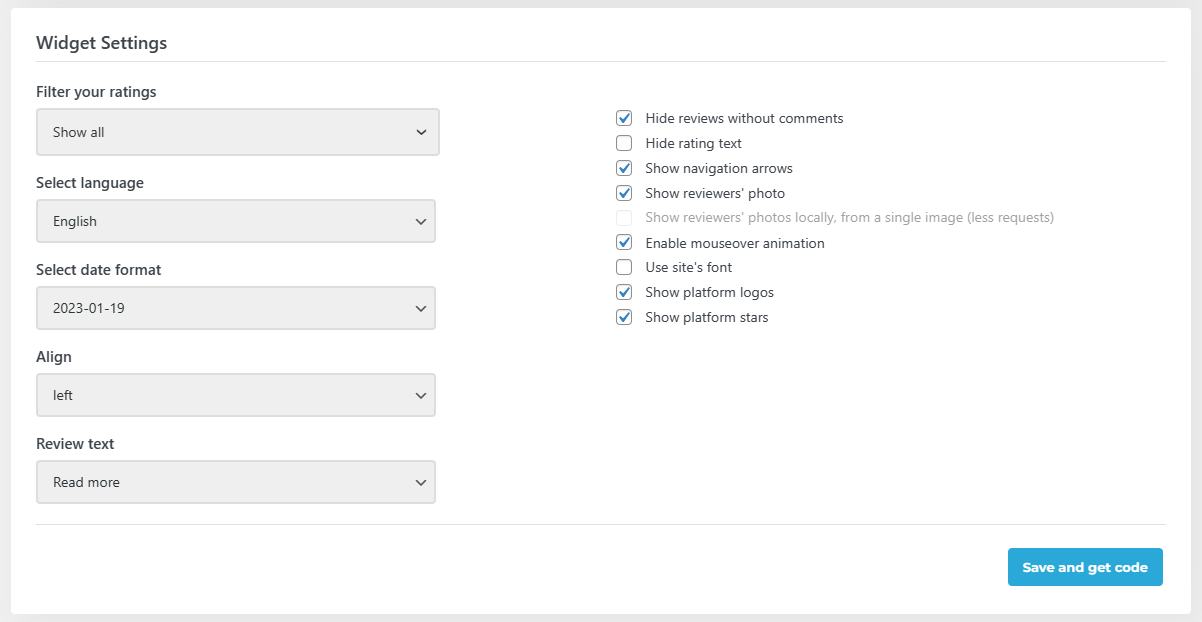 Save and insert code into your website
Once you have finished, click 'Save and get code' and insert the shortcode into your website. This is a simple way to embed Aliexpress reviews into your website.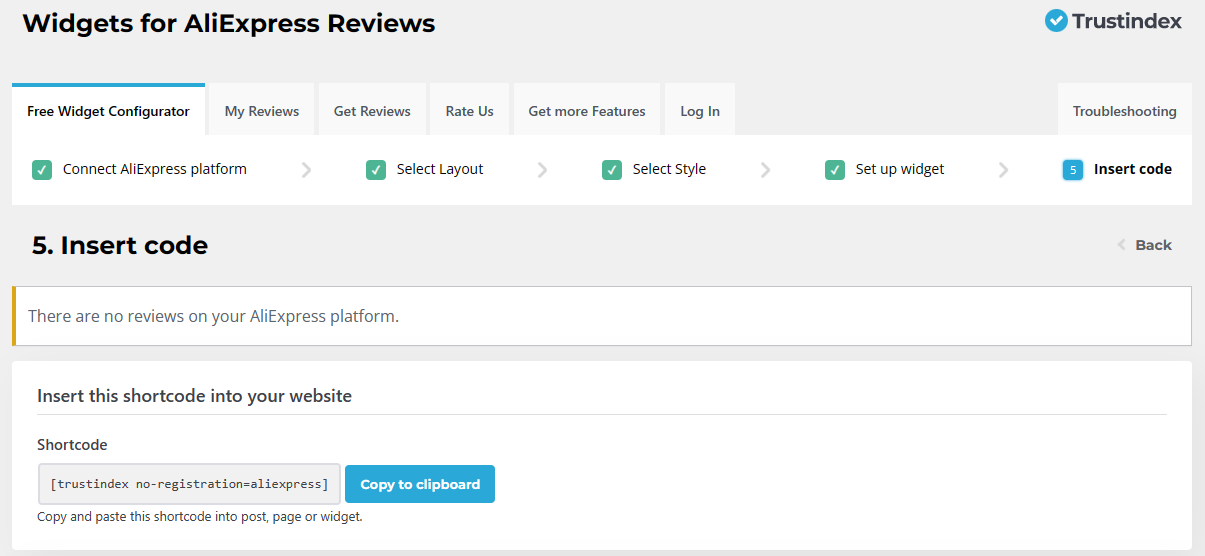 How to Embed Aliexpress Reviews Widget on Any Website
With Trustindex, it's easy to add Aliexpress seller reviews to your store or website! Simply create a free account with us and follow our step-by-step guide to get started.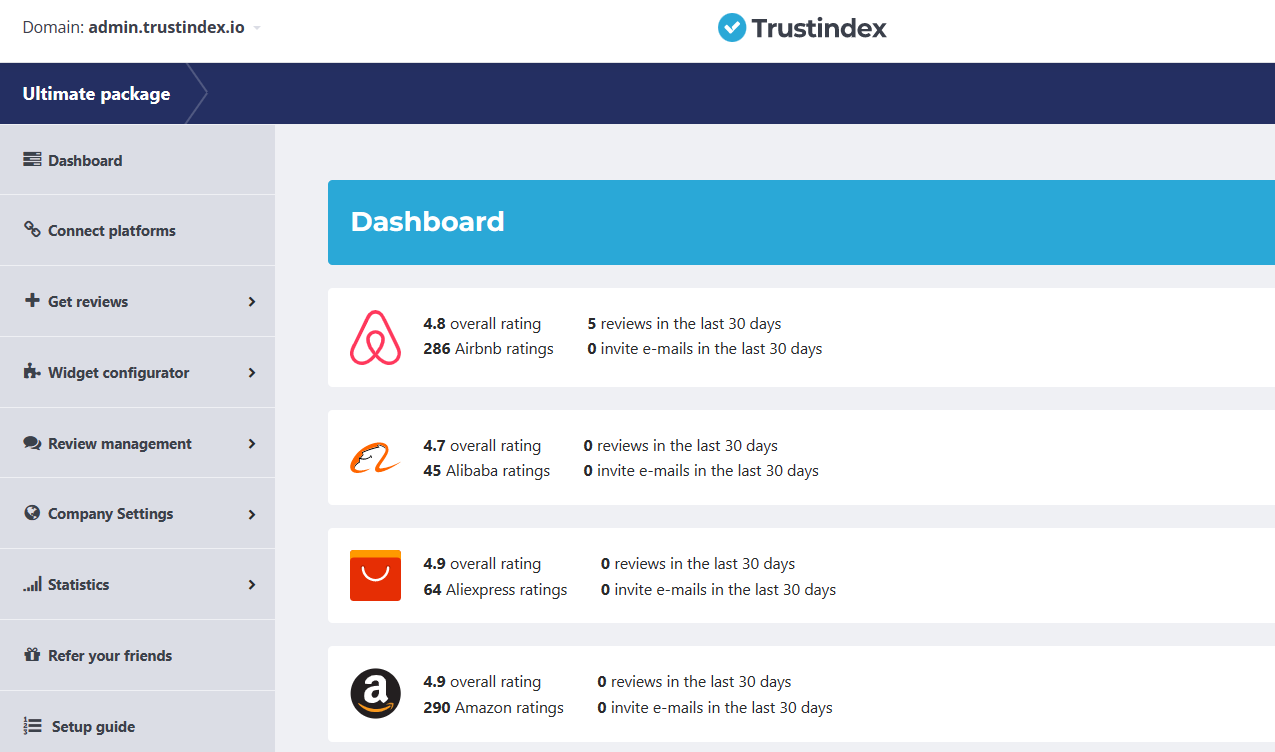 Connect your review platforms
Once you have signed in, you can link your Trustindex account to the websites that host your reviews by choosing the "Connect Platforms" option. To connect your Aliexpress business page, please click that menu.

Add your widget
Once you have established a connection between your account and Aliexpress reviews and completed the synchronization process, head over to the configuration page.

Here, you can easily preview the widget layout and styling with a few clicks. After selecting the most appropriate widget, you can personalize it to suit your requirements.
Magane the widget style
In the Style Editor feature, you can customize the settings and appearance of your Aliexpress rating widget, and follow the changes along in the live demo.

You can add review tags or filters to only show your new review, positive reviews, alter the colors of the review text, and more. The customization options are endless.
Save and embed Aliexpress reviews
After customizing the review widget to your specifications, you can save and copy and paste the code.

Then, simply paste the correct code into the appropriate section of your web page. The admin provides both WordPress shortcodes and HTML code.
7 Best Features of Trustindex reviews widgets
By incorporating Trustindex widgets on your website, you can showcase ratings from your customers' top Aliexpress reviews as powerful social proof to boost sales. Here is a list of the key advantages that these widgets can bring:
Uncomplicated use
Our modern and user-friendly platform makes creating amazing website widgets a breeze. With the comprehensive analytics from our admin panel, you can easily track the performance of your site widget. Plus, the style editor's preview option allows you to instantly view the results of any changes to the settings.
Automatic refresh rates
You may select how often the reviews on your widget get refreshed, from monthly, weekly, or daily updates.
Automatic review syncing
Integrating Aliexpress reviews into your website can be done with only a few clicks, thanks to Trustindex! Syncing your reviews is automatic afterwards.
Personalized widgets
When you make use of Trustindex, you are given numerous free styling options to alter and customize your widget to make sure both you and your customers are pleased with the outcome when adding Aliexpress Reviews!
Settings modifications
With our widgets, you can personalize your experience through filters, tags, manual selection, links, color and more!
Responsive view
No need to fret over altering the display settings for varied screen sizes – mobile view isn't a problem.
Hide bad reviews
Don't be intimidated by unfavorable ratings – if need be, you can always conceal them in your widgets.
4 ways to collect Aliexpress Reviews fast and easily
Maximize your customer experience and promote your business growth with us! We can demonstrate how to obtain more reviews from Aliexpress customers.
Email campaigns – Get new reviews automatically
With our powerful tool, collecting reviews from your customers can be easy and automatic. Our system allows you to create automated review collection emails to send to your customers.
QR Codes – Review collecting offline
In only 60 seconds, you can set up a scannable QR code that will send your customers who shop at your physical store directly to your company's review platform on the web. This helps make sure that you don't miss out on any reviews from customers who make their purchases in person.
NFC Cards – Collect reviews instantly
Customers can leave a review on your chosen platform with just one tap of their phone, thanks to Trustindex review cards. Utilizing NFC technology, customers can be effortlessly directed to the review platform after a successful purchase with the help of these cards.
Integrations – Review invites
If you want to boost your company' reputation and sales online, the Trustindex Customer Reviews Collector app is the perfect solution. It is simple to integrate with the Shopify website and WooCommerce sites, providing you with the additional reviews you need.
Why are Aliexpress reviews widgets important?
Would you like to increase the visibility of Aliexpress Reviews and display them on your product pages or website? Our new widgets allow you to display comprehensive reviews, including the reviewer's name, picture, and a connection to their Aliexpress profile.
Want to increase customer confidence in your brand? Filtering reviews to show only the best ones, adjusting the text, displaying ratings, and more are all great ways to boost social proof and build trust. Plus, automatic updates ensure that no reviews are ever missing from your website.
Display Aliexpress reviews aggregated
You have the option to customize your reviews widget by combining reviews from various other sites and apps along with your ratings. Here are some possible selections for more apps and review site options:
Build trust with reviews
The reviews of your current customers are critical to your brand and success in online sales. Many people rely on others when making purchasing decisions, so if a product on the web has few or no reviews, they are likely to not buy it.
If a product has good ratings and many positive comments regarding its quality, there is a higher chance that the potential buyer will finalize the purchase. Positive reviews on Aliexpress can increase your social proof and greatly impact your earnings while boosting your performance in search engines too.
Frequently Asked Questions
Is there a way to collect Aliexpress reviews on my webpage?
Our review request button, designed like a button widget, allows you to quickly direct your visitors to collect more ratings on Aliexpress or Trustindex.
Can I adjust the size of my widget?
In order for the Trustindex widget to expand as much as possible, you must include its code in your template. Additionally, be sure to create a box of the correct size to ensure the widget fits correctly.
How to embed Aliexpress reviews widget into my own website?
Follow the directions above in order to get these steps correct:
1. Connect your Aliexpress page in the admin or the plugin.
2. Set the layout, style, and settings to your liking.
3. Click on Save and paste the code into the preferred place on your website.
If you ever need further help, just contact our support team.
Can I show only positive reviews with my widget?
Yes, we offer star rating filters in both the admin and in the free plugin as well.
Is it compatible with all CMS platforms and website builders?
Trustindex widgets are compatible with just about every website CMS or website builder, including but not limited to Adobe Muse, Blogger, Elementor, HTML, Squarespace, and more.
Are the Aliexpress reviews widget fully responsive?
Yes, whether it's desktop, tablet or mobile view, your Aliexpress reviews widget will look gorgeous.
Can I make a free account at Trustindex?
Everyone can make a free account at Trustindex.io and test out the premium features for free during a 7-day trial. Discover new features, other review sites and add reviews to your pages.