8 best review widget types
Trustindex makes it effortless to tailor your Hotels.com reviews widget to your specific requirements. Our broad range of layouts, styles, colors, and other customizable elements enables you to craft the perfect widget for your website. Moreover, integrating Hotels.com reviews into your website is seamless with our services!
Slider: Enable customers to effortlessly slide through your reviews continuously.
Grid: Organize your reviews into numerous rows and columns for a stylish exhibit.
Button: Summarize your overall review score with a single button.
Badge: Exhibit a badge highlighting your overall rating.
List: Display lengthier reviews in a single column.
Floating: View longer reviews by hovering over them.
Pop-up: Provide customers with quick access to your reviews using a pop-up widget.
Sidebar: Add a review widget to your website's sidebar.
10 Amazing Hotels.com reviews Widgets in 2023
Silder I. – Light background
Silder I. – Light Minimal
Slider III. – with badge – Light border
Slider I. – centered – Drop shadow
Grid – Light background
List I. – Light background
Button IV.
Button III.
HTML Badge I.
Sidebar Slider III.
How to Embed Hotels.com Reviews Widget on WordPress for Free
No credit card is needed! Our plugin streamlines the process of adding the Hotels.com Reviews WordPress plugin to your WordPress website completely free of charge. Follow the simple steps and an eye-catching widget will display your Hotels.com ratings on your website, enhancing customer confidence.
1. Install the free plugin
To benefit from the free WordPress plugin, you must install and enable it on your website.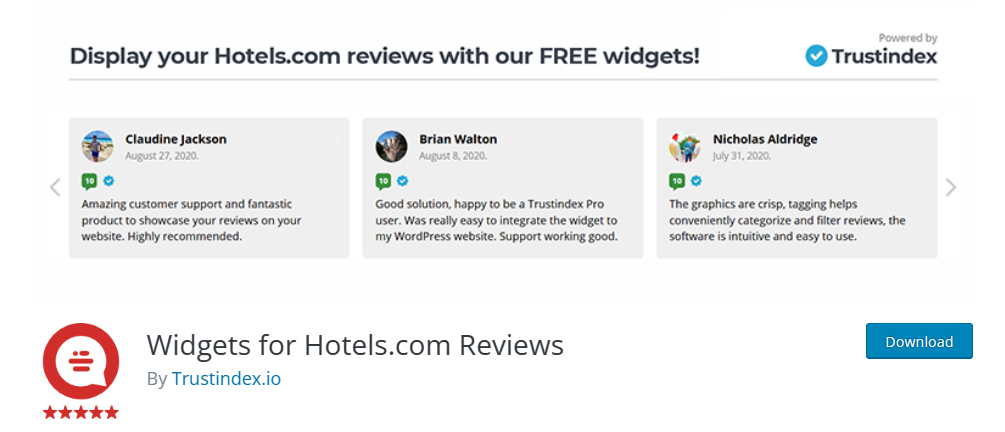 2. Add your Hotels URL
To synchronize your reviews with your Hotels.com profile page, head to the WordPress Admin, where you'll find a new menu. Enter your URL, then click on the "Check" and "Connect" buttons, and the free plugin will commence syncing.

3. Choose your widget layout
Once you have chosen the type of widget you prefer, such as sliders, lists, grids, badges, etc., click on the blue "Select" button located next to it in the plugin's admin dashboard.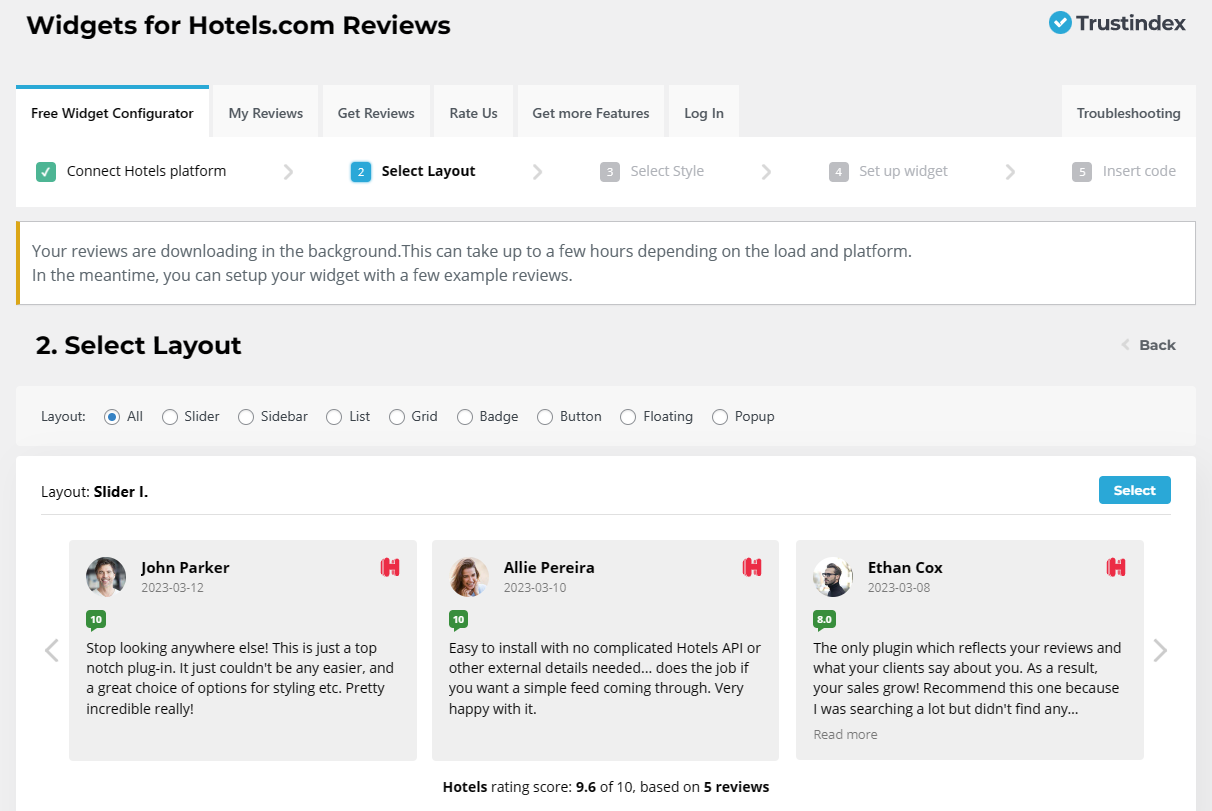 4. Choose your widget style
After organizing the widget, you can customize it further to perfectly meet your requirements.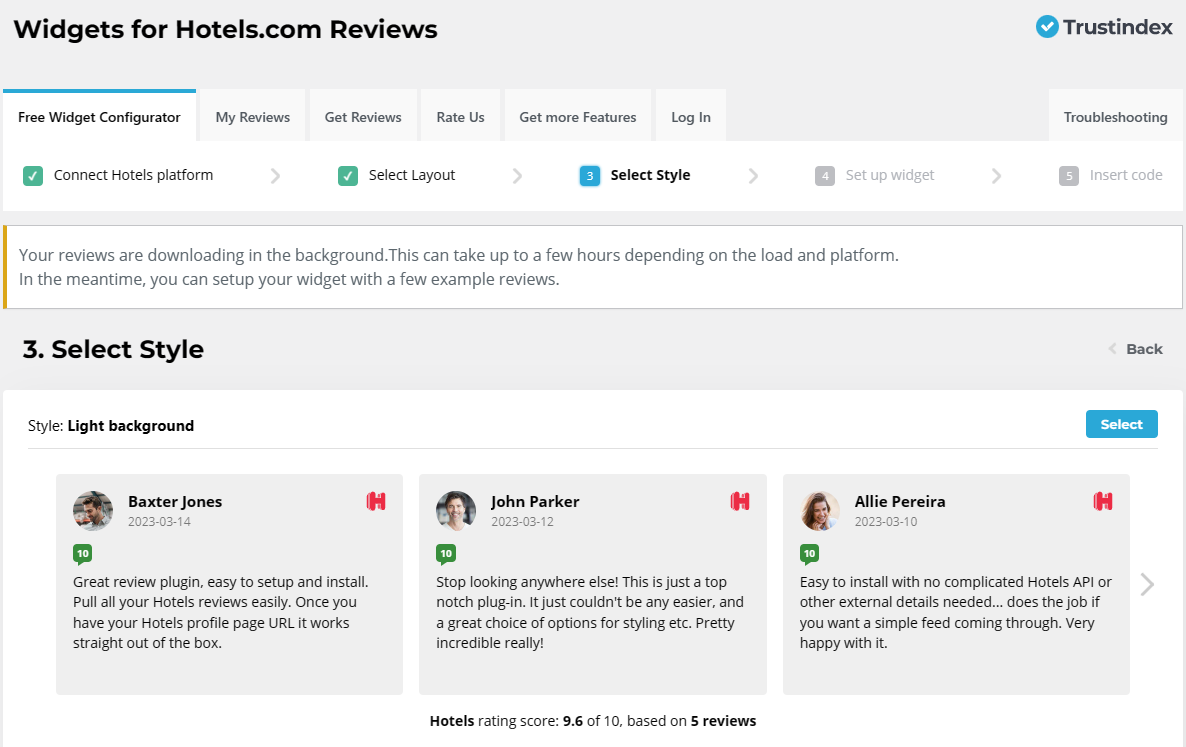 5. Choose your settings
Before embedding the Hotels review widget, you can customize the settings according to your preference, such as choosing to display only positive reviews.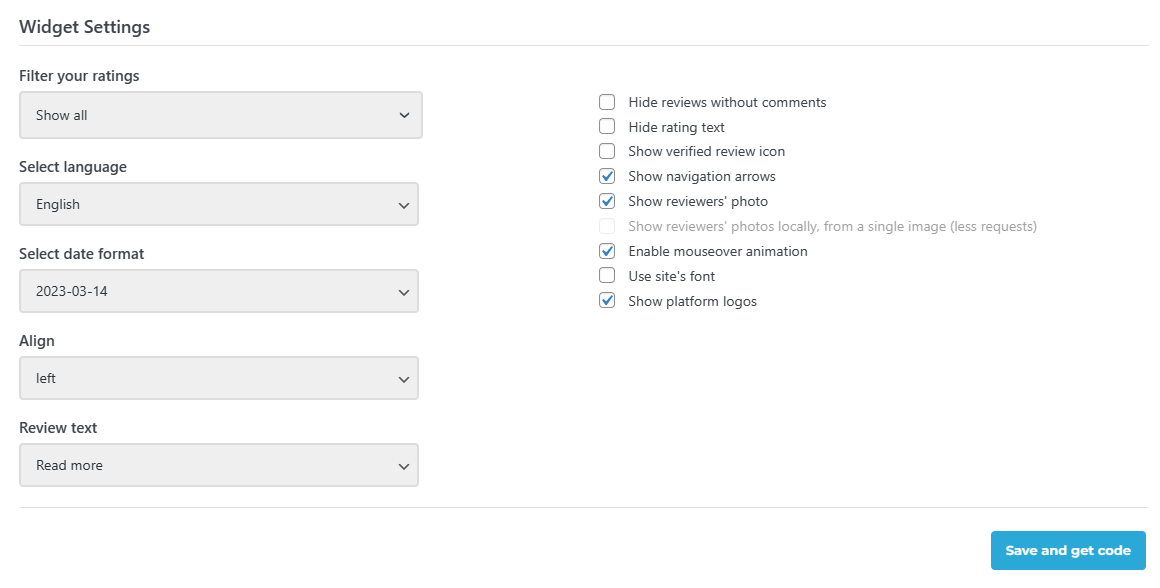 6. Save and insert Hotels.com widget
Once you have finished your task, click on the "Save and get code" button and then copy and paste the shortcode onto your website. This is a simple method to incorporate Hotels.com reviews onto your page.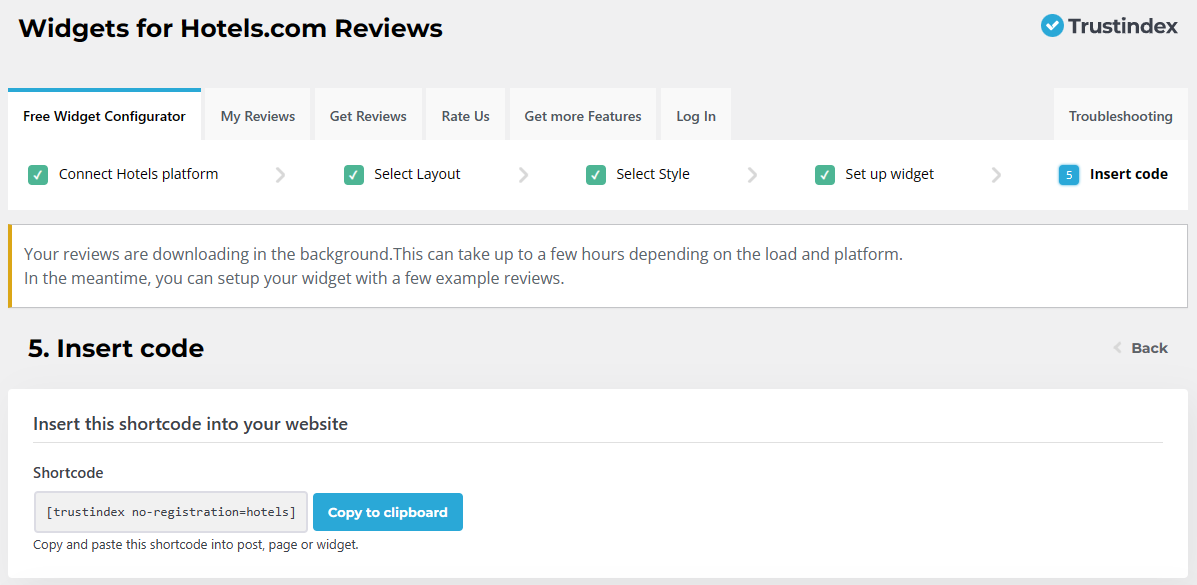 How to Embed Hotels.com Reviews Widget on Any Website
With Trustindex, integrating Hotels.com reviews into your online store or website is a breeze. Our setup process is simple and uncomplicated – all you need to do is register for a free account and follow our user-friendly instructions.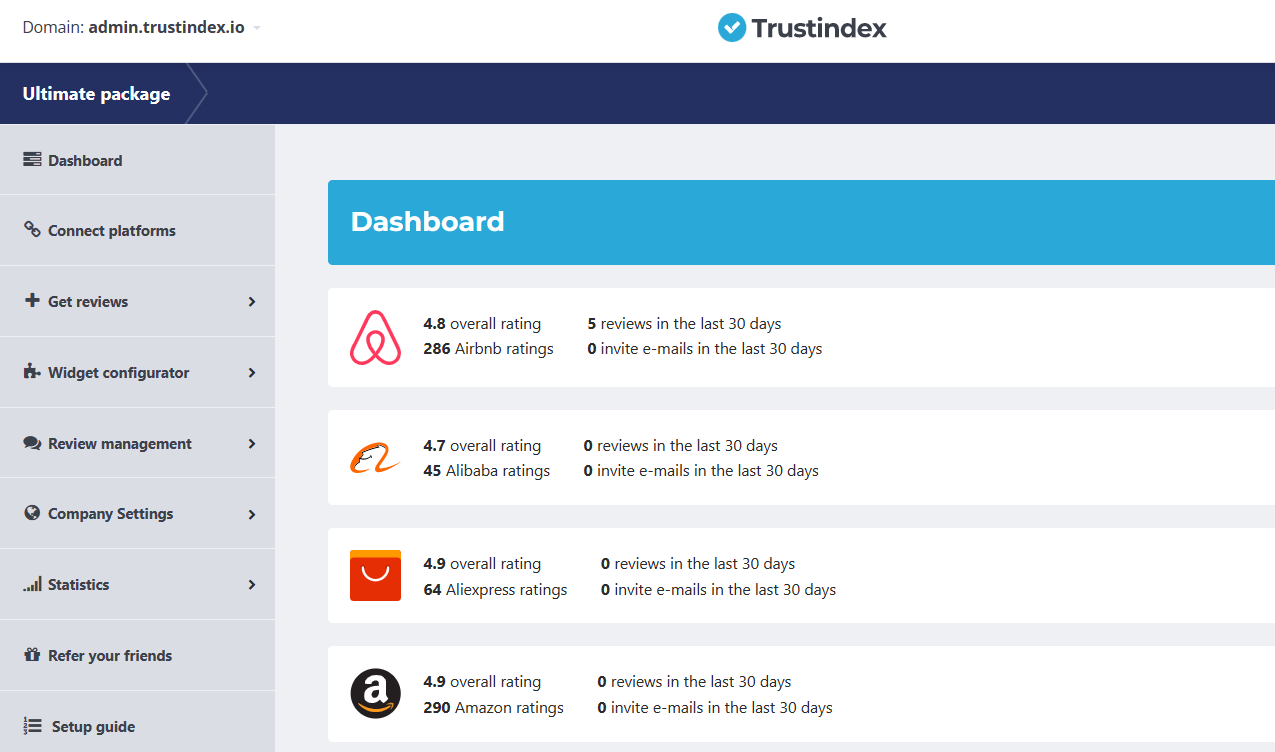 1. Connect your Hotels source
Once you've logged in, establishing a connection between your Trustindex account and review-hosting websites is a straightforward process. Click on the "Connect Platforms" feature and choose your Hotels.com business page to link it to your account.

2. Add new review widget
After linking your account to Hotels.com reviews and completing the synchronization, you can proceed to the widget configuration page.

From there, you can preview a variety of widget designs and styles with just a few clicks. Once you've identified the ideal widget, you can effortlessly tailor it to your unique needs.
3. Modify the widget settings
The Style Editor grants you complete authority over the settings and appearance of your Hotels.com reviews. You can opt to showcase all reviews or solely positive ones using review tags and filters.

Moreover, you can tweak the color of the review text, background, and many other aspects – the options for customization are limitless! For added convenience, Hotels reviews support multiple languages.
4. Save and embed Hotels.com reviews
Once you've customized the Hotels reviews widget to suit your preferences, simply save and copy the installation code that is generated. Then, embed the code into the appropriate section of your webpage as instructed by the admin.

You can choose to use either WordPress shortcodes or HTML code to insert the widget. Once the widget is successfully inserted, it will appear on your website displaying your Hotels.com reviews.
If you require any assistance with inserting your Hotels widget, our Customer Support team is always available to assist you.
7 Best Features of Trustindex review widgets
By adding Trustindex widgets to your website, you can use Hotels reviews as social proof to boost sales. This approach offers several benefits, here are some more features:
1. User-Friendly Interface
Our platform is modern and intuitive, making it easy to create outstanding website widgets. You can track your widget's performance through comprehensive analytics available on our website admin panel. With our style editor, you can preview any changes you make to the settings and see their impact instantly.
2. Automatic Updates
You can select the frequency of your widget reviews, with options ranging from daily, weekly to monthly refreshes.
3. Effortless Synchronization
Integrating Hotels reviews into your website is a breeze with Trustindex. All it takes is a few clicks to enable automatic synchronization of your reviews.
4. Customizable Widgets
Trustindex offers free customization of your widgets, ensuring that both you and your customers are satisfied with the results when incorporating Hotels Reviews.
5. Limitless Settings
Our widgets offer limitless customization options, from filters and tags to manual selection, links, and colors, providing you with a personalized experience.
6. Responsive Design
Our widgets are responsive and designed to adapt to various screen sizes, ensuring seamless viewing on mobile devices
7. Hide Negative Ratings
If negative ratings are a concern, you can choose to hide them from your widgets as needed.
4 ways to collect Hotels.com Reviews fast and easily
We can help enhance your business growth and improve customer experience by utilizing reviews, which demonstrate trust. In addition to incorporating a Hotels.com widget, we offer strategies to acquire more reviews from Hotels.com customers.
1. Acquire Reviews Effortlessly with Automated Emails
Our tool simplifies the process of collecting more reviews by allowing you to create automated emails that request customer feedback. This enables you to obtain maximum client insights effortlessly.
2. Get Reviews from In-person Shoppers with QR Codes
For in-person shoppers, we provide a solution to capture their reviews using QR codes. Generating a scannable QR code takes just 60 seconds and directs customers to your online review platform, ensuring that no reviews are missed.
3. Utilize NFC Cards to Obtain New Reviews
Trustindex review cards streamline the process of directing customers to your preferred review platform. After completing their purchase, NFC technology allows customers to leave a review with a simple tap of their phone.
4. Boost Your Online Reputation and Sales through Integrations
Integrating the Trustindex Customer Reviews Collector app on Shopify and WooCommerce sites is easy and effective in improving your online reputation and sales.
Why use Hotels.com review widgets?
Using Hotels.com reviews widgets can be beneficial in several ways. These widgets allow you to display customer reviews and ratings on your website, which can increase transparency and trust among potential customers.
By showing positive reviews and ratings, you can attract more visitors to your website and potentially increase your bookings or sales.
Hotels.com reviews widgets are easy to use and customize, allowing you to choose the reviews to display and customize the widget's appearance to match your website's design. Overall, incorporating Hotels.com reviews widgets can enhance your online reputation and improve customer trust and loyalty, leading to increased bookings and revenue.
Display Hotels.com reviews aggregated
To customize your reviews widget, you can combine reviews from multiple popular business review sites and applications with your own ratings. You have various options to add reviews from the following sources:
Why do Hotels.com reviews matter?
Hotels.com reviews are important for several reasons. Firstly, they provide valuable feedback from previous customers regarding their experiences with a particular hotel, including its amenities, services, cleanliness, location, and overall value. This feedback can help potential customers make informed decisions when choosing a hotel and manage their expectations.
Secondly, Hotels.com reviews can improve transparency and trust between the hotel and its customers. Displaying reviews on the hotel's website can demonstrate a willingness to listen to feedback and address any issues, leading to increased customer satisfaction and loyalty.
Furthermore, positive Hotels.com reviews can increase the hotel's visibility and attract more potential customers to book a stay. Reviews and ratings are often taken into consideration when travelers search for accommodations, and positive reviews can enhance a hotel's online reputation and differentiate it from its competitors.
Overall, Hotels.com reviews are essential for improving customer satisfaction, building trust, and attracting more bookings, making them crucial for the success of a hotel's business.
Frequently Asked Questions
What are some ways to gather more positive reviews on my website page?
Our review request button, designed as a button, makes it easier to direct your visitors to leave additional ratings on Hotels.com or Trustindex.
Is it possible to adjust the size of my widget?
To ensure proper display, we suggest placing your Trustindex widget inside a box with a suitable size as the widget will automatically adjust to fit the available space.
Does it work with all website builders and CMS platforms?
Trustindex widgets are designed to work with nearly all website builder and CMS platforms, such as Adobe Muse, Blogger, Elementor, HTML, Squarespace, and many others.
Is the Hotels.com review widget fully responsive with my free account?
Regardless of the device used, whether it's a desktop or smartphone, the widget delivers an outstanding user experience.