8 most common review widget types
With Trustindex, customizing your Amazon widget to meet your exact needs is a breeze! You can select from various layouts, styles, colors, and other features. Furthermore, it's easy to add Amazon feedback to your website with us.
Slider – Show reviews in a continuous loop.
Grid – The reviews are arranged in a grid-like pattern with multiple rows and columns.
Button – a summary of your reviews
Badge – A badge showing your overall score.
List – Create one column to arrange extended reviews in an organized fashion.
Floating – If you hover your mouse cursor over them, you can get an expanded view of the reviews.
Pop-up -Incorporate a pop-up window component to display customer feedback.
Sidebar -Add a reviews section to the sidebar of your website.
10 Amazing Amazon Reviews Widgets in 2023
Silder I. – Light background
Silder I. – Light Minimal
Slider III. – with badge – Light border
Slider I. – centered – Drop shadow
Grid – Light background
List I. – Light background
Button IV.
Button III.
HTML Badge I.
Sidebar Slider III.
How to Embed Amazon Reviews Widget on WordPress for Free
Our plugin simplifies the process of including Amazon seller ratings and reviews on your WordPress website – no credit card necessary! Just follow the step-by-step instructions, and you'll quickly have an attractive widget displaying your Amazon ratings on your site and become a more reliable partner in the eyes of customers.
Install plugin on WordPress
To use the free WordPress plugin, you must install it on your website and then activate it.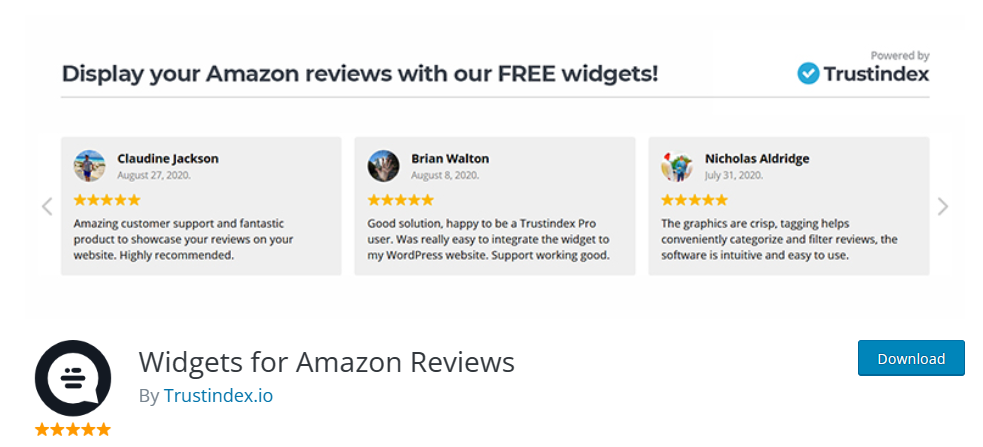 Connect page
Go to the WordPress Admin and navigate to the new menu. Click the "Check' and "Connect" buttons and the plugin will start syncing your reviews with your Amazon profile page.
Select layout for widget
After deciding on the widget format, such as sliders, lists, grids, badges, etc., click the "Select" button in blue beside it.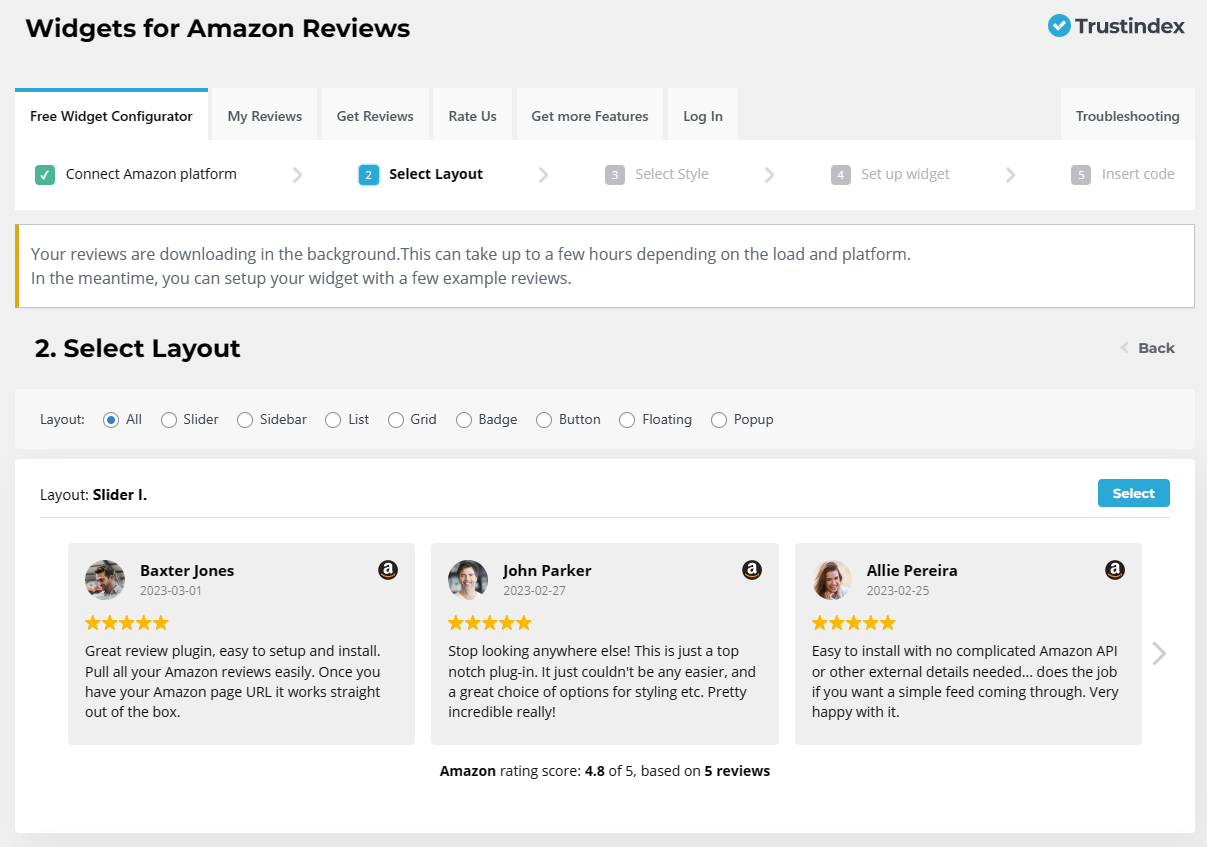 Select style for widget
Once you have arranged the widget, you can personalize its appearance even more to make it unique to you.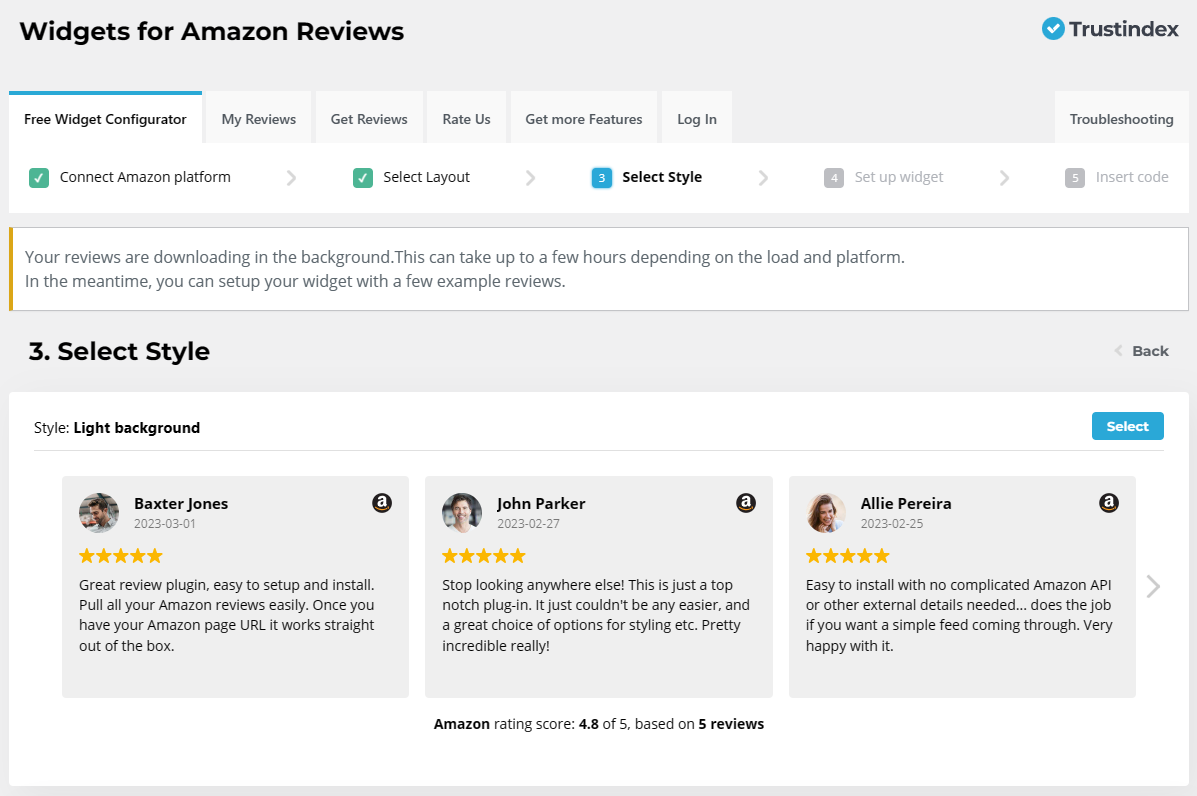 Manage settings
Before you embed the Amazon review widget, you can customize certain settings to your preference, like choosing to only display good reviews.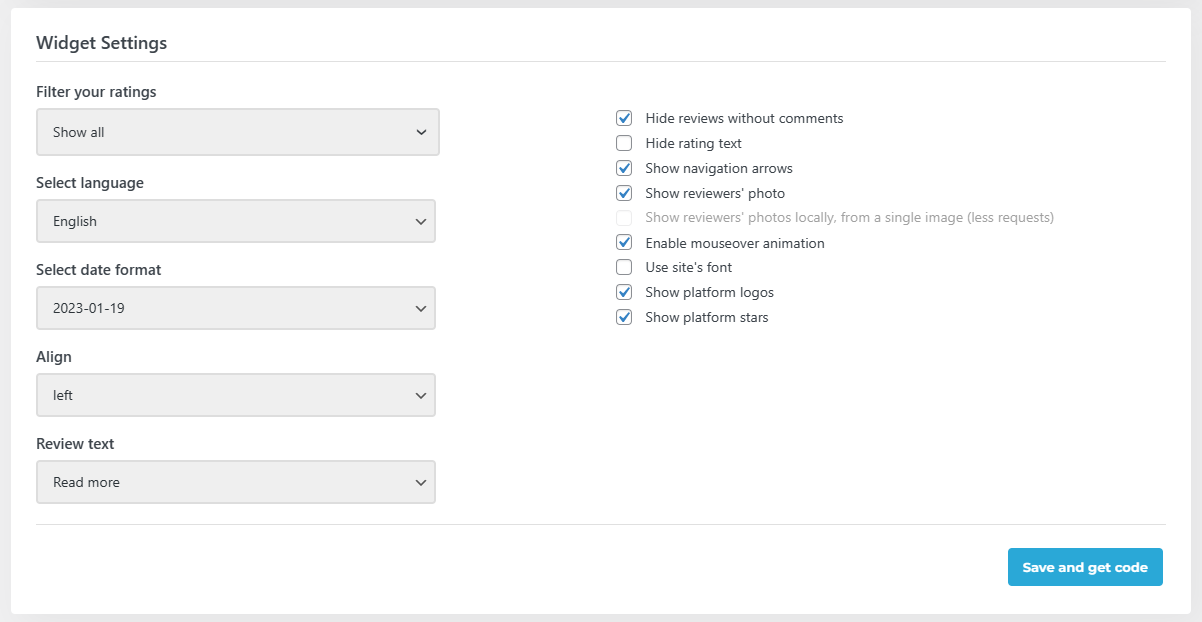 Save and insert code
Once you are done, click on 'Save and get code' and put the shortcode into your webpage. That's how you can display reviews easily.
How to Embed Amazon Reviews Widget on Any Website
It's easy to add Amazon seller reviews to your store or own website with us! Here is a step-by-step guide on how to do it, after creating a free account at Trustindex.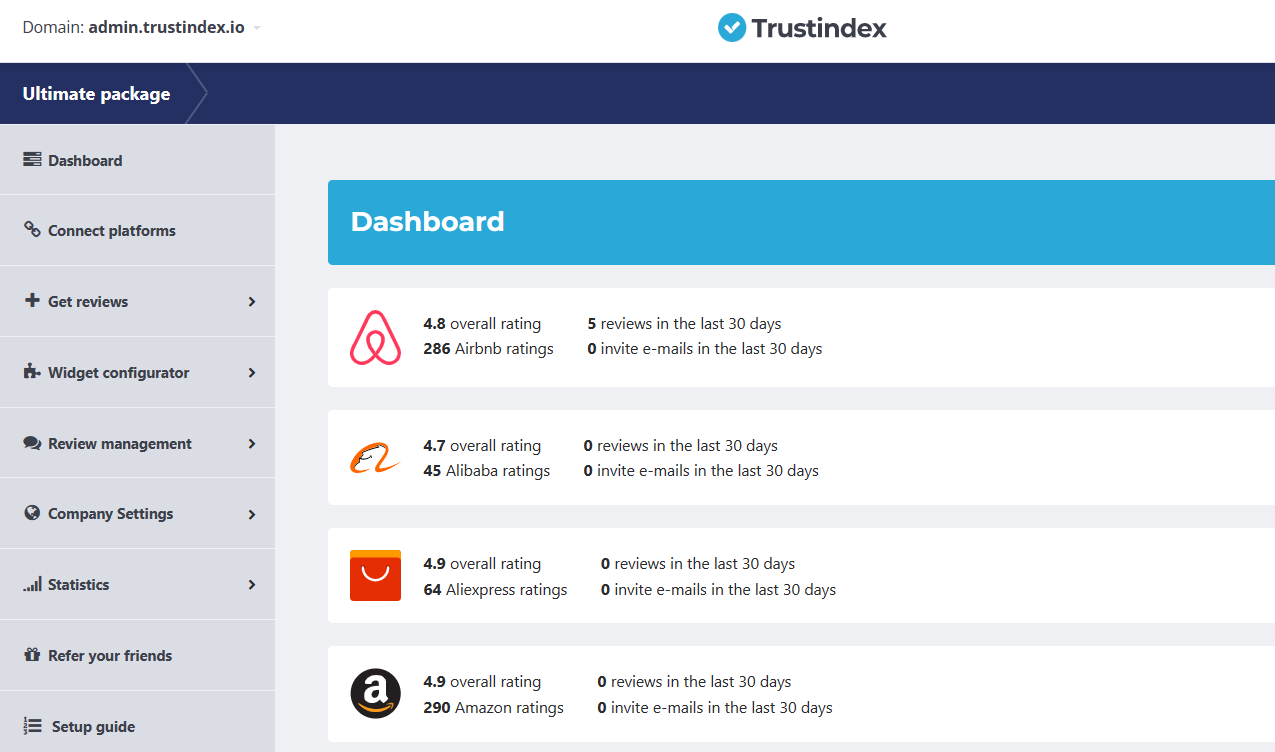 Connect platforms
After signing in, you can connect your Trustindex account to the sites hosting your reviews by selecting the "Connect Platforms" option. To link your Amazon business page, please click this menu.

Add widget
Once you have linked your platform and synced your Amazon reviews, you can navigate to the configuration page.

Here, you can preview how the widget layout and style will look with a few simple clicks. After selecting your desired widget, you can customize it to fit your needs.
Adjust style
In the Style Editor, you can personalize the settings and look of your Amazon rating widget.

You can add reviews tags or filters to only display your positive feedback like 5 star reviews, filter or adjust the colors of the review text, etc.
Save and insert widget
Once you have adjusted your review widget to your liking, save it and copy the code. All that is left to do is to paste the code into the desired area of your website.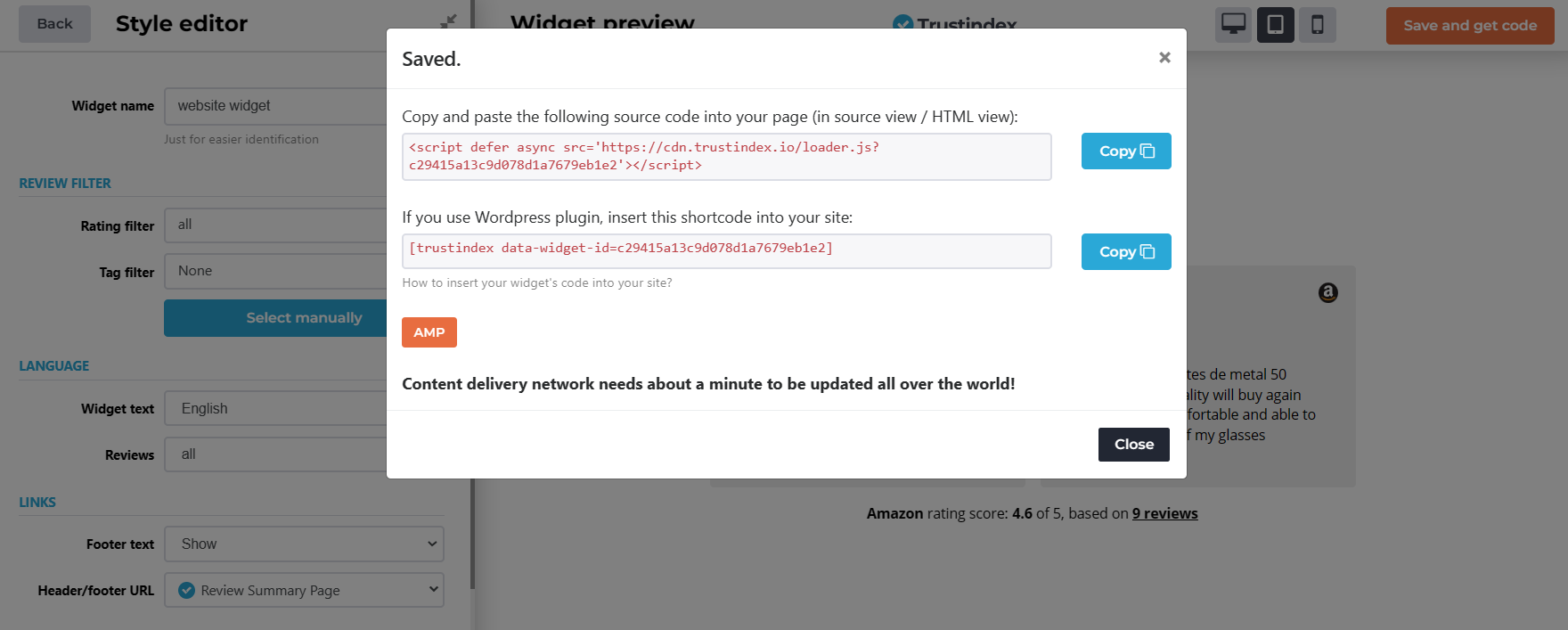 7 Best Features of Trustindex reviews widgets
Adding Trustindex widgets to your website, featuring ratings from your customers' best Amazon reviews, is the strongest social proof that can help increase your sales. Here are some of the key benefits these widgets offer:
Simple use
Our platform is modern and user-friendly, making it easy to create amazing website widgets. Our admin panel provides comprehensive analytics to track the performance of your site widget, and the style editor with its preview option allows you to instantly see the effects of any changes you make to the settings.
Update settings
You can decide how frequently you want the reviews displayed on your widget to be refreshed – either monthly, weekly, or daily – and we'll take care of the rest!
Review syncing
Thanks to Trustindex, integrating Amazon reviews into your website only requires a few clicks! After that is syncs automatically.
Personal style
Trustindex provides you with a wide range of free styling choices to customize your page when incorporating Amazon Reviews, so you and your customers will be happy with the results!
Specific settings
Our widgets provide you with the ability to customize your experience via filters, tags, manual selection, links, color and various other options!
Mobile view
There's no need to worry about customizing the display settings for different screen sizes – mobile view is not an issue.
Hide negative feedback
Don't let negative ratings scare you – if it's necessary, you can always hide them in your widgets.
4 ways to collect Amazon Reviews fast and easily
Let us help you maximize your customer experience and promote your business growth! We will show you how to get more reviews from Amazon users.
Email campaigns – Collect new reviews automatically
Our system provides an easy and automatic way to collect reviews. Create automated review collection emails that can be sent to your customers with the help of our powerful tool.
QR Codes – Offline review collecting
In just one minute, you can configure a scannable QR code that will direct your in-store customers to your company's review platform online. This ensures no more missed reviews from people who make purchases offline.
NFC Cards – More reviews instantly
By using Trustindex review cards, customers can leave a review on your preferred platform with a single tap of their phone utilizing NFC technology. After a successful purchase, customers can be easily directed to the review platform with the help of these cards.
Integrations – Countless review invitations
Increase your online reputation and sales with the Trustindex Customer Reviews Collector app. It is easy to integrate with Shopify store and WooCommerce sites, which will give you the reviews boost you are looking for.
Why are Amazon review widgets important?
Do you want to expand the reach of Amazon Reviews and add them to your product pages or website? Our new widget gives you the ability to showcase detailed reviews, including the author's name, photo, and a link to the Amazon profile.
It's an easy way to boost social proof and build trust in your brand! You can filter reviews to show only the best ones, adjust the text, display ratings, and more. Automatic updates will guarantee that no reviews are ever missing from your website.
Display Amazon reviews aggregated
You have the choice to personalize your reviews widget by blending reviews from other sites and apps with your ratings. Here are some possible choices for other review platforms:
Build trust through reviews
The reviews provided by your current customers are essential for your online sales. People tend to follow the herd when it comes to purchasing decisions, and if a product on the web has few or no reviews, they are likely to forgo the purchase.
On the other hand, if the product has high ratings and numerous positive remarks about its quality, the buyer is more likely to complete the transaction. Positive reviews on Amazon can boost your social proof and significantly increase your profits.
Frequently Asked Questions
What is an Amazon reviews widget?
This tool assists you in displaying reviews from Amazon.com about your business on your website pages. You have the liberty to choose which reviews you want to showcase: either the positive ones or ones that match certain keywords.
How to get the code for the Amazon customer reviews widget?
After connecting your Amazon business and configuring your widget fully in either the admin or the free plugin, you'll have to click the Save button in order to get the code.
How to embed Amazon review widget into my webpage?
Follow our guides above in order to get these steps right:
1. Connect your Amazon page in the admin or the plugin.
2. Configure the layout and style and settings to your liking.
3. Click on Save and copy the generated code into the desired place on your website.
Is it compatible with all CMS platforms and site builders?
Trustindex widgets are compatible with just about every website CMS or site builder, including but not limited to Adobe Muse, Blogger, Elementor, HTML, Squarespace, and more.
Can I collect reviews on my website?
With our button-style review request button, you can redirect your visitors easily to collect more ratings on Amazon or Trustindex.
The best place to insert my Amazon seller reviews widget on my website?
Posting your reviews on your homepage can help you to maximize the power of your customer ratings and demonstrate the excellence of your business.
Can I change the size of my website widget?
If you include the Trustindex widget code in your template, it will expand as much as the box allows. Make sure you create a box of the appropriate size to accommodate the widget.