When you're thinking about building WordPress websites, one of the key factors to consider is choosing the right WordPress development company.
As a result of the numerous options available in the market, it can be challenging to find the perfect fit for your needs.
While establishing a strong online presence is crucial, spending months searching for the best WordPress development company is not ideal.
However, settling for the top result on Google's first page may not necessarily guarantee the best WordPress development services, as expertise in SEO doesn't always translate to exceptional development capabilities.
That's where a specialized WordPress development company comes into play.
With their services, you can gain access to teams of skilled WordPress developers and designers who will then create scalable, reliable, and high-performing WordPress websites.
Moreover, unlike freelancers who might be juggling multiple projects simultaneously, a dedicated WordPress development company offers the advantage of a hierarchical structure with project managers and testers who can solely focus on building your WordPress site.
In this article, we will provide insights into some of the best WordPress development companies.
We have gathered information about team sizes and their respective skill sets, because we want ti help you make a good decision.
Additionally, we have examined their portfolios to determine each company's areas of specialization.
So, let's delve into the details and explore the top WordPress development companies to help you choose the right partner for your project.
WordPress development companies: Prices, rating & services
Company
Starting Price
Rating
Services
DevriX
$120/hour
4.8
based on 10 reviews
Full-stack WordPress
development,
contributor services
10up
$150/hour
4.9
based on 3 reviews
Custom WordPress
development,
consulting
Multidots
$50/hour
4.9
based on 27 reviews
WordPress development,
plugin development,
custom solutions
WebDevStudios
Unknown
4.9
based on 4 reviews
Full-service WordPress development,
design, maintenance
Librafire
$25/hour
4.9
based on 23 reviews
WordPress development,
design,
front-end skills,
custom site development
Human Made Limited
Unknown
4.9
based on 7 reviews
WordPress development,
technically complex projects,
digital experience platforms
UPQODE
$100/hour
4.9
based on 60 reviews
WordPress development,
design, content & SEO,
website maintenance,
social media marketing
KrishaWeb
$50/hour
4.9
based on 43 reviews
WordPress development,
custom site development,
brand identity
SAU/CAL
$150/hour
4.9
based on 8 reviews
WooCommerce development,
WordPress maintenance,
custom website redesign
Cut2Code
$25/hour
4.9
based on 37 reviews
WordPress development,
custom solutions,
front-end & eCommerce skills
FixRunner
$69/month
4.8
based on 204 reviews
WordPress maintenance,
custom development, website design
WPRiders
$50/hour
4.9
based on 18 reviews
Custom WordPress
development,
WooCommerce stores,
API integrations
Vipe Studio
$100/hour
4.9
based on 2 reviews
Full-stack WordPress development,
website design, headless WordPress
WidgiLabs
$50/hour
4.9
based on 4 reviews
WordPress and eCommerce development,
UI/UX design, marketing strategy
Wholegrain Digital
$100/hour
4.5
based on 7 reviews
WordPress development,
web sustainability, user experience
15 Best WordPress development companies
1.) DevriX
DevriX is a WordPress maintenance company that started it all. They actually came up with the term "WordPress retainer".
Founded in Bulgaria in 2010, until now they have grown into a full-service leading WordPress development company, including developers, designers, engineers, and marketers from around the world.
Their team specializes in building SaaS platforms, handling large-scale projects, and creating WordPress websites that can handle multiple sites at once.
On the other end of the spectrum, DevriX is also known for their skill in developing custom plugins.
They have built over 200 free plugins for their clients, some of which were even featured on WordPress.org for things like image galleries, RSS feeds, and more.
DevriX values long-term relationships with their clients, with 90% of them working together for more than two years.
They don't just focus on website development and design; they also use their digital marketing knowledge to help clients with SEO and marketing strategies.
One of their notable accomplishments is helping to build the website for Kustomer, a company that was later acquired by Facebook.
They are praised for their ability to deliver cost-effective solutions as well as to go above and beyond what is expected.
DevriX continues to impress with their commitment to innovation, and client satisfaction, not to mention their comprehensive WordPress development services.
2.) 10up
10up stands out as the sole Emmy-nominated WordPress development company on this list.
However, don't let that intimidate you. As WordPress Gold VIP partners, they have crafted WordPress sites for prominent players in the media, healthcare, and government sectors, as well as for local schools and non-profit organizations.
Likewise DevriX, this one is a comprehensive agency too. They have a global team of over 200 experts, including strategists, designers, and developers, as well as engineers, and marketers.
They excel in handling complex WordPress web development projects that demand high performance.
Their expertise covers a wide range of areas, including front-end engineering with a focus on WCAG accessibility, back-end engineering utilizing technologies like GraphQL, and technical cloud services such as Amazon Web Services.
Having received multiple Webby awards, they are also renowned for their innovative tools like ClassifAI, an AI-powered solution for generating alternative text, image tags, content classification, and more.
10up strongly advocates for Open Source since it has contributed over 4,000 company hours to popular Open Source projects.
Their team includes over 40 conference speakers and WordPress contributors.
Clients have praised 10up for their ability to understand and surpass their vision swiftly and effectively while providing invaluable insights and recommendations along the way.
One notable achievement from 10up's portfolio includes their work on FiveThirtyEight.
With their impressive track record, 10up continues to be a trusted choice for WordPress development, combining expertise, innovation, and commitment to Open Source.
3.) Multidots
Multidots, established in 2009, has consistently achieved significant growth milestones throughout its journey.
What initially began as a small agency of WordPress developers specializing in outsourcing work has evolved into a maintenance and development company that recently earned a spot in the esteemed Silver WordPress VIP partnership program.
When it comes to WordPress, Multidots has impressive skills and expertise.
Whether you're seeking a custom-built WordPress website or planning to migrate to WordPress, Multidots has the capability to deliver. If your website is already up and running, they can perform thorough site audits, optimize performance, and handle various maintenance tasks.
They are recognized as a leading PHP agency in India at the same time they have proficiency in WooCommerce and BuddyPress.
One standout achievement from Multidots' portfolio is their successful optimization of MIT Engineering's WordPress site.
With their WordPress development services, undoubtedly, Multidots continues to provide reliable solutions, cater to diverse client needs, and maintain an active presence in the WordPress community.
4.) WebDevStudios
WebDevStudios is among the oldest and top WordPress development companies featured on this list.
They were established in 2002 and made a strategic shift towards Open Source solutions in 2008.
With a team comprising engineers, project managers, designers, and support technicians, they have become a leading web development company with a robust workforce of over 40 professionals.
WebDevStudios is capable of providing WordPress solutions for a wide range of clients, including enterprises and non-profit organizations.
If you currently have a website on a different platform, they can efficiently migrate it to WordPress. In fact, they excel in corporate designs and have successfully built websites for renowned entities like Microsoft.
As a WordPress agency, WebDevStudios offers technical and marketing support to both emerging and established businesses, educational institutions, non-profits, and more.
When it comes to the technical aspects of WordPress, WebDevStudios truly shines.
They have authored several books aimed at WordPress beginners, showcasing their deep understanding and expertise. Additionally, they allocate 5% of their team's time to actively contribute to the WordPress community.
One standout project from WebDevStudios' portfolio is their collaboration with repeat customer Campbell's Soup Company, where they undertook a complete website redesign.
5.) Librafire
Librafire is one of the WordPress development companies with a multinational team comprising over 20 professionals. These include designers, developers, and project managers, as well as business development managers.
With their presence in Serbia, the US, and the Netherlands, they are well-positioned to accommodate your schedule and meet your project requirements.
One of Librafire's standout features is their visually appealing designs, which often attract a significant amount of business through outsourcing contracts.
They have worked across a wide range of industries, completing over 300 projects, showcasing their versatility. Their front-end skills are exceptional and can rival those of larger agencies, especially in JavaScript web development.
While their expertise lies in WordPress, Drupal, and Laravel, Librafire also possesses strong backend skills that enable them to build custom websites from scratch.
If you are just starting your business journey, their brand design skills can assist you in developing a distinct brand identity.
A notable achievement from Librafire's portfolio includes providing two designs for TeamViewer's US landing pages.
With their diverse skill set, global presence, and attractive pricing, Librafire proves to be a suitable web development agency for businesses at various stages.
6.) HumanMade Limited
Human Made is one of the top WordPress development companies that is originated in England but has a global team.
With a workforce of over 70 professionals, including engineers, project managers, marketers, and event planners, Human Made excels as a technical development company capable of creating innovative tools and platforms.
Their expertise lies in technically complex WordPress development, and they are shaping the digital presence of some of the world's largest media companies.
Additionally, they have played a significant role in developing Altis, a WordPress-based digital experience platform used by companies like Red Bull and Snopes.
Human Made's custom software development is prevalent across various industries with high levels of web traffic.
They offer a wide range of solutions, including powerful cloud-based solutions and useful marketing automation tools. Their notable clientele primarily consists of businesses operating in the media, finance, and publishing sectors.
In addition to working with renowned clients, Human Made actively promotes Open Source initiatives.
They frequently organize events for Free and Open Source Software (FOSS) and participate in prominent gatherings such as WordCamp Europe.
One standout achievement from Human Made's portfolio is their contribution to improving the performance and distribution of USA Today.
7.) UPQODE
UPQODE is an agency headquartered in Nashville, although the majority of their team is distributed.
They have strengths across various areas, ranging from design and development to content creation, SEO, and digital marketing.
Their well-balanced tech team is capable of guiding you through the entire process, from iteration and design to launch and growth.
UPQODE is fully dedicated to WordPress, and a significant portion of their projects involve launching websites for small and medium-sized businesses (SMBs).
With their diverse skill set, they excel in integrating websites with HubSpot, building eCommerce stores, and developing custom themes and plugins tailored to different industries.
Their portfolio showcases a wide range of projects, making it one of the largest among the companies on this list.
In addition to website development, they offer website maintenance, social media marketing, and assistance with Google Analytics, all at reasonable rates.
Furthermore, UPQODE is part of a larger network of development companies, which includes a themes store, sales apps, and tools for Elementor.
A notable achievement from UPQODE's portfolio is their successful creation of an eCommerce store for Sew Sketchy, a thriving fashion brand.
8.) KrishaWeb
KrishaWeb is a reputable WordPress development agency that has been operating since 2008 and has expanded its team to include over 70 employees.
While their main office is located in Delaware, USA, they also have additional branches in India, the USA, and the Netherlands.
As a full-service agency, KrishaWeb offers solutions to meet your diverse needs.
They can assist you with various aspects, including web design, brand identity, WordPress website development, digital marketing, eCommerce, and more.
In addition to specializing in WordPress, they are also proficient in other open-source content management systems such as Drupal and Joomla.
If you are seeking a full-service agency that can provide expertise across all areas of WordPress development and marketing, KrishaWeb is definitely worth considering.
A notable accomplishment from KrishaWeb's portfolio is their successful collaboration with A Y & J Solicitors in the UK, where they developed a complete brand identity and website.
9.) SAU/CAL
SAU/CAL is a global team of WooCommerce experts with their main headquarters located in Canada.
Over time, they have achieved significant milestones by becoming Silver WordPress VIP agency partners, as well as partners of Kinsta and WPEngine.
What sets SAU/CAL apart is their status as certified WooExperts.
They established their agency out of a passion for eCommerce and a desire to address the lack of skilled eCommerce developers.
While their primary focus lies in WordPress and WooCommerce, SAU/CAL excels in developing scalable websites for both enterprises and small to medium-sized businesses (SMBs).
If your online store is in need of a revamp, their WordPress developers have the skills to redesign your site, increasing its performance and user experience.
A standout achievement from the SAU/CAL portfolio is their successful transformation of a download store into a streaming platform for the photography tutorial site Phlearn.
10.) Cut2Code
Cut2Code is an emerging WordPress development company based in Poland's Silicon Valley.
Their entire team operates from Poland, working on a rotating schedule to ensure they can effectively cater to a global client base.
One of Cut2Code's notable strengths is that it can transform existing designs into fully functional websites.
Whether you already have an in-house team or require a custom website built from scratch based on your specifications, Cut2Code can collaborate seamlessly with your existing setup.
Their front-end team excels in developing custom solutions that integrate seamlessly with the WordPress Block Editor.
Additionally, they are professionals in eCommerce, with both WordPress and Shopify. For larger-scale projects, Cut2Code is also capable of implementing comprehensive platforms using Ruby on Rails.
Its WordPress developers successfully delivered a wide range of services, including custom development, support, and maintenance, across various industries.
Their portfolio boasts projects in higher education, fashion, healthcare, real estate, and tech startups.
A standout accomplishment in the Cut2Code portfolio is their work for the University of California San Francisco: Bioethics, where they handled all WordPress-related projects.
11.) FixRunner
FixRunner is a well-known WordPress maintenance service that is also a part of the top WordPress development companies.
With a global team spanning the USA, Israel, and Belgrade, Serbia, they provide comprehensive WordPress solutions.
While FixRunner primarily focuses on monthly maintenance services, they also offer dedicated development services for web design and development.
This unique approach sets them apart from other WordPress development agencies on this list.
By combining maintenance and development under one service, FixRunner offers convenience and continuity for all your WordPress needs.
Their monthly maintenance packages come with a set number of dedicated support hours per month, which can be utilized for various development tasks.
A notable accomplishment in the FixRunner portfolio is their work for the University of California San Francisco: Bioethics, where they handled all WordPress-related projects.
12.) WPRiders
WPRiders, founded in 2014 in Bucharest, Romania.
It brings 14 years of experience in WordPress and the development of custom websites, establishing itself as one of the top WordPress development companies.
Their impressive track record and expertise have earned them a strong reputation, as evidenced by their 1,000+ satisfied clients.
With over 700 five-star reviews and recognition from reputable business outlets like Clutch and GoodFirms, WPRiders has consistently delivered exceptional results in the web development industry.
They go beyond technical expertise by integrating business analysts into their teams of designers, developers, and testers.
This collaborative approach ensures that their solutions are informed by a deep understanding of market trends and technological advancements, allowing them to contribute to your business growth.
Their specialization in custom WordPress development services is a major advantage.
With comprehensive knowledge of WordPress and a focus on maximizing performance, WPRiders excels in building robust WooCommerce stores and learning management systems (LMS) integrated with numerous APIs.
If you're unsure about using WordPress, WPRiders is flexible and can go beyond WordPress to cater to your preferences. Their developers have proficiency in Laravel and are well-versed in important JavaScript libraries and environments.
A noteworthy project in the WPRiders portfolio is their custom code work on pricing for Farrer's Coffee. This example highlights their ability to deliver tailored solutions for specific client needs.
13.) VipeStudio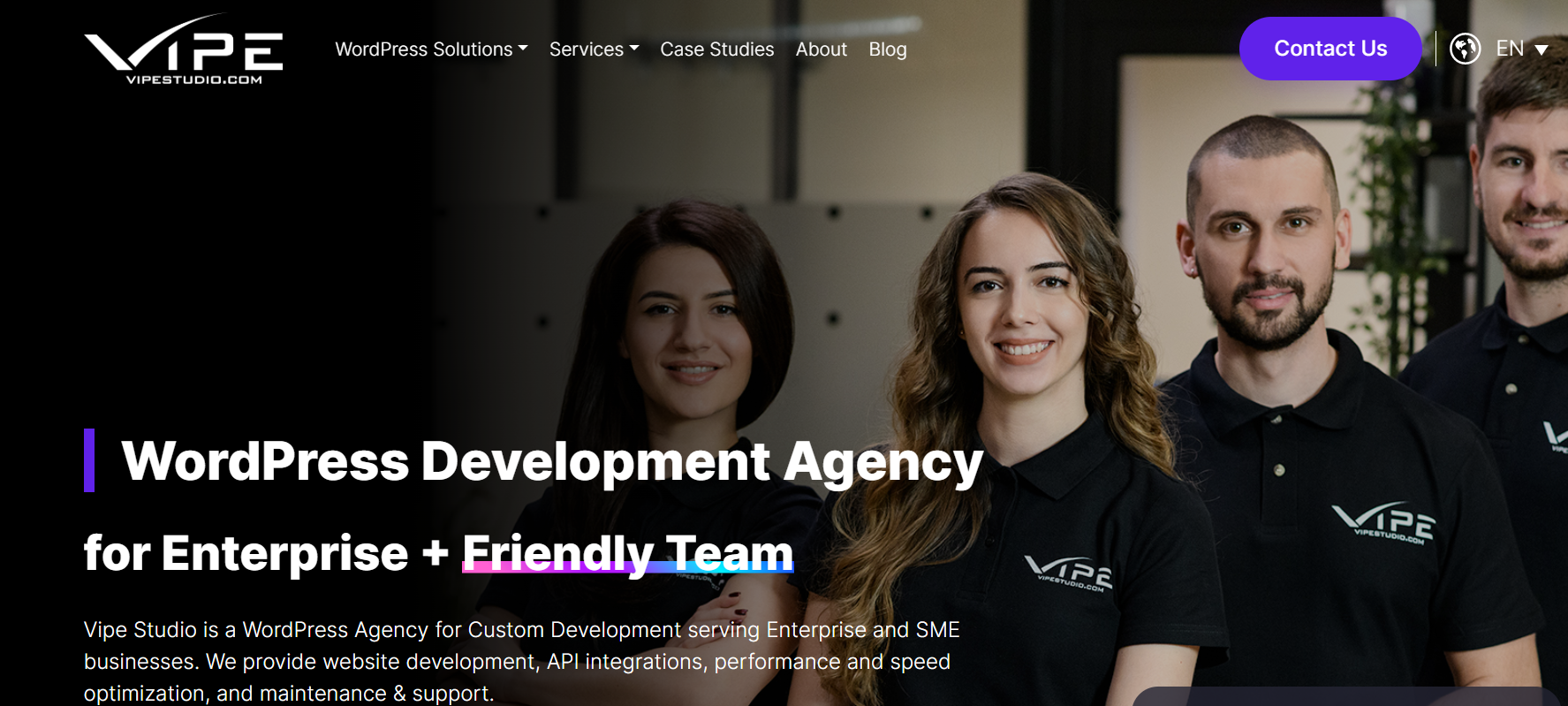 Vipe Studio is a WordPress development service that covers various aspects.
These include speeding up website performance, creating custom plugins or themes, building complete websites, and even headless WordPress solutions.
While their main headquarters is in Bulgaria, they have a presence in the USA and Europe, making them accessible to clients from different regions.
If you need a website built from scratch, Vipe Studio can handle the job using the approach that best suits your needs.
Active in the WordPress community, Vipe Studio contributes to the core code and supports WordCamps through sponsorships.
Their commitment to excellence is evident in their attention to detail and willingness to incorporate feedback.
They go the extra mile by providing training to their clients' internal teams, ensuring they are equipped to navigate and manage their new website effectively.
A notable project in the Vipe Studio portfolio is the development of Honda's website for the Bulgarian market.
14.) WidgiLabs
Widgilabs is one of the best WordPress development agencies that specialize in creating WordPress websites and eCommerce solutions.
With a team of WordPress experts, they offer efficient solutions to tackle problems that may be beyond your expertise.
Their mission is to support the growth of your company across various sectors.
Widgilabs excels in handling critical issues and high-traffic websites with millions of monthly pageviews, thanks to their experienced developers and designers.
They have collaborated with large national and international businesses and enterprises, demonstrating their capability in delivering successful projects.
While Widgilabs focuses primarily on WordPress and eCommerce development, they also offer a range of other services.
You can seek their assistance in areas such as WordPress plugin development, UI/UX design, marketing, business strategy, content creation, and more.
Their portfolio includes renowned brands like Vodafone, Forbes, Observador, Economia Online, and others, which highlights their expertise and successful collaborations.
A notable project from the WidgiLabs portfolio is the design and implementation of Forbes' website for the Portuguese market.
15.) Wholegrain Digital
Wholegrain Digital holds the distinction of being the first WordPress agency in London and is an ideal choice for those interested in using technology for positive impact.
Since its founding in 2007, the agency's mission has been to empower and support organizations with a positive vision.
Their commitment to users extends beyond the front end, as they also prioritize improved back-end workflows, ensuring a smooth and efficient website management experience.
Another area of expertise for Wholegrain Digital is web sustainability.
They are deeply committed to reducing digital waste and have developed extensive knowledge in web performance optimization.
This expertise guarantees that their designs not only provide exceptional user experiences but also accommodate SEO and marketing efforts effectively.
In addition to their core services, Wholegrain Digital offers standard maintenance and support plans.
A notable project from the Wholegrain Digital portfolio is the complete design overhaul they undertook for Unicef, which included improvements in user experience and navigation.
How to choose a WordPress development agency?
When you make the decision to hire a WordPress development company, the sheer abundance of choices can quickly become overwhelming. To ensure that you discover the ideal website development agency, let's explore the essential criteria of WordPress development services.
#Technical skills
When selecting a WordPress development agency, it is important to verify that the company has a solid understanding of basic WordPress development practices.
Since their employees will be responsible for coding your website, it is crucial that they have good technical skills and knowledge specifically related to WordPress.
Key areas in which a WordPress development agency should demonstrate expertise:
WordPress Plugin Development
WordPress API
CSS (Cascading Style Sheets)
HTML (Hypertext Markup Language)
PHP (Hypertext Preprocessor)
JavaScript
To see a company's proficiency in these areas, a good starting point is to visit their website.
The top WordPress development companies typically provide detailed information about their services, including their expertise in these technical domains.
By thoroughly reviewing this information, you can gauge their level of knowledge and determine if they align with your specific project requirements.
#See the company's portfolio and reviews
One important aspect to consider when going through the best WordPress development companies is to review their portfolio, which is often accessible on their website.
This portfolio provides valuable insights into the agency's experience and competence in handling the specific services you require.
For instance, take WPRiders, a renowned development agency that showcases its past clients on its dedicated Case Studies page.
By exploring the portfolio, you can gain a general understanding of each client's experience.
Additionally, you can delve deeper into specific case studies to obtain more advanced insights into these collaborations.
This detailed information can shed light on the agency's process, level of communication, and technical expertise.
Many of the top WordPress development companies offer interactive portfolios, allowing you to browse through their past work. You may even have the option to apply filters based on project types or technologies employed.
If you still have doubts about hiring a particular company, it is also worth considering online reviews from previous clients, which can provide further validation and feedback.
#Size and availability of WordPress development companies
When considering a WordPress development agency, it's important to review their size and availability.
Unlike freelance developers or boutique agencies, larger companies may offer less individual attention and flexibility, but they are typically capable of handling more projects.
Understanding the agency's team structure is essential before making a hiring decision.
In prominent agencies, you may be assigned an account manager, whereas in smaller agencies, you might directly collaborate with founders or developers themselves.
To assess a WordPress development company, explore their team page, typically available on their website.
By scrolling through the list of employees, you can gauge the agency's size. Clicking on a specific WordPress developer allows you to evaluate their experience and technical expertise.
For instance, if you prioritize improving your website's user experience, look for UX designers and strategists on the employee page to see the agency's capabilities in that area.
Keep in mind that larger agencies may have dedicated project managers or account managers as your main point of contact. Therefore, when reviewing employees, pay attention to these positions as well.
Once you've identified the potential WordPress companies, reach out to the agency through their contact page or form, providing your information and project details.
Some WordPress companies, like WebDevStudios, even offer the option to schedule a 15-minute phone call directly on their website.
It's important to work with a company that makes you feel comfortable, listened to, and can effectively handle your specific needs.
Conclusion
Whether your goal is to expand your business or raise awareness for a meaningful cause, creating custom WordPress websites can feel daunting.
But don't worry! There are WordPress development companies available to lend a helping hand and make your project stand out.
These companies bring expertise, creative ideas, and technical skills to the table.
The best part is that there are options for every budget and requirement, so you can find the perfect fit for your needs.