It can be a good idea to use Wix for blogging as it is a versatile and easy-to-use platform that can fulfill a variety of needs, although other options can be more suitable for some.
In this article, we will cover topics such as general information about blogs, how to set up a blog using Wix, and Wix's alternatives.
About Blogging
For numerous individuals, blogging has become an integral part of their lifestyle. Whether it's a means of expressing creative ideas, a side hustle after their day job, or a lucrative source of income, the popularity of blogging continues to rise.
The good news is that starting a blog has become a quick and easy task that can be completed in just a few hours, so you can publish your first blog post today. Additionally, user-friendly platforms like Wix make it possible for people to utilize their software for blogging purposes.
2 Reasons to Start a Blog Today
There are several reasons why individuals start blogs, some of which are:
1.) Express Your Thoughts and Build a Community
Expressing your thoughts to a larger audience can be a motivating factor for starting a blog. It provides a space for you to share your ideas and opinions with the world.
A blog provides a platform for building an online community where people with mutual interests can share their stories, and ideas, and engage in conversations from all around the world.
2.) SEO – Search Engine Optimization
Blogging can help you promote a business, an online store, or a product, and it also has a positive impact on your website's SEO so you can increase your website's visibility to Google and other search engines.
By starting a blog, you also have the opportunity to inspire, educate, and entertain your readers.
How Effective Is Wix for Blogging?
Website builders, such as Wix, strive to simplify the website creation process and provide an all-in-one solution to quickly launch online content or an entire blog. However, it's essential to assess whether Wix can fulfill your specific requirements before committing to a paid plan.
While many Wix themes already incorporate a blog as a core element of the site, certain themes are specifically tailored for blogging, allowing you to concentrate on consistently publishing content. Nevertheless, it's worth considering if Wix is the optimal choice for starting a new blog.
Top 3 Pros of Wix for Blogs
It comes with a free trial: Since Wix is completely free, you can test it out without any monetary investment, which only requires a bit of your time. Select a template that's specifically designed for blogging and experiment with creating new posts and organizing your content. This way, you can determine if Wix meets your expectations and if it's the right platform for your blog.
It is easy to get started: Even if you have no previous experience with website building, you can still easily start a blog on Wix. Their user-friendly platform makes it easy for beginners to navigate and use their site editor and focus on what is the most important to them, writing.
Wix's editor: It provides excellent functionality for website building, allowing you to create a simple blog or a full-blown site. As a beginner, you can take advantage of Wix's fantastic editor to quickly start a blog that is both visually appealing and performs well.
3 Downsides of Wix:
Costs are higher: By choosing one of Wix's paid plans to enhance your website, you are paying for the entire service package they offer as it is an all-inclusive service. This implies that you will still be charged for features you may not require since there is no option to remove them and pay less.
Wix brand ads are displayed: While Wix is a free platform, you should anticipate displaying Wix ads on your site, which might not be an issue in the beginning but as you grow your blog and attract a more extensive audience, you will either need to keep showing ads to your visitors or upgrade to one of the premium plans to remove the ads.
How to Start an Entire Blog Easily in 6 Steps
Although the idea of starting a blog may seem intimidating, this article will guide you through each step to ensure a smooth and successful experience. In reality, the process is relatively simple, and you will have your blog up and running in no time.
Wix is an all-in-one website builder platform that provides the necessary tools to create and launch a website. It offers a selection of templates and themes, an editor, and blogging tools, and also includes eCommerce functionality along with hosting service.
The convenience of website builders lies in their ability to offer a comprehensive package for a single fee, suitable for various web projects. However, they can also be costly and limit flexibility in favor of simplicity.
1.) Signing Up and Creating a Free Account
Signing up for Wix is a quick and easy process that involves only three simple steps.
Visit Wix.com.
Locate the big blue "Get Started" button in the top right corner, then click on it.
Provide your email address and choose a password.
The process doesn't require you to provide credit card details or fill out too many fields, and Wix aims to make the sign-up process as fast as possible, it can be done in just a few seconds.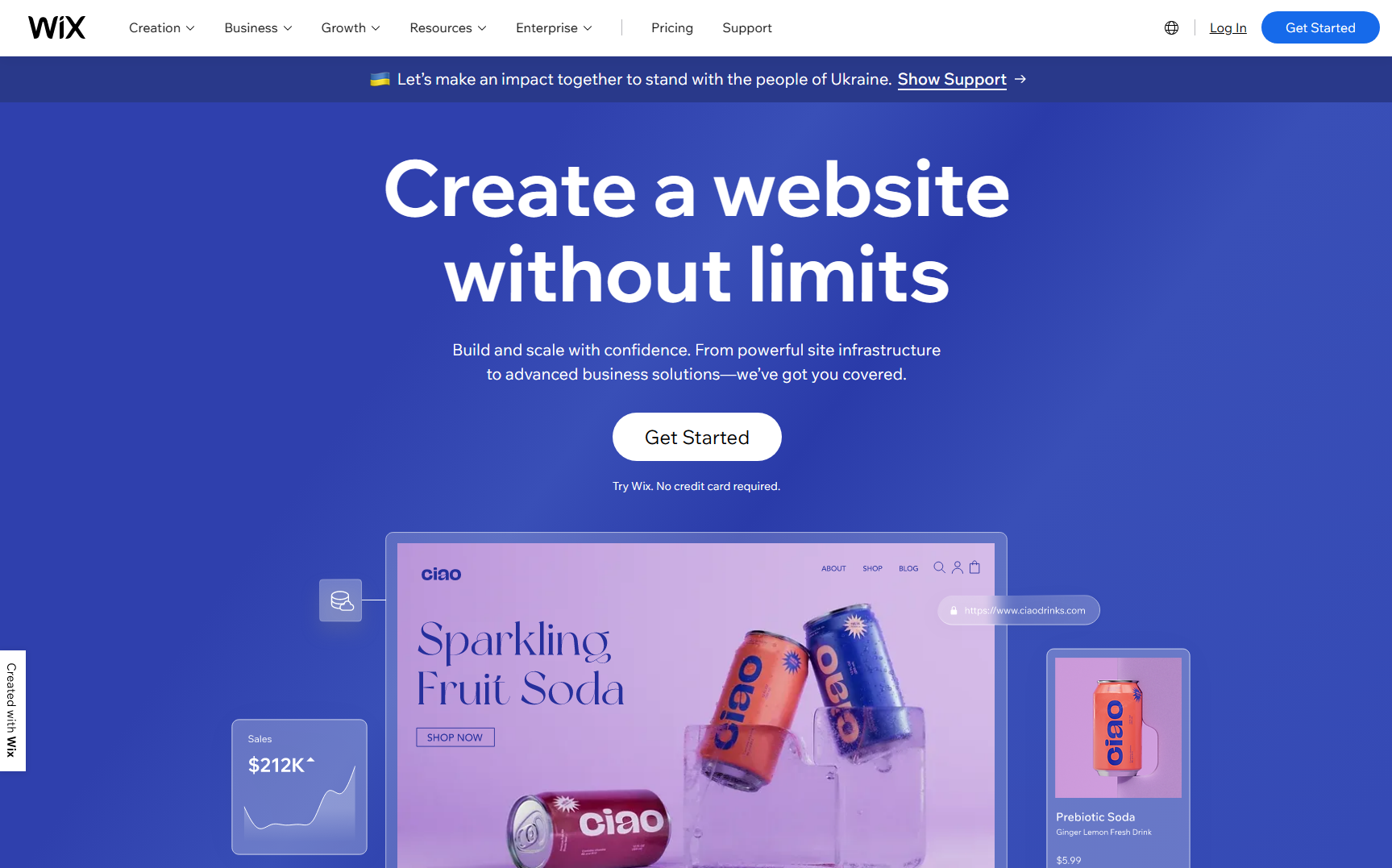 2.) Receive a Customized Blog or Choose From a Selection of Templates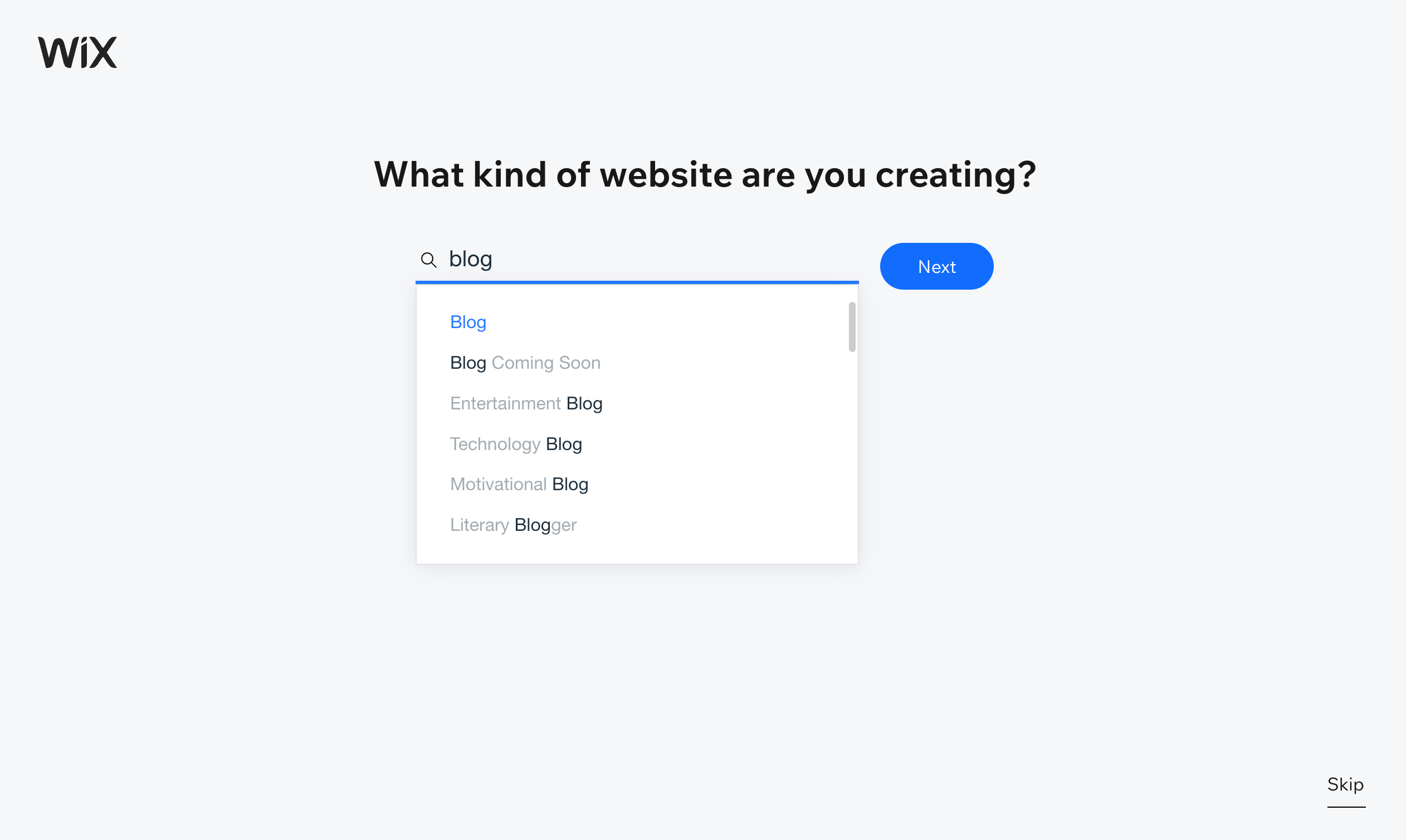 There are two ways to start creating a blog on Wix, depending on the amount of time you want to spend. You can either utilize Wix's artificial intelligence or select a template.
Using Wix's Artificial Intelligence
If you don't want to spend time customizing every detail of your website, Wix ADI could be the perfect solution. It's an artificial intelligence tool that creates a website for you based on a few questions.
When you choose this option, Wix will ask you what type of site you want to create. If you select "blog," a dropdown menu with various subcategories will appear. You can choose one of them, and based on your answers, Wix ADI will suggest some features to include on your website.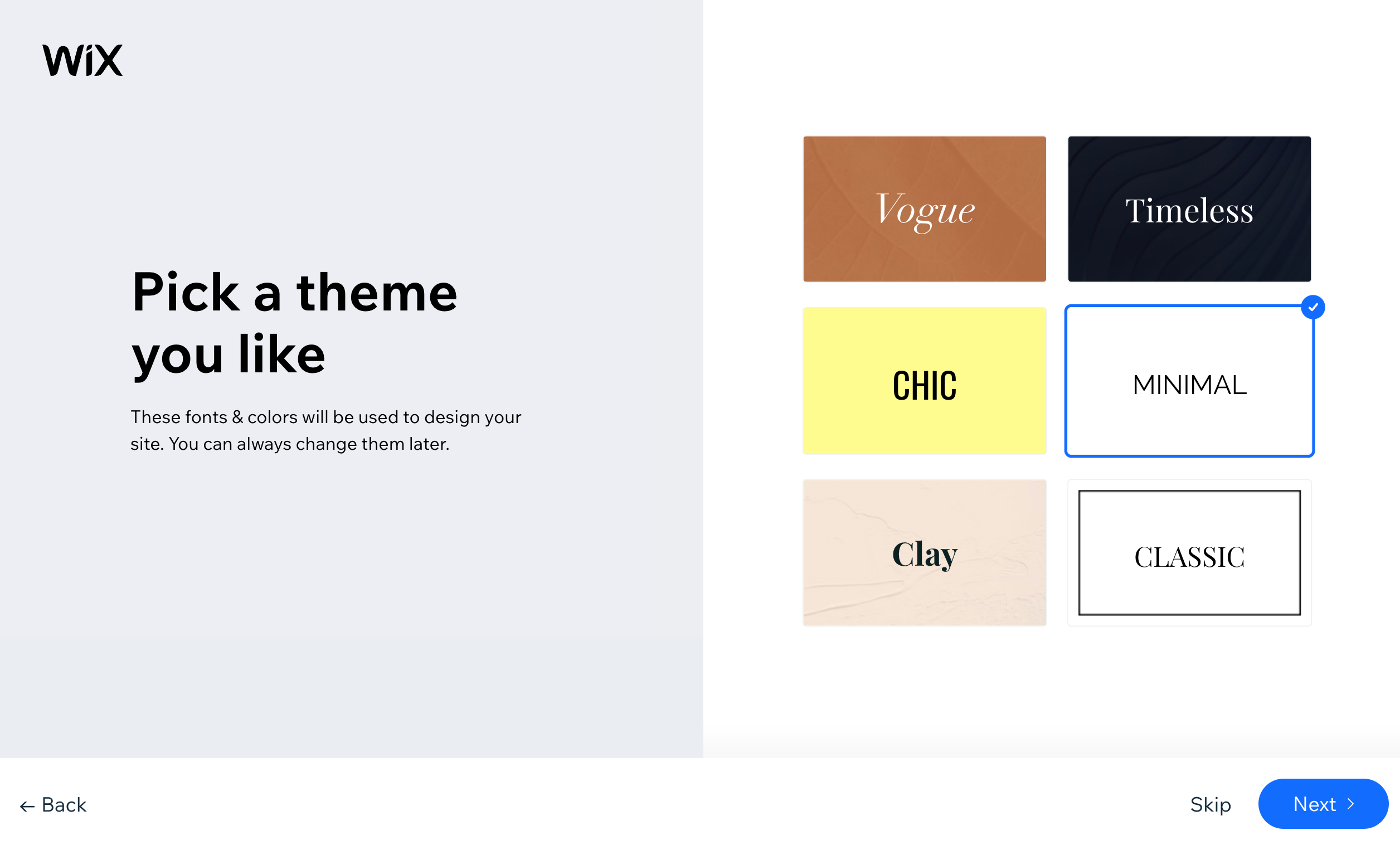 Once you've provided your information, you'll be able to select a theme. In this case, there are only six themes available, and instead of categories, you can choose a color scheme. However, you can always change this later, so it's not a big deal if you don't put too much thought into it.
Selecting a Template
If you're a creative person who wants greater control over your blog, selecting a template that can be customized is a more suitable option. There are various categories available for blogging, such as personal, travel, or food blogs, to mention a few.
3.) You Can Start Making Changes to Your Blog Using Wix's Website Editor
Customizing a template can be an enjoyable process that gives you full control over every aspect of your website. You can add new pages and organize them in a menu that will be displayed to your visitors. You have the freedom to choose a background color, insert images or videos, and add various elements to make your blog stand out.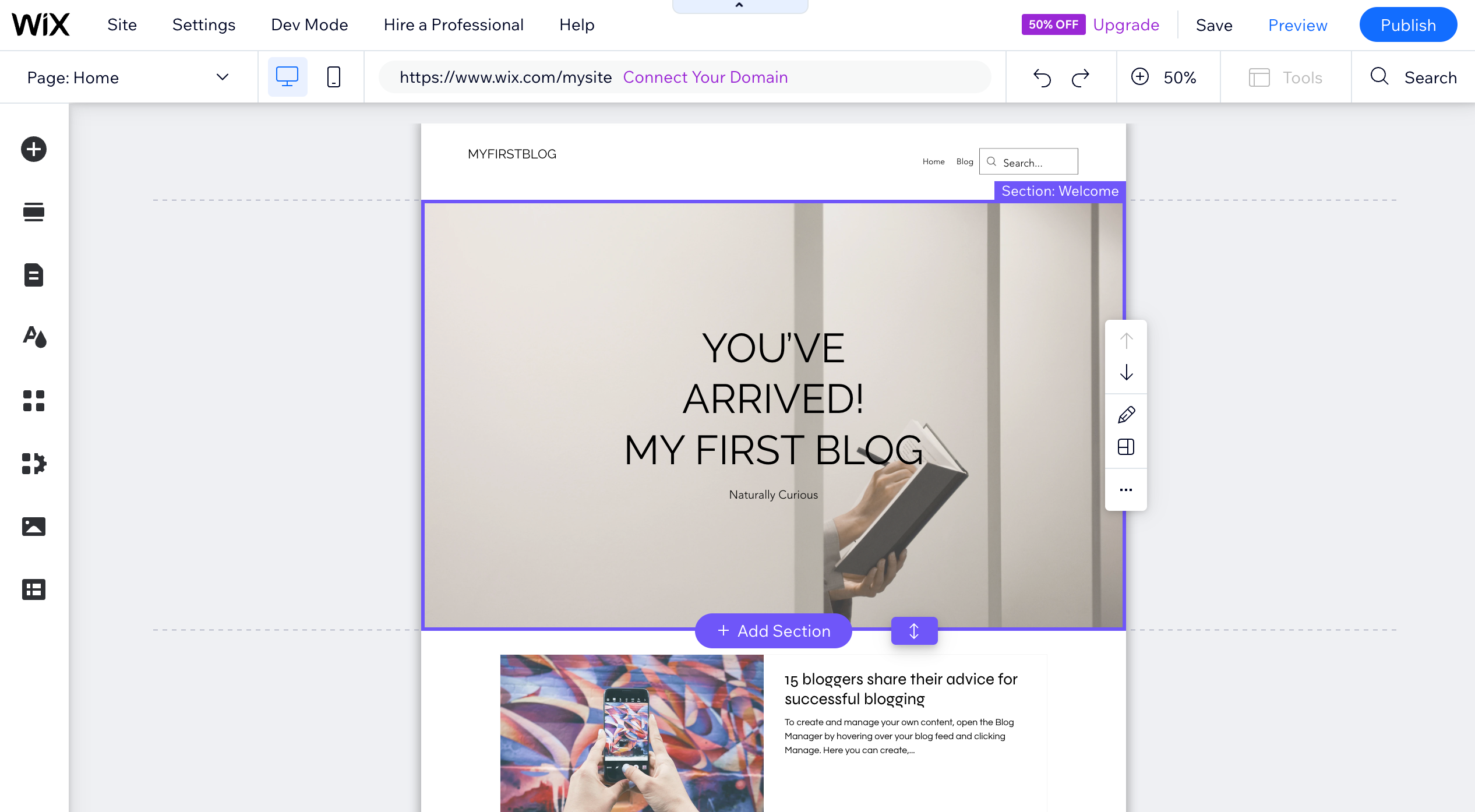 No matter which template you select, you can incorporate many elements to create a unique design for your blog. However, the most interesting settings for bloggers are those that allow you to manage and design your blog section. By clicking on the blogging section in the editor, you can customize how your blog appears on the site. You can choose to show only featured posts, hide author names or images, and decide if you want to display the publishing date, reading time, view counts, comments, or likes. With just one click, you can also change the layout of your blog section.
4.) Finding and Connecting a Domain
If you opt for the free version of Wix, you can use their subdomain at no cost. This means that you can have your blog name appear in front of the Wix domain. For instance, you could have a domain like "myfirstblog.wixsite.com", or anything else followed by ".wix.com," provided that the name is not already taken by someone else on the platform.
While this feature is a great way to get started for free, once your blog begins to attract an audience, you'll want to connect to a custom domain. To accomplish this, you'll need to upgrade to one of Wix's premium plans and connect an existing domain or purchase a new one.
5.) Optimize Your Blog for Mobile and SEO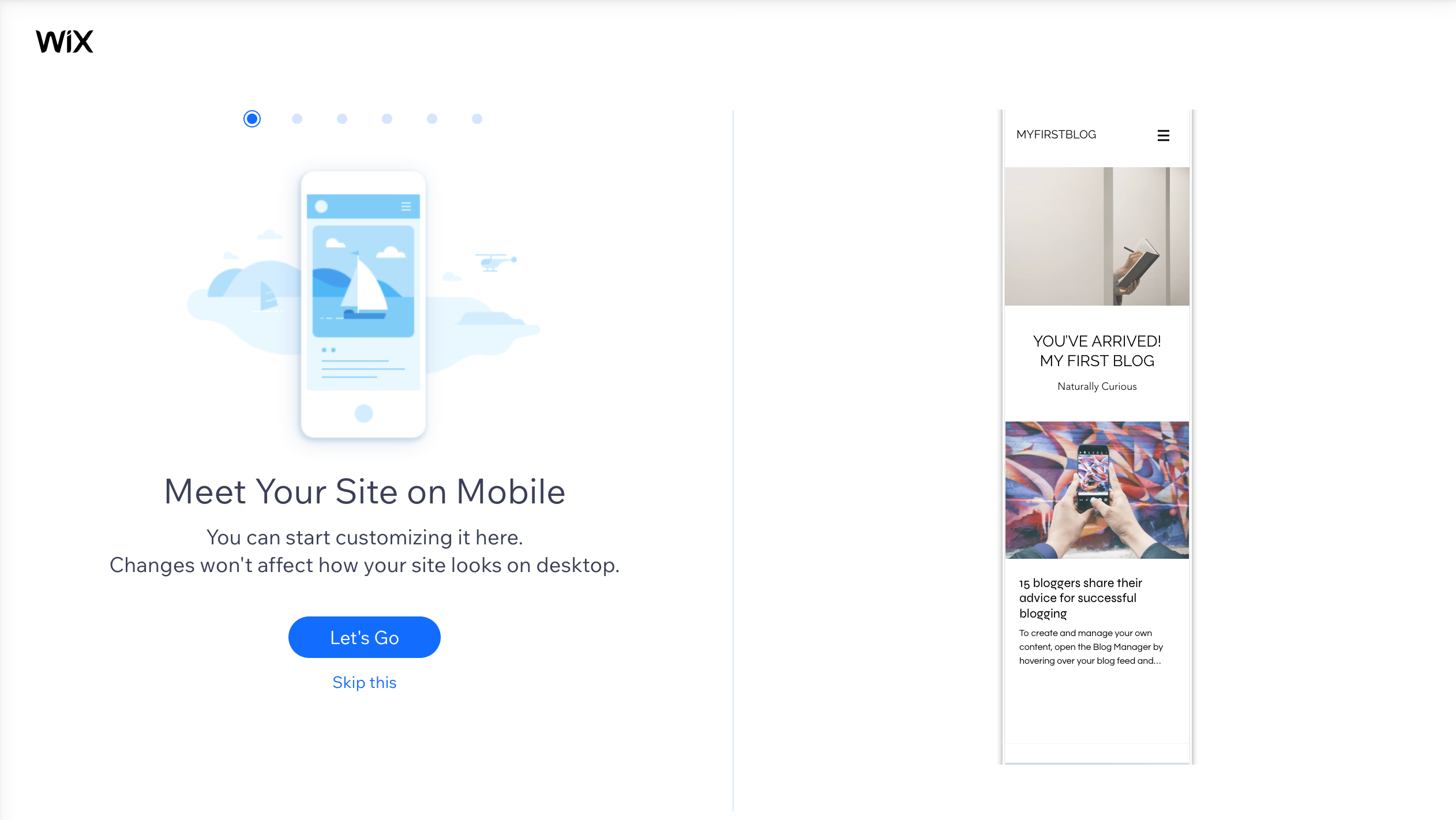 You can optimize and customize your blog easily with Wix. To make your site mobile-friendly, you can use the "Page Layout Optimizer" by clicking on the smartphone icon at the top of the screen. Wix will automatically optimize your site for mobile devices with this feature.
However, if you want more control, you can use the menu located on the left-hand side of the screen to modify menus, pages, and backgrounds for mobile devices only. These changes will not impact the desktop version of your site.
Wix also offers tools to help you optimize your site for search engines like Google. You can find the Marketing and SEO options in the left-hand side menu of your dashboard. Click on SEO tools, and you'll be able to improve your site's visibility for search engines.
6.) Make Your Blog Live
After you have finished customizing and optimizing your blog for mobile users and search engines, the next step is to publish it so that everyone can see it. To do this, you need to click on the "Publish" button located at the top-right corner of your browser window while still in the main editor. Once you click on it, Wix will publish your website, and a pop-up window with the details will appear shortly after.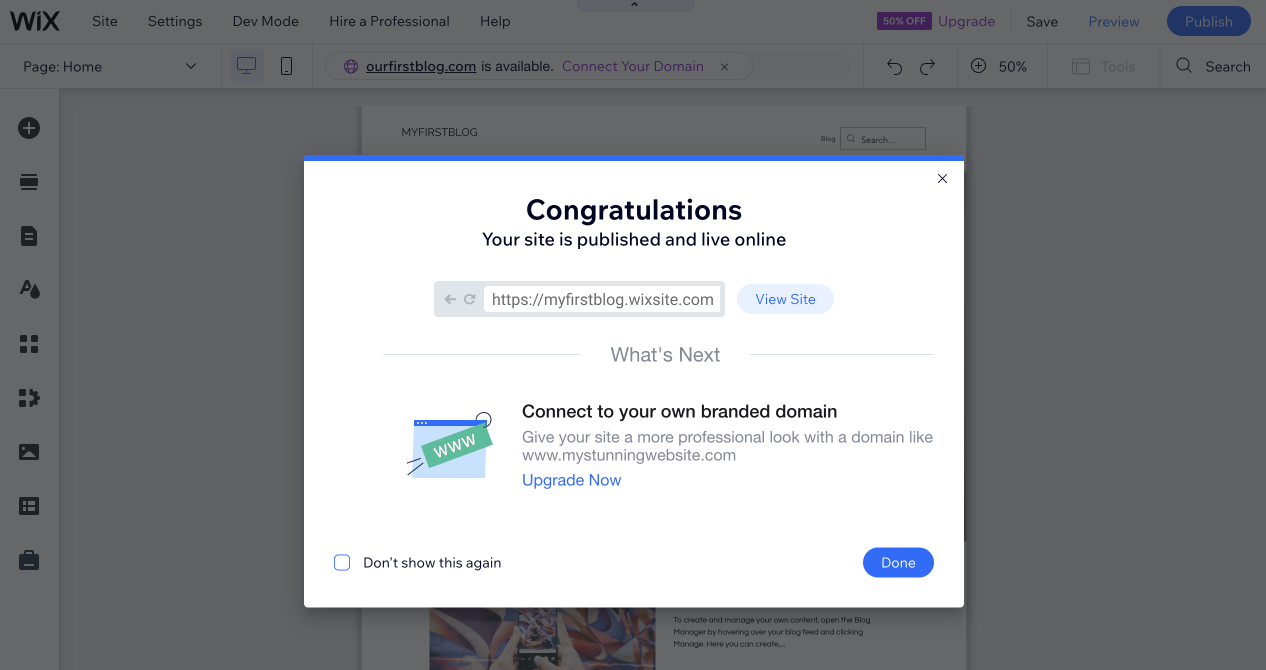 Now you can create and publish your first post and send the links to your friends. Now you can take your time to create a personalized logo for your blog. Also, check out Wix App Market where you can find apps that can add more functionality to your blog.
Pricing of Wix
Wix offers a free option for anyone to create a website, but this comes with certain limitations. Ads will be displayed on your website and you will be required to use a URL that includes the Wix branding.
There are 4 paid options available for personal use. We compared them to the free version in the table below.
| | | | | | |
| --- | --- | --- | --- | --- | --- |
| | Free | Combo | Unlimited | Pro | VIP |
| Price | $0 | $16 | $22 | $27 | $45 |
| Custom domain | No | Free custom domain name for 1 year | Free custom domain name for 1 year | Free custom domain name for 1 year | Free custom domain name for 1 year |
| Wix branding and ads | Yes | No | No | No | No |
| Storage space | 500 MB | 2 GB | 5 GB | 50 GB | 100 GB |
A Potential Alternative for Wix: WordPress Blog
If you're looking for a free blogging platform to start with, you may have come across both Wix and WordPress. While they may seem like a decent fit and very similar at first glance, there are key differences you should be aware of before creating a new blog.
WordPress offers more themes and plugins as it is an open-source platform. Compared to Wix, WordPress has a stronger SEO foundation and offers better control over key aspects such as post content, permalinks, tags, and categories. This makes it easier to optimize your blog for search engines and improves your chances of ranking higher on Google.
If you do not want to spend a lot of money you might want to use WordPress for your blog.
To do that you just need two things:
a domain name (costs around $15 per year)
a web hosting service (costs around $35 for the first year).
As you can see a WordPress-based blog is cheaper to maintain compared to one that is running on Wix. Here is a comparison for the first year.
Conclusion
Wix is an amazing free website builder that offers endless possibilities for creating various types of websites. Building a blog on Wix can be accomplished in under an hour. However, it is important to note that Wix is primarily designed for building personal and business websites in addition to that blogging is also possible on the platform. The blogging features are relatively basic and may not be suitable for those with high expectations.
FAQ
So I can have a blog free of charge?
While you can start using Wix for free, it does have some limitations such as displaying ads on your site and using a Wix-branded URL. If you want more control over your website, you should check out Wix's paid plans or consider using WordPress for blogging.
Can blogging improve your ranking for search engines?
Blogging can enhance the quality of your website's SEO by positioning it as a proper solution to the questions of your target audience.
Why are there food blogs?
Blogging offers the freedom to write about anything that interests you, so if you have a passion for different types of cuisine, you can freely write a blog post about your thoughts and knowledge about them.