WordPress vs Webflow: Do you want to compare them to decide which one is the best option for you to build a website? Both are popular website builders with their own advantages and disadvantages, so it's important to weigh them before starting your next project.
This article will provide a comparison of Webflow and WordPress, including their pros and cons, to help you make an informed decision.
What Is a Website Builder?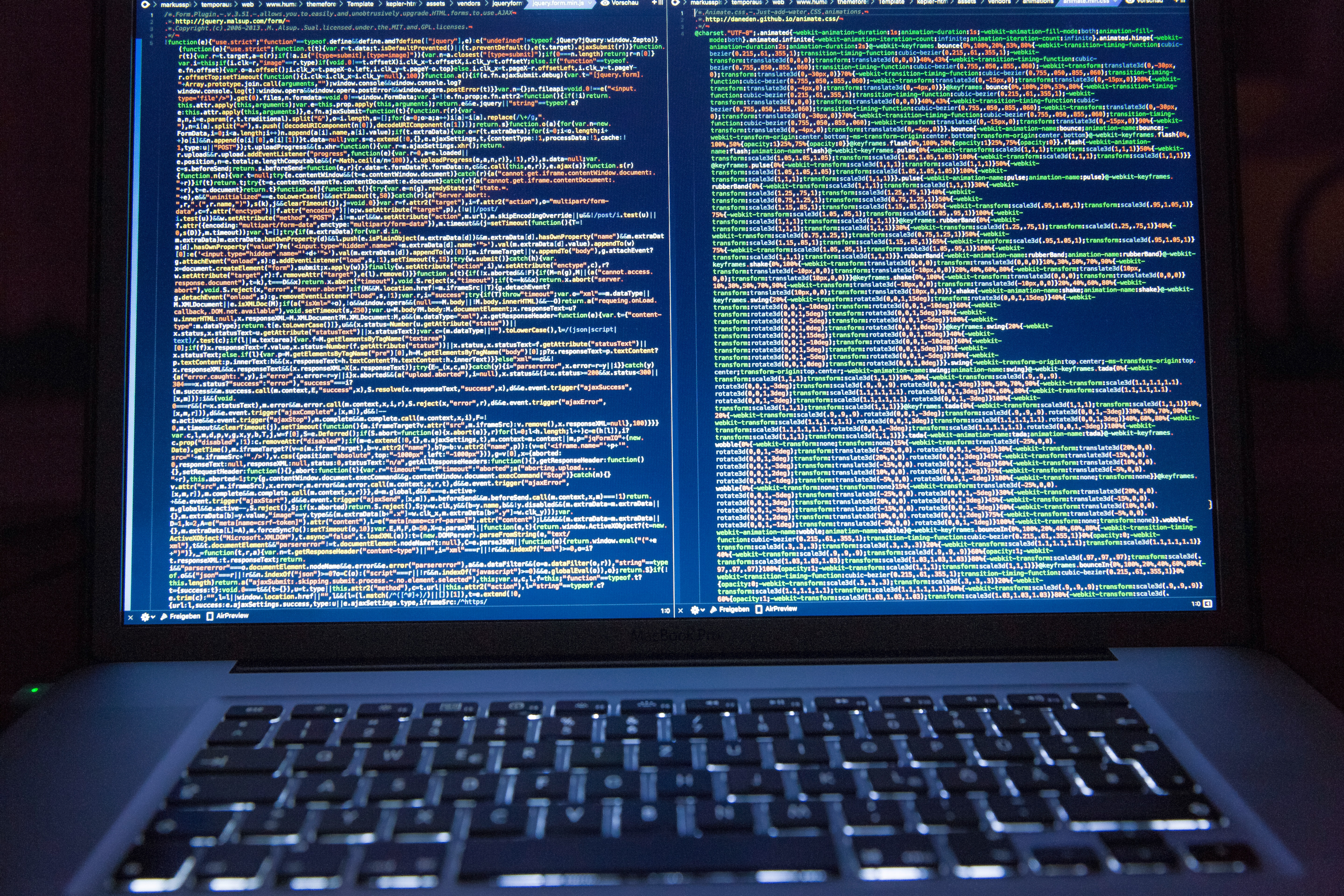 A website builder is a software tool that allows individuals or businesses to create a website without needing extensive technical knowledge in web development or coding. Website builders typically use a drag-and-drop interface that enables users to create web pages by selecting elements and dragging them into place on a canvas.
Some website builders also provide pre-designed templates and themes, which can be customized to suit individual needs. Website builders vary in their complexity, ranging from simple, easy-to-use platforms for beginners, to more advanced tools with greater flexibility and customization options for experienced users.
Some website builders also offer additional features such as e-commerce capabilities, SEO (search engine optimization) tools, and analytics to help businesses optimize their online presence.
Content Management System: Webflow vs WordPress
Webflow and WordPress are both website-building platforms. WordPress, which has been around for over 17 years, is a widely popular choice among developers, web designers, marketers, bloggers, and businesses alike.
On the other hand, there are alternatives for WordPress. One of them is Webflow, which was launched in 2013 and has been steadily gaining popularity among users since then. They provide a visual and fully hosted alternative to WordPress, specifically tailored to designers and other general users.
About WordPress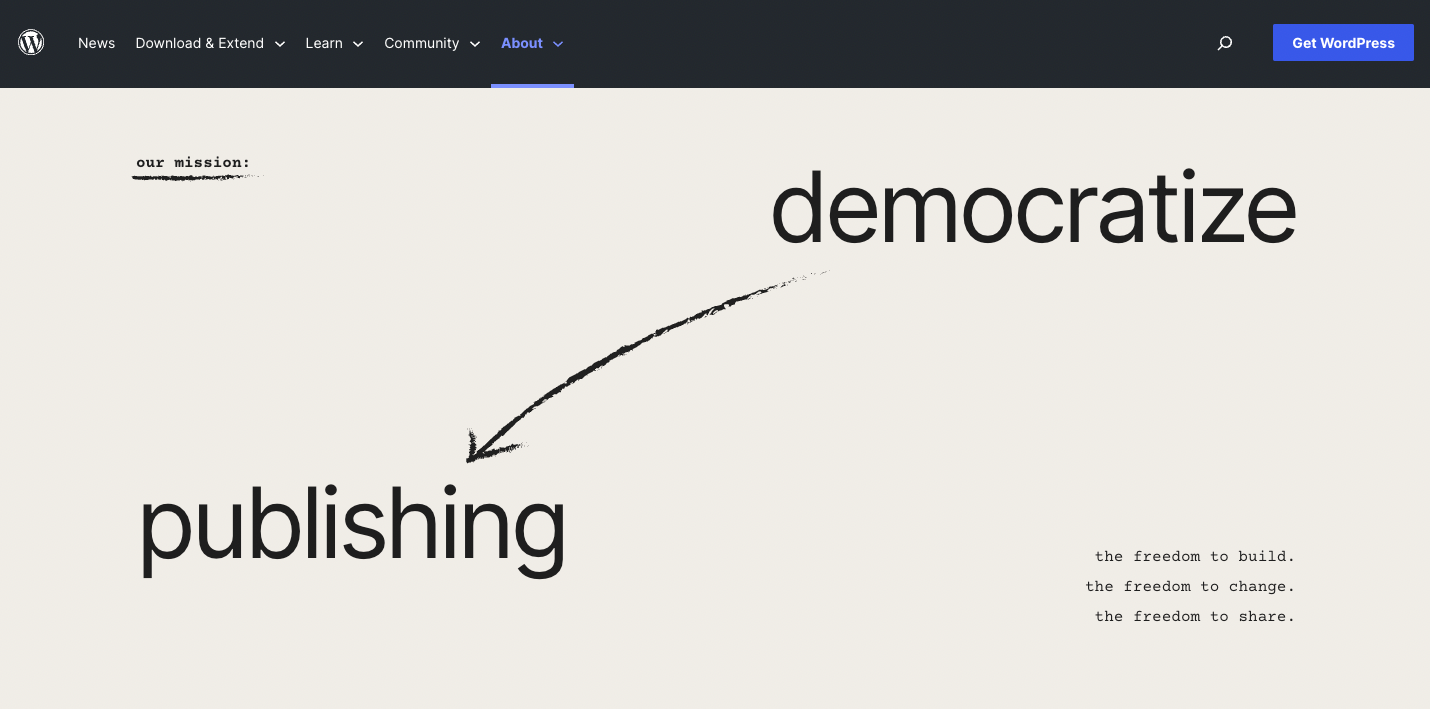 With over 43% of all websites on the internet powered by it, WordPress is a well-known open-source content management system (CMS). The free WordPress software is available for download from WordPress.org, allowing anyone to install it on their web hosting and create their own website.
To create a WordPress website, you will require a domain name and a web hosting account. There are numerous reliable WordPress hosting providers available that offer simple one-click WordPress installation and effortless setup, such as Bluehost and Hostinger.
Webflow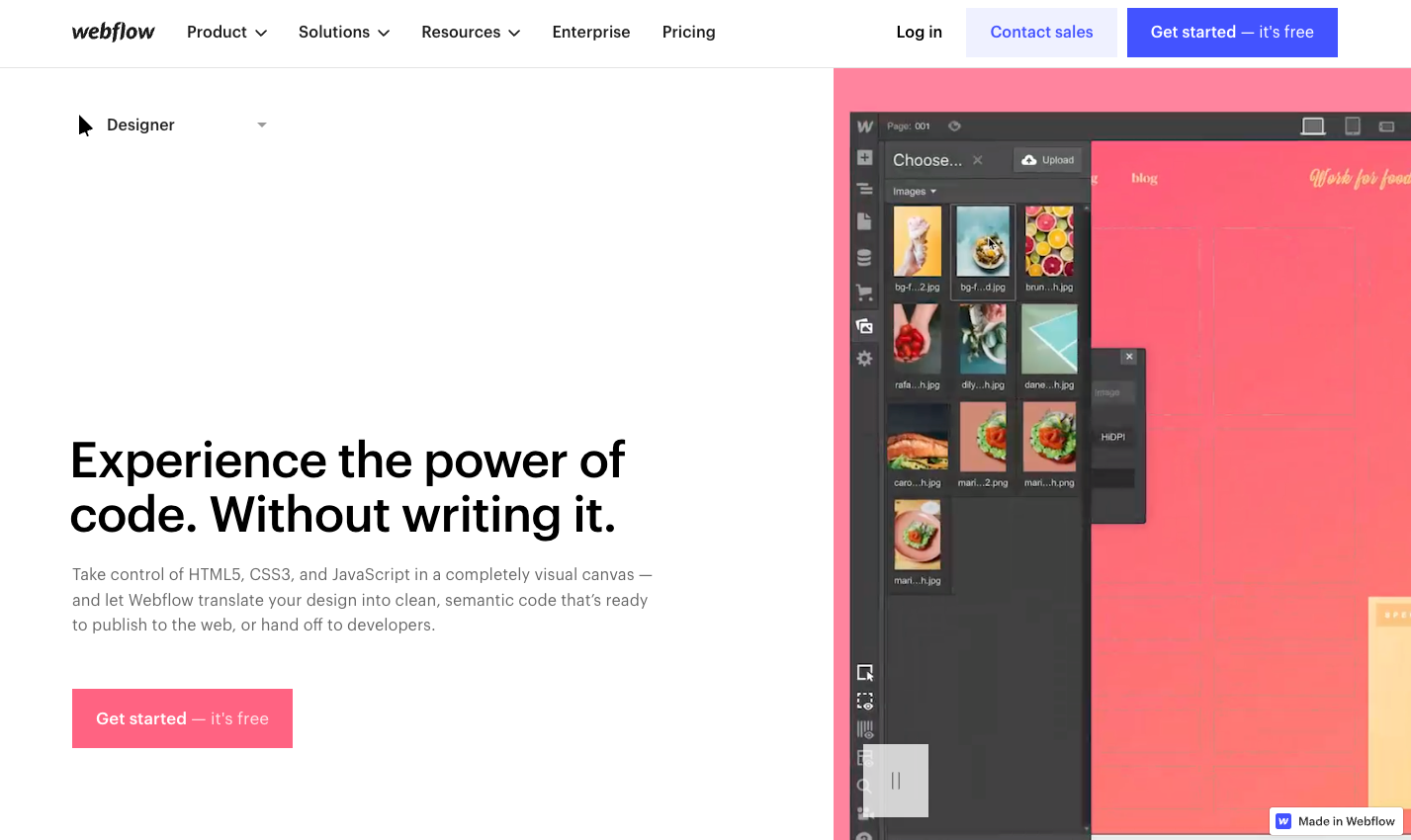 Webflow provides a user-friendly website-building experience with its visual web design tool. As a hosted software, Webflow operates on a software as a service (SaaS) model and generates revenue by offering paid features, upgrades, and hosting services.
After creating a Webflow account, you can connect it to your domain name. Additionally, it is possible to download your website and host it on a different hosting platform.
Having discussed the features of both platforms, let's compare them to see how they measure up against each other.
Webflow vs WordPress: 6 Aspects to Take Into Consideration
1. Ease-of-Use
The majority of individuals who start a website do not have programming or coding knowledge. Therefore, they require a user-friendly platform that enables them to create a website without hiring developers or learning HTML and CSS code.
WordPress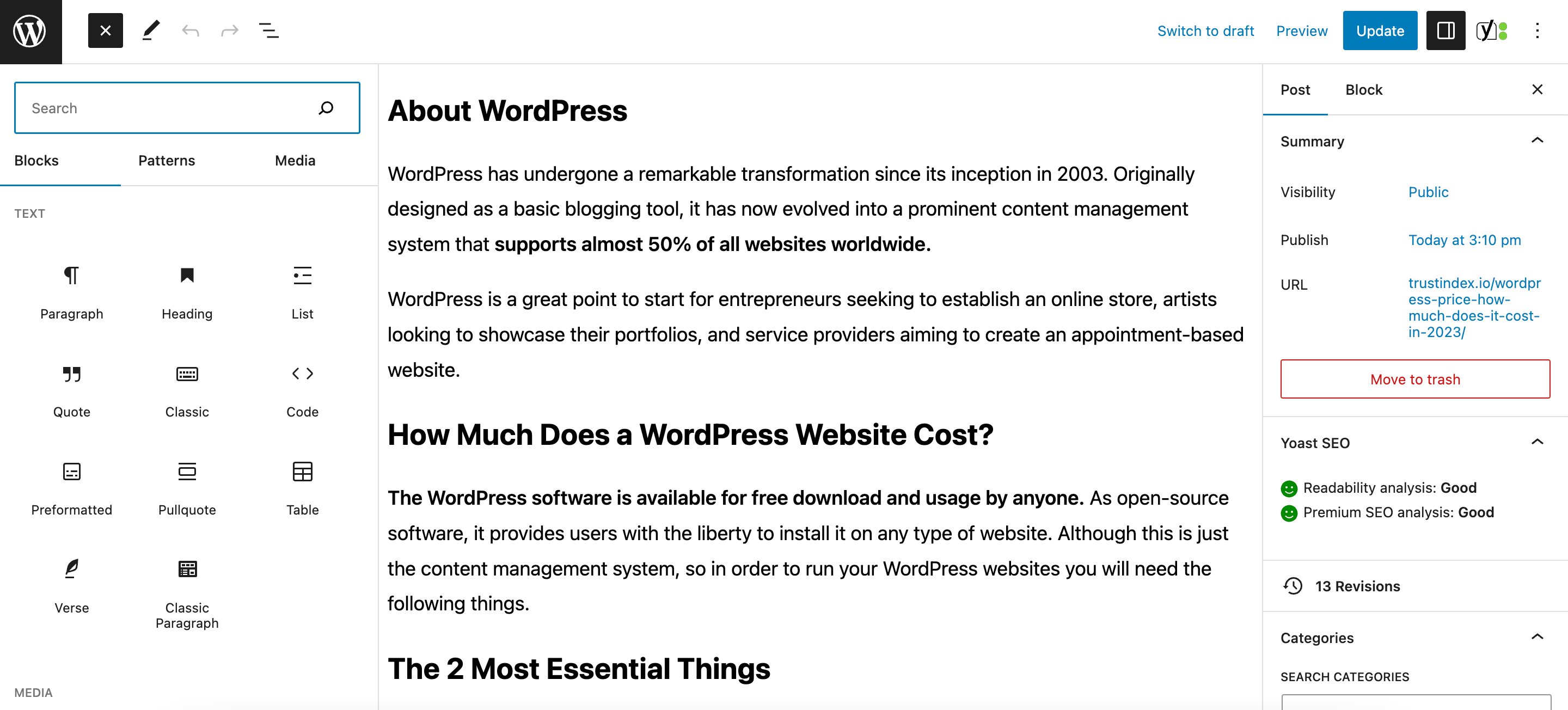 WordPress is an extremely popular website-building platform used by over 43% of all websites on the internet, with users from every corner of the world and varying skill levels.
Although it has a slightly steep learning curve, it is relatively easy to use. Beginners need to familiarize themselves with WordPress terms and concepts such as themes, plugins, posts vs pages, categories vs tags, and more.
WordPress comes with a user-friendly visual editor called the block editor, which allows you to create pages and customize content using blocks. This feature enables you to create stunning layouts without the need for any coding.
In case you're not fond of the default WordPress editor, you need not worry as there are various drag-and-drop page builders available. These page builders are available as plugins that you can install, with most of them having free versions.
When using WordPress, you have the option to either start with a pre-designed template and modify it to suit your requirements, or begin from scratch and design your website.
WordPress offers a wide range of free templates and over 60,000 plugins that enable you to perform various tasks without having to write any code. On the WordPress dashboard, you can find many options you might not use in the beginning.
Webflow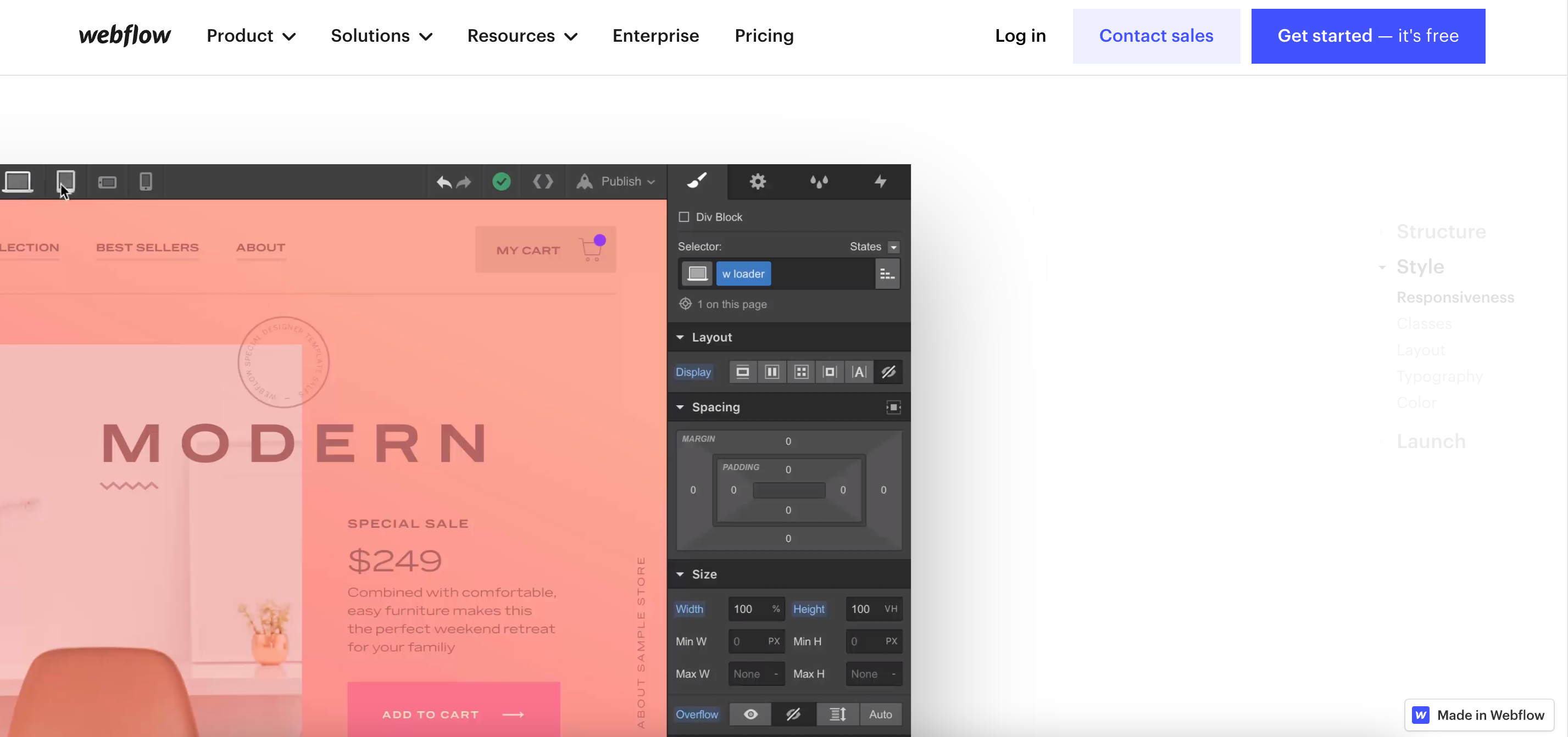 Webflow provides a user-friendly backend dashboard to manage your website. It includes a visual interface that allows you to create content and design layouts with a live preview.
In addition, Webflow offers a range of templates that you can utilize for your project and modify using their visual editor. The Webflow editor provides various features, but beginners may need some time to become familiar with it.
To modify an element, you can simply click on it and adjust its properties. Additionally, you can add new elements using the "add new element" button located in the left panel.
It's important to note that Webflow is tailored towards designers and developers, which means that if you're a content publisher, you may find some features missing that are commonly found in other CMS platforms such as post types, categories, tags, discussion, and comments.
Which One Is Better as far Ease-Of-Use Is Concerned
While Webflow's default editor may be easier to use, it still has a learning curve similar to WordPress. Additionally, WordPress is highly customizable, allowing users to replace the default editor with a page builder of their choice.
When it comes to CMS capabilities, WordPress offers more options to add tags and categories to content types, as well as a native comments feature. Webflow, on the other hand, may not be ideal for content publishers as the design elements can get in the way of writing, and there are fewer options for adding tags and categories to content types.
2. Costs of WordPress and Webflow
The expense of building a website is a significant consideration for most users when selecting a platform. If you're launching an online business, you'll likely want to minimize costs and plan to invest more as your business expands.
Let's compare the costs of building a website using Webflow and WordPress and explore options for keeping expenses down.
The Price of a WordPress Site
While the WordPress software itself is free, you still need to pay for a domain name and hosting. You may also need to pay for premium plugins, themes, or third-party services for your business. Here you can find a breakdown of the cost involved in creating a website using WordPress.
Typically, a domain name costs around $12 per year, and hosting packages start at $35 per year for the first year. This may not be cost-effective for beginners who are just starting.
However, WordPress has a vast ecosystem with over 60,000 free plugins available in the WordPress.org plugin directory, as well as thousands of free themes. This allows you to minimize costs by using free plugins and themes.
Even many premium WordPress plugins and themes offer free versions that you can use without any charges.
Webflow Prices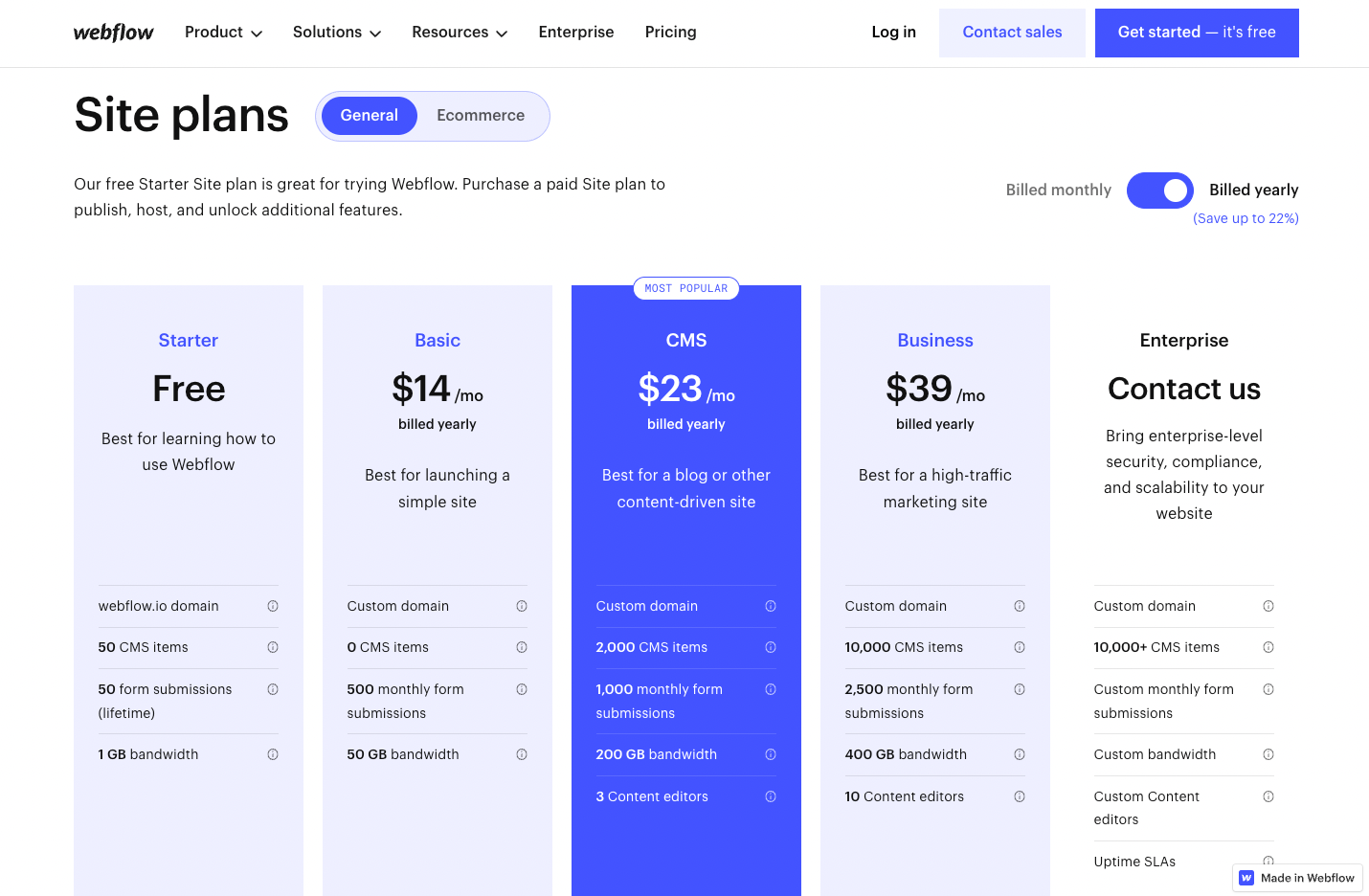 Webflow provides a free version that has certain limitations. With the free version, you can create and host your website using a subdomain that has Webflow branding.
In addition to the free version, Webflow offers two paid plan categories: Site Plans and Workspaces.
The Site Plans are priced per site and allow you to use your own domain name, which is not included in the plan price. The cost of the Site Plans is based on the type of site you want to create, and they are categorized as Basic, CMS, Business, and Enterprise levels. With each level, you get more features and increased account limits.
The Site Plans, which include a CMS, start at a monthly rate of $23, whereas the eCommerce Plans commence at $29 per month if you pay annually. Opting for monthly payments will have additional costs.
Furthermore, by subscribing to a Paid Workspace plan, you can acquire the privilege of inviting other individuals to participate and construct using Webflow. The Workspace Plans start at $16 per month (annual billing).
Initially, each Webflow site is created using the free Starter tier. However, if you want to expand the site and publish it under a custom domain, you can enhance that specific site's capabilities by upgrading to a paid Site plan.
Which One Is Better as Far As Cost Is Concerned
WordPress provides all the essential features at significantly lower costs. By using free plugins, you can also integrate any additional features you may require. Moreover, you can create an online store without incurring any additional expenses, unlike on Webflow.
While the cost of your WordPress website may increase with increased traffic, you can delay upgrading hosting or purchasing premium add-ons until your business takes off.
We would go for a WordPress site as it comes with a better price-to-value ratio. And with themes, it is easy to customize it to your own needs.
3. Designing and templates
Not everybody is a web designer so designing a website isn't a skill possessed by everyone. Beginners may rely on design tools to create their website, but the outcome may not be on par with that of a professionally designed site.
To facilitate users, let's examine how WordPress and Webflow handle design customization and templates.
WordPress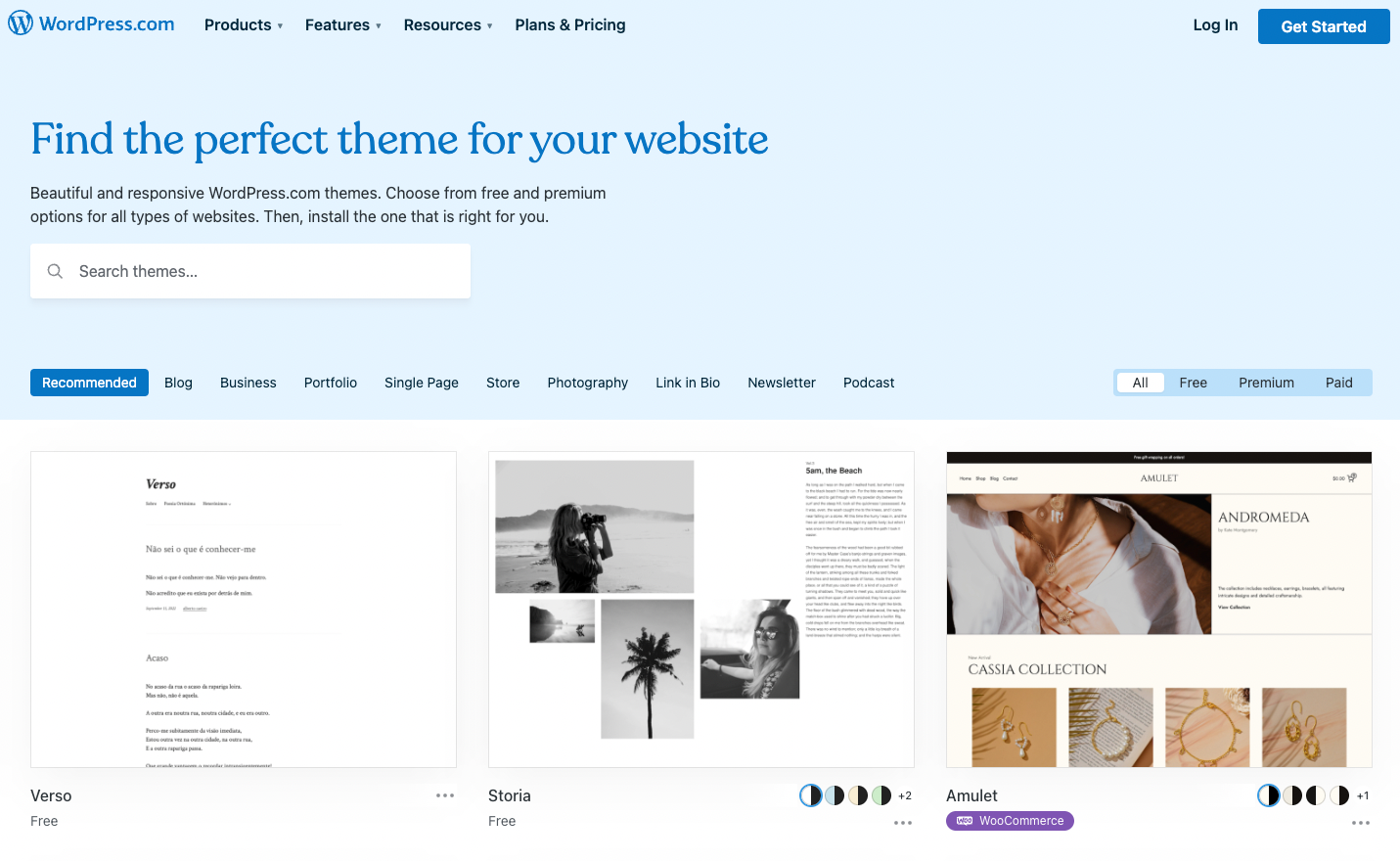 WordPress offers a vast collection of website design templates, referred to as WordPress themes. Many of these themes are free to use, and most of them are mobile-friendly by default.
You can select any of these professionally designed themes to create your website and can switch to a different theme at any point. The themes are user-friendly and can be customized within WordPress using a live customizer.
Unlike Webflow, WordPress separates design elements from content, ensuring that the design is consistent throughout the website. Additionally, you can use page builder plugins to create landing pages using professionally designed templates.
Webflow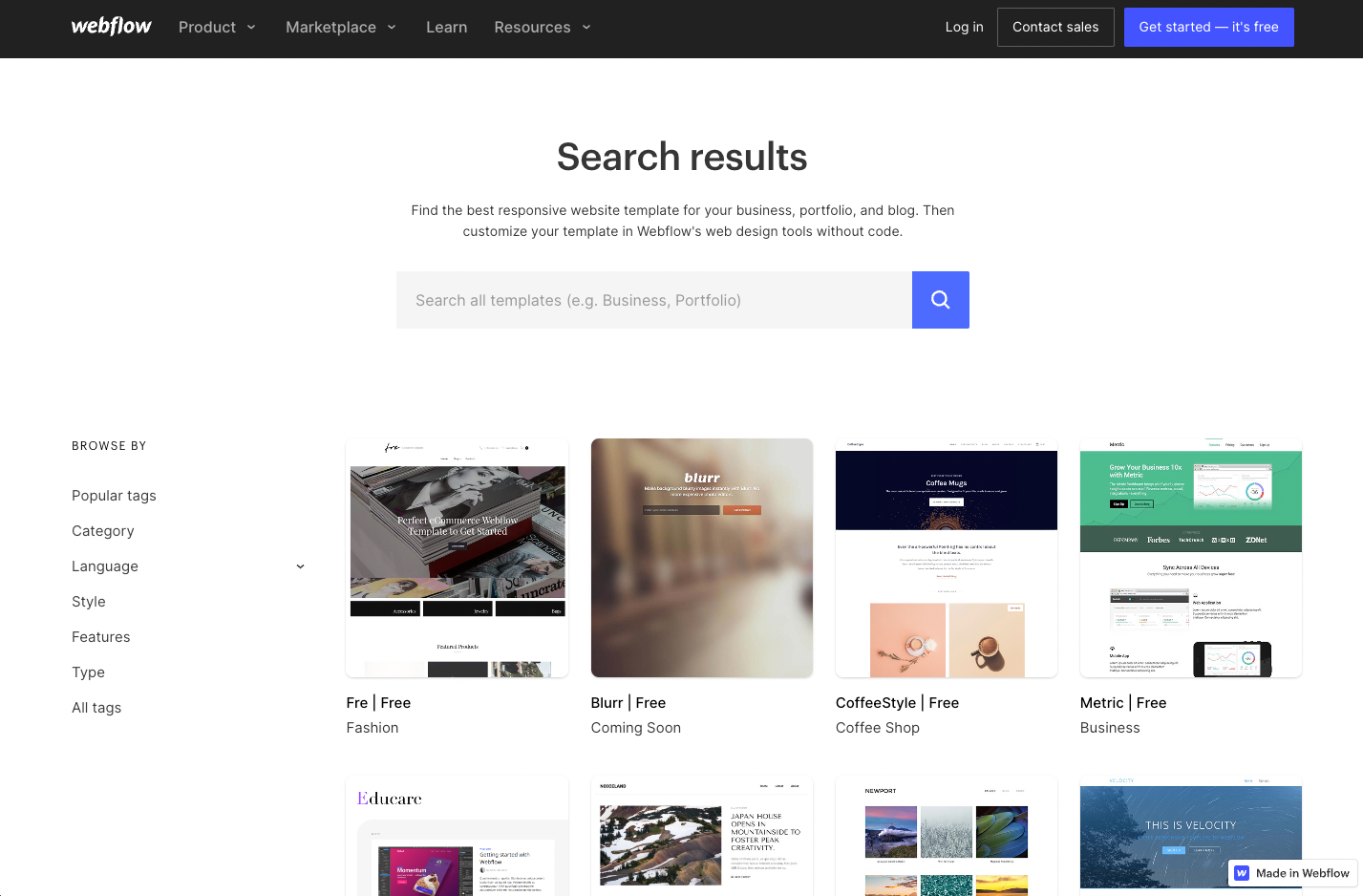 Webflow offers a variety of mobile-responsive templates for different types of websites, both free and paid.
When creating a new project, you can choose a template, but once selected, it cannot be altered. However, you can create a new project and select a different template.
Editing templates on Webflow is straightforward, thanks to its visual design tool and powerful visual editor. You can change any element on any page of your website, and modifications made to layout elements, such as the header, navigation, and footer, will be applied throughout the website.
Which One Is Better as Far As Design Is Concerned
By keeping the content and functionality away from the design, WordPress can offer a lot more flexibility than Webflow. It also gives users access to a wider variety of designs and tools to edit a website's appearance.
4. eCommerce Site Capabilities
Having a strong eCommerce platform is crucial for numerous businesses to expand and manage their operations, as eCommerce features enable them to sell products or services online.
WordPress Website for eCommerce
To utilize the most widely used eCommerce platform globally, WooCommerce, you must have WordPress. This free WordPress plugin is employed by millions of online stores, both big and small, worldwide.
In addition to being a free WordPress plugin, WooCommerce provides its own collection of add-ons/plugins, which facilitate the simple addition of new features to your online store. Moreover, you can choose from hundreds of WooCommerce themes to create a design for your eCommerce site. You can also choose from multiple payment providers to find the one that fits your needs the best.
Webflow Website for eCommerce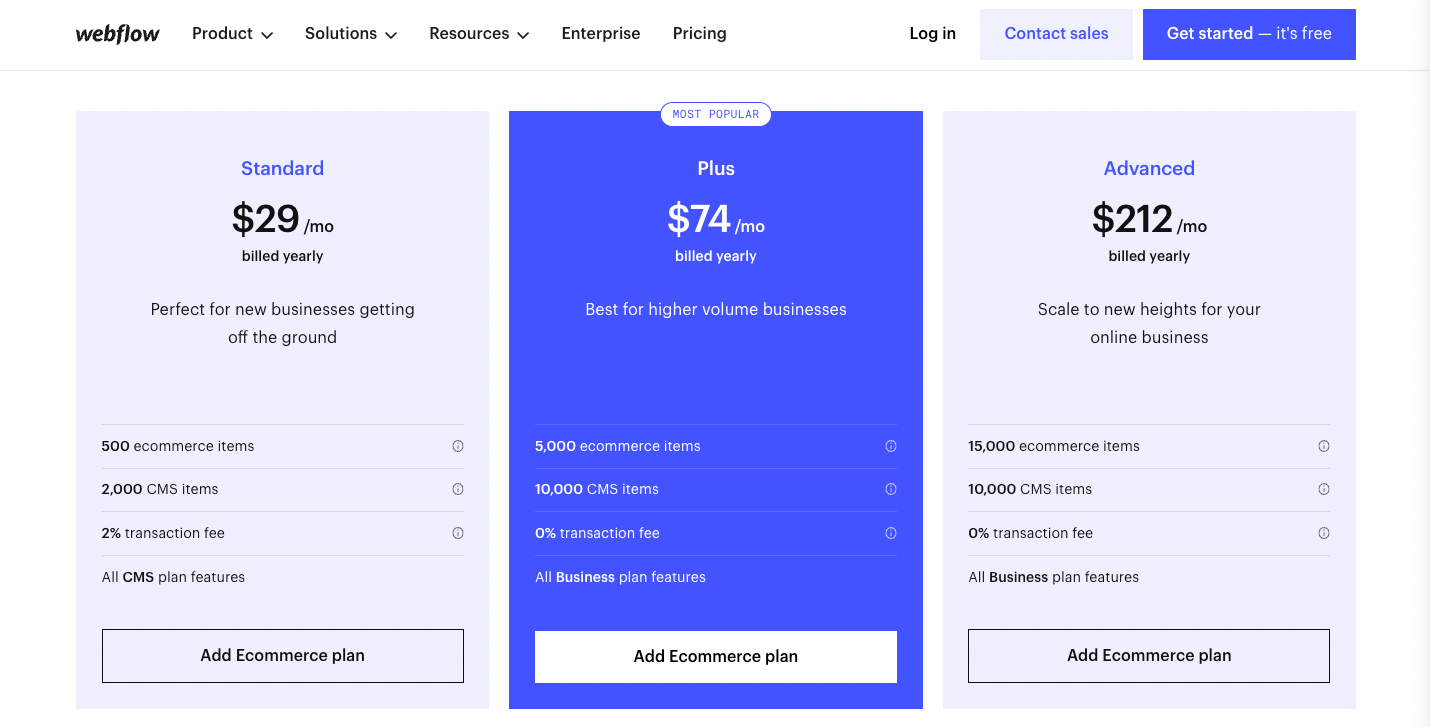 Compared to the wide range of options available for WordPress, Webflow's eCommerce functionality is relatively limited. The quantity of products that can be sold is depending on the selected plan, with a starting point of the eCommerce Standard plan at $29 per month for 500 products.
Webflow uses Stripe as the payment service. On top of Stripe's transaction fees, the Standard plan entails a 2% charge per transaction from Webflow.
Which One to Use for eCommerce?
WordPress provides a more versatile platform for selling various types of products. It offers a greater variety of payment options, and add-ons, and does not restrict the number of products that can be added.
You can get started with WooCommerce or any other eCommerce plugin of your choice. Moreover, you have the liberty to move your store to any other hosting service without encountering any issues.
In contrast, Webflow is pricier, imposes transaction fees on the standard plan, restricts the number of products that can be sold, and has fewer features and integrations.
5. SEO WordPress vs Webflow
To improve your website's search engine rankings and increase traffic, it's crucial to choose an SEO-friendly platform. In this regard, we will compare WordPress and Webflow to determine which one is better for SEO.
WordPress: SEO
WordPress is a platform that is highly optimized for search engines, making it a popular choice for those who want to start a blog or improve their website's ranking. It is designed to follow SEO best practices and provides users with many built-in options to optimize their website for search engines like Google.
WordPress allows you to create simple and readable URLs, change permalink settings, organize content based on categories, add tags to your blog posts, edit image alt text, and ensure that your site is visible to search engines using the built-in settings. All of these features help you to optimize your website for search engines and improve your website's ranking on search engine results pages.
Webflow: SEO
Webflow provides some built-in SEO features that allow users to edit important SEO elements such as title tags, meta descriptions, and URLs for each page.
Users can also customize how their content appears when shared on social media. Webflow also provides options to automatically generate a sitemap and edit the robots.txt file.
However, users need to upgrade to a site plan to access advanced SEO features.
Which One Is Better as Far As SEO Is Concerned
While Webflow has built-in SEO options, they are limited compared to WordPress. With WordPress, you can install various SEO plugins that provide a range of advanced features for optimizing your website for search engines. Additionally, WordPress has a larger community of SEO experts, so it's easier to find resources, tips, and tricks to improve your website's rankings.
6. Plugins for WordPress vs Webflow
No website builder can possibly include every single feature, which is why it's important to have the option to extend its capabilities through third-party tools and integrations.
Now, let's examine how WordPress and Webflow approach this.
WordPress: Plugins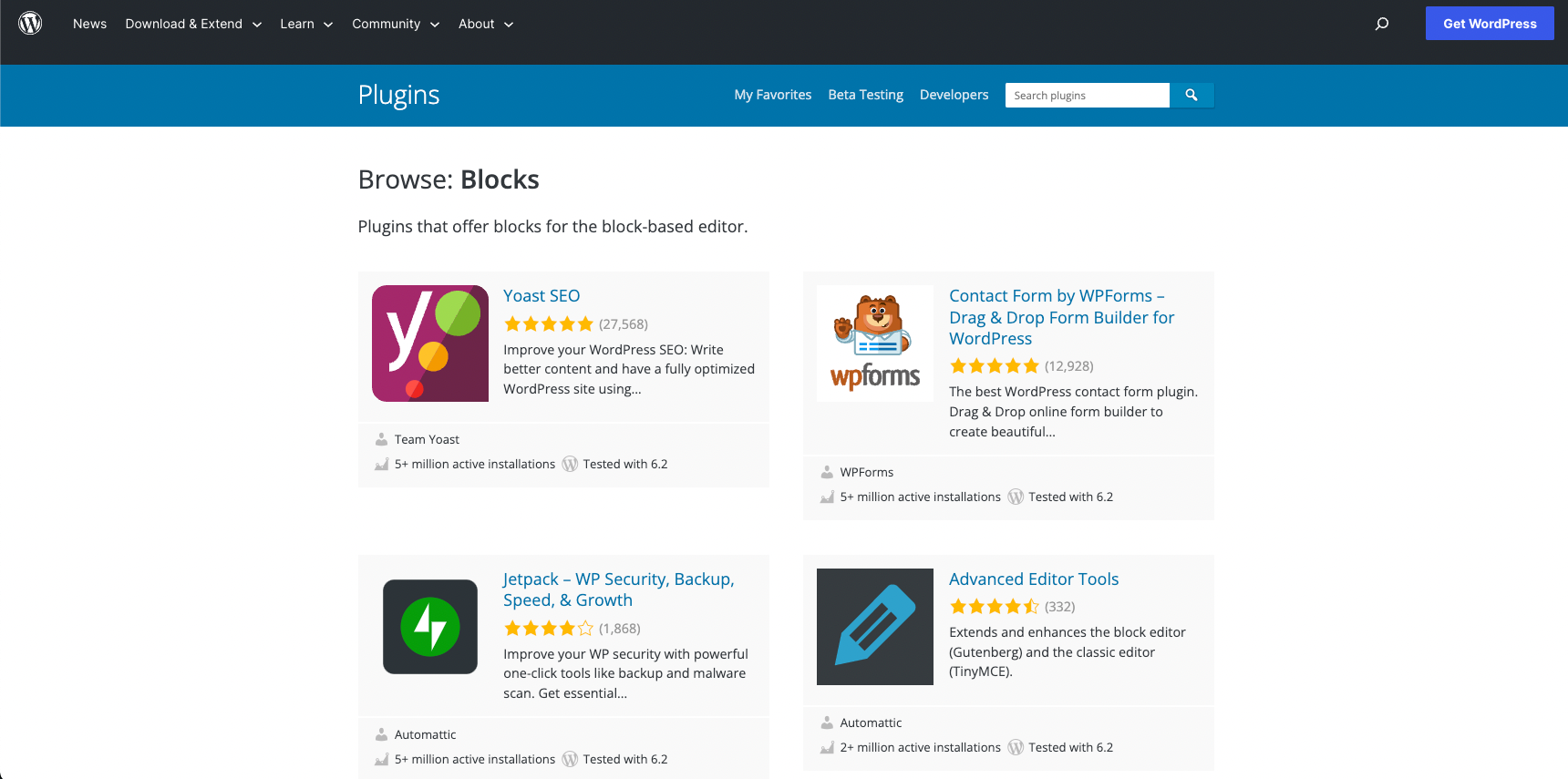 WordPress gains its true strength from its vast selection of plugins, which are essentially apps for your website. With over 60,000 free WordPress plugins available (not counting premium plugins), you can easily install them to incorporate new functionalities into your website.
These plugins offer a wide range of features, including but not limited to creating contact forms, adding Google Analytics, implementing SEO enhancements, security measures, and showing your reviews for your potential clients.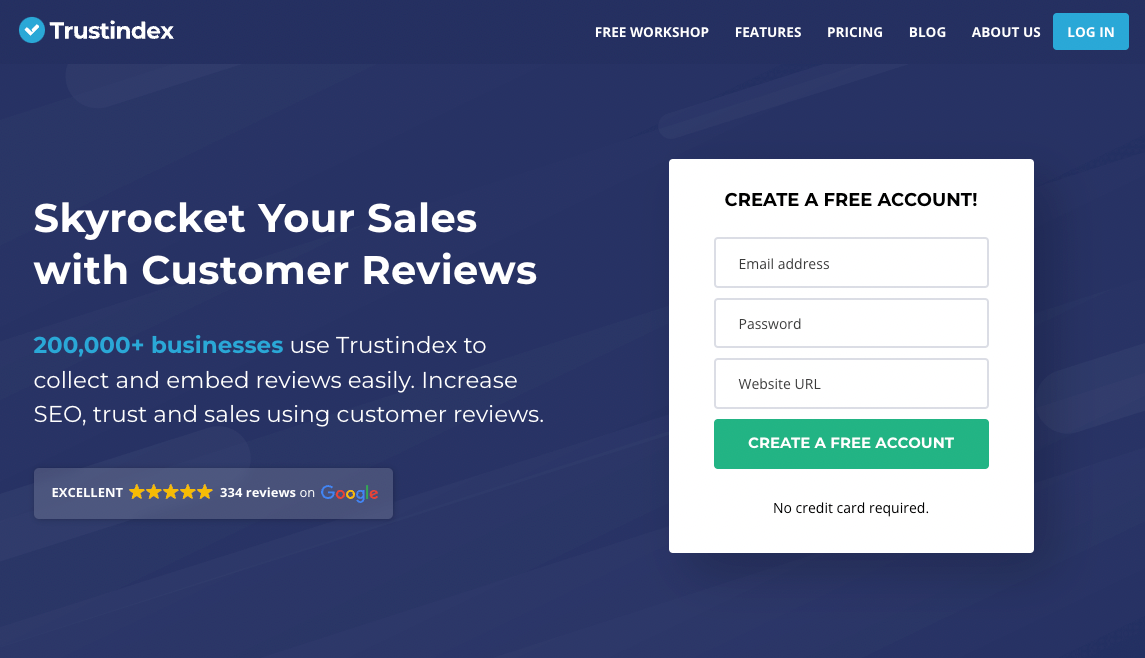 Webflow: Plugins
Webflow has a restricted range of third-party service integrations. While some integrations function seamlessly, most require a tutorial on how to link them to your Webflow project.
It's possible for some integrations to break when you transfer your website to another hosting service. For example, the forms may not function correctly on your new hosting provider, and you'll have to find solutions to get them to work again.
Which One Is Better as Far As Add-ons are Concerned
When it comes to the availability and ease of integration of third-party tools and services, WordPress is the top choice with thousands of plugins that can be easily added to your website.
Conclusion: Webflow vs WordPress Website?
WordPress
Webflow
Price
Free to use
(You must pay for
a domain and web hosting)
Starting at $14/month – without CMS
($23/month with CMS included)
Advantages
– User-Friendly Interface
– Highly customizable
– SEO friendly
– A lot of free themes & plugins
– Intuitive visual builder
– All-in-one tool (hosting & CMS)
– You can collaborate
– Offers some free templates
Disadvantages
– Some features might be hard to understand
– Not all themes & plugins are the best
– Hosting can be expensive
– Higher costs
– Limited CMS functionality
– Limited eCommerce functionality
– Some features might be hard to learn
Based on the given criteria, it is reasonable to conclude that WordPress is a way better choice compared to Webflow.
WordPress provides more design options, flexibility, eCommerce features, and support, all at a much lower cost. Additionally, you can manage how much or when you spend.
While Webflow offers an excellent web design tool, it has limited CMS features, flexibility, and integrations.
FAQ
Is WordPress Free?
Although WordPress is a free open-source platform, there are still expenses that come with it. The primary cost associated with using WordPress is for hosting, which can start from approximately $2.95/month. Additionally, you may also incur expenses for domains, themes, and plugins.
Which Solution Is Cheaper?
Webflow offers a few pricing plans, starting at $14 per month for basic website functionality.
However, if you need more advanced features such as eCommerce or advanced SEO, the pricing can go up quickly. In the case of WordPress, you only need to pay for a domain name and web hosting, so it can be a cost-effective solution.