Are you torn between G Suite vs Office 365 when it comes to selecting a business email solution? Do you need a comprehensive comparison of Google Apps and Office 365 to determine which option is superior?
This article aims to assist you in making an informed decision by comparing the features and benefits of Google Workspace (formerly: G Suite) and Microsoft 365 (Formerly: Office 365) for your business needs.
Let's Talk About Google Workspace and Office 365
Once you have created a website, the next logical step is often to acquire a professional business email address. In contrast to generic addresses like @gmail.com or @outlook.com, a professional email address is personalized with your company name, such as "yourname@yourcompanyaddress.com".
While many WordPress hosting companies offer complimentary business email addresses, they may not match the robust features provided by Google Workspace and Office 365. These productivity suites offer a wide range of tools specifically designed for businesses, including reliable email services, file storage, calendars, note-taking capabilities, and video conferencing tools, among others.
Workspace by Google encompasses popular applications such as Gmail, Google Drive, Google Docs, Sheets, Slides, Calendar, Keep, Hangouts, and various other Google apps that you may already be familiar with and fond of.
On the other hand, Microsoft's Office 365 includes Outlook, OneDrive, Word, Excel, PowerPoint, OneNote, Skype, and other Microsoft applications.
By utilizing cloud-based productivity suites, you can save expenses on software licenses, installations, and maintaining an IT department, among other things. All your data is securely stored in the cloud, enabling easy access to files from any location and device. This feature is particularly advantageous if you manage a remote company or frequently travel while maintaining your WordPress blog.
If you are using Gmail and you were thinking about making a change, make sure to read our article on Gmail alternatives.
When Do You Need These Services?
If you operate a small business website, it is advisable to adopt these business solutions as early as possible. Both Workspace and Office 365 provide plans specifically tailored for small businesses, with pricing based on a per-user structure.
By utilizing these platforms, you gain immediate access to a suite of professional business tools. As your business expands, you can easily scale up by adding more users or upgrading your account.
With that in mind, let's conduct a comparison between G Suite and Office 365 to determine which option is more suitable for your business.
Let's Compare Microsoft's Office Suite to Google Workspace Apps
1. Pricing and Plans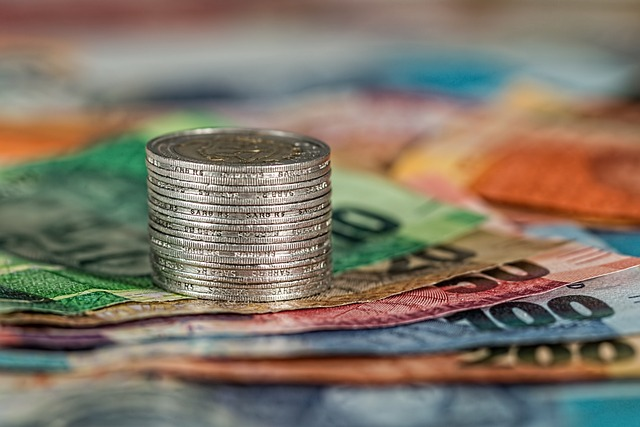 When embarking on your initial journey, the cost involved becomes a crucial consideration in the decision-making process. It is essential to select a solution that aligns with your budgetary constraints.
Now, let's delve into a detailed comparison of the pricing structures of G Suite and Office 365, aiming to determine which option delivers the greatest value for your investment.
Pricing of Google Workspace (formerly G Suite)
G Suite offers three straightforward pricing plans for its users.
Business Starter Plan: Priced at $6 per user per month, it provides 30 GB of cloud storage.
Business Standard Plan: Available at $12 per user per month, this plan includes 2 TB of cloud storage.
Business Plus Plan: Priced at $18 per user per month, the Enterprise plan also provides unlimited storage.
Enterprise Plan: For pricing contact Sales
Please note that the unlimited storage feature has been removed, if you need more storage then what is included in your plan contact the sales team.
Pricing of Office 365
Office 365 offers three distinct pricing plans tailored for medium and small businesses:
Microsoft 365 Business Basic: Priced at $6 per user per month, this plan focuses on essential features and services for businesses. With this plan, you can use both the web and mobile versions of Microsoft Office applications.
Microsoft 365 Business Standard: Available at $12.50 per user per month, the Business plan offers a comprehensive range of productivity tools and applications. With this plan, can use the microsoft office apps on desktop computers.
Microsoft 365 Business Premium: Priced at $22 per user per month, the Business Premium plan provides additional advanced features and services to enhance productivity, security, and collaboration within the organization.
Microsoft 365 Apps for Businesses: Priced at $8.25 per user per month, the Apps for Businesses plan includes the basic Office Apps like Word, Excel and Powerpoint.
These pricing plans enable businesses to choose the most suitable option based on their specific requirements and budget.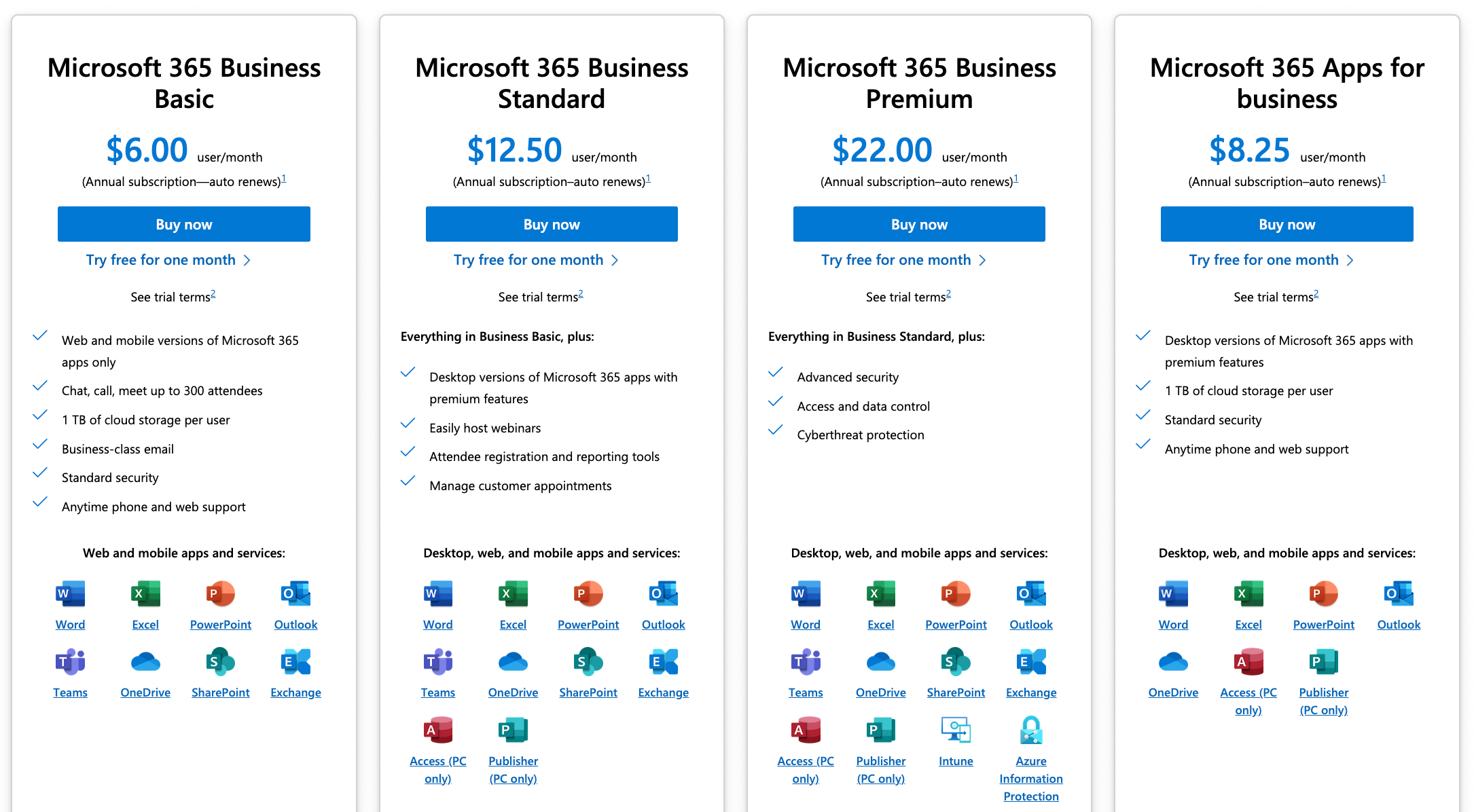 Which one as far as price is concerned?
Both Google Workspace and Microsoft 365 present competitive pricing options, making it challenging for small businesses to determine the best fit. However, there are additional factors to consider when making this decision.
For instance, Office 365 provides 1TB of cloud storage for users. With Workspace you get 30GB with the base plan, although with the Standard plan you get 2TB distinguishes itself by providing unlimited cloud storage with their business and enterprise plans, specifically for businesses with more than 5 users.
Conversely, Office 365 offers 1 TB of cloud storage across all plans, including the business essentials plan. While 1 TB is a substantial amount of storage, it is important to note that it is not unlimited.
Another aspect that gives G Suite an advantage is the inclusion of free local calls using Google Hangouts and Google Voice. On the other hand, Office 365 relies on Skype for business, which is available for Business Premium and higher plans. Moreover, to make local calls, you would need to purchase Skype credits.
By considering these factors, businesses can weigh the advantages and disadvantages of each solution to make an informed decision that aligns with their specific needs and preferences.
2. Business Email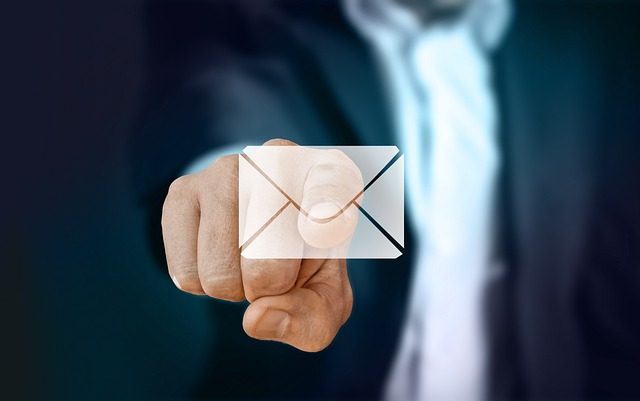 Both Workspace and Office 365 offer the capability to create professional business email accounts utilizing your own domain name.
Google Workspace for Email
Workspace provides the option to register a domain name or utilize your existing domain name to establish email accounts. Each user can create up to 30 email aliases.
Workspace employs the same technology as Gmail, ensuring a familiar interface for your business email address. It also integrates seamlessly with Gmail apps on mobile devices.
For those who prefer using a desktop mail client, G Suite allows you to configure your email with popular clients such as Thunderbird or Microsoft Outlook.
Microsoft 365 for Email
Office 365 similarly provides the capability to effortlessly generate professional email addresses utilizing your custom domain name. It offers the convenience of setting up 400 email aliases for each user.
Office 365 employs Outlook as its primary mailing application, which encompasses a web version, a feature-rich desktop email client, and mobile apps. While the mobile and web versions of Outlook may not be as robust, the desktop client is widely utilized and acclaimed.
Additionally, Office 365 allows you to utilize your email address with other mail clients, granting flexibility and compatibility. Furthermore, it even enables you to receive emails from your Office 365 address directly in your Gmail inbox if desired.
3. Cloud File Storage
File storage is a primary advantage of utilizing a cloud productivity suite. By storing your files in the cloud, you gain the ability to access them from any location, using any device, and effortlessly share them with others.
Both G Suite (now branded as Workspace) and Office 365 excel in simplifying file storage and sharing processes, providing user-friendly solutions for managing and collaborating on files.
Google Workspace – Google Drive Cloud Storage
As we discussed in the pricing section, the Starter plan gives you 30GB of storage, the Standard gives you 2TB and the Plus plan gives you 5TB of storage per user.
Workspace utilizes Google Drive as its file storage and management solution. It offers downloadable apps for mobile devices, tablets, and desktops, enabling convenient access to files stored in Google Drive, even when offline.
With Google Drive, sharing files with colleagues or others is incredibly simple. You can share files via email, grant various levels of permissions for viewing or editing, and even allow others to download the files.
Google Drive boasts a highly efficient search feature, making it effortless to locate files, shared folders, and Team Drives (shared Google Drives accessible to all users on the account). The interface of Google Drive provides a user-friendly experience.
Furthermore, numerous WordPress backup plugins integrate with Google Drive, allowing you to store website backups directly in the cloud. If you have unlimited storage with G Suite, you can securely store all your website backups on Google Drive.
Microsoft 365 – OneDrive Cloud Storage
With Office 365, each user is provided with 1 TB of cloud storage across all plans. While this offers a substantial amount of storage, it is important to note that it is not unlimited. Additionally, users are allotted 50 GB of email storage, which is separate from the storage limit for files stored on OneDrive.
Office 365 utilizes OneDrive as its file storage and management solution, which is accessible through desktop, mobile, and web applications. Similar to Google Drive, OneDrive allows file synchronization and seamless file sharing.
For users operating Windows 10 or Windows 8 PCs, OneDrive is integrated into the operating systems, simplifying the process of saving files to the cloud and sharing them. Furthermore, it enables the direct opening of files from OneDrive using Microsoft Office and other default applications on the PC.
4. Business Suite Apps
Both Office 365 and G Suite provide a range of applications for creating documents, spreadsheets, presentations, and more. These apps offer the convenience of editing files directly from your cloud storage.
Now, let's delve into the applications offered by both platforms and examine how they stack up against each other.
Workspace Apps
G Suite, now known as Google's Workspace, offers a collection of popular Google apps. Google Workspace users can use apps such as Gmail, Google Docs, Google Sheets, Google Slides, Google Calendar, Keep, Hangouts, and Photos.
These apps function optimally within desktop browsers across various operating systems. Additionally, Google provides dedicated mobile apps for each of these applications, available on both Android and iOS platforms. If you are an Android user, you may find that these apps are already pre-installed on your device.
While some of the Google apps have limited offline functionality, they do offer offline versions that can be accessed through your browser. However, it's important to note that the offline capabilities are somewhat restricted, and you need to individually enable offline editing for each file.
Google Workspace does not include fully-fledged desktop apps for use on your computer. However, the web-based apps offer extensive features and, in most cases, can meet your requirements effectively.
Due to their web and cloud-centric nature, the apps in Google Workspace (G Suite) are particularly suitable for remote teams or organizations that rely on cloud storage for all their data.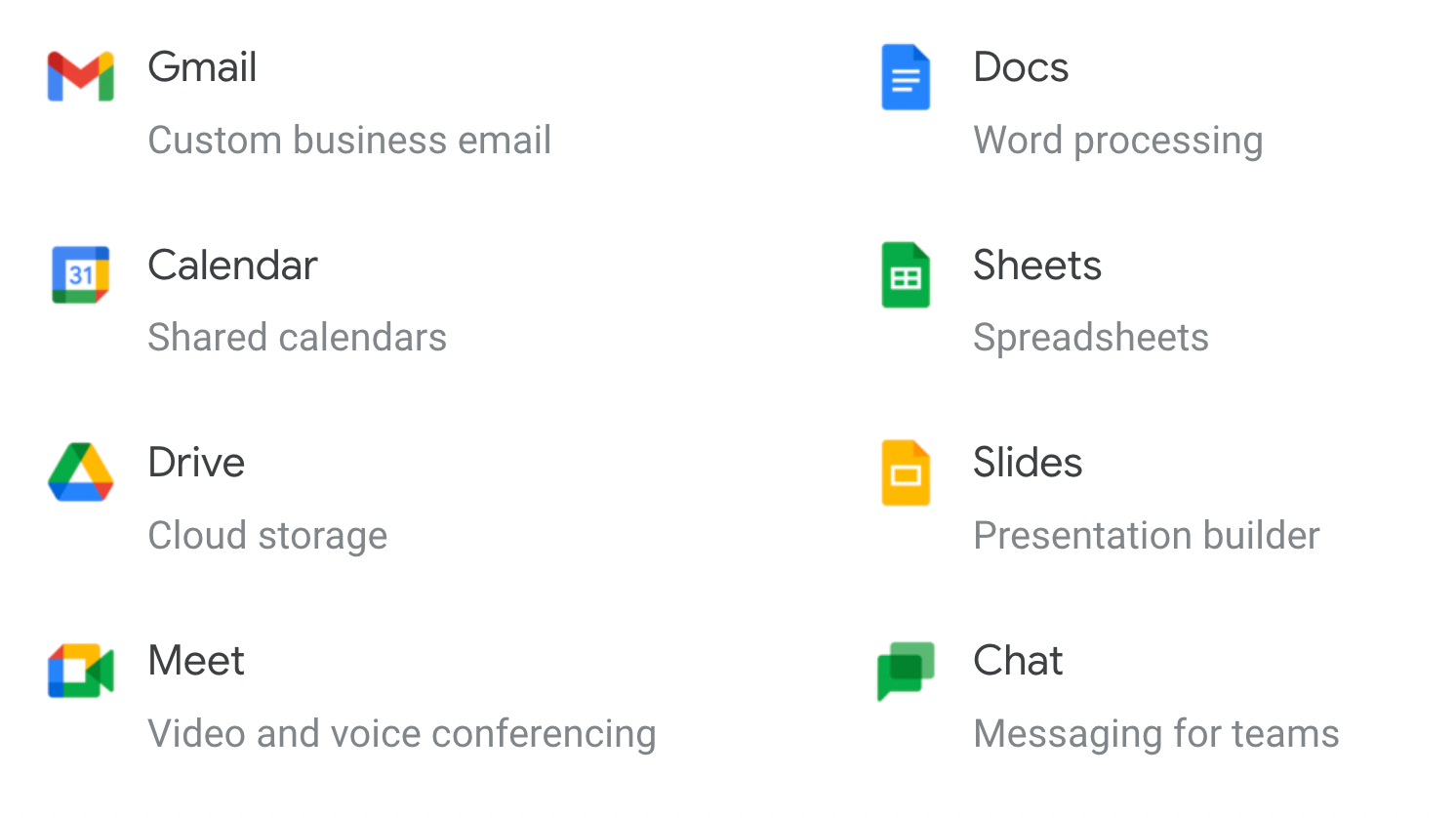 Microsoft Office 365 apps
With an Office 365 business subscription, you gain access to the renowned Microsoft apps such as Microsoft Word, Excel, PowerPoint, Outlook, OneNote and Microsoft Teams. When it comes to desktop computers, these apps remain unmatched in terms of their extensive features and comprehensive functionality, making them the leading office application suite available.
While Office 365 also provides web and mobile versions of these apps, it is important to note that their capabilities are somewhat limited, similar to Google Docs. The desktop apps of Office 365 establish an exceptionally high standard that no web or mobile app has managed to surpass thus far.
For businesses entrenched in the Microsoft ecosystem, especially those reliant on Windows PCs, these applications serve as an excellent choice and can play a pivotal role in determining the platform that best suits your needs.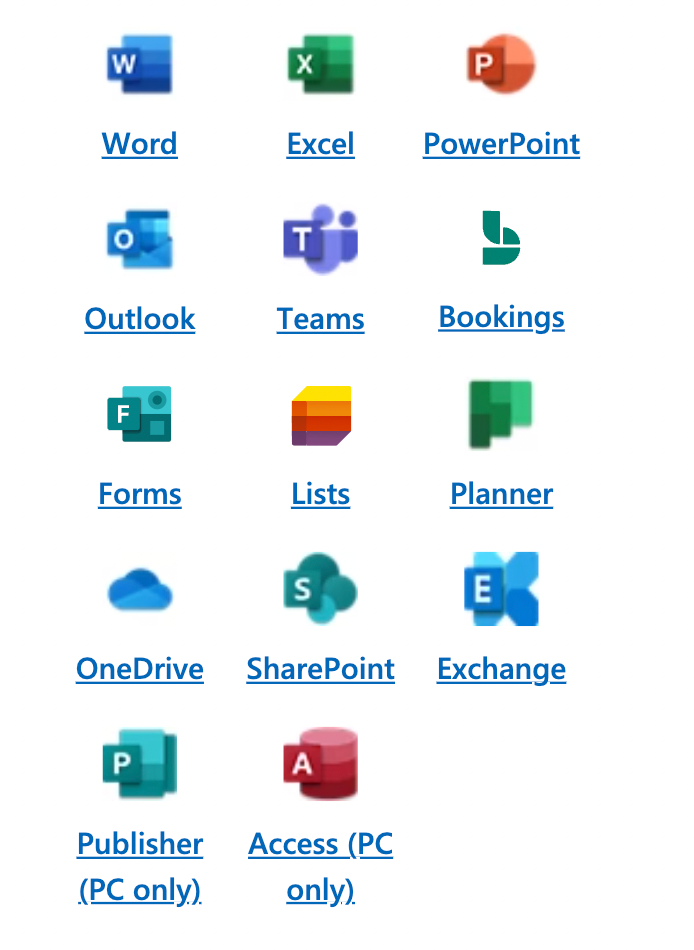 5. Collaboration tools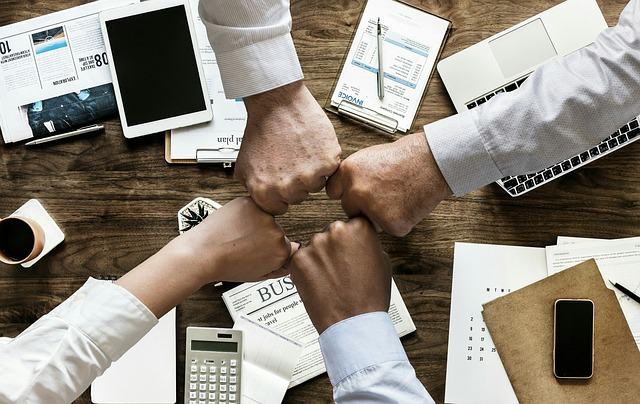 Simplifying collaboration is a primary motivation for businesses to adopt cloud-based office suites, and this remains a key selling point for both G Suite and Office 365.
Now, let's explore how these platforms facilitate collaboration and examine the array of tools they offer to empower teams in achieving their goals.
Collaboration with Workspace
G Suite initially established itself as a cloud-based suite, emphasizing seamless sharing and effective communication among teams right from its inception.
One of its notable features is Hangouts, which enables video conferencing and text messaging. Hangouts seamlessly integrates with Google Voice, allowing users to make local calls and send SMS within the US and Canada at no cost.
G Suite also excels in facilitating real-time collaboration, allowing multiple users to work on a file simultaneously. Users can leave comments and notes on documents, provide suggestions, review changes, and even revert back to earlier versions as needed.
Moreover, Google Calendar and Google Keep streamline the process of creating tasks, to-do lists, events, and timelines, making it effortless to share them with your team or individuals across the globe.
Collaboration with Office 365
Office 365 endeavors to replicate the behavior and appearance of Microsoft Office's desktop versions. However, this approach can make their collaboration tools somewhat challenging to discover and utilize effectively.
That said, Office 365 does support concurrent document editing, allowing multiple users to collaborate on the same document simultaneously. Users can easily provide notes, comments, and suggestions to enhance the collaborative process.
When it comes to text messaging and video conferencing, Office 365 employs Teams.
In summary, Office 365's collaboration tools lag slightly behind, making it somewhat less suitable for remote teams in comparison to other platforms.
6. Security
Data security is a significant concern for small businesses when utilizing cloud applications. Now, let's explore how Workspace and Office 365 ensure the protection of the data stored on their respective cloud platforms.
Security of Workspace
Workspace is constructed upon Google's robust cloud infrastructure, leveraging the same high levels of security employed by Google. This encompasses automated identification of suspicious activities, phishing endeavors, and other hacking attempts.
As an administrator, you have the capability to establish various policies to mitigate unauthorized access to your admin console and user accounts. Two-Factor authentication can be enforced for all users, enhancing overall security measures.
Furthermore, G Suite incorporates a data leak protection feature that enables you to designate keywords for blocking outbound communications. The platform also includes built-in spam, virus, and malware detection, meticulously scanning all documents and attachments for potential threats.
Security of Microsoft 365
Office 365 offers the option to activate Multiple Factor Authentication, adding an extra layer of security to user passwords. Moreover, it utilizes proprietary AI tools to analyze and comprehend each user's work patterns, enabling the detection of anomalous activities and raising alerts when unusual behavior is observed.
To safeguard against data theft and leaks, Office 365 incorporates a data loss prevention tool. Organizations can further control user access to company-issued devices through the utilization of their device management tool.
In addition, Office 365 employs Microsoft's robust spam, virus, and malware detection tools to thoroughly scan all documents, emails, and attachments, ensuring a comprehensive defense against potential threats.
Conclusion
In conclusion, both Google Workspace (formerly G Suite) and Microsoft Office 365 offer powerful and comprehensive productivity suites for businesses. When choosing between the two, it's essential to consider your specific needs and preferences.
Google Workspace excels in providing a seamless integration with familiar Google apps, such as Gmail, Google Drive, and Google Docs. It offers several TB of cloud storage for businesses with multiple users and boasts an intuitive interface.
Additionally, Google Workspace's file sharing capabilities and robust search functionality contribute to efficient collaboration.
On the other hand, Microsoft Office 365 offers a wide range of well-established applications, including Outlook, OneDrive, and Microsoft Office suite. It provides flexible pricing plans for small and medium-sized businesses and ensures compatibility with popular desktop mail clients like Microsoft Outlook. With its extensive feature set and desktop client popularity, Microsoft Office 365 is a strong contender.
Ultimately, the decision between Google Workspace and Microsoft Office 365 depends on various factors. Factors such as pricing, familiarity with specific apps, storage requirements, and preferred collaboration tools. Assessing these considerations will help you choose the productivity suite that best aligns with your business needs and enables your team to work efficiently and effectively.
FAQ
Can I use my own domain with Google Workspace and Office 365?
Yes, both Google Workspace and Office 365 allow you to use your own domain for creating professional email addresses and accessing the suite of productivity tools.
Can I access my files stored in Google Workspace and Office 365 from anywhere?
Yes, both Google Workspace and Office 365 offer cloud storage options that allow you to access your files from any location using any device with an internet connection.
Can I collaborate with others on documents in real-time using Google Docs and Microsoft Word?
Yes, both Google Workspace and Office 365 provide real-time collaboration features, allowing multiple users to work on the same document simultaneously. They can make edits, and see changes in real-time.
Can I use Google Workspace and Office 365 applications offline?
Yes, both Google Workspace and Office 365 offer offline capabilities. They allow you to work on documents and access certain features even without an internet connection. However, it's important to note that not all features may be available offline.
Can I use the desktop apps of Microsoft 365 and Google Workspace?
Yes, both Microsoft 365 and Google Workspace offer desktop applications that you can use on your computer. While Microsoft offers the whole pack of Office apps, Google only has a dedicated desktop app for Google Drive. Not having dedicated apps for Google Docs, Sheets, and Slides doesn't mean you can not use them offline.