Are you on the hunt for a Gmail alternative? In this article, you will find 8 great alternatives, each of which comes with a different set of features. Some of them are providing similar solutions to Gmail, but some of them are more focused on privacy with their end-to-end encryption. Stay with us to find the one that fits your needs the best.
About Gmail
Gmail is a popular free email service provider by Google since 2004. It offers a user-friendly interface, generous free storage, efficient organization tools, and advanced search capabilities.
With seamless integration with other Google services, spam filtering, mobile apps, and two-factor authentication Gmail has become a widely used and trusted email provider. In 2021 36.5% of global mail exchange went through a Gmail account.
Why Do You Need a Gmail Alternative?
Gmail's dominance in the email market can be attributed to its user-friendly interface, ample free storage (15 GB shared with other Google tools), and a wide range of free productivity tools that complement the Gmail experience.
However, there are growing concerns about Google's utilization of user emails, and not everyone finds the Gmail interface appealing. Therefore, exploring alternative email services is worth considering.
If you've relied on Gmail for its user-friendliness over the past decade, you may be surprised by the significant improvements made by competitors.
Many email providers now offer comparable browser-based experiences with modern designs. Some even prioritize end-to-end encryption and take additional measures to safeguard the privacy of your messages.
Moreover, the top Gmail alternatives provide mobile apps and desktop clients, along with features that facilitate integration with social media accounts.
Additionally, they offer document suites that serve as alternatives to popular Gmail integrations like Google Drive and Google Docs.
The Top 8 Gmail Alternative Options
1. Outlook.com – One of the Best Gmail alternatives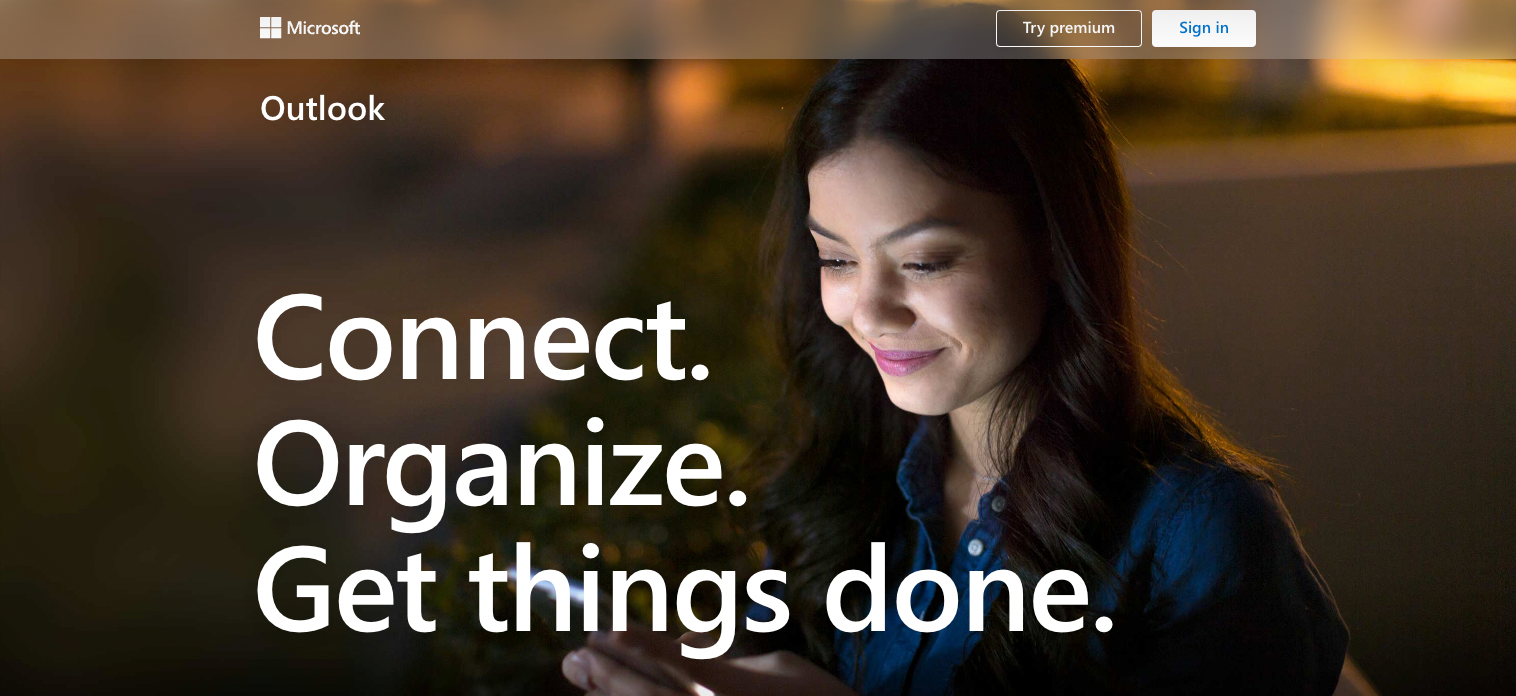 Outlook is an updated version of Hotmail, that seamlessly integrates with other Microsoft services.
When it comes to integrating with productivity and storage apps, this email service provider stands out as one of the top alternatives to Gmail. For example, it offers extended storage space through OneDrive, a robust color-coded calendar, contact management, and a task organizer. Similar to Gmail, it allows you to categorize emails.
The interface of Outlook is modern and user-friendly, making it easy for Gmail users to adapt. Additionally, Outlook supports a generous attachment limit of up to 34 MB. If you need to send larger files, you can utilize OneDrive, which allows files up to 2 GB in size.
Outlook places a strong emphasis on advanced security and claims to provide the same level of security found in its enterprise-level services.
Features and Pricing of Onedrive
Using Outlook you also have access to use the web-based free version of Office 365, meaning you can edit spreadsheets, documents, and presentations in your browser. It comes with an Android and iOS app. The email storage space is 15 GB. It also has 5GB of OneDrive storage, an alternative to Google Drive.
You can use Microsoft Outlook for free. If you need more storage space you can upgrade to a premium subscription starting at $19.99 per year if billed annually. Plans with offline Office applications and more OneDrive storage start at $69.99 with an annual subscription.
Please note some applications are only available on PC, so Mac users can not download them to their computer running MacOS.
2. ProtonMail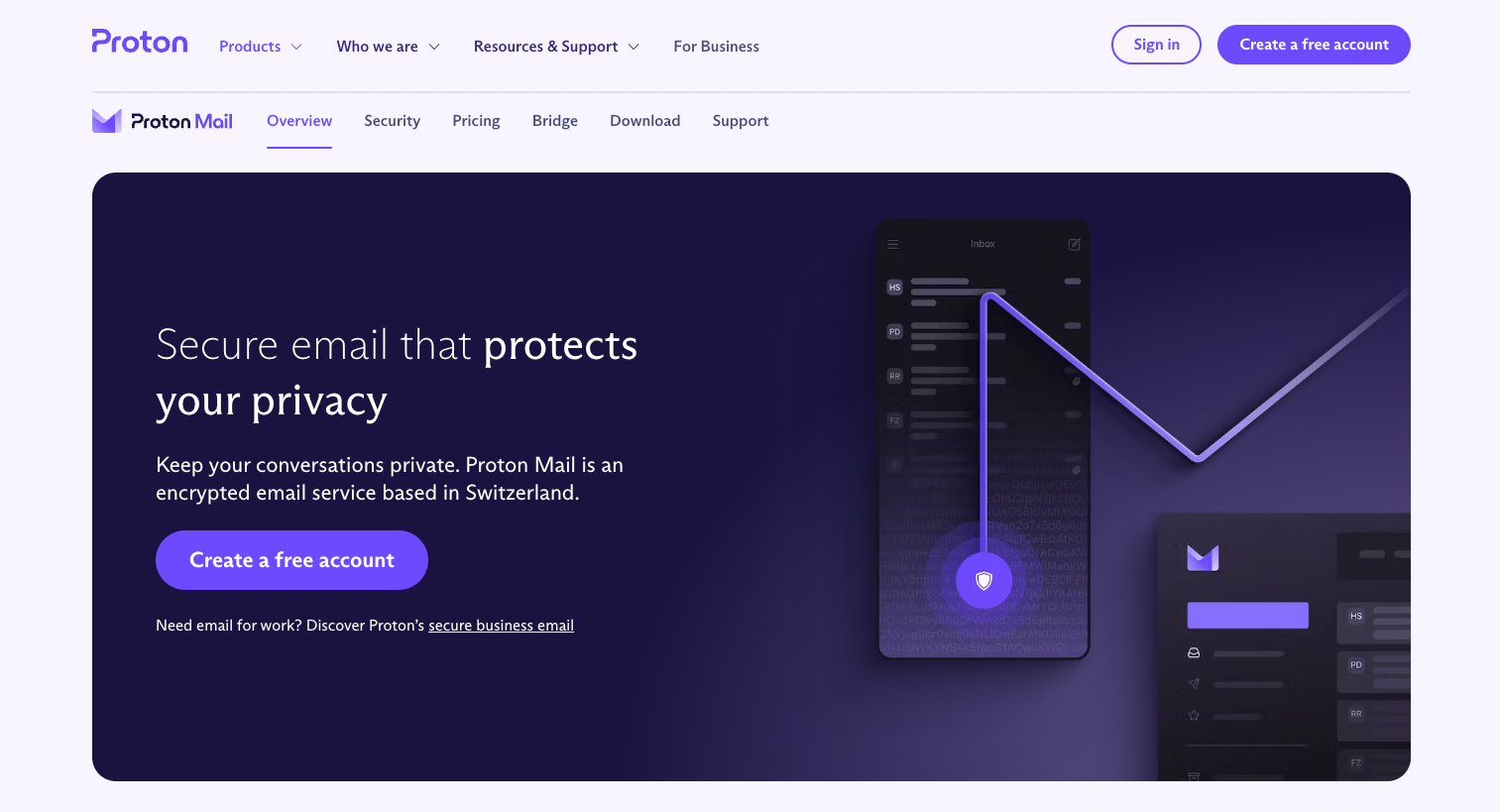 ProtonMail, is an email client that prides itself as a secure email service, ensuring that your data is secure.
This email provider guarantees your privacy, protected by stringent European laws. They use end-to-end and zero-access encryption to secure your emails, ensuring that even the company cannot access your messages.
ProtonMail places a high value on privacy, allowing you to create an email account without divulging personal information. Simply provide a username, password, and optionally, a recovery email.
In addition to robust privacy measures, ProtonMail offers a modern inbox design and productivity tools reminiscent of Gmail. You can utilize color-coded labels to organize emails and mark important messages with stars. ProtonMail also provides calendar and storage drive products with all email accounts, positioning itself as one of the top alternatives to Gmail.
Features and Pricing of ProtonMail
ProtonMail offers Android and iOS apps as well as a web-based inbox for convenient access across different platforms. It also provides encrypted emails with end-to-end encryption for emails, ensuring that only the intended recipient can read the messages. The self-destructing messages feature, allows users to set an expiration time for their emails.
On ProtonMail you can open a free account with some storage limitations. Pricing of Premium subscriptions is starting at $4.99 per month if billed monthly. You can get a discount of up to 33% if you opt for a 24-month-long subscription.
3. Zoho Mail
Zoho Mail email service is a comprehensive email service designed for small businesses and personal use. It offers a complete suite of organizational tools, such as a calendar, storage drive, tasks, contacts, and bookmarks, making it one of the closest alternatives to Gmail in terms of functionality.
Zoho boasts a clean interface that can be neatly organized using the Streams feature. Streams allow users to add comments to email threads, exchange files, and assign tasks, making it particularly valuable for professional use.
Both businesses and individual users will find Zoho Mail's calendar, contacts, and tasks beneficial for streamlining their inboxes and facilitating the transition from Gmail. A
Additionally, users concerned about Gmail's privacy issues can find reassurance in Zoho Mail, as it provides secure email hosting and end-to-end encryption for all messages.
Furthermore, Zoho Mail simplifies the process of setting up custom domains for your business email, offering an excellent option for establishing a more professional online presence. It's important to note that accessing the custom email address is primarily available through webmail or Zoho Mail's dedicated mobile apps unless you upgrade to a premium plan.
Features and Pricing of Zoho Mail
Users can seamlessly integrate Zoho Mail with other Zoho products, including Zoho Docs, Notebook, and Workdrive. The service provides end-to-end and S/MIME encryption for secure email communication. Zoho Mail allows for group accounts with user permissions, facilitating collaboration and access control.
A forever free plan is available on Zoho Mail, but the paid plans with more features and storage are starting at just $1 per month per user if billed annually.
4. Mail.com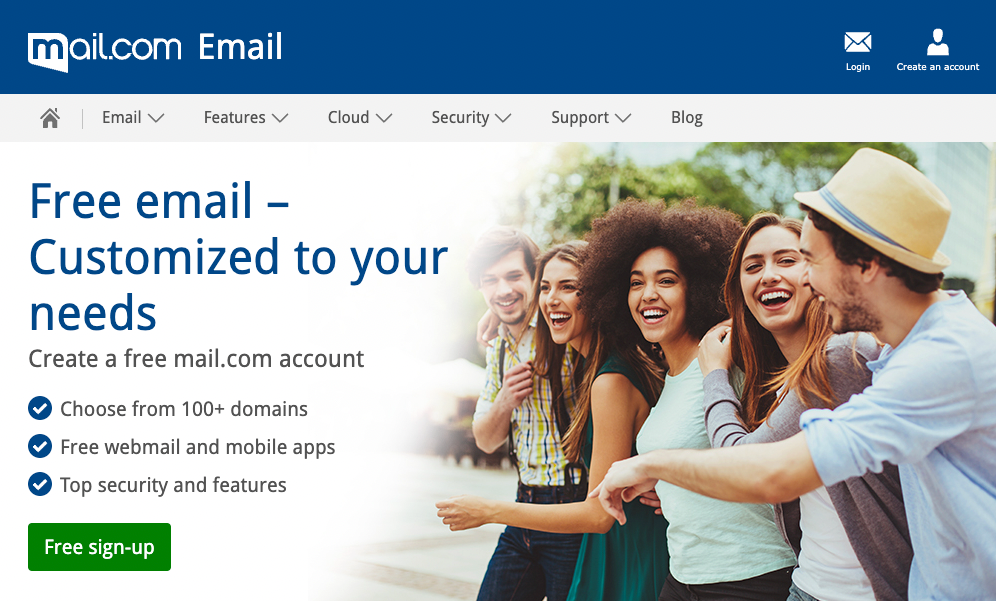 Mail.com is a free alternative to Gmail that offers a wide selection of over 200 domains to choose from, allowing you to find the perfect domain to match your niche or personal style. It's particularly beneficial for freelancers who want to maintain a professional image without the expense of a custom domain.
With Mail.com, you can create a free email address like name@consultant.com for a more professional-looking domain name, or opt for something more fun, more casual like name@artlover.com for personal use.
To ensure your email security, Mail.com provides robust anti-virus tools that scan for viruses while safeguarding your privacy. Additional security features include 2FA (2-factor authentication), spam filters, and the use of secure servers located in the US.
Mail.com also offers the Mail Collector tool, allowing you to manage multiple accounts from a single inbox. By setting up a central Mail.com account, you can efficiently coordinate incoming communications from both your business and personal email addresses.
Furthermore, Mail.com provides an intuitive dashboard to help you keep your inbox organized. It also includes an organizer tool, online calendar, and office suite, offering a comprehensive set of features and making it one of the best alternatives to Gmail.
Features and Pricing of Mail.com
There is a 30 MB attachment limit, enabling users to send larger files via email. Added security is available with 2-factor authentication (2FA) for enhanced account protection.It has over 200 custom domain options, so users can choose a personalized email address. The Mail Collector tool enables users to manage all their email inboxes in one place.
Mail.com offers a free plan that provides users with the ability to create up to 10 alias addresses, 65 GB of storage for emails, and 2 GB of general cloud storage for documents and photos.
Additionally, Mail.com offers premium options for those who wish to have an ad-free experience, expand their storage capacity, and access their emails through third-party email applications. Premium plans start at $9.99 for three months of service and go up to $47.87 for a full year. If you opt for the biggest package you also get 110 GB of cloud storage space
5. Mailfence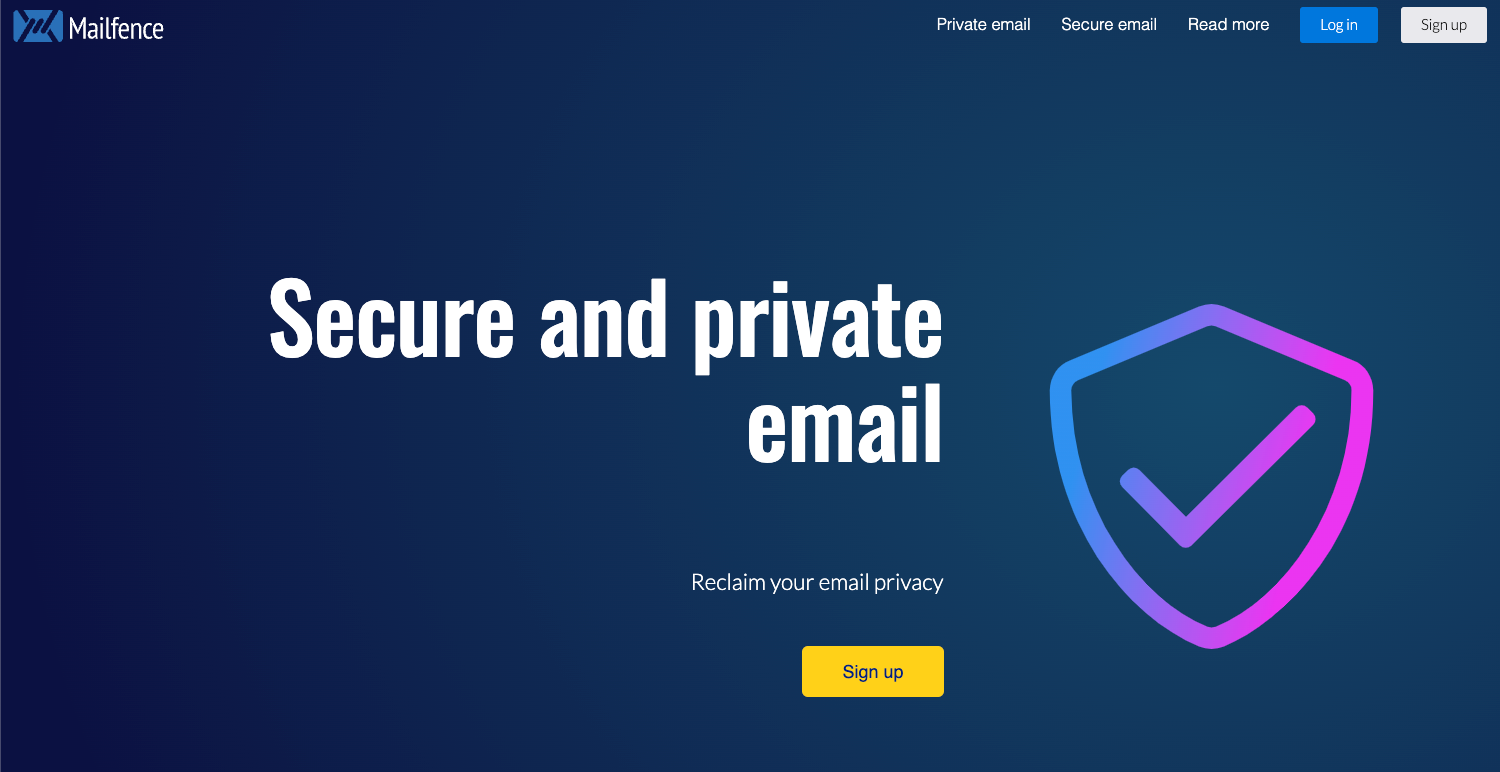 The next suggestion is Mailfence, a private email provider headquartered in Belgium. With a strong emphasis on online security, it stands out as an excellent alternative to Gmail for individuals who have concerns about Google's policies. It is also a great alternative to ProtonMail, its Swiss competitor.
Complying with Belgian privacy protection laws, Mailfence ensures that only local jurisdictions have the authority to request access to your emails, which occurs under highly exceptional circumstances.
As a result, this particular free email service provider can confidently guarantee no surveillance or selling of your data to third parties, a promise that many other providers cannot make.
Mailfence prioritizes encryption, which takes place in the browser and is compatible with all OpenPGP services. Additionally, you have the option to set passwords and even expiration dates for your messages, ensuring that only you can access your communications, including Mailfence itself.
In addition to advanced security and privacy features, Mailfence provides access to other essential tools. For example, you can conveniently manage your appointments using a user-friendly calendar and store and edit documents in the cloud.
Features and Pricing of Mailfence
Users are provided with up to 500 MB of storage for email messages and an additional 500 MB for storing documents. The platform is ad-free and free from email trackers, promoting a clean and private email experience.
Mailfence is available for free, offering users 500 MB of storage, a maximum document limit of 500 MB, access to email customer support, and the option for two-factor authentication. If you require additional storage capacity and support for mobile apps and email clients, you have the option to upgrade for €2.50 per month. There are also higher storage plans available for €7.50 and €25 per month.
6. Tutanota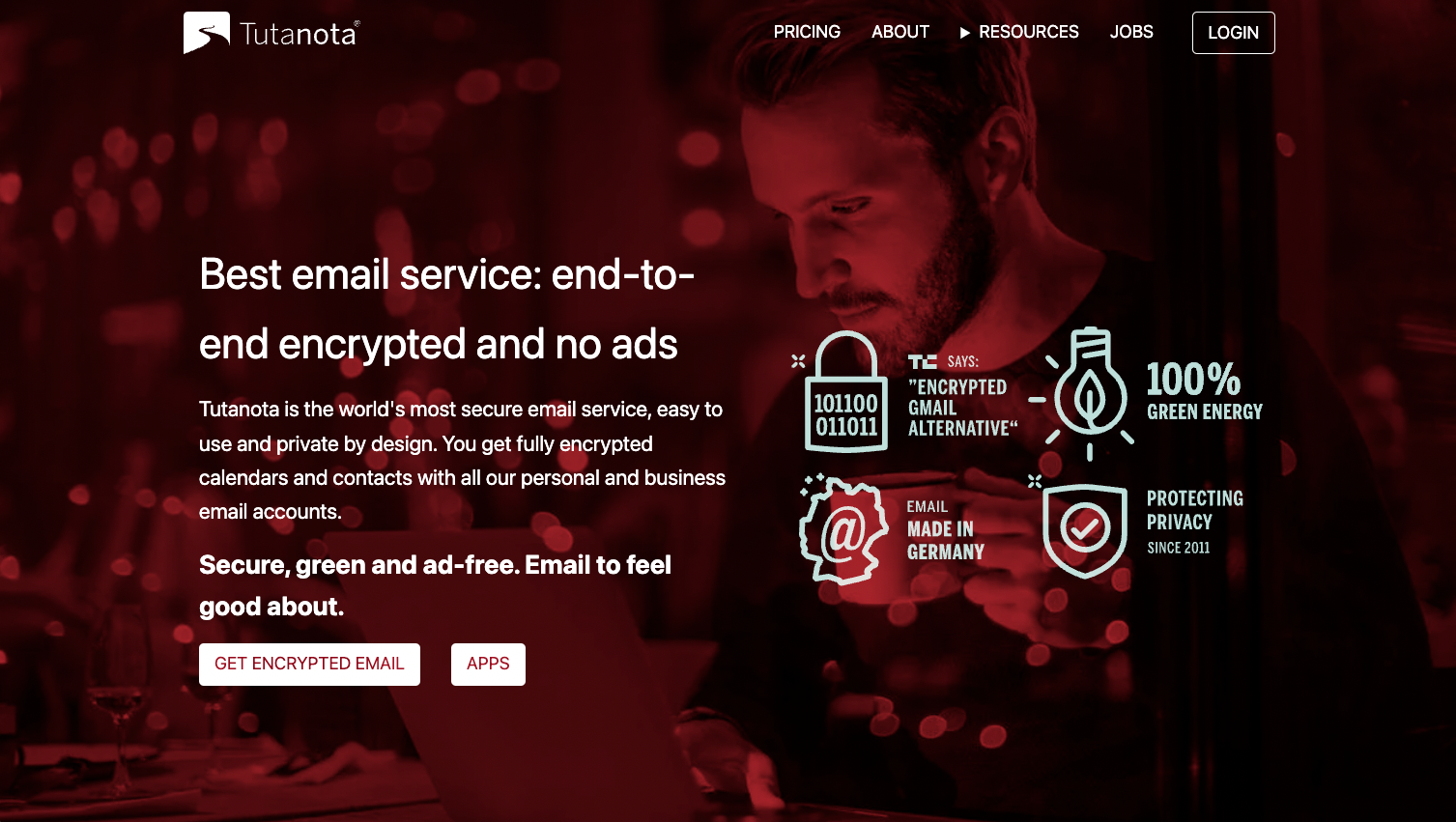 Tutanota, which stands for "secure message" in Latin, is an excellent alternative to Gmail, especially for those who prioritize privacy. Based in Germany, this email provider offers a free account option, affordable upgrades, and an end-to-end encryption open-source email platform.
Unlike Gmail, Tutanota does not rely on advertising for revenue.
Instead, it offers premium subscriptions and accepts donations to sustain its services. The free plan provided by Tutanota includes email access across devices, a visually appealing online interface, and integrated calendars and contacts. Tutanota also offers desktop clients for Windows, Linux, and macOS.
With Tutanota, you can send anonymous emails, manage encrypted calendars, and set up out-of-office messages. While Tutanota may not offer an extensive online office suite like Zoho Mail or Mail.com, you still have the ability to open and edit documents using compatible programs.
Additionally, Tutanota offers features such as alias addresses, white-labeling options, and secure servers located in Europe, making it a highly compelling alternative to Gmail.
Features and Pricing of Tutanota
Tutanota has strict policies against third-party captchas, advertising, and data logging, prioritizing user privacy. White-label customizations are available, allowing users to personalize the platform with their own branding. Users can create alias email addresses within their Tutanota account for different purposes or to manage multiple identities.
Tutanota provides a free plan tailored for personal use, allowing one user and offering 1 GB of storage. With the free plan, you have access to a Tutanota domain, basic search capabilities, and one encrypted calendar.
Tutanota offers premium plans for personal use starting at €1 per month. These plans enable you to add multiple users, use custom domains, and create multiple calendars. Premium plans also grant you the ability to utilize aliases, set up inbox rules, and enjoy increased storage capacity. They also have business packages starting at €2 per month with even more features.
7. iCloud Mail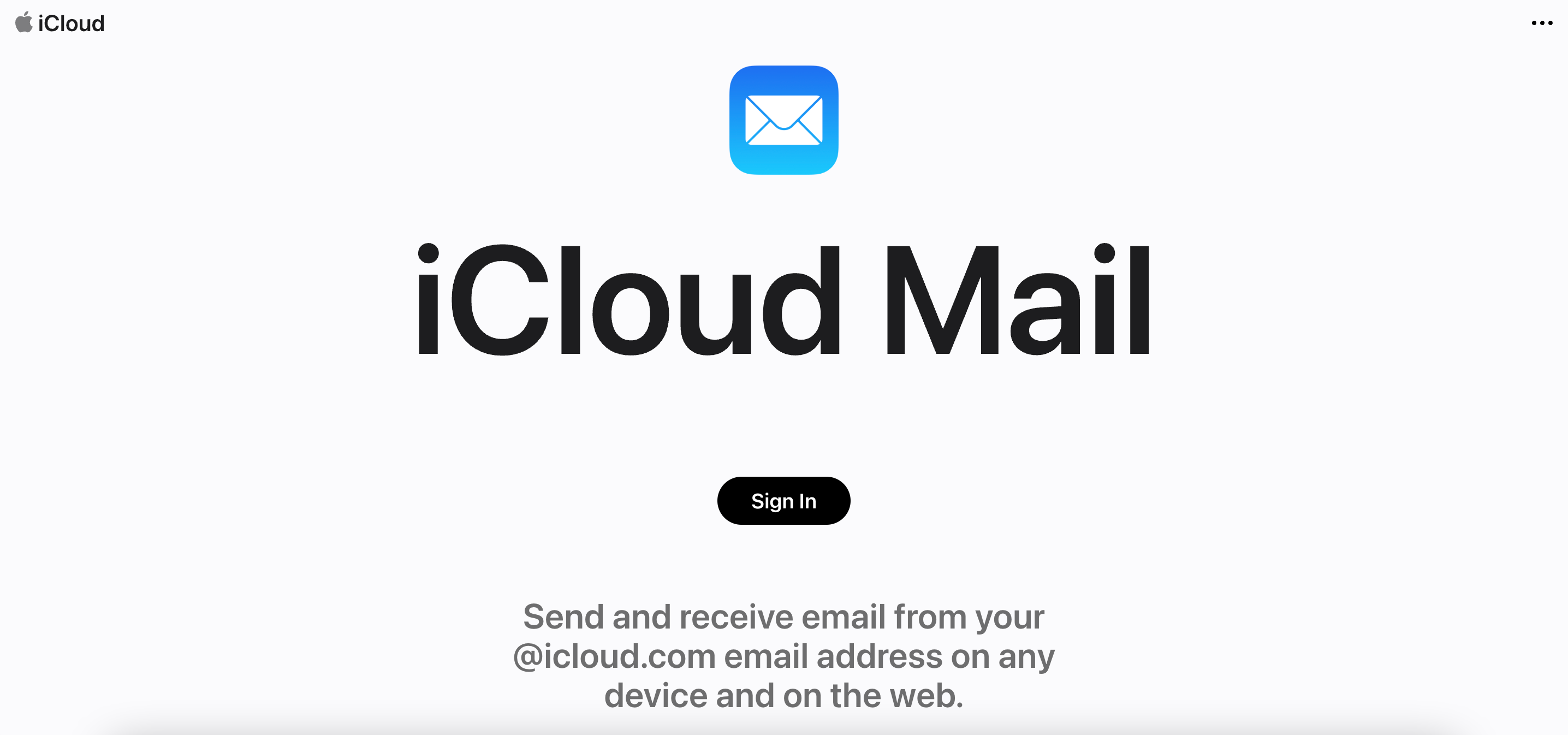 iCloud Mail is an email service provided by Apple as part of its iCloud suite of services.
It offers users the ability to create and manage email accounts with an @icloud.com domain. iCloud Mail provides a user-friendly web-based interface for accessing and managing emails, and it can be easily integrated with other Apple devices and services.
Users can enjoy features such as secure email communication, spam filtering, email organization, and synchronization across devices using iCloud Mail.
Feautres and Pricing of iCloud Mail
iCloud Mail is available to users free of charge. When you create an Apple ID, you automatically get access to an iCloud email account with a free storage allocation of 5 GB for your emails, attachments, and other iCloud data. This free storage is shared among all iCloud services, including iCloud Drive, iCloud Photos, and iCloud Backup.
However, if you find that the free 5 GB of storage is not sufficient for your needs, Apple offers various paid storage plans through its iCloud storage upgrade options. These plans allow you to increase your iCloud storage capacity beyond the initial free allocation.
The pricing for iCloud storage upgrades varies depending on the storage tier you choose, with options ranging from 50 GB to 2 TB.
You can check the current pricing and available plans on the iCloud storage upgrade page on Apple's website or through the iCloud settings on your Apple device.
8. Yahoo Mail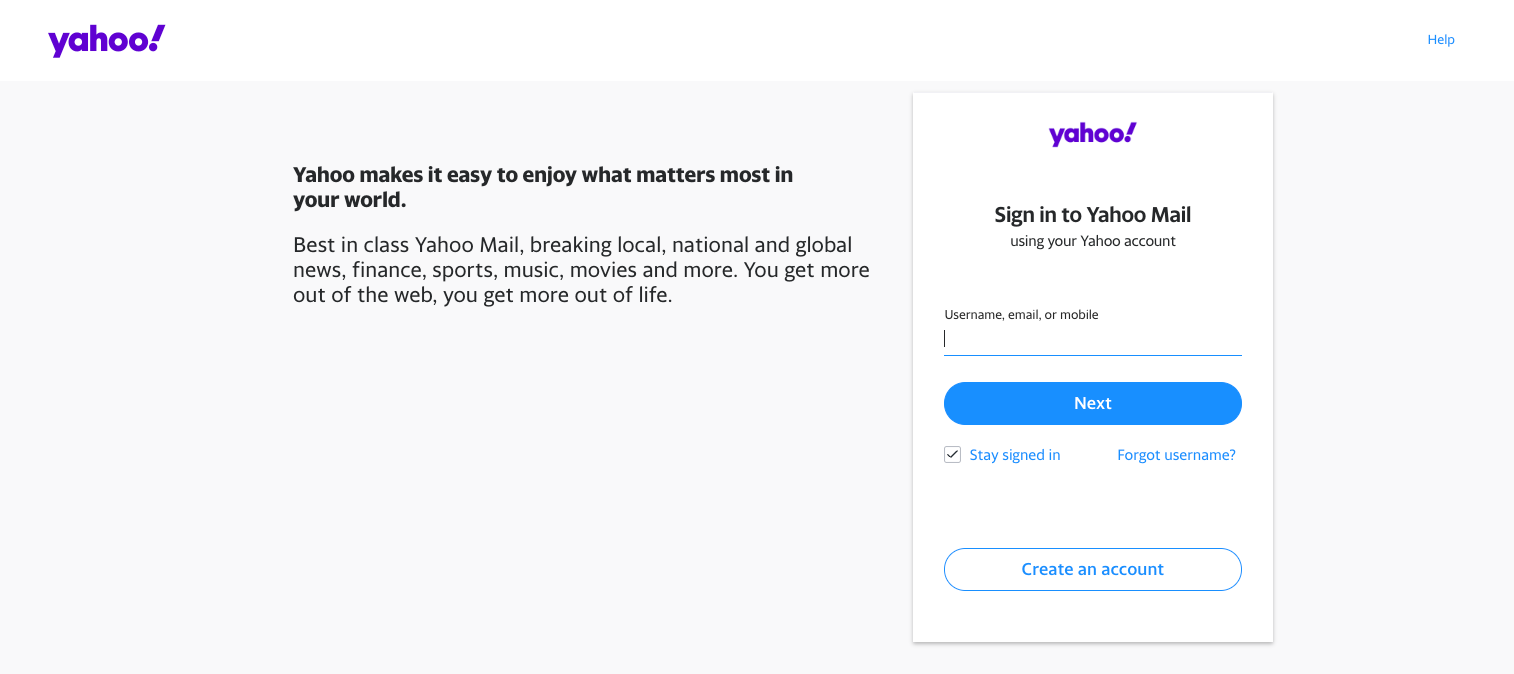 Yahoo Mail is an email service provided by Yahoo, a popular web services company.
It offers a free email account with a user-friendly interface and a range of features. Yahoo Mail allows users to send and receive emails, organize their inboxes with folders and filters, and search for specific messages. It also provides users with a generous amount of storage space for their emails and attachments.
Yahoo Mail supports access from various platforms, including web browsers, mobile apps for Android and iOS devices, and desktop email clients. It offers synchronization across devices, allowing users to access their emails and manage their inboxes seamlessly from different devices.
Features and Pricing of Yahoo Mail
In addition to basic email functionality, Yahoo Mail offers features such as customizable themes, calendar integration, contact management, and an integrated chat messenger. It also provides spam filtering to help users keep their inboxes clean and secure.
Yahoo Mail has a strong focus on user security and privacy. It implements encryption to protect emails during transit and offers two-factor authentication for an extra layer of account security. Users can also enable email forwarding, auto-reply, and vacation response settings.
While Yahoo Mail is known for its free email service, it also offers premium plans starting at $5/month with additional features and benefits. These include ad-free interfaces, priority customer support, increased storage capacity, and the ability to use custom email domains.
Conclusion
In conclusion, there is no shortage of viable alternatives to Gmail for those seeking a different email experience. Whether it's concerned about privacy, a desire for enhanced security features, or simply a preference for a different interface, the options are plentiful.
From feature-rich platforms like Zoho Mail and Outlook to more privacy-focused providers like ProtonMail and Tutanota, each alternative brings its own set of unique features and benefits. It's worth exploring these alternatives to find the one that best aligns with your specific needs and preferences.
With the availability of robust email clients, integrated productivity tools, advanced security measures, and user-friendly interfaces, making the switch from Gmail has never been easier. So, take the leap and discover a new email experience that suits you best.
FAQ
Why would someone consider using a Gmail alternative?
There are several reasons why someone might consider using a Gmail alternative. These include concerns about privacy and data security, a desire for different features or interface options, or simply wanting to explore different email providers.
Are there any free alternatives to Gmail?
Yes, there are free alternatives to Gmail available. Providers like ProtonMail, Tutanota, Mail.com, and Zoho Mail offer free email accounts with varying storage capacities and features.
Do Gmail alternatives offer similar features to Gmail?
Many Gmail alternatives offer similar features to Gmail, such as email organization, filters, spam protection, and calendar integration. However, the specific features and user experience may vary between providers.
Are there secure email service alternatives to Gmail?
The level of security can vary between Gmail alternatives. However, many alternative providers prioritize user privacy and offer encryption features to protect email communications. It's important to review the privacy and security measures implemented by each provider to make an informed decision.