Are you in search of the best URL shortener that can condense your website's links, provide click analysis, incorporate UTM (Urchin tracking module) tags, and facilitate retargeting? In this article, we will delve into 6 outstanding services that cater to various requirements.
These options encompass free URL shortener services as well as top-notch link shortener solutions with premium plans tailored for business purposes. Regardless of your specific needs, you are certain to discover the ideal URL shortener from the following compilation.
What Are URL Shorteners?
In basic terms, a URL shortener is an online tool that simplifies long URLs into shorter ones while retaining the ability to direct users to the intended web page.
Additionally, some URL shorteners offer additional functionalities such as click analytics, UTM (Urchin Tracking Module) parameter support, and retargeting capabilities.
By utilizing a URL shortener, you can create concise and visually pleasing URLs while taking advantage of features like tracking and retargeting. These mentions are great Google URL shortener alternatives, as the company discontinued its own URL shortener.
Comparing The Top 6 Tools for Shortened Links
1. TinyURL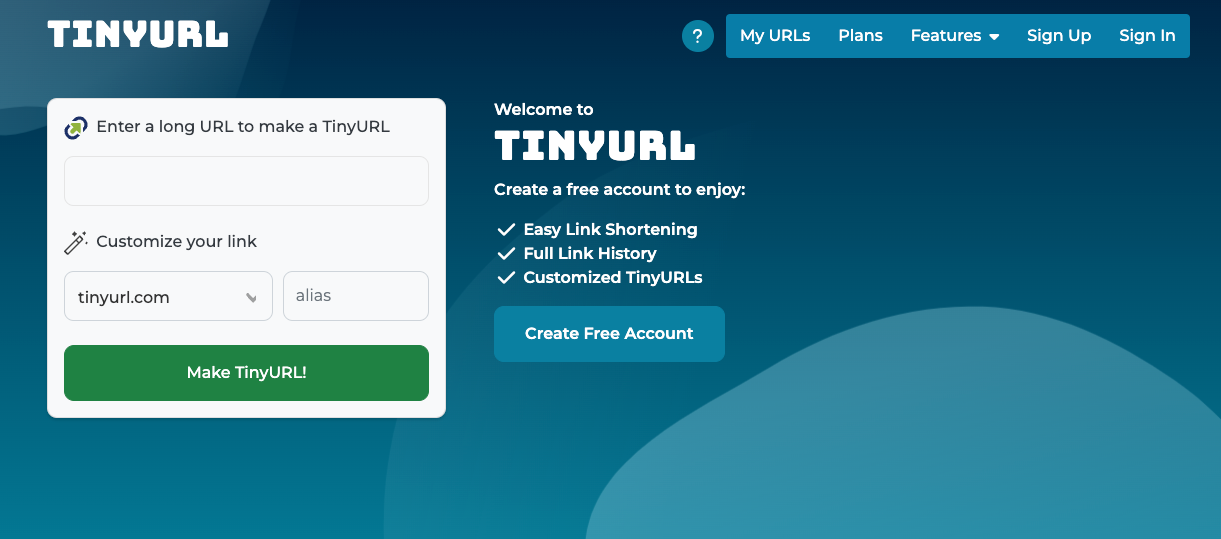 TinyURL stands out as an excellent choice for individuals or businesses seeking a URL shortener that offers a substantial volume of shortened URLs while remaining entirely free.
One noteworthy feature of their free URL shortener is the ability to customize the segment of the URL that appears after the backslash. Rather than a random combination of characters, you can create personalized URLs like https://tinyurl.com/yourbrandname.
TinyURL's offering extends beyond their free plan, with premium plans that are both transparent and scalable. You can easily increase the number of active TinyURLs at your own pace, starting from a few hundred and going all the way up to even millions. I
f, by chance, five million URLs still fall short of your requirements, you can get in touch with their sales team to explore custom options tailored to your specific needs.
Features
It offers the option to customize links and your shortened URLs won't expire. It is an easy-to-use platform, with fast redirection.
Pricing
TinyURL offers a completely free basic URL shortening service specifically designed for individual users.
With this service, you have the flexibility to customize your shortened links and conveniently keep track of your link history. However, if you require advanced features such as detailed analytics, upgrading to one of TinyURL's premium plans is necessary. These premium plans are priced at $12.99 (Pro), $35 (Pro 5K), and $249 (Pro 50K).
Prices reflect the month-to-month billing cycle. However, if you choose to pay annually, the monthly costs are lower. TinyURL also offers separate high-volume plans specifically tailored for users with extensive needs, such as utilizing a massive number of shortened URLs for SMS or other marketing campaigns.
2. Bitly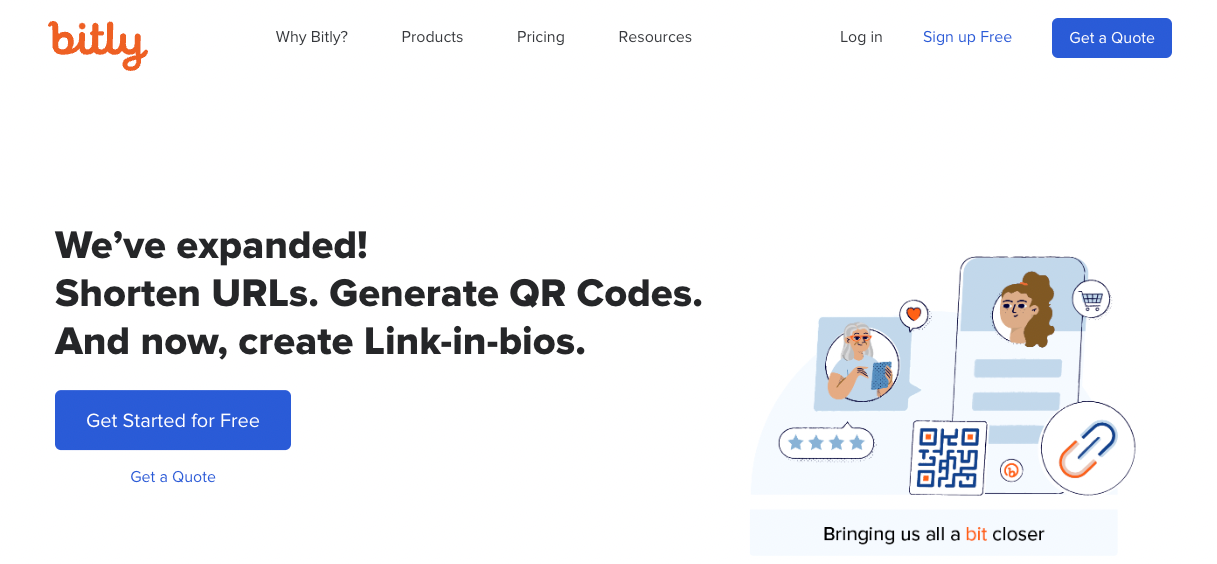 Bitly has long been recognized as a powerful and widely-used tool for shortening URLs, and its reputation as the best URL shortener is well-deserved.
The free version of Bitly allows you to shorten up to ten links per month using the Bit.ly domain. If you opt for the second-tier premium plan, you gain the ability to use your own custom domain and shorten up to 1,500 links monthly.
Apart from its URL shortening capabilities, Bitly offers additional features such as a QR code generator and the popular link-in-bio feature, which has become a standard for social media influencers and businesses with an online presence. Even the free version includes these features, although with Bitly branding.
By upgrading to the paid version of Bitly, you unlock further options like link retargeting, link history, and customer support. You can track individual links and access related analytics directly from your dashboard. The platform even provides insights into the performance of your marketing campaigns in specific locations.
Features
You can connect custom domains, it can generate QR codes, you can retarget URLs and it also comes with a Link-in-bio feature, which comes in handy if you want to grow your social media presence.
Pricing
Bitly provides a free basic plan. For enhanced functionality, premium plans start at $8 per month for annual payments, totaling $96 per year. If you need a custom domain, plans begin at $35 per month with monthly billing or $29 per month with annual billing.
3. Rebrandly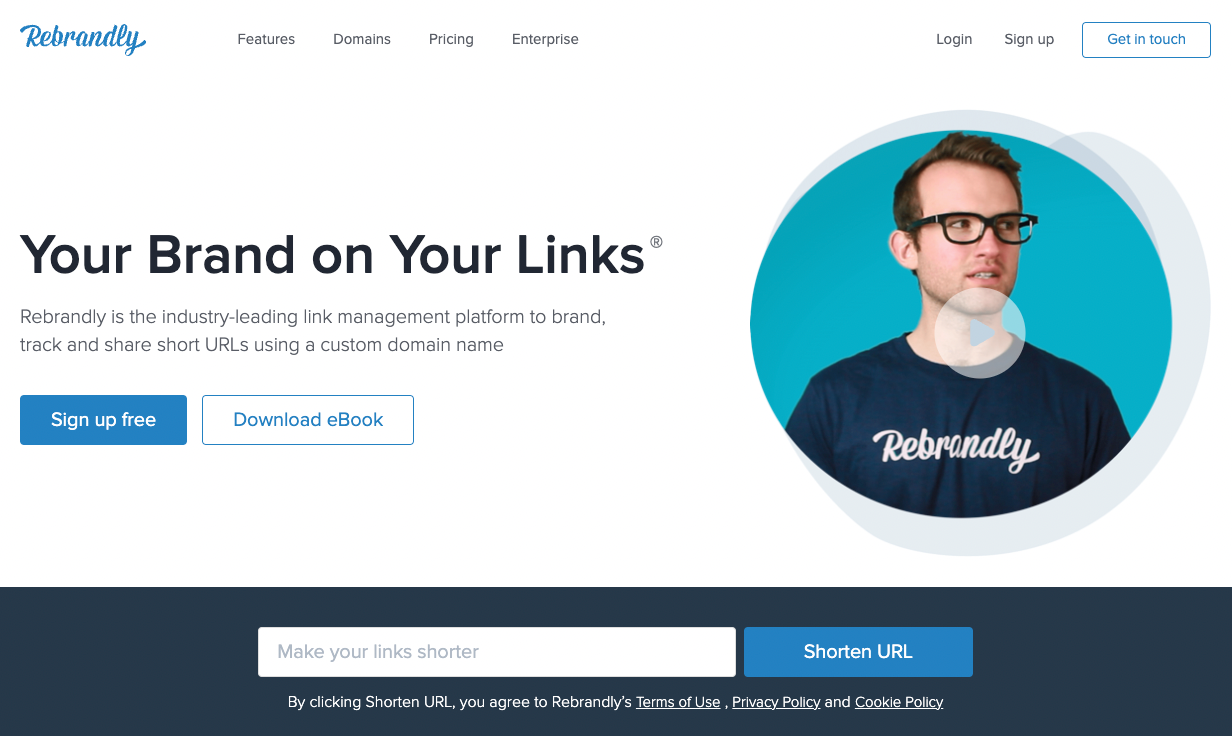 Rebrandly presents a powerful URL-shortening solution equipped with a wealth of advanced features.
With this digital tool, you have the ability to generate custom or branded links that are not only shorter but also more memorable. Whether your aim is to establish a strong online presence or simply share concise links across different social networks, Rebrandly offers the ideal URL shortener.
What sets Rebrandly apart is its capability to create distinct workspaces and accommodate multiple team members, making it particularly advantageous for collaborative endeavors.
Furthermore, it boasts advanced functionalities such as link retargeting support, enhancing your ability to optimize and personalize your shortened URLs.
Features
Blink offers a comprehensive suite of features, including bulk link creation, UTM parameters, API access, seamless integration with over 100 apps, GDPR compatibility, rapid auto-scaling servers, private reporting, custom reports, and robust click-tracking capabilities.
Pricing
Rebrandly provides a free plan with limitations, allowing users to have up to 25 links per month. For more extensive features, Rebrandly offers paid plans including Lite at $13 per month, Essentials at $32 per month, Professional at $99 per month, and Pro+ at $358 per month.
The mentioned prices are available if you choose to pay annually. Additionally, they offer an Enterprise plan which requires contacting Rebrandly directly to obtain a personalized quote.
4. Tiny.cc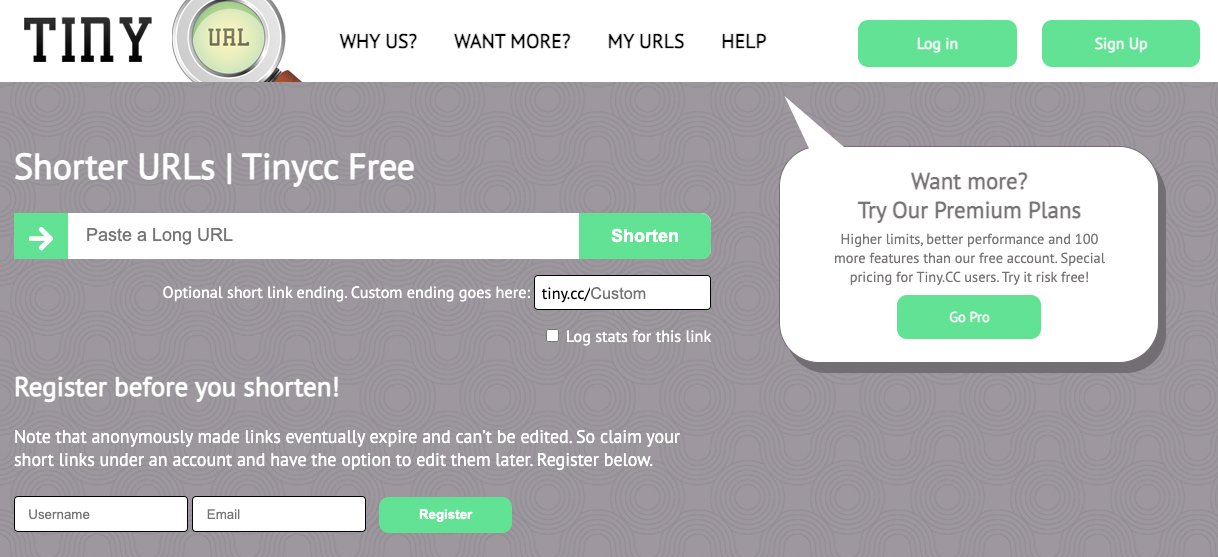 Tiny.cc is a comprehensive platform that offers both a top-notch free URL shortening service and highly versatile paid packages, positioning itself as one of the best premium URL shorteners.
This platform functions as a multi-faceted link management tool, going beyond mere URL shortening. It enables you to not only shorten URLs but also share, edit, organize, personalize, track, and monetize them.
Its primary objective is to make your links concise, meaningful, and profitable. Furthermore, you have the option to convert your URLs into customizable, low-DPI QR codes for printing and distribution.
The capabilities of the system extend further. It diligently tracks your shortened links, generating graphical charts that provide insights into click metrics and visitors' demographics. The best part is that you can access this data without the need for an account.
However, creating a free account becomes necessary if you wish to edit and manage the links. The free plan offered by Tiny.cc allows you to personalize shortened URLs with your brand or domain, organize them using tags, cloak affiliate links, establish custom redirects, track editing history, apply URL filters, and more.
Features
Tiny.cc can measure link conversion, it can generate low-DPI QR codes, that are suitable for printing. It also has a custom URL shortener feature, so you can have branded links.
Pricing
While Tiny.cc offers an excellent free URL shortener platform, it does have a limit of 500 URLs. However, for individual users, this is generally more than sufficient.
If you need more, Tiny.cc offers the following paid plans:
The available pricing options are as follows the Basic Plan costs $5 per month, the Business Plan is $25 per month, and Pro Plan comes at $44 per month.
Please note that the prices mentioned above are for month-to-month plans. If you opt for an annual payment upfront, the monthly cost will be even lower. Additionally, Tiny.cc also offers an Enterprise plan for large-scale URL shortening.
For pricing details regarding the Enterprise plan, it is advisable to contact Tiny.cc directly to obtain a quote.
5. Sniply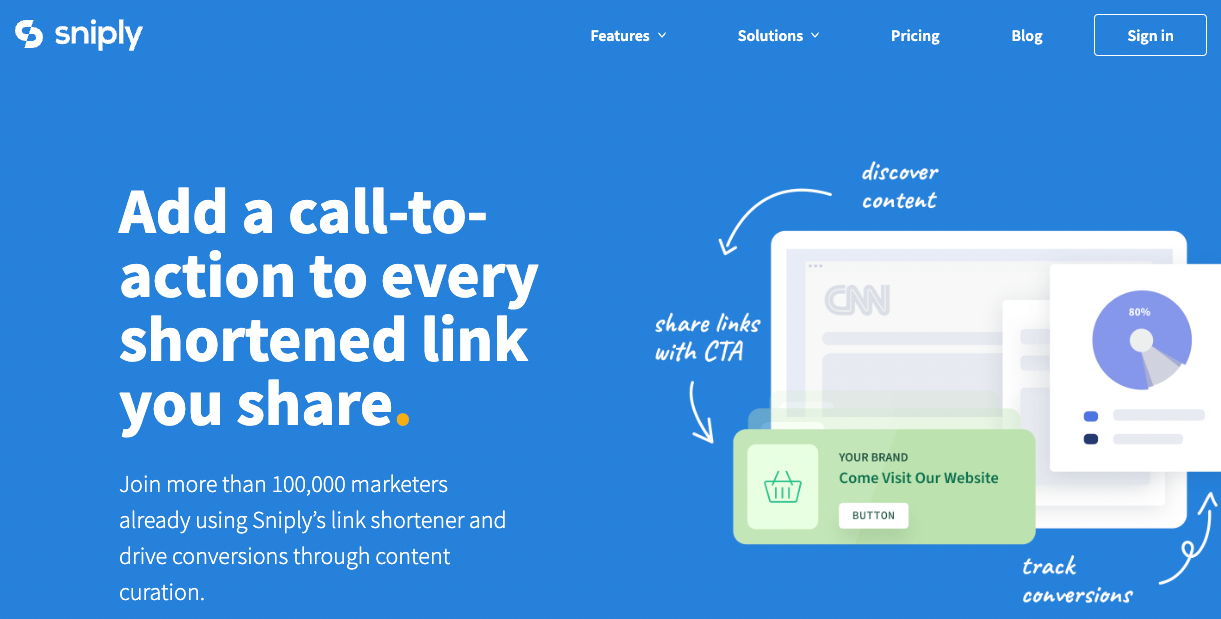 Sniply may be the ideal tool for you if your goal is to achieve significant conversions through content curation.
With Sniply, you can create short, branded custom links for articles, blog posts, and web pages. These links are easily shareable on social media platforms. When users click on these shortened "Snips," they are directed to the relevant content, while also seeing the Snip you created along with your Call-To-Action.
But that's not all. You have the flexibility to reuse the Call-To-Action as many times as you desire or create new CTAs for different campaigns. You can access metrics related to clicks, conversions, and campaigns through the analytics dashboard, allowing you to track the effectiveness of your Snips.
Features
With Sniply you can embed the shortened URLs on shared articles and pages, and monitor user interaction through a comprehensive dashboard.
Pricing
Sniply offers three main plans with varying features and pricing the Basic Plan is $9, the Pro Plan is $29, and the Business Plan costs $59 per month.
Additionally, Sniply provides an Enterprise plan tailored for large-scale operations. For details and pricing regarding the Enterprise plan, it is recommended to contact Sniply directly for a personalized quote.
All plans come with a 14-day free trial, allowing you to test the platform before committing. There is also a discount available for annual payment options.
The specific features, such as the number of team members, brands, and monthly clicks, as well as customization options, differ between the various plans. To determine the plan that best suits your needs, it is advisable to review the details provided by Sniply or reach out to their support team for further assistance.
6. Blink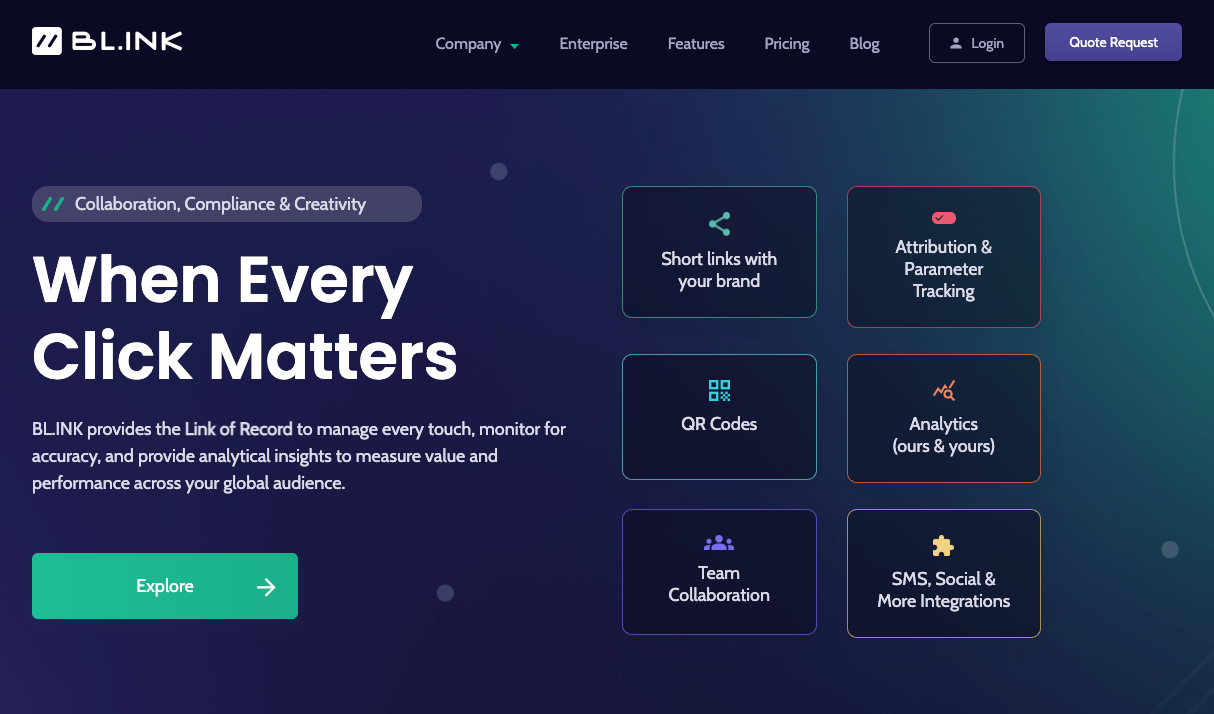 Blink stands out not only as an exceptional URL shortener choice but as a comprehensive link management platform that offers a holistic solution for managing, monitoring, and evaluating every aspect of your engagement journey.
It enables you to analyze the performance of your links through detailed reports or seamlessly integrate with popular web analytics tools like Google and Adobe.
Moreover, the platform provides a variety of integration options, allowing you to connect with other tools through its open API. It offers scalability to cater to the needs of your entire organization, whether it's a small-scale operation or a global team handling numerous campaigns.
To add to its appeal, Blink offers a range of security and privacy features, including enterprise-grade security measures that align with the compliance requirements of highly regulated industries. Additionally, the platform allows flexible user permissions, ensuring control over access and maintaining data privacy.
Features
You can analyze link performance through Blink reports or integrate with popular web analytics tools like Google and Adobe, you can decide which features you need and pay for the right package.
Pricing
Blink offers four main plans, along with an Enterprise option that requires contacting them directly for pricing information. Each plan includes a 21-day free trial period.
Expert Plan is $48, SMB Plan is $99, Team Plan is $299, and Business Plan costs $599 per month
Although the free plan is not advertised on the plans page, it is mentioned in the FAQ. Blink states that if you choose not to continue with the service after the 21-day free trial, you can still utilize their free plan. There are no specific details are provided regarding the features included in the free plan.
6 Reasons Why You Should Use a URL Shortener Service
There are several reasons why you might consider using URL shorteners:
Simplified Sharing: URL shorteners condense lengthy and complex URLs into shorter, more manageable links, making them easier to share verbally, in print, or on platforms with character limitations like social media.
Enhanced Visual Appeal: Shortened URLs contribute to a visually appealing presentation of your content, whether it's in emails, social media posts, or advertisements, creating a cleaner and more professional look.
Effective Tracking and Analytics: Many URL shorteners offer tracking and analytics features, providing valuable insights into link performance. You can track click counts, user locations, referral sources, and other engagement metrics, empowering you to assess campaign effectiveness and make informed decisions.
Branding Reinforcement: URL shorteners often allow you to customize shortened links with your brand name or relevant keywords. This reinforces your brand identity and improves brand recognition among users.
Retargeting and Remarketing Potential: Certain URL shorteners support retargeting capabilities, enabling you to incorporate retargeting pixels or tags into your shortened links. This facilitates tracking and targeting of users who have interacted with your links, bolstering your remarketing efforts and enhancing conversion rates.
Convenience and Versatility: URL shorteners offer a convenient and versatile solution for managing and organizing links. They often include additional features such as link expiration, editing, bundling, and categorization, streamlining the management and sharing of multiple links efficiently.
Conclusion
In conclusion, choosing the best URL shortener for your needs depends on various factors. Like desired features, pricing, customization options, analytics capabilities, and overall reliability.
The top contenders in the market offer concise and shareable links, improved aesthetics, tracking and analytics functionalities, branding opportunities, retargeting capabilities, and convenient link management.
By carefully assessing your requirements and considering the features and benefits offered by different URL shorteners, you can make an informed decision that aligns with your goals and enhances your online presence.
Whether you are an individual user, a small business, or a large organization, utilizing a reliable URL shortener can streamline your link-sharing process, optimize your campaigns, and ultimately drive better engagement and conversions.
If you are just getting started TinyURL is widely regarded as the best URL shortener for several reasons. Firstly, TinyURL has a generous free plan, making it accessible to individuals and businesses on a budget.
It offers a user-friendly experience with its simple and intuitive interface. Additionally, it provides customization options, allowing users to personalize the shortened URLs with their preferred text, making them more memorable and brandable.
FAQ
Are There Free URL Shortener Services Available?
Yes, there are several free URL shorteners available. Many popular URL shortening services offer free plans with basic features and limitations. Like the number of links you can shorten or the analytics provided.
What Is a URL Shortener?
A URL shortener is an online tool that takes a long URL and generates a shorter, condensed version of it. The shortened URL redirects users to the original long URL when clicked.
Why Should I Use a URL Shortener?
URL shorteners offer several benefits such as making links more shareable, improving aesthetics, providing tracking and analytics capabilities, offering branding opportunities, and enabling retargeting and remarketing efforts.
Are URL Shorteners Safe to Use?
Most reputable URL shorteners are safe to use. However, it's important to be cautious and use trusted URL-shortening services to avoid potential security risks. Beware of shortened links from unknown or suspicious sources.
Can I Track the Performance of My Shortened Links?
Yes, most URL shorteners offer tracking and analytics features. You can gather data on click counts, geographic location of users, referral sources, and other engagement metrics to evaluate the effectiveness of your links and campaigns.
How Do I Choose a Reliable URL Shortener?
When selecting a URL shortener, consider factors such as reputation, user reviews, available features (e.g., analytics, customization), security measures, ease of use, and any additional services or integrations offered by the platform.