In this article, you will be diving into the world of Google review widgets and WordPress plugins for them.
Are you looking for a WordPress plugin to add Google reviews to your website? You have come to the right place!
Adding Google Business reviews on your website can be a major factor in helping you build trust and gain more customers.
By displaying reviews, customers will be more likely to purchase from you.
Customer reviews are an invaluable tool that can help you quickly develop trust and grow your business. Displaying the reviews on your website will give potential customers more confidence, making them more likely to purchase your products or services.
Adding WordPress Google reviews to a website is a breeze with the help of the correct plugin; the process of embedding them is incredibly simple.
In this article, we will touch on the most important details of Google review plugins as well as the most used and best ones out there.
What are Review Widgets?
A Google reviews WordPress plugin allows you to display reviews on your business website. Review widget is a piece of code or software that allow you to embed user reviews and ratings from your website onto other websites.
These widgets help to increase visibility and brand awareness by displaying your company's reviews and ratings on other websites. They can also be used to share customer reviews across social media platforms, providing further potential for increased visibility.
You can pick from a variety of plugins so you can find the best one to reflect your company's brand.
Whether you're just starting out or have already established a presence in your industry, a widget can help to build your online reputation and increase conversions.
Advantages of Review Widgets
Adding a review widget to your website can be incredibly beneficial, as it can help to build consumer trust, boost SEO, and enhance conversions.
Potential customers who visit your WordPress site will usually trust the word of other customers, so why not utilize the easiest marketing strategy there is – reviews.
Customers will find it easy to rate your business when you have a widget, which can contribute to the success of your website.
How Does a Google Review Plugin work on WordPress?
These plugins display your business's Google reviews on your website. These reviews are displayed in a widget, which you can customize to match the look and feel of your website. Most of the plugins also allow you to moderate the reviews widget by using filters.
There is no shortage of Google review WordPress plugins; however, it can be challenging to determine the most reliable ones. As each plugin offers different features and capabilities, it is sensible to select from a list of the top plugins available.
This is why we have compiled a list to make your choice easier. Here are the best Google Reviews WordPress plugins that websites need.
The Top 10 Google Reviews Plugins for WordPress Websites
1) Widgets for Google Reviews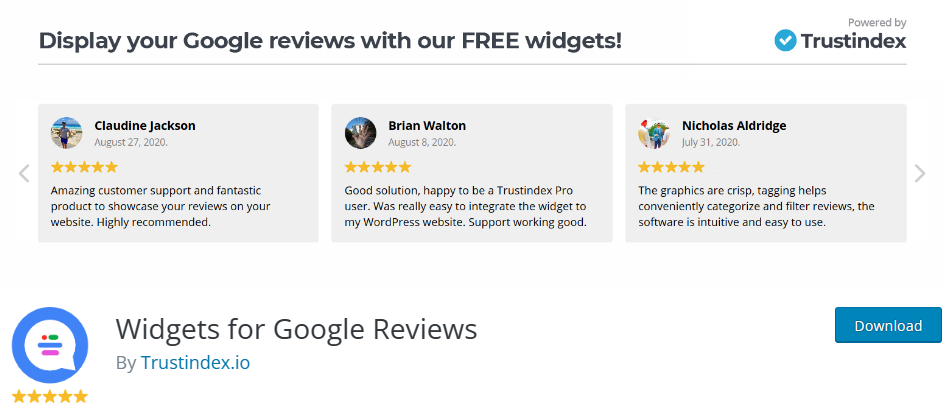 Our free plugin provides the easiest way to display Google Reviews on your WordPress site, as it doesn't require the usage of a Google Places API key.
The free version of this plugin allows you to create and display your own stunning reviews widgets in order to build customer trust and boost your SEO.
With the help of these widgets, you can filter the relevant reviews to your liking as well.
This plugin is amazing for displaying reviews, with up to 10 appearing at a time. There are over 40 widget layouts to choose from and customize for a unique look. Plus, select from 25+ different widget styles to make your widgets stand out.
As an added bonus, there are review filtering options available to highlight the best reviews for your business.
The premium package of Trustindex allows you to showcase reviews from some of the most popular sites, such as Facebook reviews, Tripadvisor, Airbnb, Yelp reviews, etc., as well as sync all your Google reviews in our system.
Furthermore, you can customize the widget image with various options to better target your demographic and increase the chances of conversion.
2) Plugin for Google Reviews
This free plugin allows you to incorporate several widgets and Google locations throughout your WordPress site.
Additionally, it provides a sleek, dynamic slider that is compatible with a variety of devices, ranging from smartphones to desktop computers. To attract even more reviews, you can add a 'Write a review' button to your website.
However, if you wish to showcase all of your reviews with ongoing automated updates, you will need to purchase the premium version.
3) WP Google Review Slider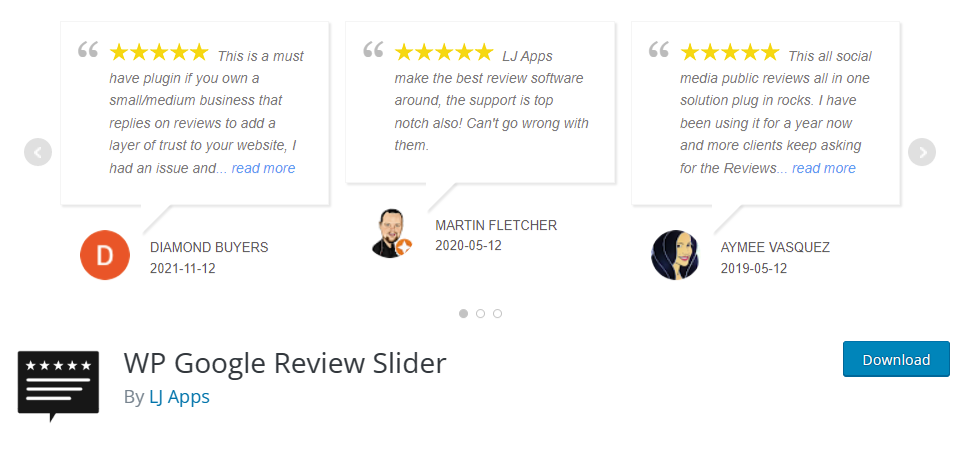 With WP Google Review Slider, you can create sliders for your reviews that look similar to image sliders, but with your reviews instead of the images.
If you don't want to use sliders, you can opt for a simple, responsive grid or list.
This review plugin provides a variety of display options, such as the capability to show or hide star ratings and dates.
It also enables you to hide reviews that don't include text and to select the background and text colors you want for your Google Business reviews widgets.
Additionally, you can choose how many Google Places reviews you want to display per row.
4) Reviews and Rating – Google My Business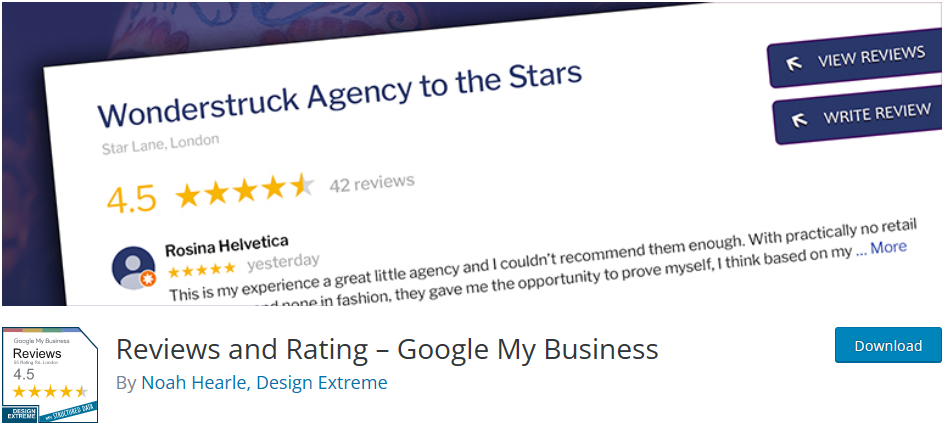 This Google Reviews WordPress plugin collects reviews using your Google Place ID and displays them on your website in a list or block.
You can customize the appearance of the reviews widget with columns, custom ordering within review items, avatar hiding/overwriting, data formatting, and more.
It also comes with pre-designed layouts like badge themes, tile themes, responsive columns, etc.
Furthermore, you can show Google Places reviews with filters like rating range, review length range, offset, language, and manual review selection.
5) EmbedReviews
With EmbedReviews, you can grow your customer reviews and acquire new buyers with the help of its advanced review management tool.
The WordPress Google reviews plugin works for all EmbedSocial tools, so there is no need to install or maintain multiple plugins. Showcase your Google testimonials on your WordPress website with modern and completely customizable widgets to promote your local business or e-commerce.
You can easily add your Google Reviews to your WordPress website, with or without a WordPress plugin, using a tool such as EmbedReviews.
6) Everest Google Places Reviews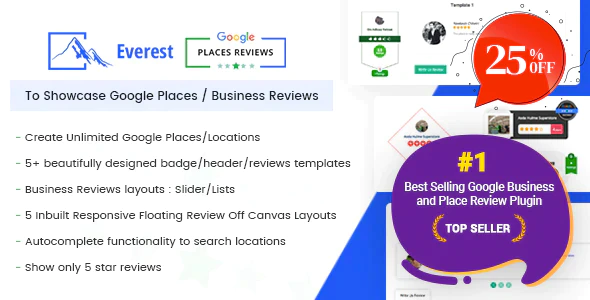 Everest Google Places Reviews is a great review plugin for WordPress that can be inserted via shortcodes and widgets.
It offers a 5-star rating system that can be customized with sliders, lists, and more. Five distinct layouts are available, all of which are fully responsive so they look great on any device.
A 'Rate Us' button can also be added to your website, allowing users to provide feedback and helping to increase your conversion rate.
You can also conceal the profile image of people who have already submitted reviews, and cap the number of words that can be used in one review.
7) Customer Reviews for WooCommerce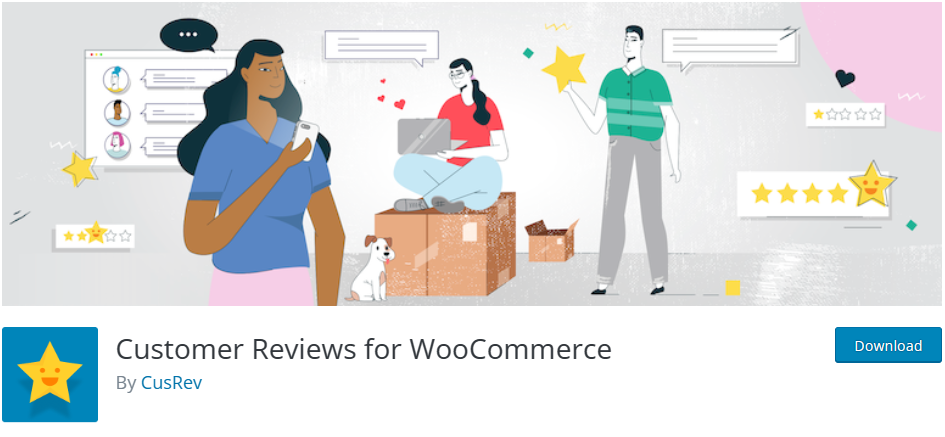 Customer Reviews for WooCommerce is a WordPress customer reviews plugin that enables you to embed an attractive review section on your online store.
This plugin encourages your customers to leave product reviews, helping you increase customer engagement, promote customer loyalty, and enhance your website's SEO.
Furthermore, you can set up automated review request reminders for customers who recently purchased a product from your store, and even provide them with a discount code for future orders.
This plugin also integrates with Google Shopping, allowing you to display review data in Google searches.
Additionally, it allows you to add a tab with Q&A or FAQs to product pages on your website.
8) Google Places Reviews Pro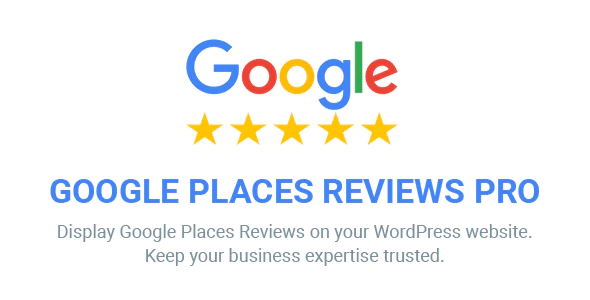 Google Places Reviews Pro is an outstanding google reviews WordPress plugin for creating a WP Google review slider. It allows you to present your business profile with a range of attractive customization options.
This plugin permits you to show your business reviews in a widget or body. It offers a reviews widget with multiple display settings so that your presentation is tailored to your needs.
Furthermore, Google Places Reviews Pro enables you to customize the display settings to prioritize the most recent and positive reviews.
You can also take advantage of the shortcodes and shortcode generator to feature the google reviews in any order or location you choose.
Using this plugin, you can display detailed information about the reviews like the business name, website, and social media.
9) WordPress Google Reviews & Ratings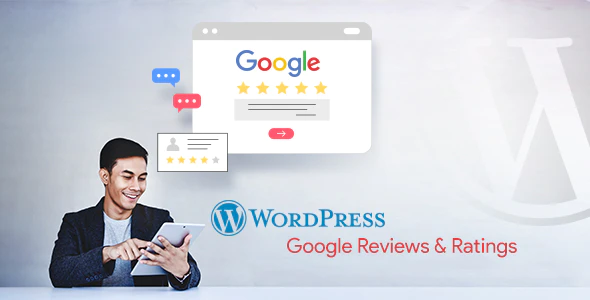 The Google Reviews WordPress plugin is an excellent choice for displaying reviews on your website in an attractive and organized manner.
This plugin offers various display methods, sorting options, and customization options to make your Google Places reviews look uniquely beautiful. You can choose to embed review sliders, lists, or grids, and select the number of reviews to show.
It also supports translations and allows you to hide or show the 'see all reviews' and 'add a review' buttons.
10) Reviews Block for Google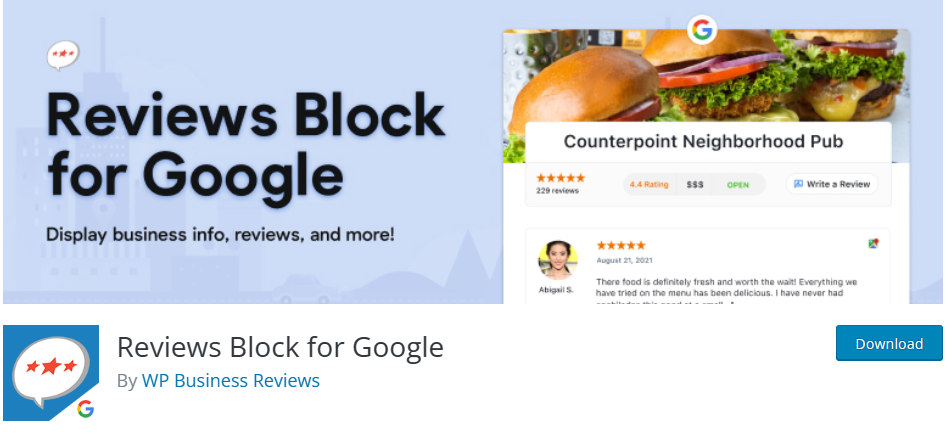 Reviews Block for Google, the final plugin for WordPress on our list, boasts more than 4000 active installations and offers a wide array of features through its widgets.
The plugin makes it simple to show up to five Google reviews for your business.
The new plugin requires a Google API key for the application to be used. This plug-in has an editing block for adding Google Reviews instead of using an additional script or a different interface. If it suits your needs you can choose to use block-based methods. But there's no option to customize your review. Installation and activation of the Plugin are necessary for your site's operation.
You can decide whether to show or hide your Business's hours, Location, Directions, and Contact Information by selecting from the block options.
How to Embed Google Reviews in WordPress
Widgets for Google Reviews provides the most straightforward method for adding Google Reviews to WordPress, without the need for a Google Places API key.
We will guide you through the steps you need to take in order to get a beautiful review widget with your Google reviews displayed on your site.
1) Install the plugin
To start, you must install and activate the plugin on your website. If you are using WordPress.com, you need to be subscribed to a WordPress.com plan that allows you to install plugins.
2) Connect Place ID
After installing and activating the Trustindex.io plugin, you can begin the process by accessing the new menu on your WordPress Admin.
To begin, you must enter your Place ID to inform the plugin which business's reviews you would like to show in the pop-up window after clicking Connect.

3) Customize the review widget layout
Once you click the 'Connect' button, the plugin will automatically retrieve genuine Google Reviews for your company.
You can select from a number of formats, such as sliders, lists, grids, badges, and more.
After finding the layout that you like, press the blue 'Select' button beside it.
Then, you can customize the style of the layout you have chosen.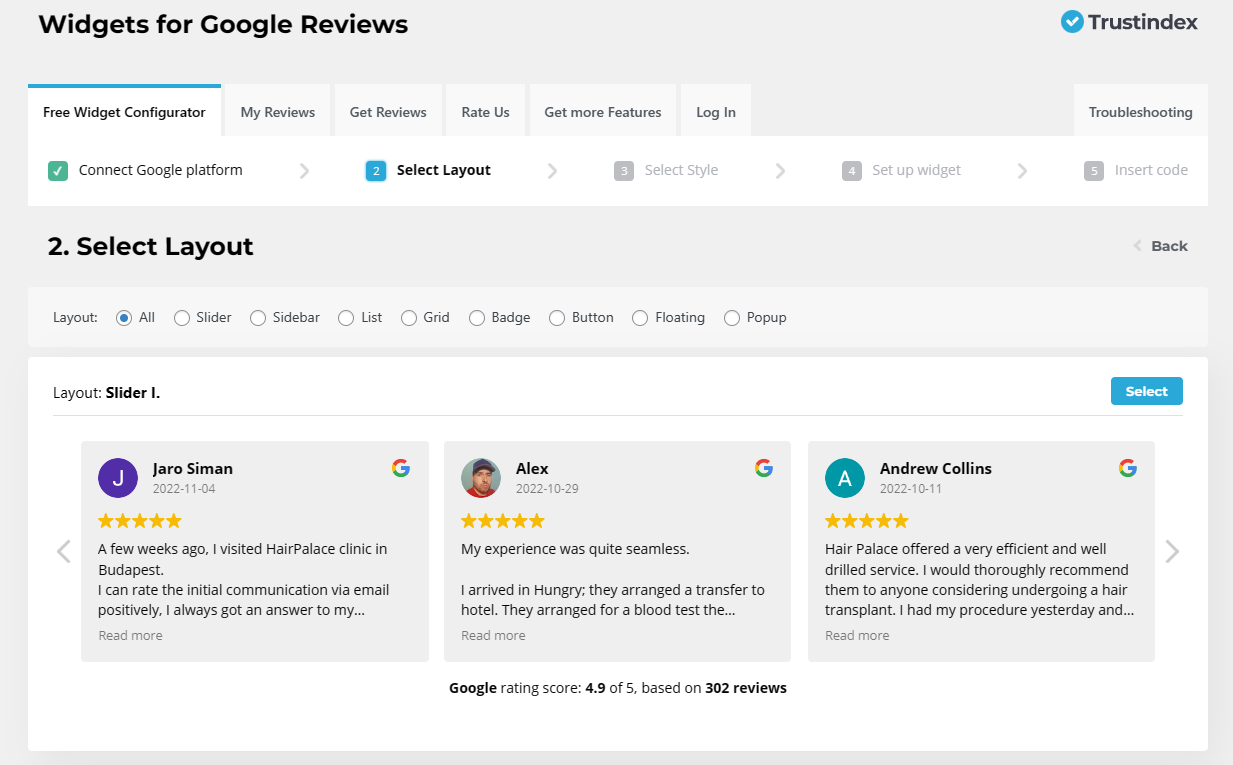 4) Choose the review widget style
After picking your layout, you can further personalize it by deciding on different background colors or borders.
Once you're satisfied with the look of your widget, click on Select.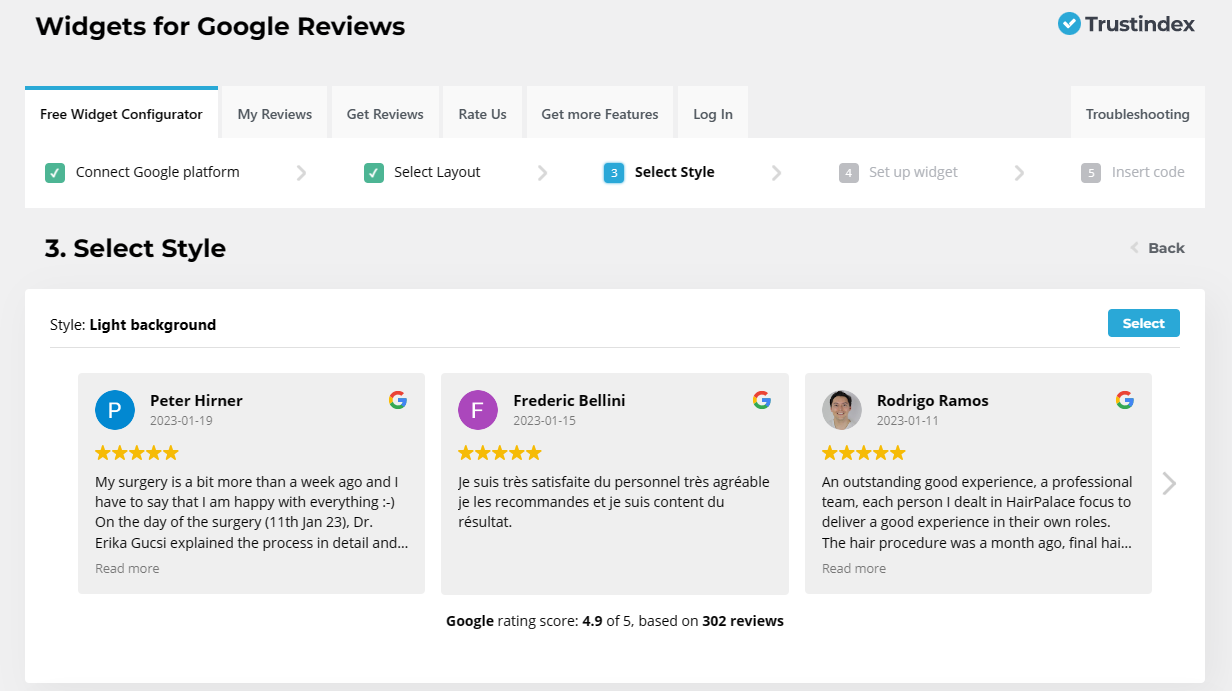 5) Modify the widget settings
After that, you can set up the way your widget operates, like deciding which reviews to show and if a reviewer's profile picture should be included. For instance, you could select a preferred language or star rating filter for the google reviews widget.
When you're finished with customizing, click Save and get code.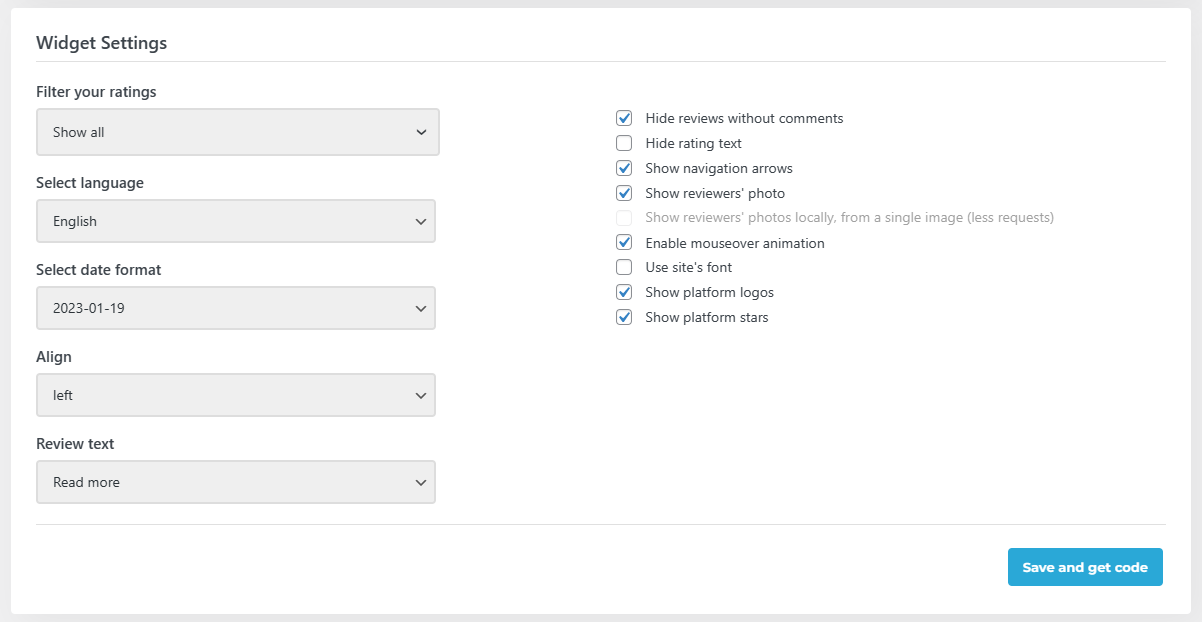 6) Copy and embed the Google reviews widget
At the end, you need to click Copy to clipboard and insert the shortcode provided by the plugin to the position where you would like to show your Google Reviews widget on your website.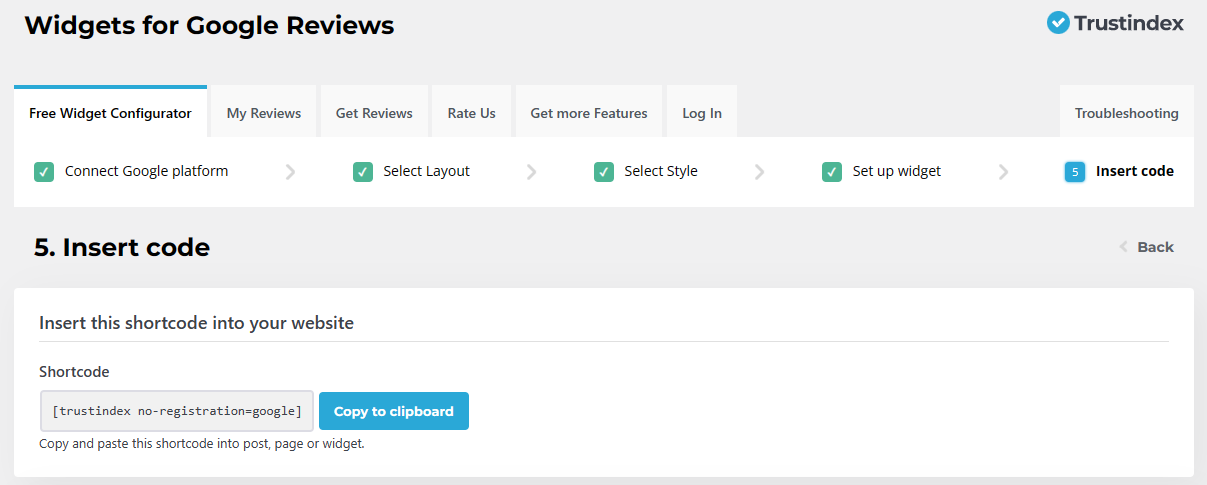 That's all! You can embed google reviews into your website in no time.
Frequently Asked Questions
What is a Google Reviews WordPress plugin?
If you have a WordPress page or website, you can use a Google Reviews WordPress Plugin to display customer reviews in widgets. Using a plugin to display reviews can help you boost your online reputation, build customer loyalty, and increase trust in your business.
What is a Google review widget?
A Google Review widget is a type of widget that can be embedded into a website, allowing visitors to quickly and easily leave reviews and ratings for a particular business. It is a great way to encourage customers to leave reviews and feedback, which can help to increase visibility and attract more customers to your business.
How to embed a Google reviews widget on your website?
You can easily add a Google reviews widget to your website by copying the provided code and pasting it into the desired place on your page. For a more detailed guide, click here.
Can I embed Google Reviews onto any website?
If you're looking to embed Google Reviews, you can easily do so on any platform you use for your content with a widget. You can find more information and help about the embedding process here on the most popular platforms.
Are Google Business reviews important?
Google reviews are crucial for businesses because they provide credibility and can help to form a positive online reputation, which has a direct impact on customer purchase decisions.
Do Google reviews have more credibility than other reviews?
It is probable that when customers are deciding on a purchase, their first source of information is likely to be Google reviews.
What's the best place to embed google reviews on a website?
To maximize the benefits of Google reviews, showcase the widget in a noticeable place on your homepage so visitors can quickly see the excellence of your customer service.
Can I use filters on my review widget before embedding it on my site?
With many plugins on this list, you have the option to use filters in order to only display the feedback you want your website visitors to see, such as excluding negative reviews and more.
Can I display reviews in different styles?
Most of these plugins only offer a few styles of slider widgets. However, Trustindex has the option to choose from various other styles and layouts – sliders, sidebars, grids, lists, badges, buttons, etc. It is available in the free plugin offers, but further customization is also available for subscribers of Trustindex.
Are WordPress Google Reviews plugins free?
There are various options for plugins compiled in this list for embedding Google reviews – some of them are completely free, and some are subscription based. You have to decide which one suits your business best – a free version or something more premium with further features.
Should you get a premium version of Google Reviews WordPress plugins?
While many on this list offer a free version of providing basic Google reviews widgets, it might be more advantageous for your business to invest in review management on a deeper level.
Premium packages usually offer many more features a company might need in order to grow its online reputation such as syncing new reviews automatically while using a free plugin can save you a few bucks.
Conclusion
In this article, we wanted to provide you with all the essential details about the best Google Reviews WordPress plugins. If you want to improve your website, you've come to the right place. All you have to do now is decide on the best WordPress plugin for you and your business.
Having Google business reviews on your website is an extremely beneficial tool.
Not only do they help to create and maintain relationships with your customers, but they also provide valuable insight into what aspects of your business you should focus on improving, as well as what you're doing right while boosting your performance in search engines, especially during a Google search.
Additionally, online reviews serve as a form of social proof, helping potential customers to trust your products and services. A great way to ensure your reviews are high quality is to use a Google business reviews plugin and embed reviews into your sites.
Make sure you pick the right one and you'll be well on your way to building trust with your visitors.