Creating a WordPress Sitemap: Are you curious about the purpose of an XML sitemap and how to incorporate it into your WordPress site? An XML sitemap is a tool that enables search engines to effectively traverse your website's content by providing them with a machine-readable list of all your content. This article will elucidate the concept of an XML sitemap and outline the straightforward process of generating a sitemap within WordPress.
What does the term XML sitemap mean?
A sitemap is a list of all the pages on a website, used by search engines to crawl and index your website. To create a sitemap for your WordPress website, you can use a plugin like Yoast SEO or Google XML Sitemaps.
An XML sitemap is a file that contains a list of all the content on a website in an XML format, which enables search engines like Google to easily locate and index the content. In the past, HTML sitemaps were common on government websites, but nowadays, XML sitemaps are the norm and are targeted specifically at search engines.
XML sitemaps help website owners notify search engines of all the pages on their site, as well as the relative importance of links and the frequency of updates. While XML sitemaps don't directly enhance search engine rankings. They can facilitate the process of crawling a website, which can lead to more search traffic and improved SEO rankings.
Why Do You Need XML Sitemaps?
Sitemaps play a crucial role in search engine optimization (SEO) by facilitating the indexing of all pages on a website. While merely adding a sitemap won't affect search rankings, it can inform search engines about any unindexed pages.
Sitemaps are especially beneficial for new blogs or websites without backlinks since they help search engines locate content. In fact, Google and Bing permit new website owners to submit a sitemap through their webmaster tools to aid the indexing process.
Even established, popular websites benefit from sitemaps as they can highlight important or frequently updated sections of their sites to help search engines index content appropriately. To learn how to create an XML sitemap in WordPress, keep reading.
What Is the Best WordPress Sitemap Plugin?
There are several popular and reliable WordPress sitemap plugins available. The best one depends on your specific needs and preferences. Some of the most popular sitemap plugins for WordPress include Yoast SEO, All in One SEO Pack, and Rank Math.
Yoast SEO is one of the most popular plugins for WordPress. It offers a range of features, including WordPress sitemap creation. It allows you to customize your sitemap's content, add images, and exclude specific pages or posts.
All in One SEO Pack is another popular plugin that offers various SEO features, including sitemap creation. It automatically generates XML sitemaps and supports custom post types, taxonomies, and archives.
There are other plugins that help you in creating XML sitemaps, like Rank Math.
Overall, the best sitemap plugin for WordPress depends on your specific needs and preferences. You can try out different options and choose the one that works best for your website.
3 Easy Methods to Create a Sitemap for Your Website
Method 1 – Generating an XML Sitemap in WordPress Using Yoast SEO Plugin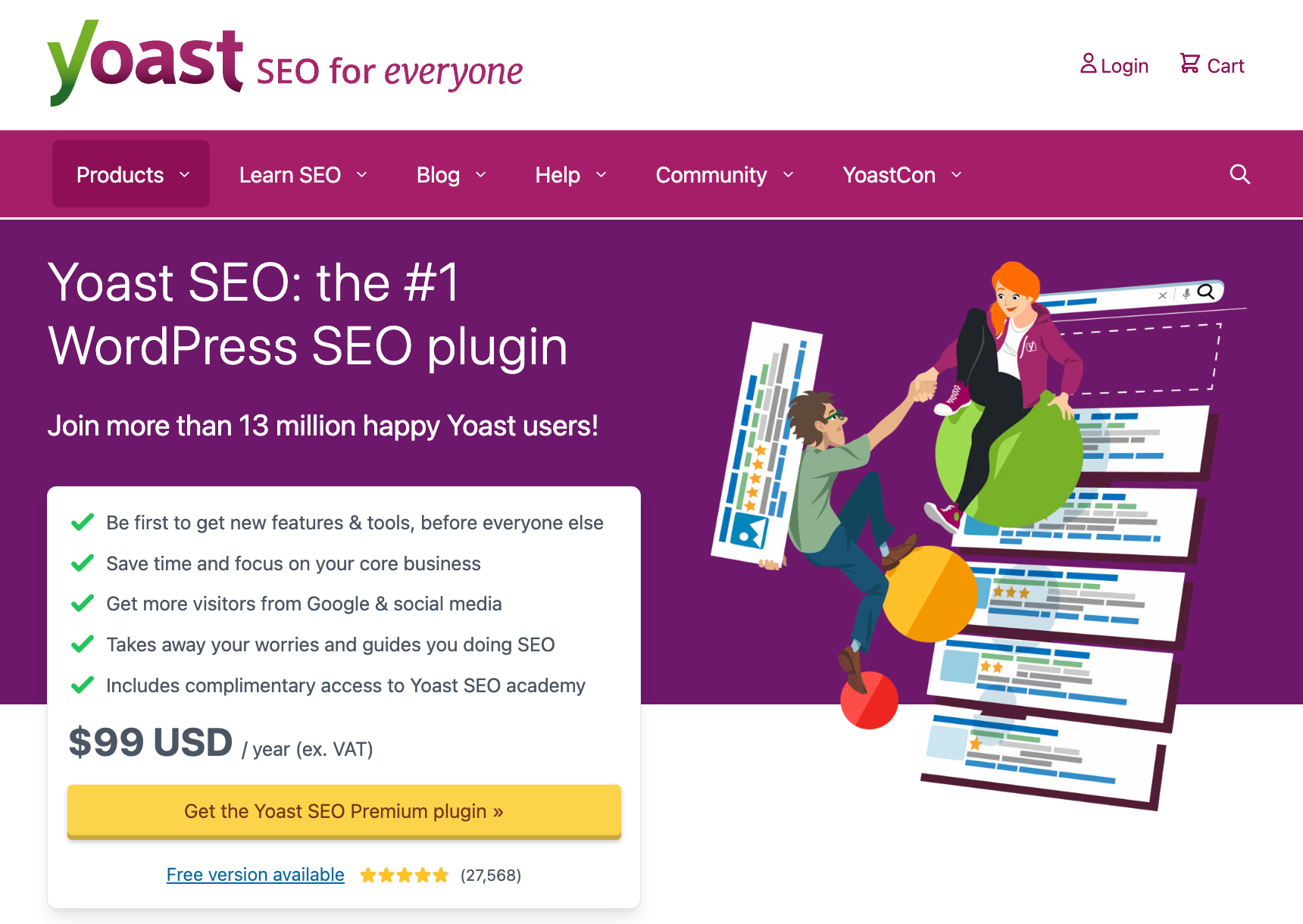 If you're using Yoast SEO as your WordPress SEO plugin, it will automatically enable XML sitemaps for you. To get started, first, you need to install and activate the Yoast SEO plugin.
Once the plugin is activated, go to the SEO – Settings page. Scroll down to the 'XML Sitemap' option and ensure that it's turned on.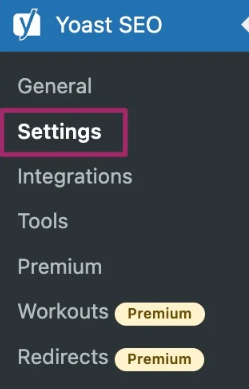 To activate the XML sitemaps feature, you need to toggle the switch next to the "Enable feature". This can be done on the XML sitemaps card. Conversely, to turn off the feature, you can toggle the switch off.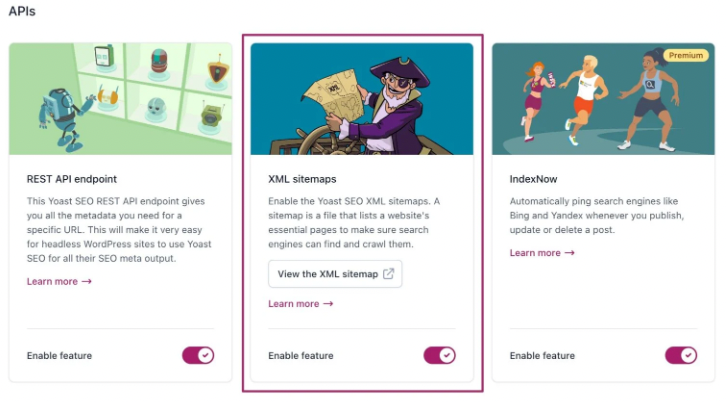 Click on the "View the XML sitemap" button to open your website's XML sitemap in a new tab for viewing. You can also find your XML sitemap by adding "sitemap_index.xml" to your website address, like this:
"https://www.yourexamplewebsite.com/sitemap_index.xml"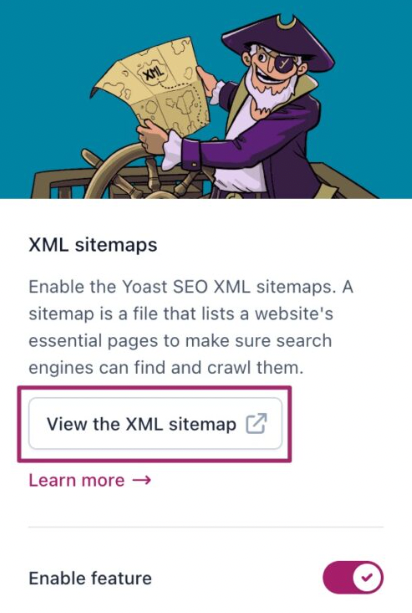 Yoast SEO produces several sitemaps for various content types. By default, it generates sitemaps for posts, pages, authors, and categories.
Method 2 – Creating an XML Sitemap in WordPress Using AIOSEO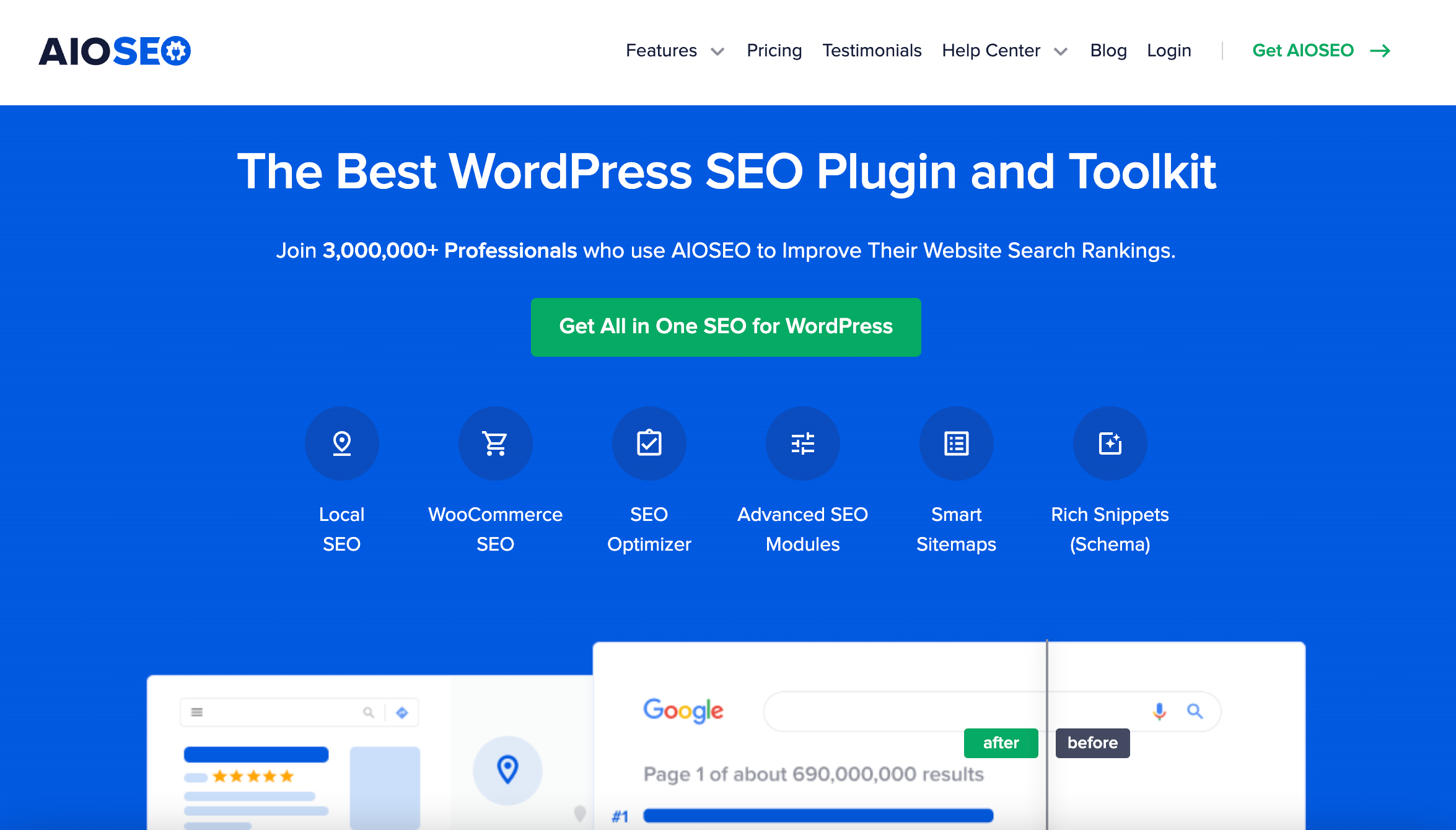 To create an XML sitemap with a WordPress sitemap plugin (also it is a plugin for SEO), you can use the All in One SEO (AIOSEO) plugin, which is the easiest way to do it.
AIOSEO is a comprehensive WordPress SEO plugin that offers a set of tools to optimize your blog posts for SEO. To start, you'll need to install and activate the AIOSEO plugin.
The sitemap feature is included in the AIOSEO free version. If you want advanced news sitemaps and video sitemaps, you'll need to upgrade to the Pro version.
After activating the plugin, on your WordPress dashboard go to the All in One SEO – Sitemaps page to review the sitemap settings. By default, AIOSEO will enable the Sitemap feature and replace the basic WordPress sitemaps.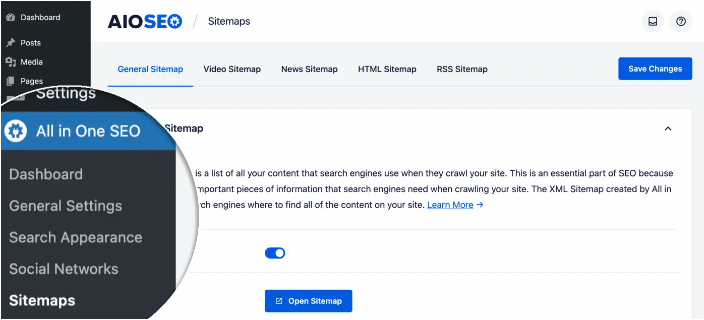 To preview your sitemap, you can click on the "Open Sitemap" button. Alternatively you can add sitemap.xml to your website's URL, like this:
"https://www.yourexamplewebsite.com/sitemap.xml"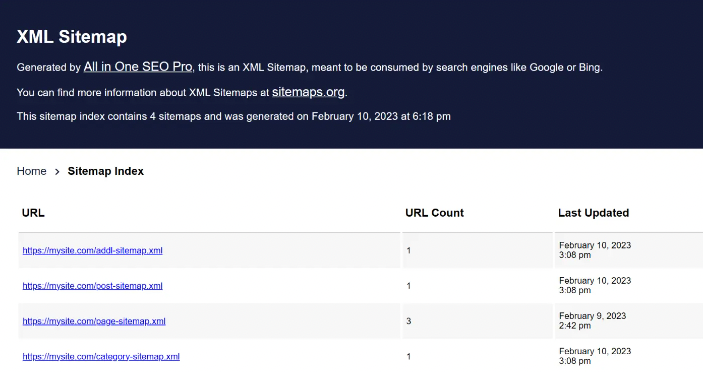 Advanced Settings
For most beginners, the default sitemap settings will work fine. However, you can customize the sitemap settings by scrolling down to the Sitemap settings section.

Here, you can manage sitemap indexes and include or exclude post types and taxonomies (categories and tags). You can also enable XML sitemaps for date-based archives and author archives.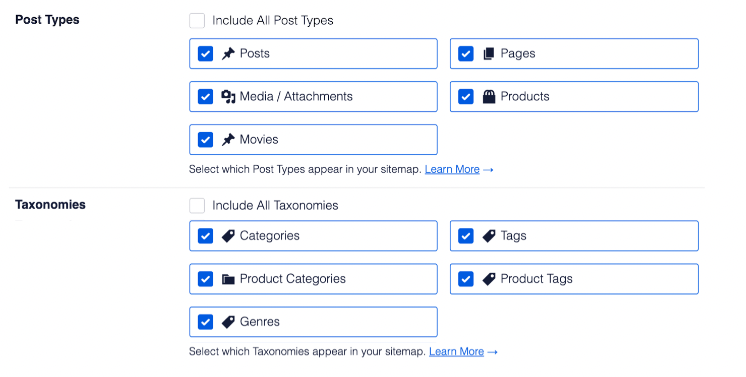 If you have stand-alone pages that are not part of WordPress, like a Shopify store page or a contact form, you can add them to your WordPress sitemap using AIOSEO.
To do this, scroll down to the Additional Pages section and turn it on. This will allow you to add any custom pages you want to include.
To add a custom page, simply enter the URL and set a priority. You can also choose the frequency of updates and the last modified date for the page. Click on "Add New" to add more pages.
To exclude specific posts or pages from your XML sitemaps, you can use the Advanced Settings section under the All in One SEO — Sitemaps page. You can also remove a post or page from your XML sitemaps by making it no-index and no-follow. This will block search engines from showing that content in search results.
Finally, AIOSEO allows you to create additional sitemaps, such as a video or news sitemap. If you regularly embed videos in your blog posts or pages, you can create a video sitemap. Which will allow search engines to display posts in search and video search results along with a video thumbnail. You can also create a news sitemap if you run a news website and want to appear in Google News search results.
Overall, AIOSEO is a powerful and flexible WordPress plugin that offers all the features you need at an affordable price.
Method 3 – Create an XML Sitemap Without Any Plugin
The approach outlined here is quite rudimentary and has limitations in terms of available features.
WordPress did not have a built-in sitemap feature until August 2020. However, with the release of WordPress 5.5, a basic XML sitemap feature was added.
This feature enables users to generate an XML sitemap in WordPress automatically, without the need for a plugin. By adding "wp-sitemap.xml" to the end of the domain name, the default XML sitemap can be viewed, as in this example:
"https://www.yourexamplewebsite.com/wp-sitemap.xml"
WordPress implemented this XML sitemap feature to ensure that new WordPress websites would not miss out on the SEO benefits that come with having an XML sitemap. Nevertheless, this feature is not particularly versatile. It doesn't offer easy control over what is included or excluded from the XML sitemaps.
Fortunately, almost all of the leading WordPress SEO plugins come equipped with their own sitemap functionality. These plugins provide superior sitemap features and enable users to manage the content that is included or excluded from their WordPress XML sitemaps.
How to Submit Your XML Sitemap to Search Engines?
Search engines have the capability to detect sitemaps automatically. Although it is still advisable to submit your sitemap manually to ensure that search engines can find it. This is particularly useful for newly created websites.
To submit your XML sitemap to Google, you can use Google Search Console, which is a free tool that helps website owners monitor and maintain their site's presence in Google search results. To do this, you first need to sign up for an account and select a property type. We recommend choosing a URL prefix as it is simpler to set up.
After providing your website's URL, you will be asked to verify ownership of the site. The HTML tag method is the recommended method to use. Simply copy the code provided by Google and use AIOSEO or WPCode plugin to add the code to your WordPress site.
Next, go back to the Google Search Console and click on the 'Sitemaps' button from the left column. Then, add the last part of your sitemap URL under the 'Add a new sitemap' section and click on the 'Submit' button. This will add your sitemap URL to your Google Search Console.
Submitting your XML sitemap to Bing is similar to submitting it to Google. Bing also offers a tool called Bing Webmaster Tools that helps website owners monitor their website in the Bing search engine. You can either import your site from Google Search Console or add it manually to Bing Webmaster Tools.
After adding your site, Bing will ask you to verify ownership of the website using the Meta tag method. Use WPCode to add the code provided by Bing to your WordPress site, and then submit your XML sitemap.
Expanding Your Website's Reach with XML Sitemaps
Let's now explore how you can utilize the XML sitemap that you have submitted to Google and Bing.
It's important to note that while the XML sitemap doesn't directly improve your search rankings, it helps search engines discover your content, regulate your crawl rate, and enhance your website's visibility in search engines.
To benefit from the XML sitemap, it's crucial to monitor your sitemap stats in Google Search Console. Doing so can reveal crawl errors and pages excluded from search coverage.
Under the charts, you can click on the tables to see the actual URLs that Google has excluded or not indexed.
Usually, Google may skip pages with duplicate content, no content or very little content, or pages that have been excluded by your website's robots.txt file or meta tags.
However, if there's an unusually high number of excluded pages, it's advisable to review your SEO plugin settings to ensure that you're not blocking any content.
What Is an HTML Sitemap How to Add It to Your Website?
Do not confuse an XML sitemap with an HTML sitemap. While XML sitemaps are the primary focus of this post, they're not the only type of sitemaps.
HTML sitemaps are designed to be more user-friendly. They are essentially a list of links that allow visitors to easily navigate around a website. HTML sitemaps don't need to include every single page on a site, but rather the most important ones.

Although it's possible to manually create an HTML sitemap, the Simple Sitemap plugin is a more automated approach that can save time and effort.
This plugin allows you to create a sitemap by selecting specific post types, limiting the number of child pages displayed, and excluding specific post IDs. The pages can also be ordered in various ways, and the plugin includes pre-made templates to help users quickly create different types of sitemaps.
Once the desired options have been set, the sitemap can be displayed on any part of the site with a simple shortcode. To use the plugin, first install and activate it, then navigate to Settings → Simple Sitemap.
From there, select one of the pre-made demos to get a shortcode or create a custom one using the different shortcode attributes.
Overall, the Simple Sitemap plugin is a great option for those who want to add an HTML sitemap to their WordPress site in a quick and easy way.
Conclusion
In conclusion, XML sitemaps are an essential tool to help search engines understand the structure and content of your website and to improve your website's visibility in search results.
While WordPress generates a basic sitemap automatically, using a dedicated plugin can provide more advanced options and customization. Among the many options available, the Yoast SEO and All in One SEO (AIOSEO) plugins are popular choices that offer powerful features and ease of use.
Ultimately, the best plugin for you will depend on your specific needs and preferences.
FAQ
Most Relevant Questions
What Is an XML Sitemap File?
An XML sitemap file is a document that lists all the pages on a website. It helps search engines crawl and index them more efficiently. It includes important metadata such as the last time a page was modified and how often it's updated etc.
Do You Need to Have a Sitemap for SEO?
Although having a sitemap is not mandatory, it is widely recognized as a best practice in website optimization. Since creating a sitemap is a quick and straightforward process that provides various benefits. We highly encourage you to create one for your website.
What Is a Sitemap in WordPress?
In WordPress, a sitemap is a list of all the pages, posts, and other content on a website that is designed to help search engines better understand the site's structure and content.
How Can I Add a Sitemap to a WordPress Website Without Using Any Plugins?
Upon installing WordPress, a sitemap is automatically generated for your website. There is no need for any additional action on your part. It is important to note, that this default sitemap is basic and may not contain all of the necessary information for search engines to properly crawl and index your site. In order to create a more comprehensive XML sitemap, it is recommended that you utilize a plugin designed for this purpose.
How Do I Create a Sitemap in WordPress?
There are several ways to create a sitemap in WordPress. You can use a plugin, such as Yoast SEO, to automatically generate a sitemap, or you can create one manually using XML.
Why Is Having a Sitemap Important for My WordPress Site's SEO?
A sitemap helps search engines crawl and index your site more efficiently, which can help improve your search engine rankings and increase organic traffic to your site.
Other Relevant Question
Can I Use More Than One Sitemap on My WordPress Site?
Yes, you can use multiple sitemaps on your WordPress site, as long as they are all properly formatted and submitted to search engines. However, using too many sitemaps can make it harder for search engines to crawl and index your site effectively.
Is It an Automatic Process for WordPress to Update Sitemaps?
Regardless of whether you utilize the built-in WordPress sitemap or a sitemap created by a plugin, it should update automatically every time you add a new page or post.
How Can I Add a Sitemap Without a Plugin?
By default, WordPress generates a sitemap for you without the need for any additional actions. However, the automatically generated sitemap is basic and might not meet your specific requirements. Therefore, installing a plugin to create a more advanced XML sitemap is advisable.
Do You Need to Use Google Search Console?
Google Search Console is a free tool provided by Google. It allows website owners to monitor and maintain their site's presence in Google search results. It provides valuable insights into how Google crawls and indexes your site, as well as any errors or issues that may be impacting your site's visibility. By regularly monitoring and using Google Search Console, website owners can optimize their sites for better search engine rankings and improve their online presence.
What Is the Difference Between an XML Sitemap and an HTML Sitemap?
An XML sitemap is designed specifically for search engines and contains information about all the pages and content on your site. An HTML sitemap is designed for human visitors. It typically only includes links to the most important pages on your site.
How to Make Sure My Sitemap Is Working Properly?
If you want to check your WordPress sitemap, you can visit the "Sitemaps" report in Google Search Console or use an SEO auditing tool such as Site Audit. These tools can help you identify and fix any issues related to your sitemap and other technical SEO problems.