AIOSEO, a popular WordPress plugin that claims to simplify and supercharge your SEO efforts.
In the world of digital marketing, Search Engine Optimization (SEO) plays a crucial role in determining the online visibility and success of a website.
With so many SEO tools available, finding the right one can be a challenge.
Read on for an in-depth AIOSEO review, examining its features, usability, and effectiveness.
Understanding the basics of AIOSEO
AIOSEO, short for All in One SEO, is a popular WordPress plugin designed to help website owners optimize their content for search engines and improve their overall SEO efforts.
It aims to simplify the process of optimizing websites by providing an array of features and tools in a user-friendly interface.
The primary goal of AIOSEO is to assist website owners in increasing their visibility on search engine results pages (SERPs) and attracting more organic traffic.
By implementing effective SEO strategies, websites can rank higher in search engine results, resulting in increased visibility, more visitors, and potential conversions.
7 Key features and benefits of AIOSEO
1.On-Page Optimization
AIOSEO provides tools and features to optimize individual web pages for search engines.
It includes options for adding meta tags, optimizing titles and descriptions, creating XML sitemaps, and managing canonical URLs.
These features ensure that search engines can easily crawl and understand the content of your website.
2. Keyword Research and Analysis
AIOSEO offers built-in keyword research tools to help you find relevant keywords and phrases that align with your content and target audience.
It provides insights into search volume, keyword difficulty, and suggestions for related keywords, allowing you to optimize your content effectively.
3.Social Media Integration
AIOSEO enables seamless integration with popular social media platforms such as Facebook, Twitter, and LinkedIn.
This integration allows you to optimize and customize how your content appears when shared on social media, including setting up Open Graph metadata and preview images.
4.XML Sitemaps and Search Engines
AIOSEO automatically generates XML sitemaps for your website, making it easier for search engines to discover and index your content.
Additionally, it provides options to submit your sitemap directly to major search engines like Google and Bing.
5.WooCommerce Integration
For online stores running on WooCommerce, AIOSEO offers specific features to optimize product pages and improve SEO.
It includes options for product schema markup, which enhances search engine understanding of product information and can result in rich snippets being displayed on search results.
6.Advanced SEO Analytics and Reports
AIOSEO provides detailed insights into your website's performance, including tracking keyword rankings, organic traffic, and backlinks.
These analytics help you measure the effectiveness of your SEO efforts and identify areas for improvement.
7.SEO Checklist and Optimization Tips
AIOSEO offers a helpful SEO checklist and optimization tips to guide you through the process of optimizing your website.
It provides step-by-step instructions and recommendations to ensure you are implementing best practices and improving your SEO strategy.
In conclusion, AIOSEO is a comprehensive SEO plugin for WordPress that offers a range of features and tools to simplify and enhance your website's search engine optimization efforts.
Whether you are a beginner or an experienced user, AIOSEO provides the necessary tools to optimize your content, increase visibility on search engines, and drive organic traffic to your website.
Easy Setup and User-Friendly Interface of AIOSEO
When it comes to using a plugin for SEO optimization, ease of setup and a user-friendly interface are essential factors to consider.
AIOSEO understands this need and strives to provide a seamless experience for users, regardless of their level of expertise.
Here's a closer look at the easy setup process and user-friendly interface of AIOSEO:
Installation and Configuration Process:
1.Installation
Installing AIOSEO is a straightforward process.
As a WordPress plugin, it can be easily found and installed from the WordPress plugin repository or directly from the AIOSEO website.
Once installed, you can activate the plugin with a few simple clicks.
2.Configuration Wizard
AIOSEO offers a configuration wizard that guides you through the initial setup process.
The wizard asks relevant questions about your website, industry, and goals to help you set up the plugin according to your specific needs.
This intuitive setup process ensures that you don't miss any crucial settings and saves you time.
Intuitive Dashboard and Navigation:
3.Dashboard Overview
Upon completing the setup process, you are greeted with a user-friendly dashboard that provides an overview of your website's SEO status.
It displays essential information such as XML sitemap status, SEO health score, and critical SEO notifications.
This snapshot gives you a quick understanding of your website's performance and areas that require attention.
4.Tab-Based Navigation
AIOSEO employs a tab-based navigation system, making it easy to access different sections and features of the plugin.
Tabs are logically organized, allowing you to switch between settings, on-page optimization, social media integration, WooCommerce integration, and more, with a single click.
This intuitive navigation enhances usability and ensures that you can find the desired features quickly.
5.Clear Settings and Options
AIOSEO presents its settings and options in a clear and understandable manner.
Each section is labeled and accompanied by helpful descriptions, making it easier for both beginners and experienced users to configure and customize their SEO settings.
AIOSEO aims to simplify complex SEO concepts and ensure that users can optimize their websites effectively.
6.Help Documentation and Tutorials
AIOSEO offers comprehensive documentation and tutorials to support users throughout their journey.
The documentation covers each feature in detail, providing step-by-step instructions, troubleshooting tips, and FAQs.
Additionally, AIOSEO's website includes video tutorials that visually guide users through various aspects of the plugin's functionality.
7.Responsive Design
AIOSEO's interface is designed to be responsive and compatible with different devices and screen sizes.
Whether you're accessing the plugin on a desktop, laptop, tablet, or smartphone, the interface adapts to provide a seamless user experience.
In conclusion, AIOSEO excels in providing an easy setup process and a user-friendly interface.
From a simple installation to an intuitive dashboard and organized navigation, the plugin ensures that users can navigate and utilize its features effortlessly.
With clear settings, comprehensive documentation, and responsive design, AIOSEO aims to make the SEO optimization process accessible to all users, regardless of their level of expertise.
Properly Setting Up The Best WordPress SEO Plugin
Setting up a WordPress SEO plugin can seem like a daunting task, especially if you're not familiar with SEO best practices.
However, with the right approach and guidance, you can effectively optimize your website for search engines without needing to hire an expert.
1.Research and Choose the Right Plugin
Start by researching and selecting a reputable SEO plugin that aligns with your needs.
Popular options include Yoast SEO, All in One SEO (AIOSEO), Rank Math, and SEOPress.
Consider factors such as user ratings, reviews, active installations, and the plugin's feature set.
Choose a plugin that provides the necessary tools and functionalities for your SEO goals.
2.Install and Activate the Plugin
Log in to your WordPress dashboard and navigate to the "Plugins" section.
Click on "Add New" and search for the SEO plugin you've chosen.
Once you find it, click on "Install Now" and then "Activate" to activate the plugin on your website.
3.Configure General Settings
Access the plugin's settings page, usually located in the sidebar menu of your WordPress dashboard.
Go through the general settings and configure them according to your preferences.
This may include options related to XML sitemaps, metadata, social media integration, and more.
4.Set Up Title and Meta Descriptions
Optimize the titles and meta descriptions of your web pages to accurately describe their content and attract users.
Use relevant keywords naturally in your titles and meta descriptions.
The SEO plugin will provide fields to set these details for each page or post.
Pay attention to character limits and best practices for optimal results.
5.Enable XML Sitemaps
XML sitemaps help search engines discover and understand the structure of your website. Look for the XML sitemap settings in the plugin and enable them.
Check that your sitemap is generating correctly and submit it to search engines like Google and Bing for indexing.
6.Utilize Keyword Analysis and Optimization Tools
Take advantage of the SEO plugin's keyword analysis and optimization features.
Conduct keyword research to find relevant keywords for your content and incorporate them strategically into your titles, headings, and content.
Ensure proper keyword density and avoid keyword stuffing, focusing on providing valuable and engaging content for your audience.
7.Leverage Social Media Integration
Many SEO plugins offer social media integration features that allow you to customize how your content appears when shared on platforms like Facebook, Twitter, and LinkedIn.
Set up social media metadata, such as Open Graph tags, to control the title, description, and featured image when your content is shared on social media.
8.Regularly Monitor Analytics and Reports
Keep track of your website's performance using the analytics and reporting features of the SEO plugin.
Monitor keyword rankings, organic traffic, and other relevant metrics to assess the effectiveness of your SEO efforts and make data-driven optimizations.
9.Stay Updated and Educated
SEO practices and algorithms change over time, so it's crucial to stay updated on the latest trends and best practices.
Regularly check for plugin updates and ensure you're using the latest version to take advantage of new features and bug fixes.
Engage in SEO communities, read blogs, and follow reputable SEO resources to stay informed and continuously improve your optimization strategies.
Remember, while setting up a WordPress SEO plugin is a significant step, it's only part of the overall SEO process.
Consistently creating high-quality content, optimizing website speed and performance, building high-quality backlinks, and providing a great user experience are also crucial.
Pricing and Plans for AIOSEO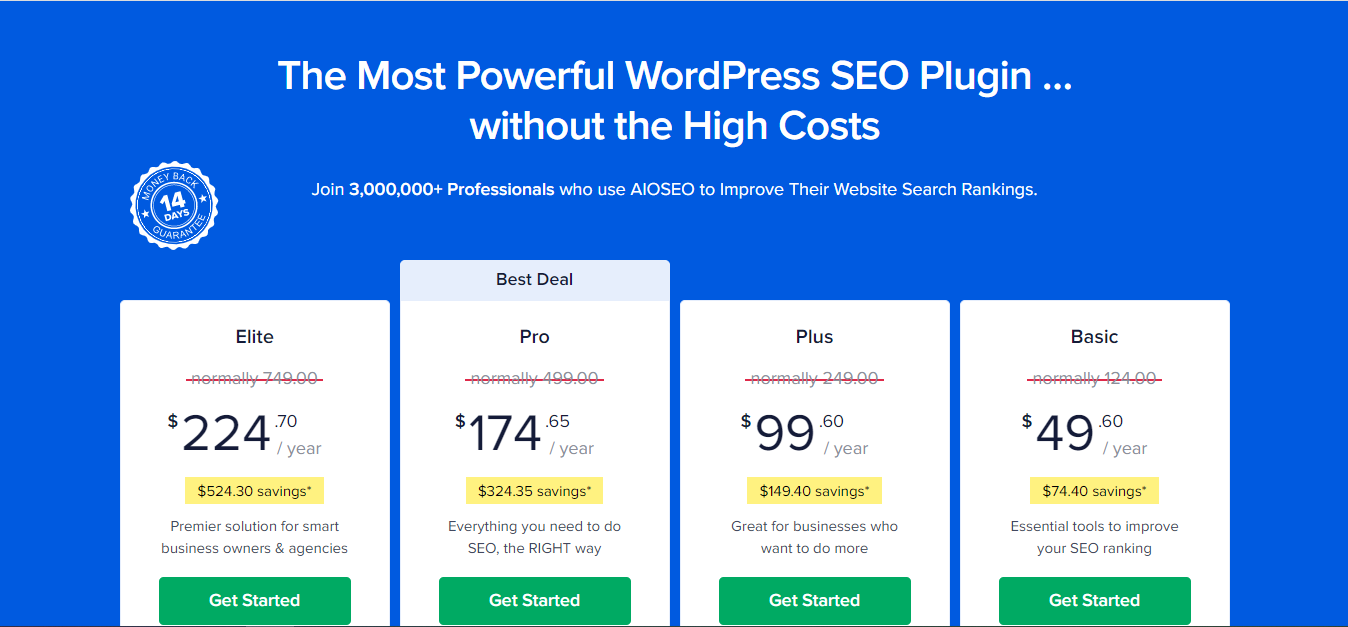 AIOSEO offers different pricing plans to accommodate various website needs and budgets.
Here is an overview of the pricing and plans available for AIOSEO:
Basic Plan:
The Basic plan costs $49.60 per year for use on a single website.
It includes essential features such as on-page optimization, XML sitemaps, social media integration, WooCommerce SEO, and advanced SEO analytics.
This plan is suitable for individuals or small businesses managing a single website.
Plus Plan:
The Plus plan costs $99.60 per year and covers up to three websites.
It includes all the features of the Basic plan, along with additional advanced features such as local SEO, news sitemaps, video SEO, and support for advanced WooCommerce SEO.
The Plus plan is ideal for small to medium-sized businesses managing multiple websites or online stores.
Pro Plan:
The Pro plan is the most comprehensive plan offered by AIOSEO and is priced at $174.65 per year.
It allows usage on up to ten websites and includes all the features of the Plus plan.
In addition, the Pro plan offers priority support, access to VIP Facebook group, and a comprehensive SEO training course.
This plan is suitable for agencies, developers, or businesses with a significant online presence.
Elite Plan:
The Elite plan is the most expensive plan offered by AIOSEO and is priced at $224.70 per year.
It allows usage on up to one hundred websites and includes all the features of the Pro plan.
In addition, the Elite plan offers Advanced 404 Management, SEO Statistics, Keyword Rank Tracking, Top Content Discovery.
AIOSEO also provides a 14-day money-back guarantee, allowing you to try the plugin risk-free and get a refund if you're not satisfied.
It's important to note that pricing and plans may be subject to change, so it's recommended to visit the AIOSEO website for the most up-to-date information.
When considering which plan to choose, carefully evaluate your specific requirements, the number of websites you need to optimize, and the features you prioritize.
Remember to consider the scalability of your online presence and whether you anticipate the need for additional websites or advanced functionalities in the future.
Overall, AIOSEO offers a range of pricing plans to cater to different user needs, ensuring that individuals, businesses, and agencies can find a suitable plan that aligns with their budget and requirements.
Conclusion
AIOSEO is a comprehensive SEO plugin for WordPress that offers a wide range of features to improve your website's search engine visibility.
With its user-friendly interface, powerful on-page optimization tools, social media integration, and advanced analytics, AIOSEO simplifies the SEO process for both beginners and experienced users.
While pricing may vary depending on your specific needs, the overall value and effectiveness of AIOSEO make it a solid choice for anyone looking to boost their website's SEO efforts.
Remember to conduct thorough research and consider your individual requirements before making a final decision.
If you liked this article, consider reading another about Negative SEO here.
FAQ
What additional features and benefits does the Pro plan of AIOSEO offer compared to the Plus plan?
The Pro plan of AIOSEO offers additional benefits such as priority support, access to a VIP Facebook group, and a comprehensive SEO training course.
Does AIOSEO offer any discounted pricing options for non-profit organizations or educational institutions?
AIOSEO does not currently provide specific information about discounted pricing options for non-profit organizations or educational institutions.
It is recommended to contact their customer support directly to inquire about any available discounts or special pricing arrangements.