Although there are several email providers to choose from, none of the popular ones offer a free email domain for business purposes. It's important to note that even as a small business owner, you require a distinct business email address. For example, customers expect confirmation of their purchase from a large e-commerce store via a business email address, so they will expect the same from you.
What is an Email Domain?
To put it plainly, the section of an email address that follows the "@" symbol is known as the email domain. For instance, our email address is "info@trustindex.io", and our email domain is trustindex.io.
Email domains offer the advantage of having a custom email address that incorporates your business name or any other distinctive phrase that you desire, rather than using the common endings that are typically associated with large corporations like a Gmail account.
Creating an email address using your own domain is crucial for establishing a trustworthy brand, but the expenses associated with purchasing domains and email hosting can quickly accumulate.
Fortunately, there are hosting providers who offer free domains with services like email hosting, web hosting, or site building.
3 Reasons Why You Need a Custom Email Domain
Using a custom email address for your business can enhance its credibility. It can also demonstrate that you are a reputable and established company.
Potential customers often seek out some level of legitimacy before choosing to engage with a business. Having a professional email address can provide that assurance. Therefore, if you want to establish your business as a legitimate and professional brand, it's essential to use a professional email address.
1. Using a Common Ending Might Look Unprofessional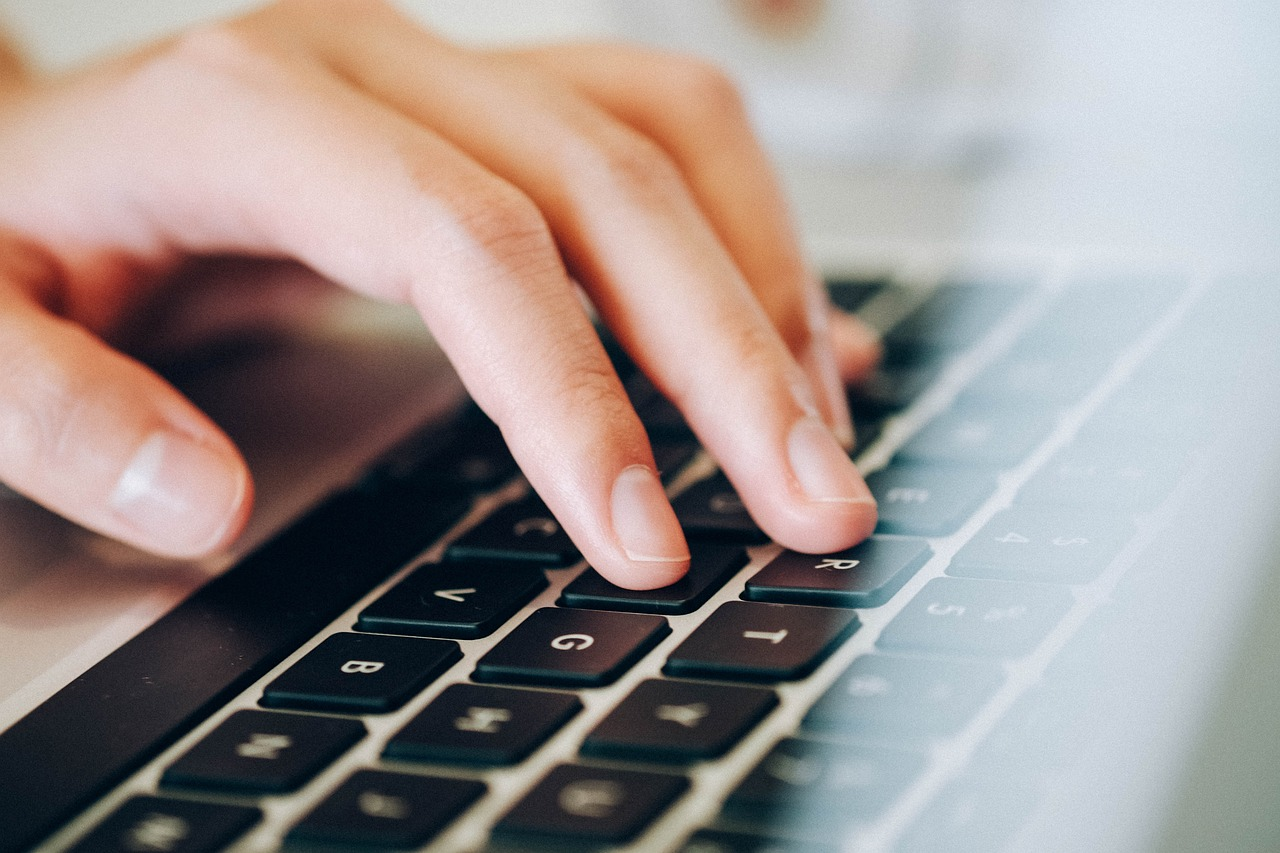 Free email addresses can create a negative impression and reduce the perceived value of your business. Consider the following scenario: you're about to purchase something from a company, but you have a question, and you send an email to their customer support which has the following email address "help.yourcompany@gmail.com". Yes, you can use a Gmail account, but would you trust this company with your money?
What about "help@yourcompany.com"? By having a custom business email address with your domain name, such as "help@yourcompany.com", you can create a professional image for your business and leave a positive impression on potential customers.
2. You Probably Already Have a Website With a Custom Domain Name
If you already have a custom domain name for your website, you can use it to create personalized email addresses. We will talk about how easy it is to set up an email address with your custom domain name. You can also find free email hosting providers.
3. Brand Email Does Marketing
Having a branded business email address can act as a form of marketing for your business. By using a domain-based email address, you increase the exposure of your brand to potential customers.
When your employees use email signatures, business cards, and social media accounts with your branded email address, it provides an opportunity to promote your business and attract new customers.
First Method: Get a Free Email Domain Using Mail.com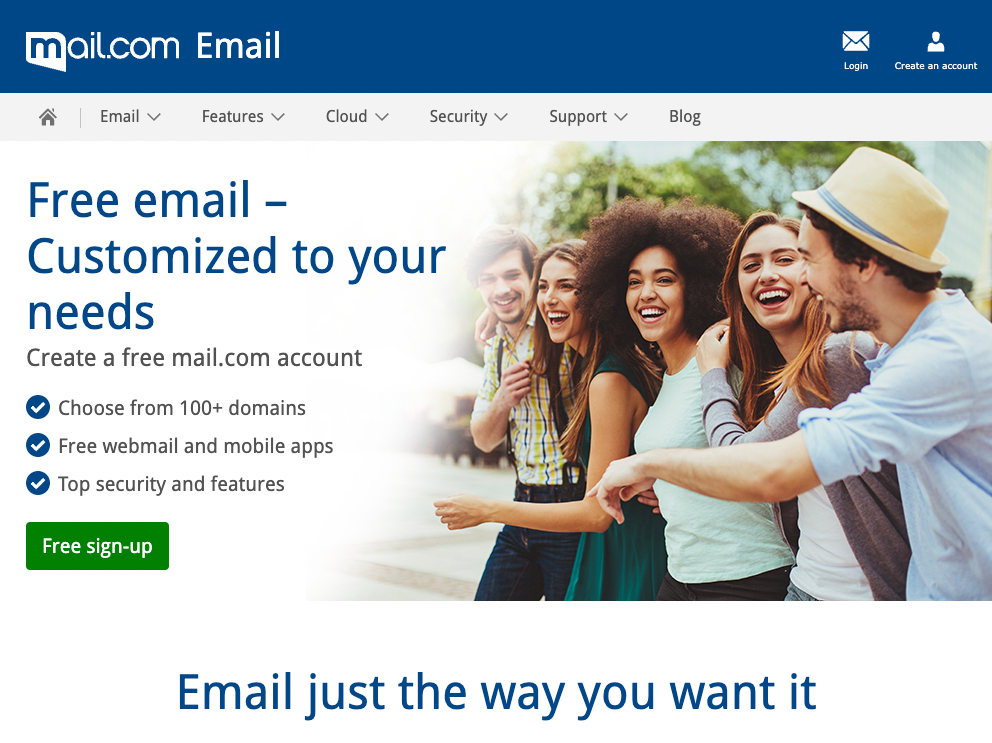 Mail.com is an option to consider if you're seeking a completely free email domain without requiring the purchase of your own domain name or web hosting. However, it's worth noting that this provider does not allow you to have a custom domain email address, which may not be ideal for already-established businesses. That being said, if you're a freelancer or a new startup and are okay with using a generic domain name from a pre-existing selection, Mail.com could be a suitable choice for you.
This provider offers the option to establish an industry-specific email account that is entirely free. There is a range of more than 200 domain names to choose from, including:
@engineer.com
@accountant.com
@gardener.com etc.
How to Get a Free Email Address on Mail.com?
Go to Mail.com and click on "Free sign-up"
Fill in your details and select the custom domain name you prefer.
Click on "I agree. Create an email account now." to accept the Terms and Conditions and to create your account.
Now you need to activate your custom email address and start receiving emails.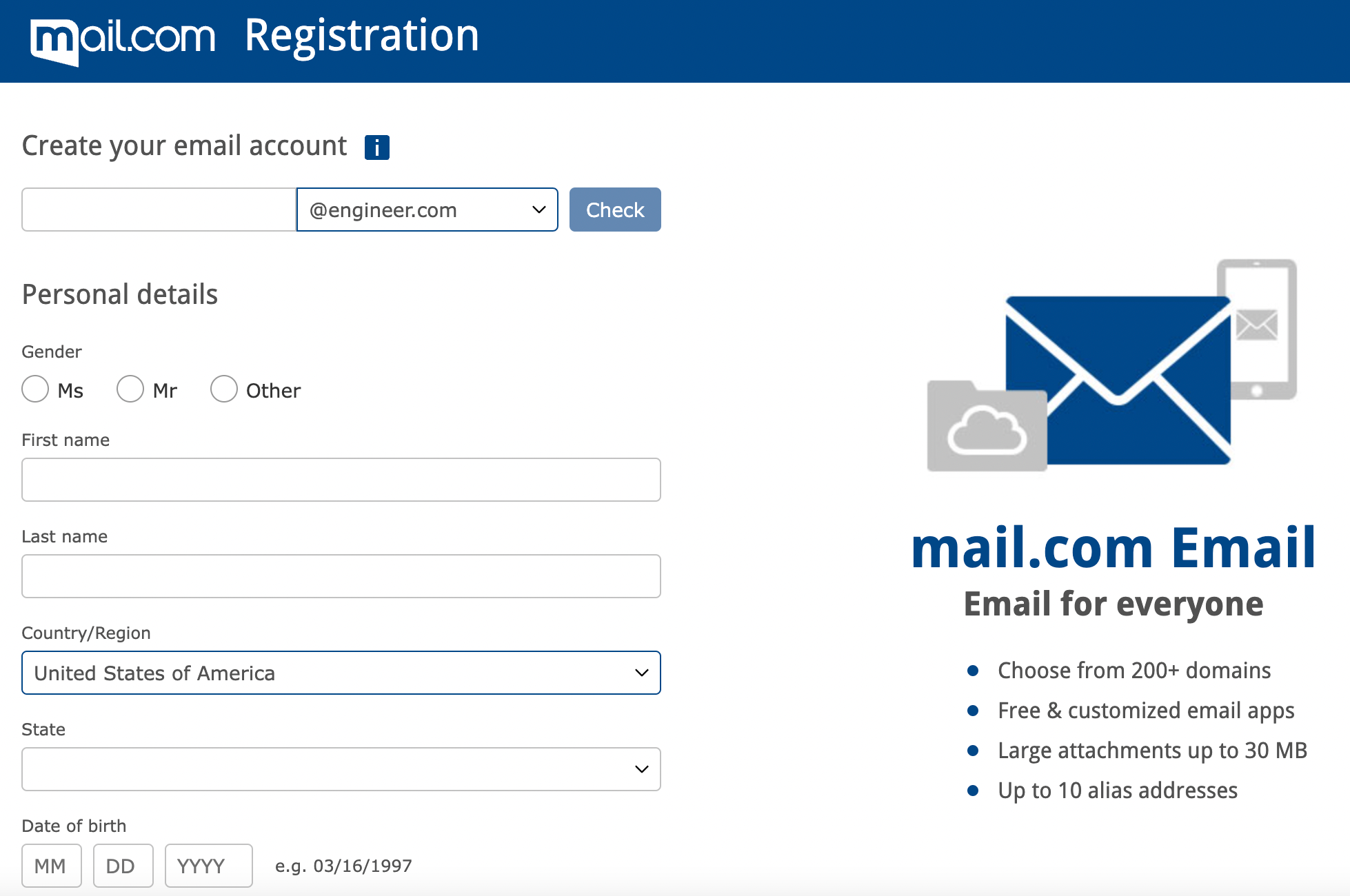 Second Method: Create an Email Domain Using Zoho Mail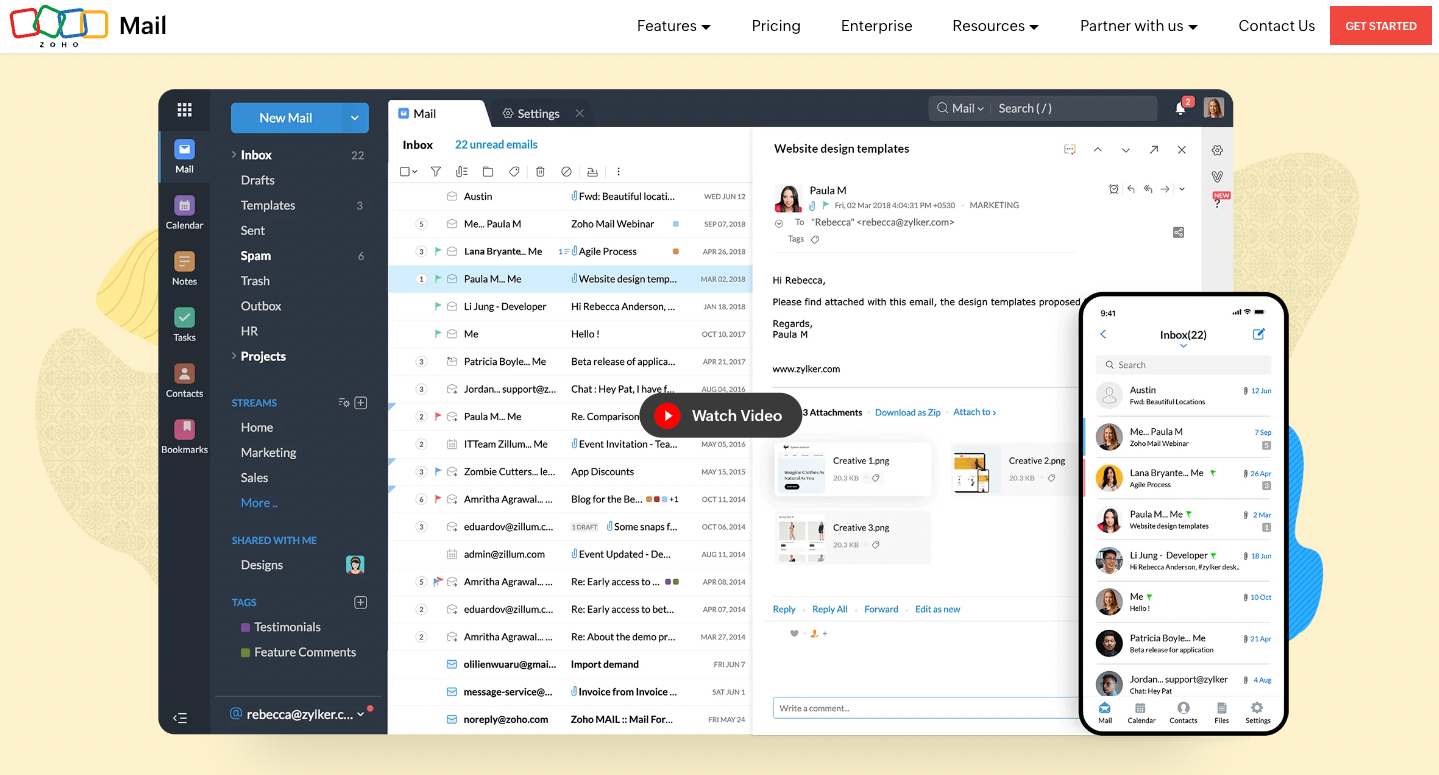 If you have an existing domain name, such as for your website, Zoho Mail provides the option to establish a corresponding email address at no cost. This email service features an array of plans, including a Forever Free Plan that allows for up to five users, 5 GB of data, and a 25 MB attachment limit.
To create your free custom domain email address, begin by navigating to Zoho Mail's pricing page and scrolling down to the Forever Free Plan section. This option is located toward the bottom of the page and may be less prominent than the paid plans.
Afterward, you will need to enter your current domain name or get one through a domain name registrar.
How to Set up a Custom Domain Email Address Using Zoho Mail?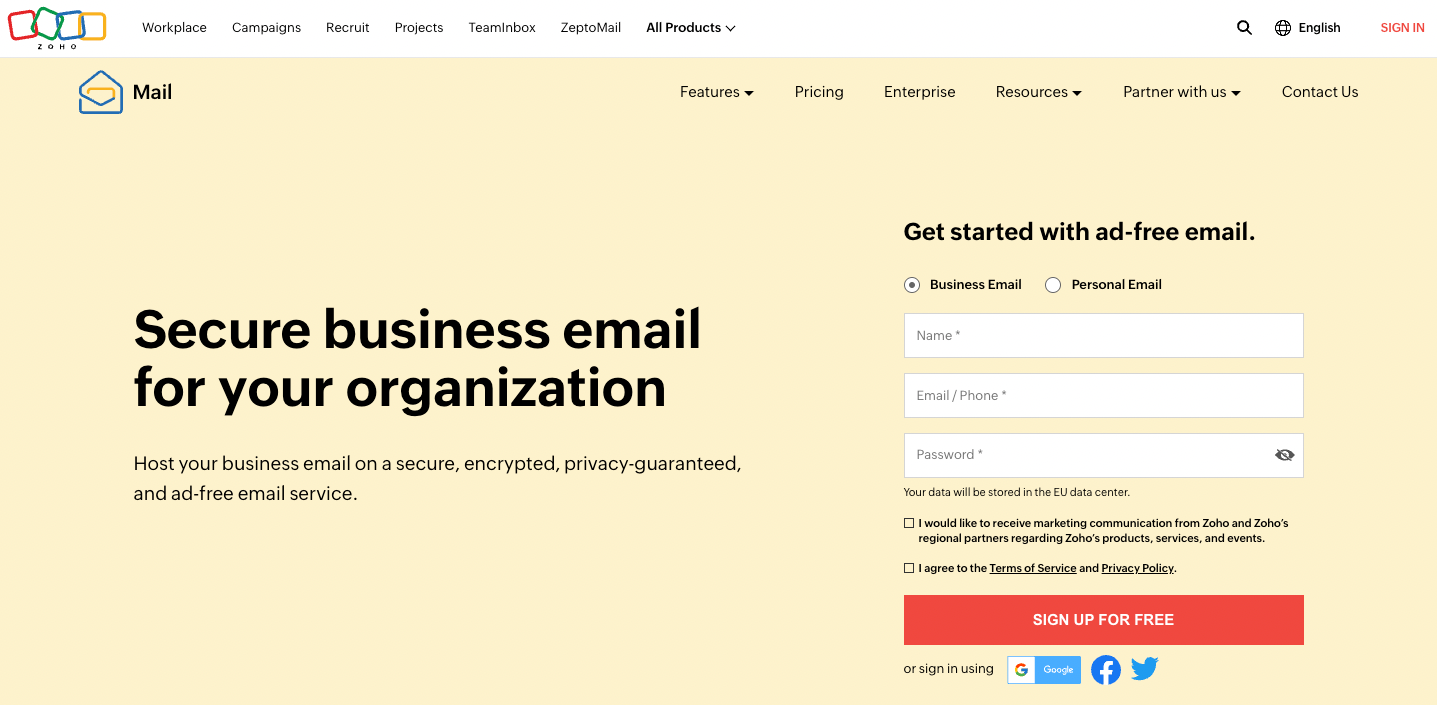 Go to Zoho.com and select Mail (Zoho Mail offers a Forever Free Plan, you can find it under their paid plans.)
You can fill in your information on the main page. Click on "Sign up for free".
Activate your account via your phone number or your email account.
Zoho Mail will guide you through how you can add your domain name. It will help you step by step to connect your domain to your new Zoho Mail Account.
Third Method: Get a Free Email Account With Your Bluehost Web Hosting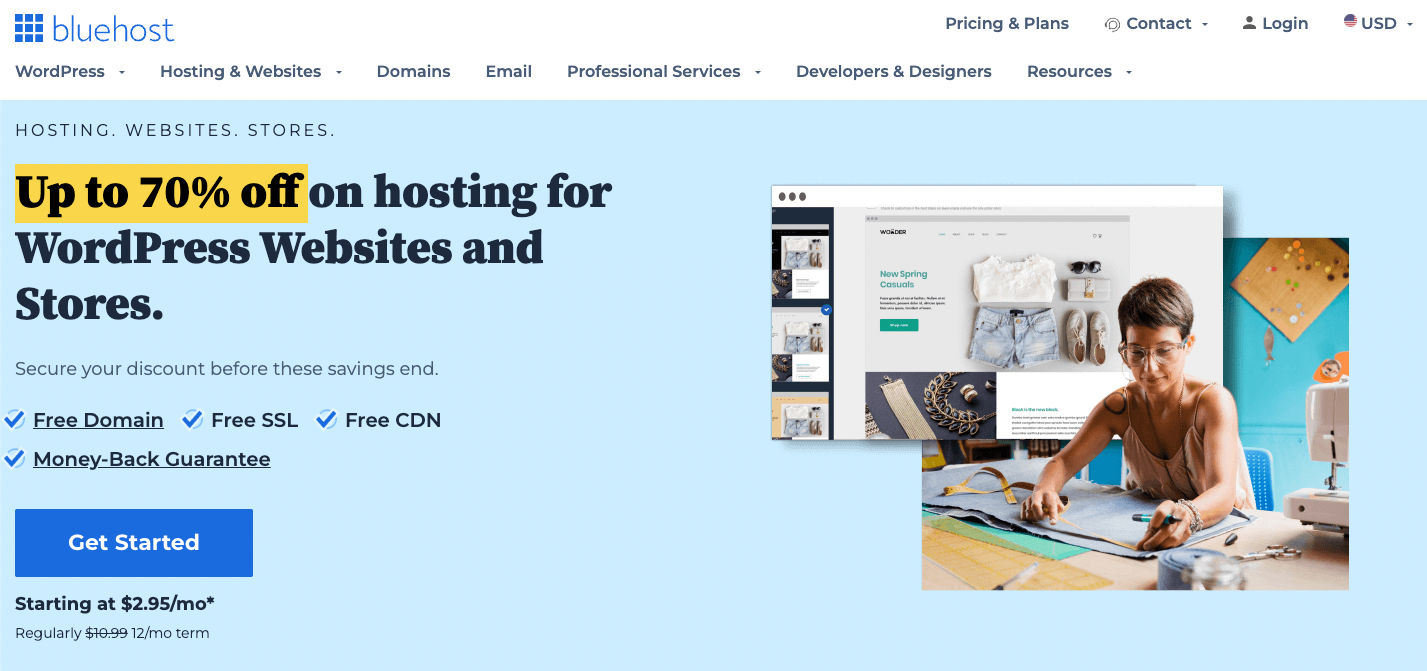 Although it isn't entirely free, you can receive a custom domain email address through Bluehost by purchasing one of their web hosting plans. With this option, you'll also receive a free domain for a year and a free SSL certificate. It's a great choice if you're looking to establish a professional online presence and need to host a website anyway. Bluehost offers affordable plans starting at $2.75 per month for the 1st year.
How to Receive a Free Email Hosting With Bluehost?
To set up your email domain, first, select your plan on Bluehost and register your website domain.
Then, log into your Bluehost dashboard and configure your email domain by going to Advanced, then go to Email Accounts in your control panel.
You have several options for using your new email domain, including Bluehost's webmail interface. Or you can connect it to popular email clients like Microsoft Outlook, Thunderbird, or Gmail.
Bluehost has support documentation and tutorials available to help you set up your email domain, including connecting it to Outlook or Gmail.
Fourth Method: Get a Free Email Domain From DreamHost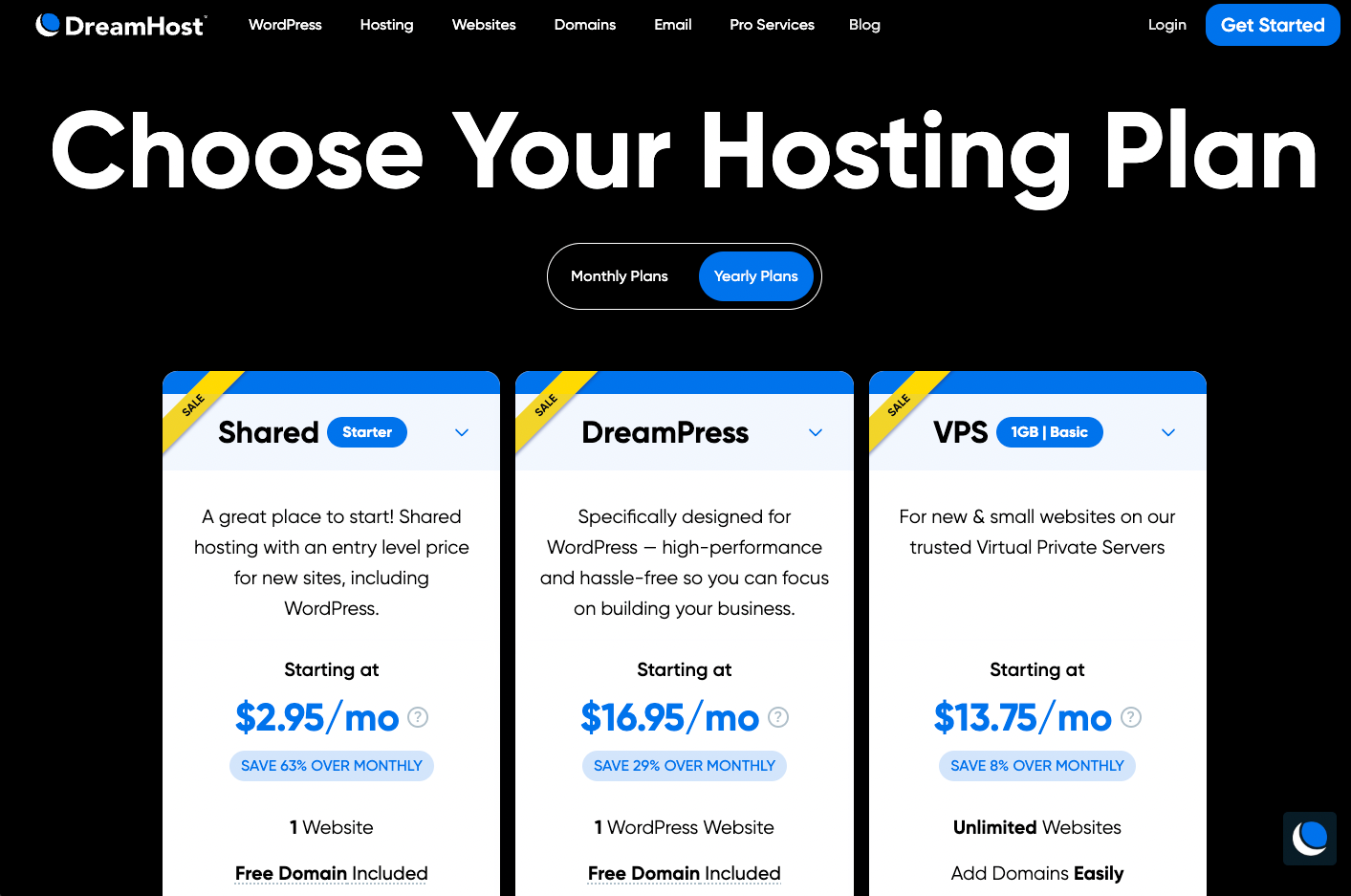 DreamHost offers a custom email domain for free with some of its hosting plans, making it a cost-effective solution for those looking for a hosting provider. However, note that not all hosting plans come with free email hosting. You may need to pay extra for an email address with some plans, such as the Shared Starter package.
How to Get a Free Email Hosting With DreamHost?
To get a free custom email domain, it's recommended to choose the DreamPress option, starting at $16.95 per month.
Once you've purchased your hosting package, you can create a new email address by heading to your DreamHost dashboard and navigating to Mail and Manage Email.
From there, you can set up your new email address and integrate it with third-party platforms like Outlook if needed.
Comparing the Mentioned Email Hosting Options
| | | |
| --- | --- | --- |
| Email Hosting Provider | Price | Features |
| Mail.com | Free | Choose from a list of 200+ domains, storage of 65 GB |
| Zoho Mail | Free or starting at $1 per month | 5 email addresses, 5 GB of storage/user |
| Bluehost | $2.95/month starting cost for web-hosting | 5 emails in the base plan, use it with external clients like Gmail or Outlook |
| DreamHost | Free email hosting included in the plan starting at $16.95/month | Unlimited email addresses, 25 GB of storage |
Why Do I Need a Custom Email Address For My Business?
Having a custom email address for your small business can help establish credibility and professionalism. It shows that you are serious about your business and that you have invested in creating a strong brand identity.
Using a generic email address, such as a Gmail or Yahoo account, can make your business appear less legitimate and may lead to customers having doubts about the credibility of your business. Additionally, a custom email address can help improve brand recognition and make it easier for customers to remember and find your business online.
It can also help you better organize your email communications and separate your personal and business emails.
Conclusion
Using your personal or a generic email address to communicate with customers can harm your credibility. However, if you're trying to avoid additional expenses associated with professional email domains, it can be challenging to find free options.
Luckily there are some providers who offer a free solution for you if you want to get a custom email address.
Some hosting providers like Bluehost and DreamHost offer plans that include free email hosting and a free domain name for the first year. Using the free email hosting provided by your web hosting plan is a wise choice.
Zoho Mail is an excellent option if you have a website with a custom domain name, but your hosting provider does not offer a free email service. Zoho's solution is almost entirely free, although it comes with certain limitations.
If you want to use something familiar and you are willing to pay for your email hosting consider signing up for a Google Workspace account, plans starting at $6/user per month.
FAQ
Can I get a free domain name?
It is possible to get a domain name for free through some web hosting providers such as Bluehost, and DreamHost Their paid hosting plans usually include a free domain name for the first year. Website builders like Wix and Squarespace also offer this option.
How can I create a free email address using my existing domain name?
Zoho offers a Forever Free Plan for small businesses with their own domain names. However, note that although you can obtain a custom domain email for free, you still need to buy the domain. A domain name costs around $12 per year. Also, this plan has some limitations, so you might have to check Zoho's paid plans.
Can I choose a specific domain when creating a free email domain?
When it comes to free email domains, some do not offer the option to choose the exact domain name. In such cases, you need to select from a list of options. However, if you obtain a free email domain through your hosting provider, you will typically have complete control over the domain name.