Workflow management software has revolutionized the way businesses operate by providing a streamlined and automated approach to managing tasks and processes.
In today's fast-paced business environment, the ability to manage workflows efficiently is critical for success. From simple task tracking to complex process automation, workflow management software offers a range of features and benefits. In order to help organizations streamline their operations, improve productivity, and enhance collaboration.
In this article, we will talk about the basics and 10 great workflow management software, so you can choose the one that fits your needs.
What Is a Workflow Management Software?
Workflow management software provides a comprehensive overview of the interdependent components of your business operations. This enables you to identify any issues in their coordination. You can either zoom out to grasp the bigger picture or zoom in to focus on specific interactions that constitute your larger work processes.
By utilizing this software, you can detect bottlenecks and potential opportunities for automation. Which can enhance your business efficiency without overburdening your workforce. Instead of resorting to stringent measures, you can identify efficiencies to streamline your operations.
Finding the best Workflow Management Platform: Top 10 Workflow Software
1. ClickUp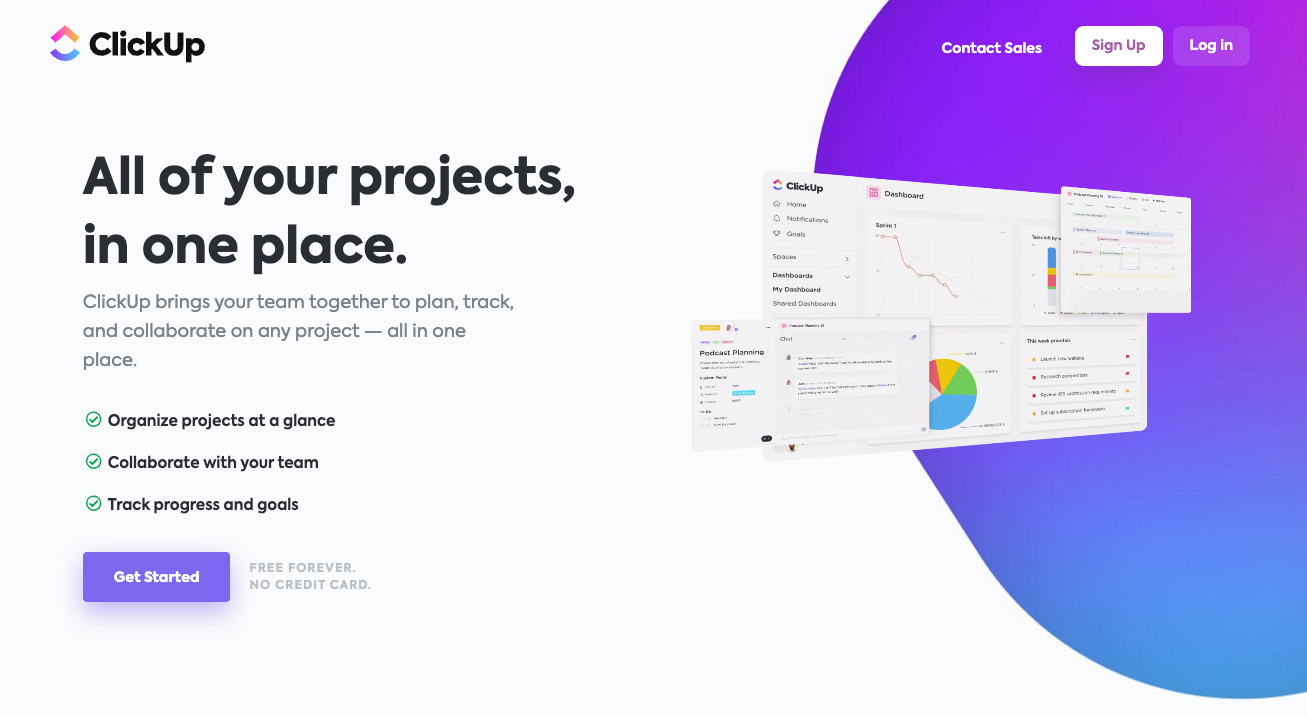 ClickUp is a versatile workflow and project management tool that enables users to streamline and optimize every aspect of their workflow in order to enhance efficiency and speed. This is why it is my top recommendation for almost any business or team.
Some of the world's leading companies, such as Google, Airbnb, Uber, and Nike, have leveraged ClickUp's seamless work process capabilities. It can seamlessly integrate with over 1,000 other tools.
In addition to workflow management, ClickUp offers customizable project management tools, including resource management, goal tracking, reminders, email and chat features, complex or simple spreadsheets, third-party app integration, and strategy management, all within a single platform.
ClickUp offers a wide range of views to enable you to customize the display of your work tasks and their progress, making it easier for your team to stay organized. The available views include chat views, table views, timeline views, and mind maps. This selection allows you to choose the most convenient one for your team.
The software's integration capabilities enable you to link all project tasks, emails, comments, or wikis, saving you a lot of time and automating recurring work tasks. Furthermore, ClickUp is designed to accommodate both complex and large-scale workflow management, as well as small businesses that require a manageable workflow system.
Overall, ClickUp is a versatile tool that offers an array of features to assist businesses of all sizes in optimizing their workflows, streamlining their operations, and increasing their productivity.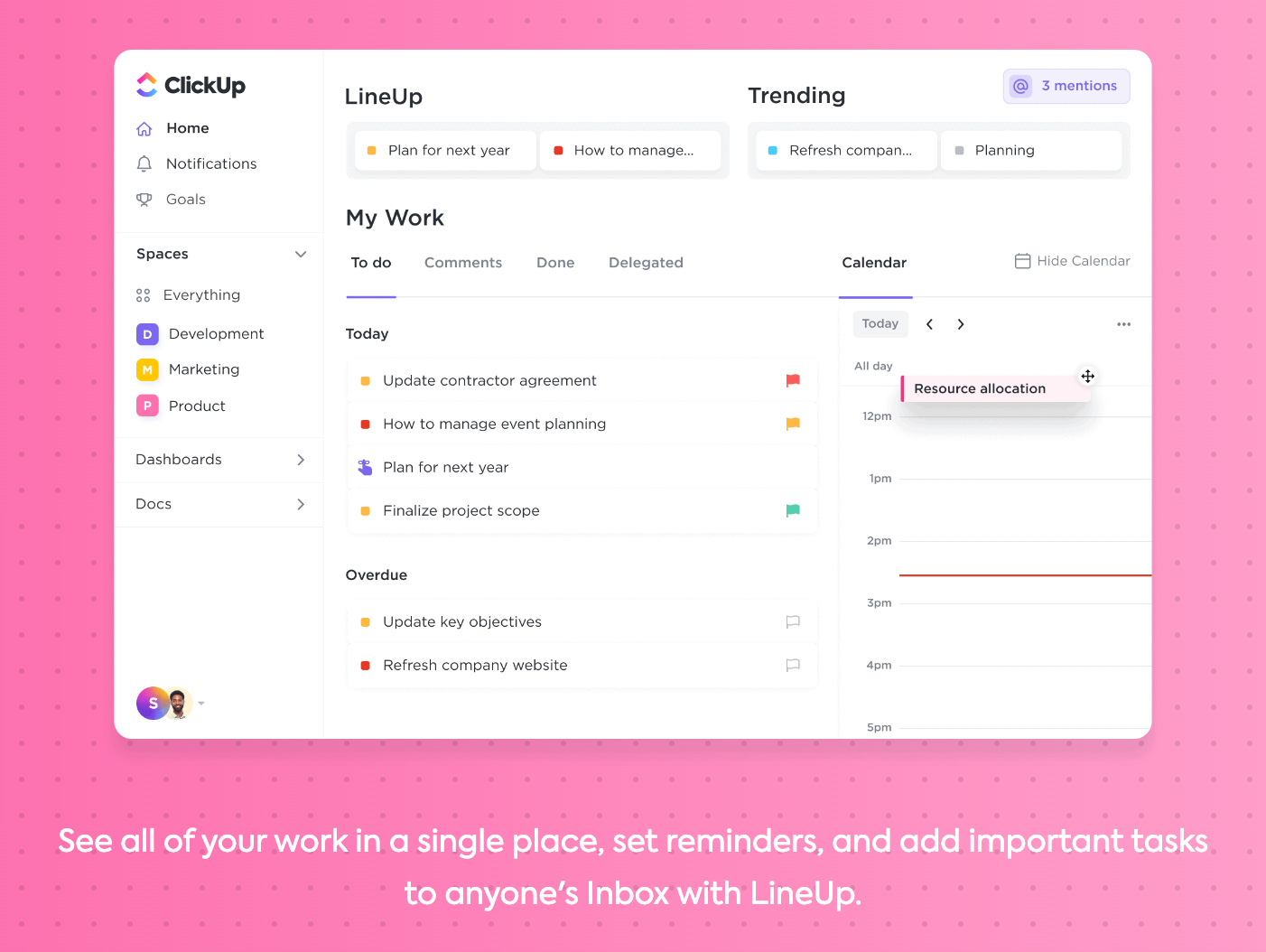 If you are planning to migrate to ClickUp from another workflow management system, you can easily transfer all your work and project information with the import feature. This makes the transition process more straightforward and less time-consuming.
Pricing of ClickUp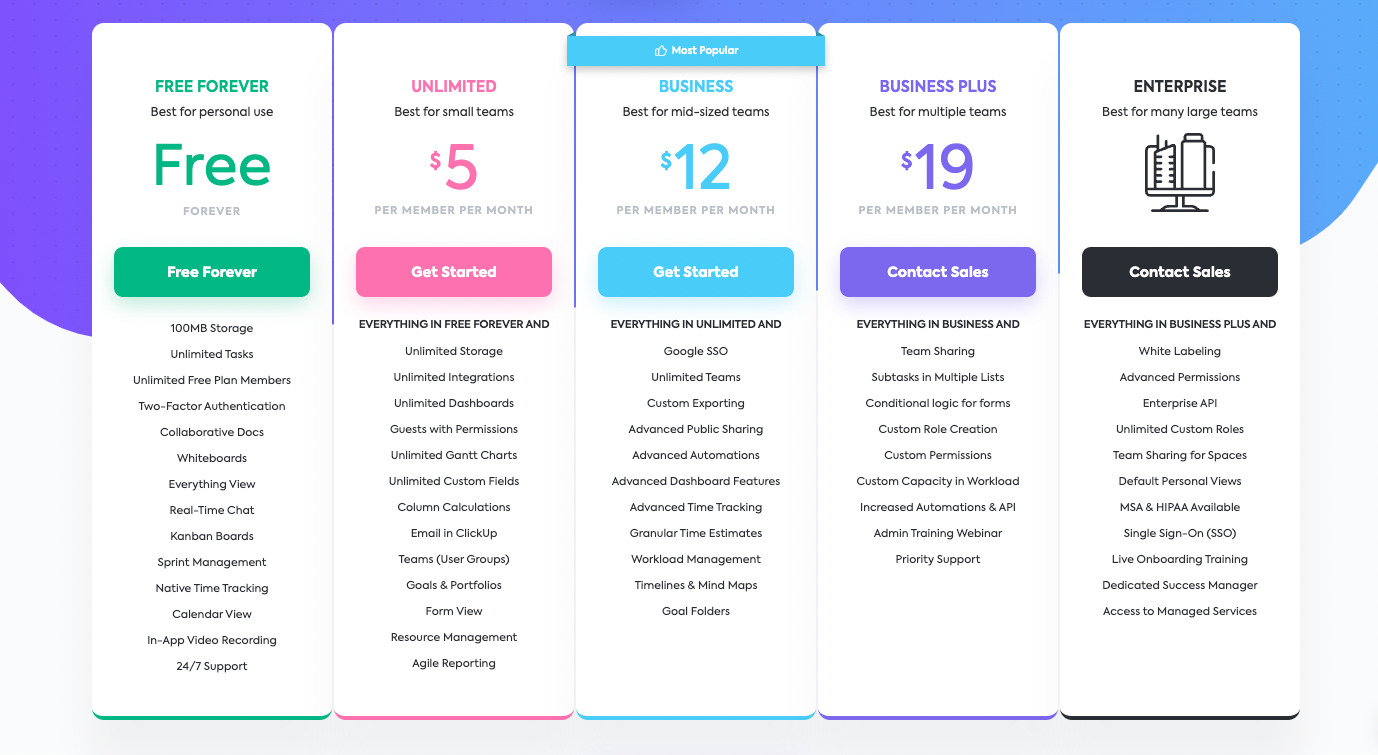 Moreover, ClickUp's price point is one of its most attractive features.
You can start using the system immediately by signing up for a free account, which includes 100 MB of space with unlimited members and tasks.
If you decide to upgrade to the paid plan, it starts at only $5 per user and provides access to unlimited storage, integrations, calendar tools, guests, portfolios, boards, and custom fields.
For growing teams, ClickUp offers the option to negotiate a price point based on user or team size by filling out a quick form and submitting a short proposal. This flexibility allows businesses to customize the software to fit their specific needs and budget.
2. Monday.com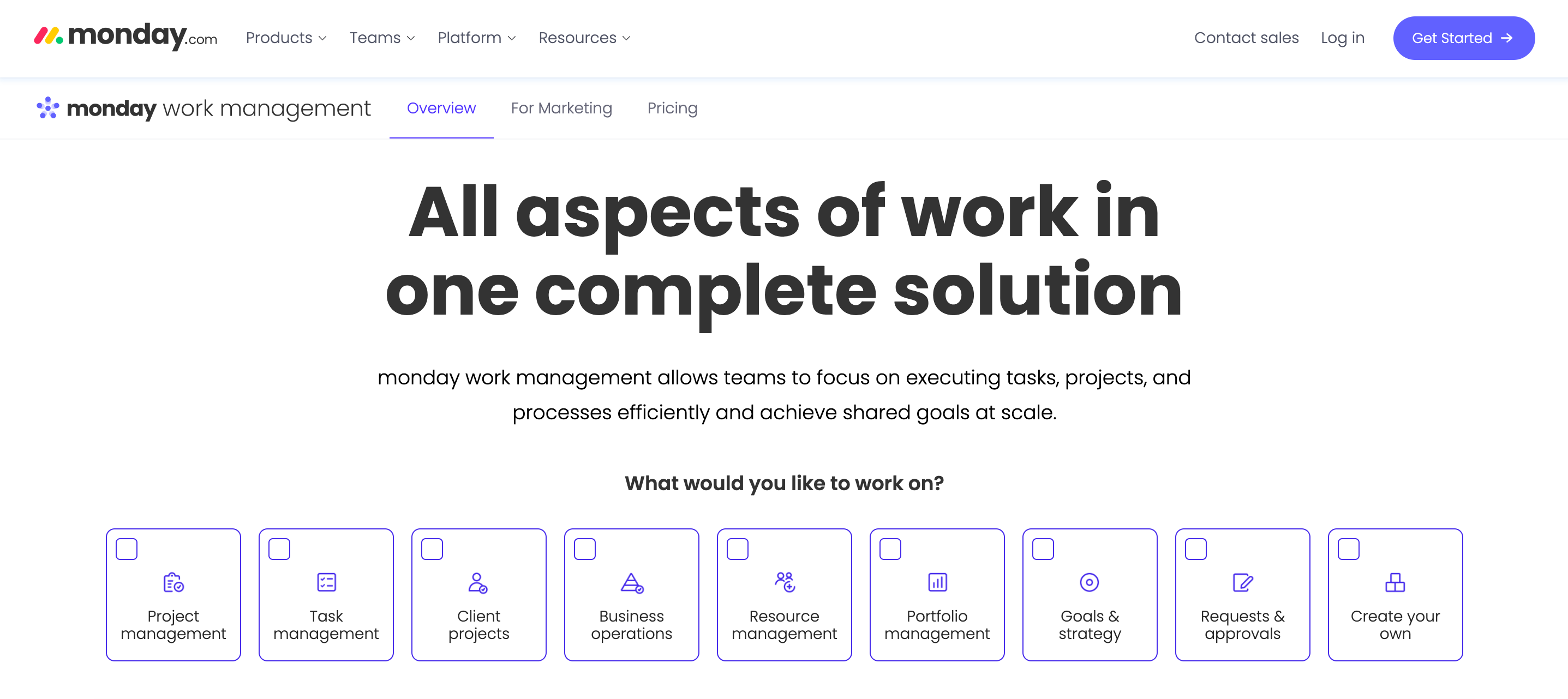 Monday.com is a top-notch workflow management system that offers a seamless solution for managing growing remote teams. This platform is used by big brands such as BBC Studios, NBC, Discovery Channel, Hulu, Coca-Cola, Deezer, and over 100,000 other teams, enabling them to efficiently manage every step of their workflow processes with both onsite and offsite team members.
Monday offers easy collaboration with team members from anywhere in the world. You can align work progress, conduct video chats, and synchronize calendars to ensure you always meet collaborative work deadlines.
With the use of templates, you can start organizing tasks and automating workflows with ease. Monday provides templates for daily team tasks, knowledge libraries, remote team requests, employee statuses, and one-on-one meetings.
Additionally, Monday simplifies the automation of routine parts of the workflow process, making it easy for non-technical users to adopt the platform.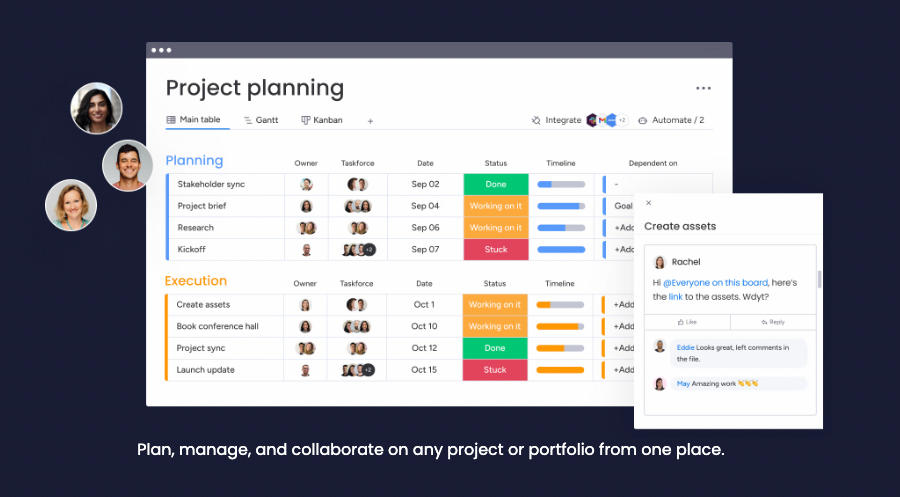 These features in Monday.com are particularly helpful for remote teams who may need to work across different time zones and locations. The weekly schedule feature can help remote workers plan their tasks and deadlines. The meetings board with updates and recaps can keep everyone informed of what's been discussed and decided upon during meetings.
The Zoom integration can record meetings for those who may not be able to attend, and the local time zone tracking ensures that everyone is aware of their teammates' availability.
The workload and work capacity maps help remote teams manage their resources and ensure that no team member is overburdened with work. While the contingency plans created from project data can prepare the team for potential risks or challenges that may arise.
Overall, Monday offers a comprehensive set of features to help remote teams collaborate effectively.
Pricing of Monday

Monday.com offers various pricing tiers based on the number of users you want to add, with each tier providing an extensive set of features.
You can opt for a free plan for up to 2 seats. The premium plans start with a minimum of three seats, and choosing an annual plan can help you save money. Premium plans start at $24 per 3 members per month.
3. Wrike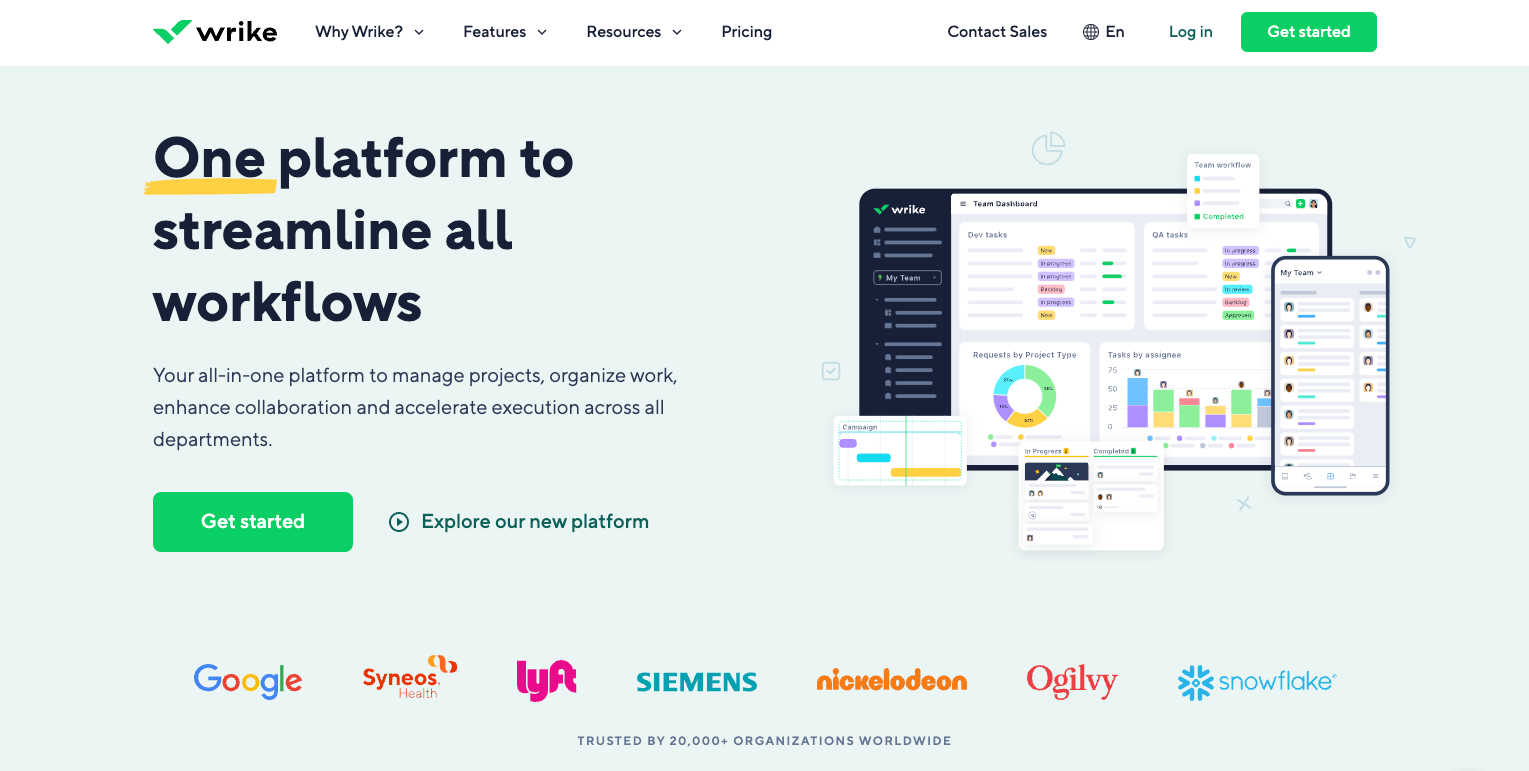 Wrike is a workflow management tool that caters specifically to creative teams. Creative teams often face the challenge of repetitive administrative tasks, which can slow down project delivery. Wrike simplifies the process by providing a centralized platform. All tasks can be streamlined, resulting in increased productivity and speed.
Wrike offers customizable forms, templates, briefs, and markup tools, which can be used to manage creative requests from start to finish. The approval tool is particularly useful, as it allows for clear and specific feedback on deliverables through comments on images, videos, and documents.
This feature enables users to keep track of who is working on each project and create a formal point of contact for every work project, leading to a more efficient intake system for work requests. As a result, projects that require multiple revisions and reviews can be completed faster.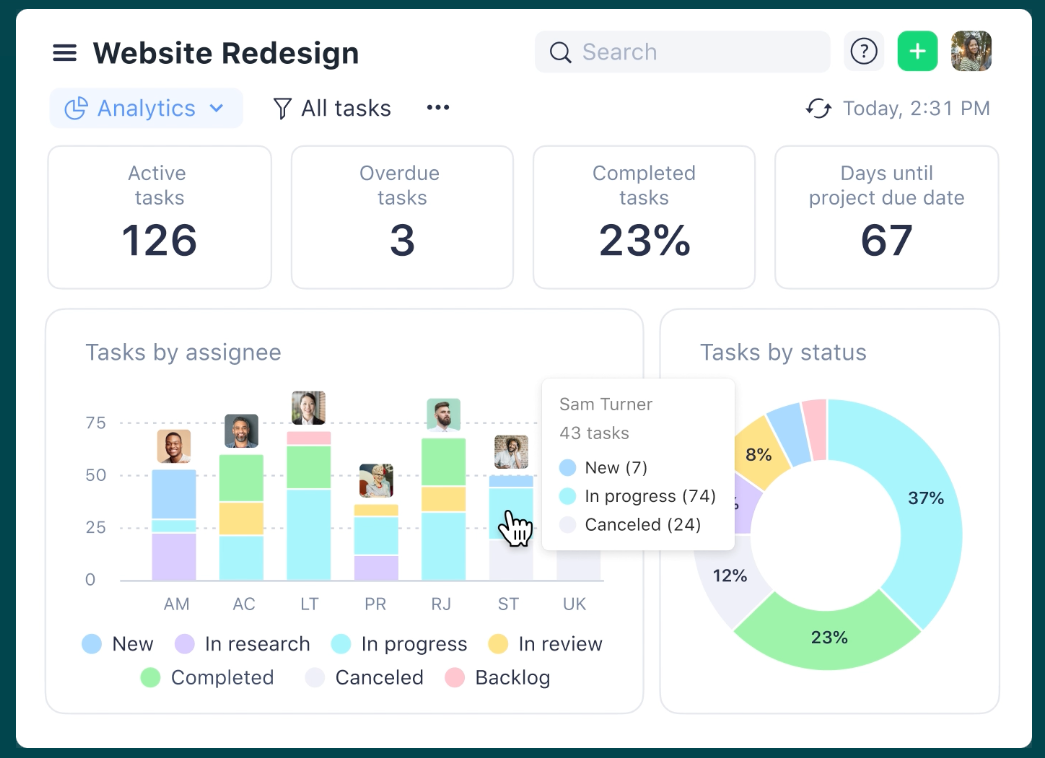 Wrike offers various features to effectively manage creative workflows, such as customizable project approval templates. It also has project scheduling, task assignment, daily management of marketing operations, and drag-and-drop dashboards.
Pricing of Wrike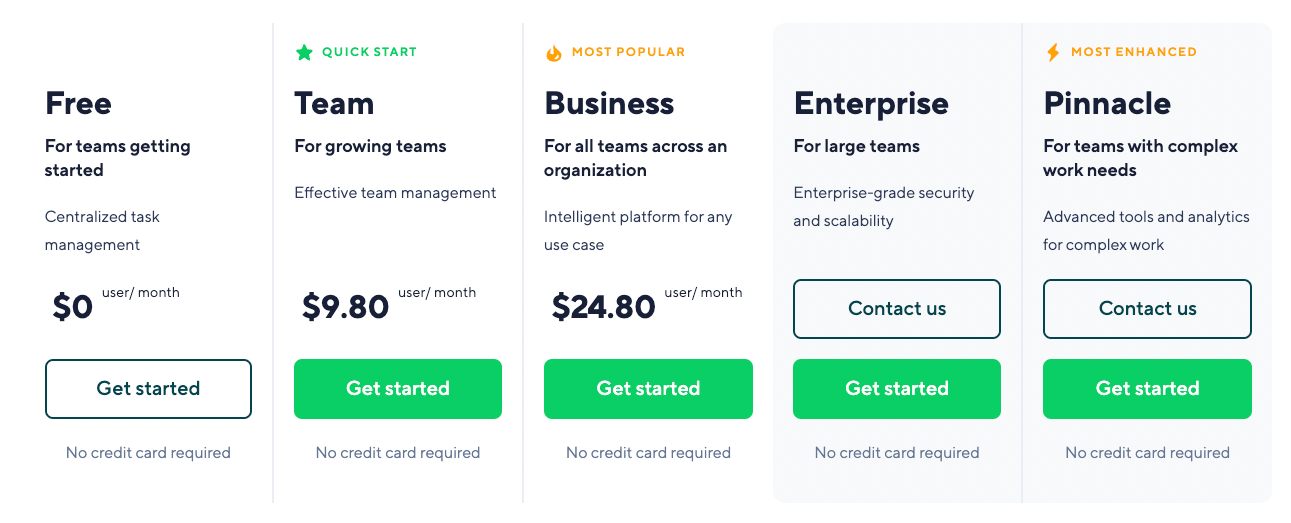 Wrike offers a free plan that includes basic features such as task management, file sharing, spreadsheet view, and integrations. It's free for up to five users and includes 2GB of storage.
If you want to upgrade to a paid plan, you can start with the main plans. They are starting at $9.80 per user per month. Before committing to any plan, you can take advantage of a free trial. Try it out and see if it suits your needs.
4. Smartsheet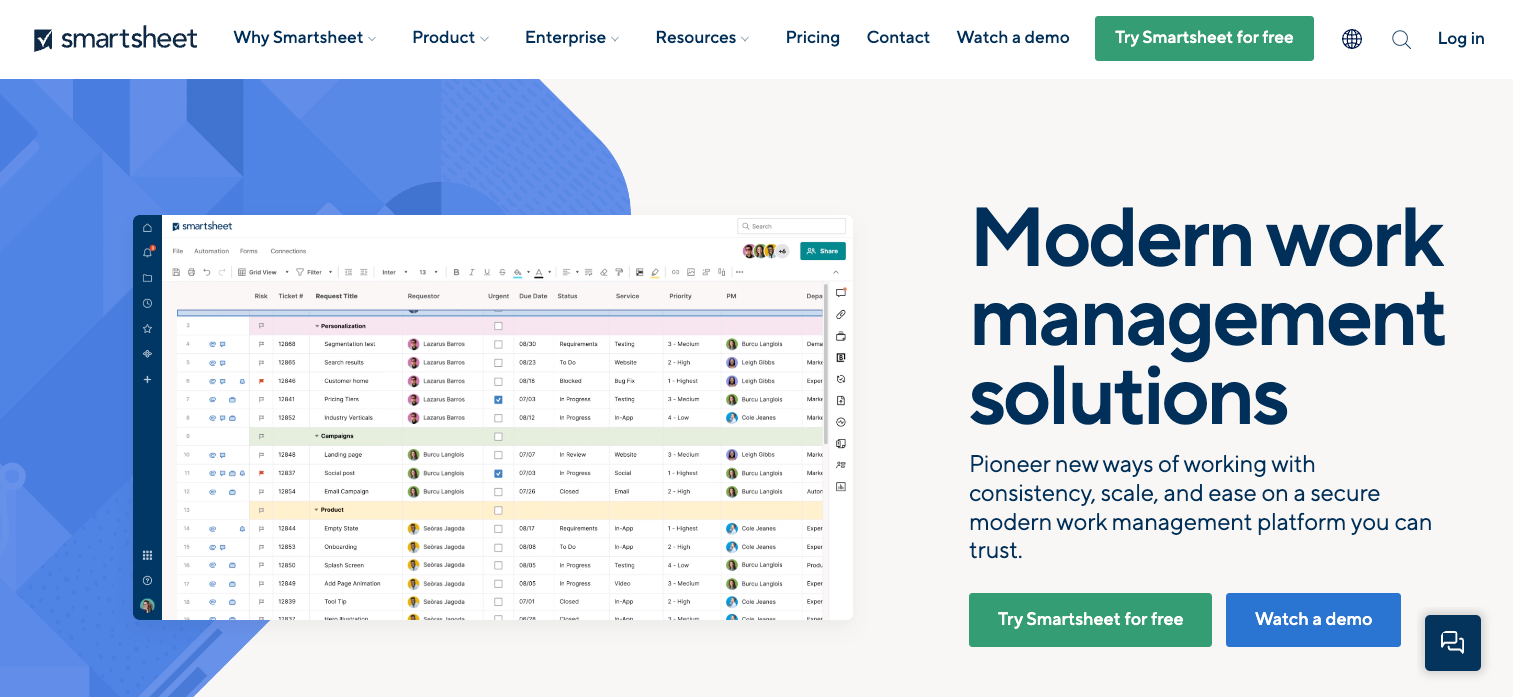 Smartsheet is one of the powerful workflow tools that is particularly well-suited for IT and operations teams. When working in IT management, consistency, and speed are crucial, and Smartsheet delivers both. It is enabling you to swiftly adapt and archive projects, and coordinate data center migrations. You can also set up automated alerts and approvals, all of which help to save time.
In addition, Smartsheet facilitates collaboration across teams and provides granular control over resource access. All of this is brought together in an intuitive dashboard, which comes with robust reporting capabilities.
Pricing of Smartsheet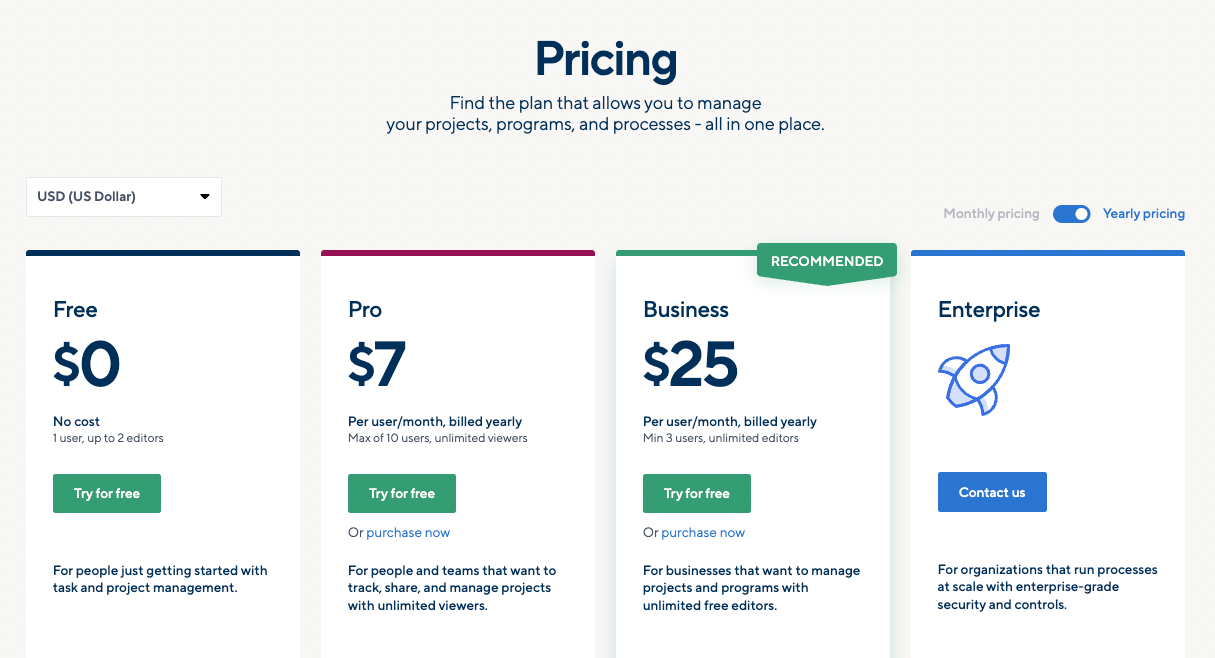 Smartsheet provides a free plan, but it comes with certain limitations.
If you choose to upgrade to the Pro plan, it starts at $7 per month per user if billed annually. To get a better understanding of what features and capabilities are available at each tier, you should visit their pricing page.
Additionally, you can watch a demo of the tool to see how it works.
5. Trello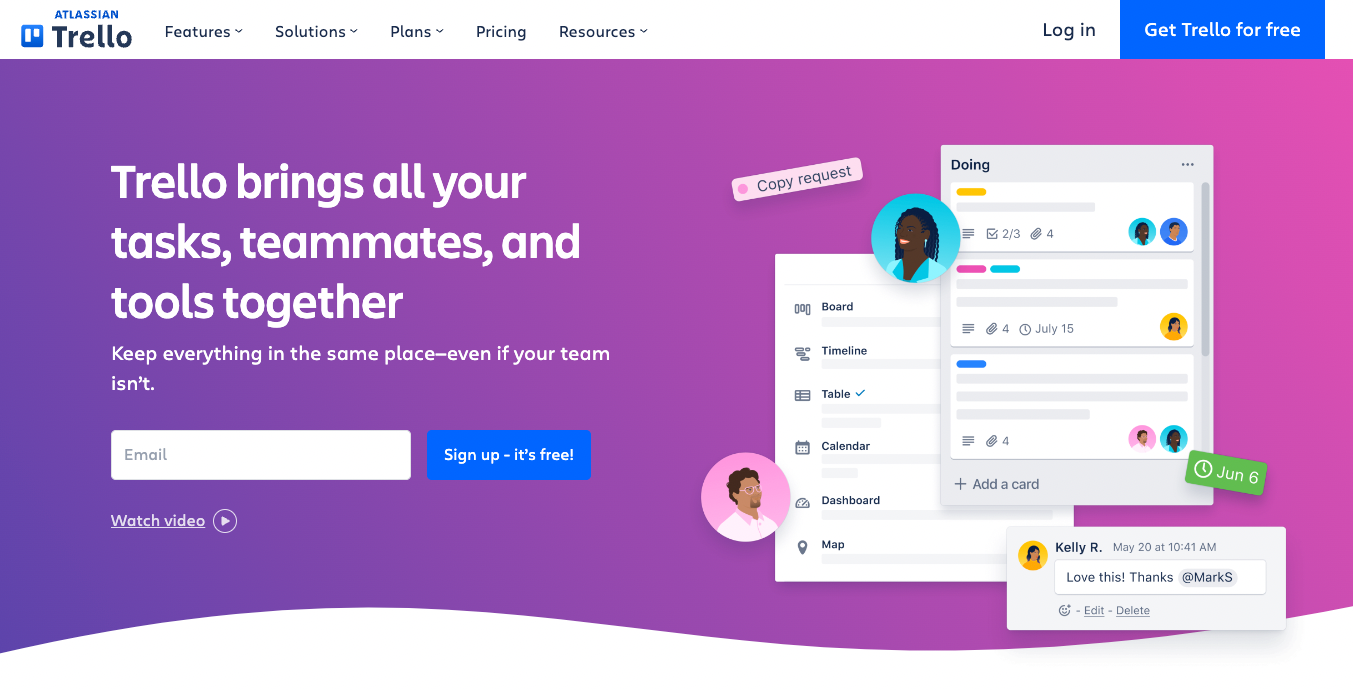 Trello's workflow system is available for free, allowing up to 10 boards per team. Making it an affordable option for those on a budget. It has already been adopted by millions of users. They appreciate its organized dashboards for prioritizing and automating tasks and projects.
With Trello, users can create and name boards, add tasks and team members, and add specific details to each card. Details like due dates, work briefs, checklists, attachments, and comments.
This simple workflow management tool is ideal for smaller teams focused on growth and efficiency without the need for expensive work software.
Its popular Kanban board-style layout is particularly appealing to users who prefer visual tasks and workflow management.
Pricing of Trello
Trello offers a free plan that includes up to 10 boards per team, unlimited cards and lists, and a 10 MB per file attachment limit. However, if you find the free version valuable and wish to upgrade, Trello provides 3 paid options to choose from. A Standard plan costs $5/user per month, a Premium costs $10/user per month, while the Enterprise Plan starts at $17.50/user per month if billed annually.
6. Pneumatic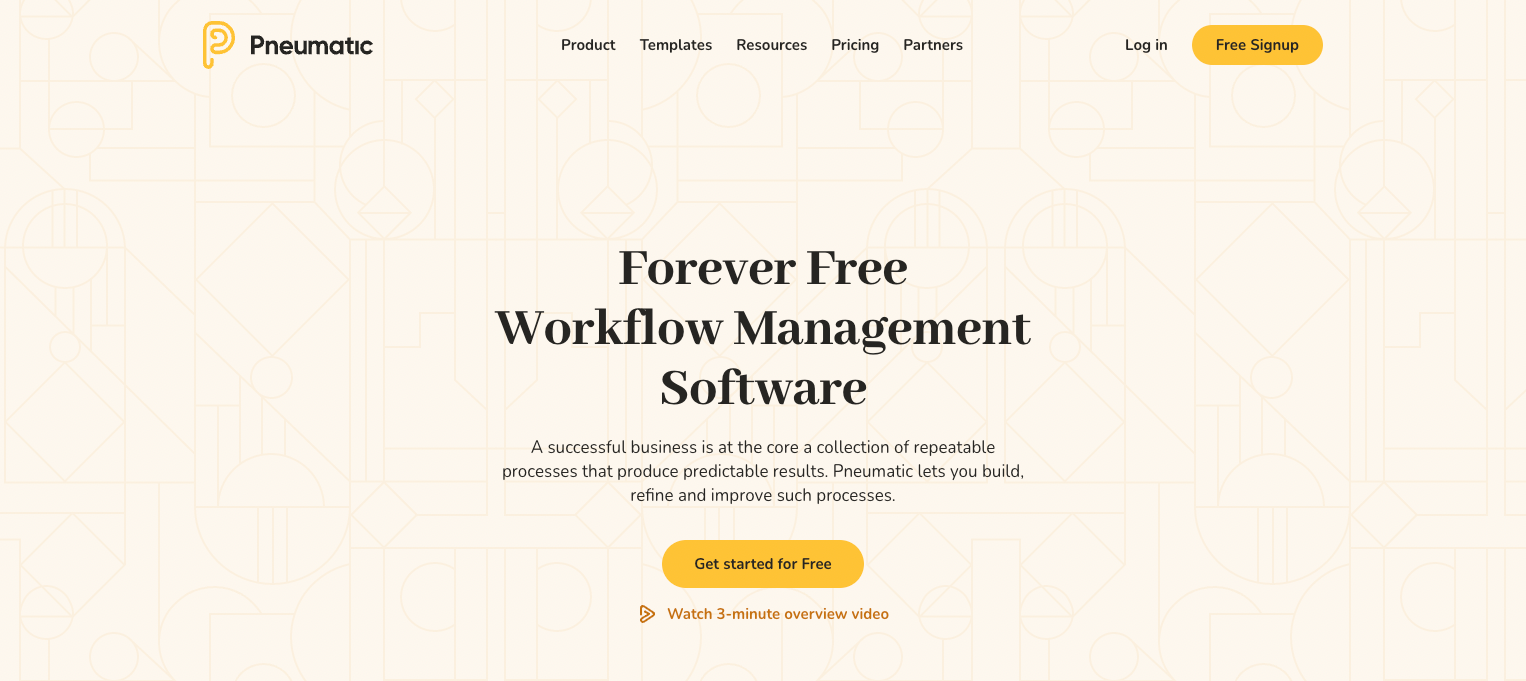 Pneumatic Workflow is a powerful workflow management solution designed to help teams streamline their processes and boost productivity.
With automatic task assignments and a range of advanced features, Pneumatic Workflow makes it easy to identify, organize, and coordinate sets of tasks.
Pneumatic Workflow stands out for its ability to minimize routine errors, improve communication between teams, and eliminate redundancy.
With four ways to launch workflows – manually, via kick-off forms, using external SaaS systems, or via the Pneumatic public API – teams can automate task management and improve efficiency.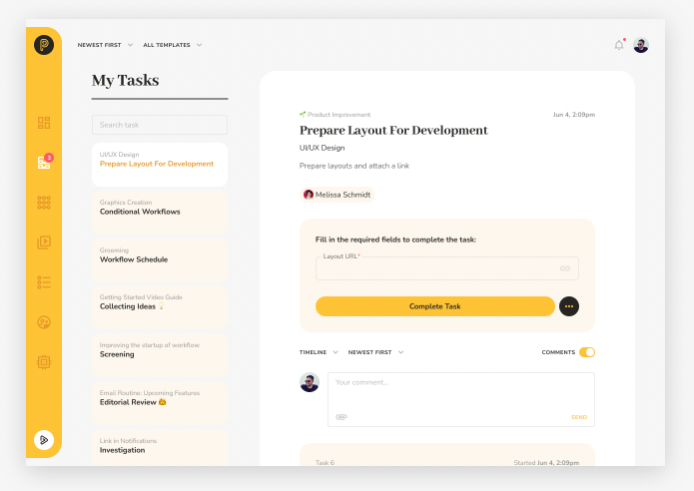 Other key features of Pneumatic Workflow include a workflow template builder, workflow variables and tools. It comes with a user-friendly task interface, shareable kick-off forms, automations, activity highlights. It has urgent prioritization, video-based workflows, informative data dashboards, comments and mentions, and a WYSIWYG editor.
Pricing of Pneumatic

Pneumatic Workflow offers a free plan for up to 5 users with basic features, such as unlimited workflows, and access to 5 templates.
Their paid plans start at $8 per user per month if billed annually. The Premium plan includes features such as priority email support, unlimited templates, unlimited data storage, and additional integrations. The Enterprise plan is available for custom pricing and includes advanced features like dedicated support, onboarding assistance, and SSO authentication.
Pneumatic Workflow also offers a 14-day free trial for their Pro plan. So you can test out the additional features before committing to a paid plan.
7. Process Street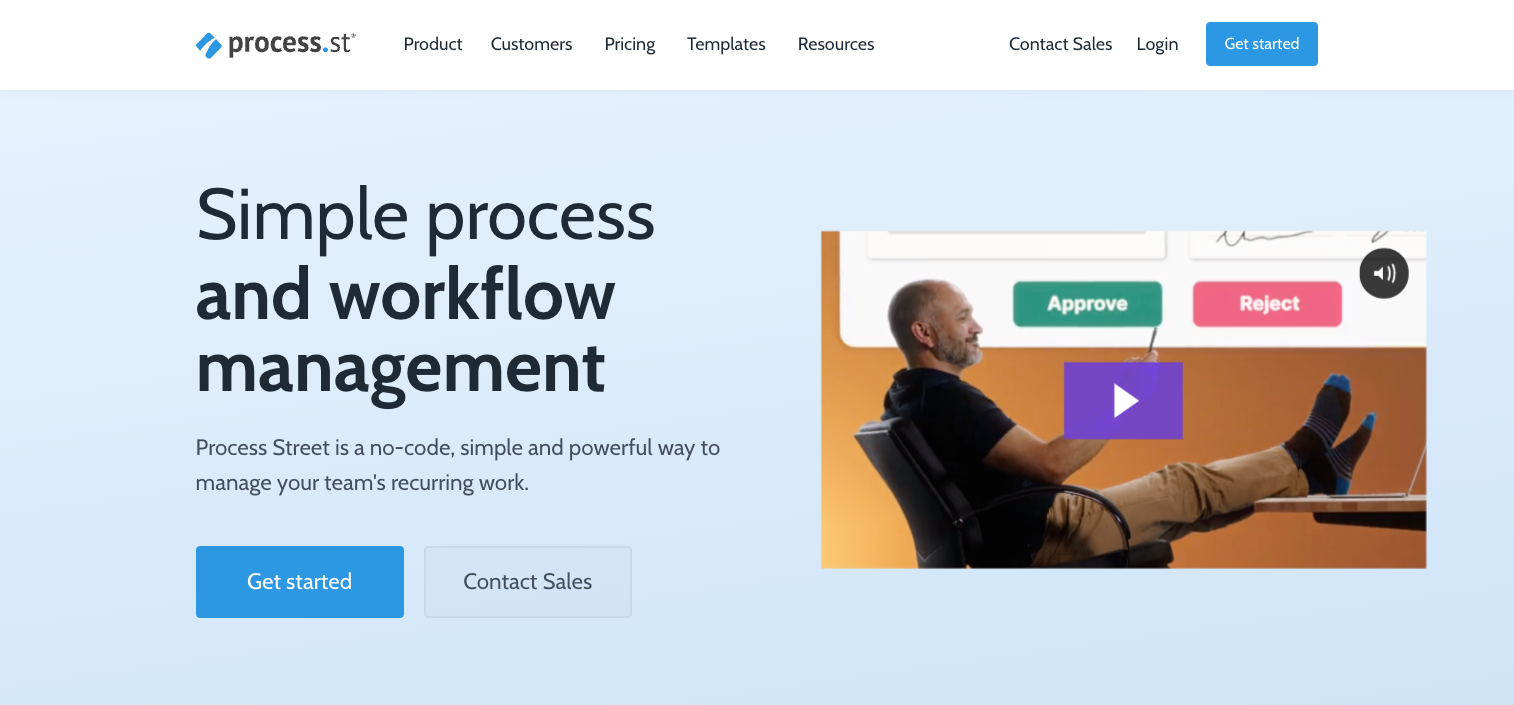 Process Street is a process-oriented tool that is best suited for teams with document-driven workflows. Although it lacks some of the analytical and reporting capabilities of other workflow management software tools, its free plan allows an unlimited number of users.
Process Street divides workflow management into three components. Document handling (creating, exporting, and embedding procedure documents and templates). Trigger-based workflow management (for random events triggered by a trigger, such as client onboarding), and scheduling automated tasks. Its user-friendly drag-and-drop task manager makes it accessible to everyone.
It is an ideal option for teams seeking a simple and efficient process framework. Which provides various process documentation and workflow automation tools.
The tool offers a range of features such as workflow management, task scheduling and tracking, employee attendance tracking, data visualization, employee database management, vacation and absence calendar, process reporting, status notifications, employee incentive management, and process modeling.
Pricing of Process Street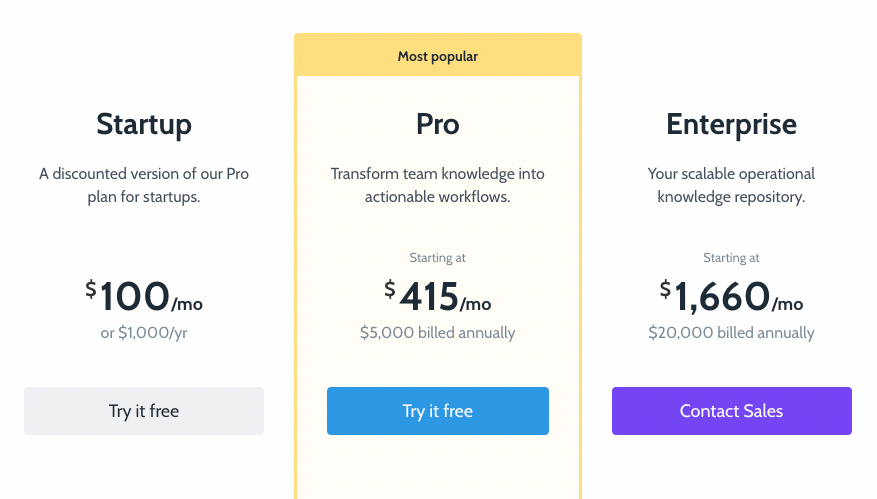 Pricing starts at $100 per month with the Startup plan. With this 5 full members and 10 guests.
The Pro plan starts at $415 it unlocks more features and you can have a custom number of members added.
8. Height

Height is a workflow management tool that facilitates the creation and management of multiple projects within the same workspace. Making it suitable for businesses that have various teams or departments working on separate projects simultaneously. It acts as a central hub for all tasks and tracks the progress of each task. It also provides real-time updates on project completion.
Height's collaborative features enable organizations to merge their team members' viewpoints, insights, and ideas in a single space. Multiple users can chat simultaneously within a group to brainstorm ideas or complete tasks. In real-time collaborations, users can directly share files within the conversation and @mention other users to draw their attention.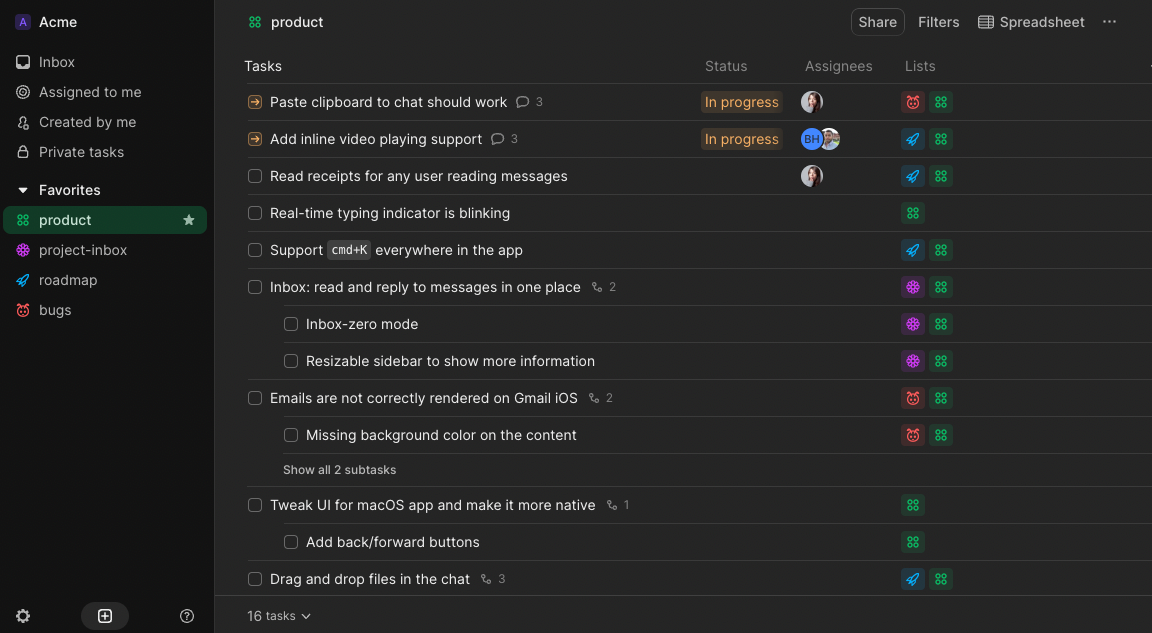 Height offers various features to help users manage their tasks and projects effectively, including automated workflows, task assignments, deadlines, progress tracking, and real-time updates.
These features work cohesively to ensure that tasks are completed within the designated timeframe, and projects remain on track.
Additionally, Height provides early issue detection, which can be addressed promptly, and user or role-based permission settings for enhanced security.
Pricing of Height

Height offers a free plan, with unlimited users, although there are some limitations like the number of lists. If you want to unlock these restrictions the Team Plan is starting at $6.99 (if billed annually).
9. Kissflow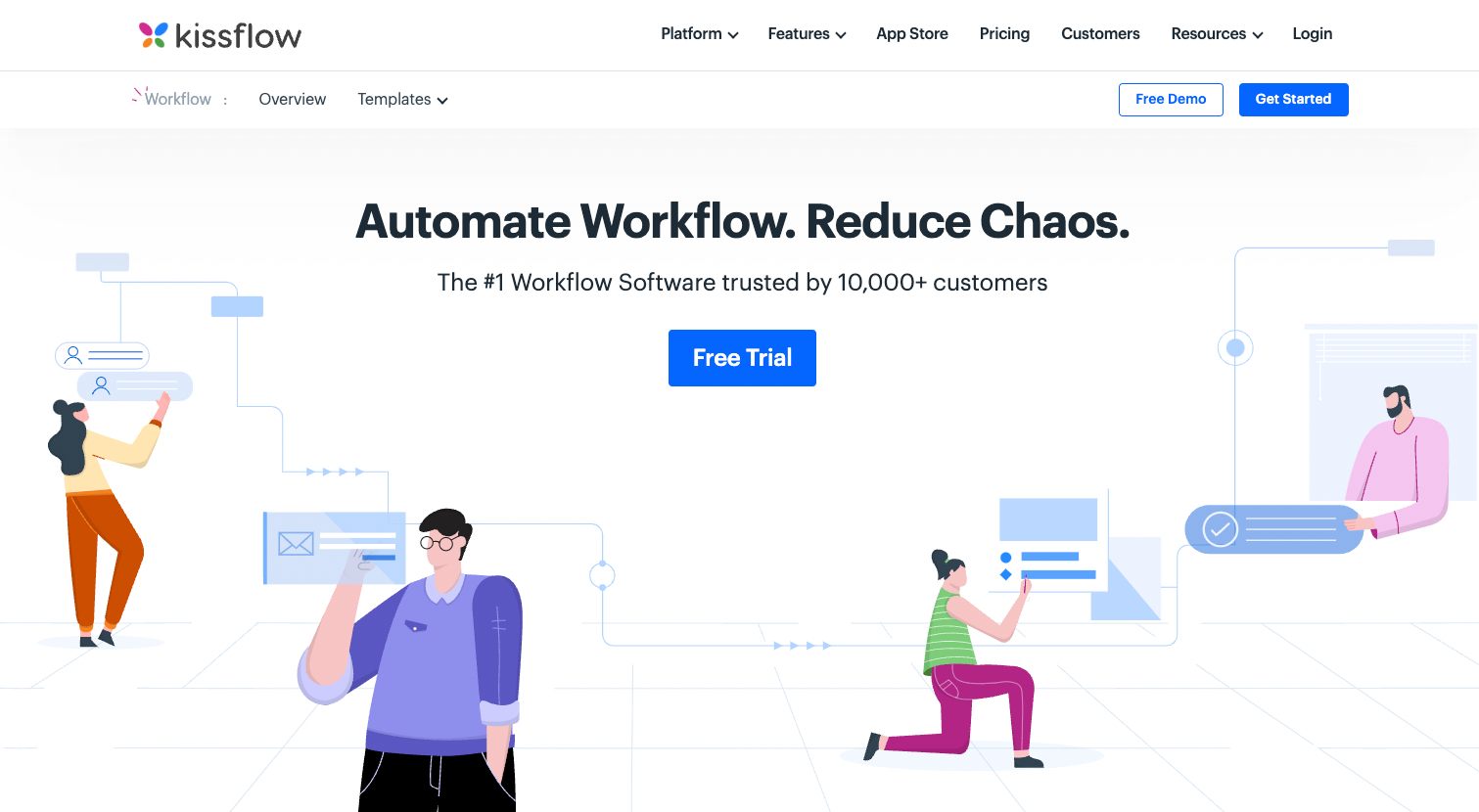 Kissflow is a user-friendly workflow management software that offers automation features and a no-code interface. The platform provides a large bank of templates for various business processes, including sales, HR, procurement, finance, and operations. This allows users to easily build out their existing workflows.
With the drag-and-drop form builder, users can collect and store data, while automated notifications keep them up to date on workflow progress. Kissflow Workflow makes it simple for teams to streamline their processes and stay organized.
Pricing of Kissflow

Pricing of Kissflow starts at $15 per month per user billed annually. Keep in mind you need to have a minimum of 50 users, which equals a monthly minimum cost of $750 per 50 users.
10. Qntrl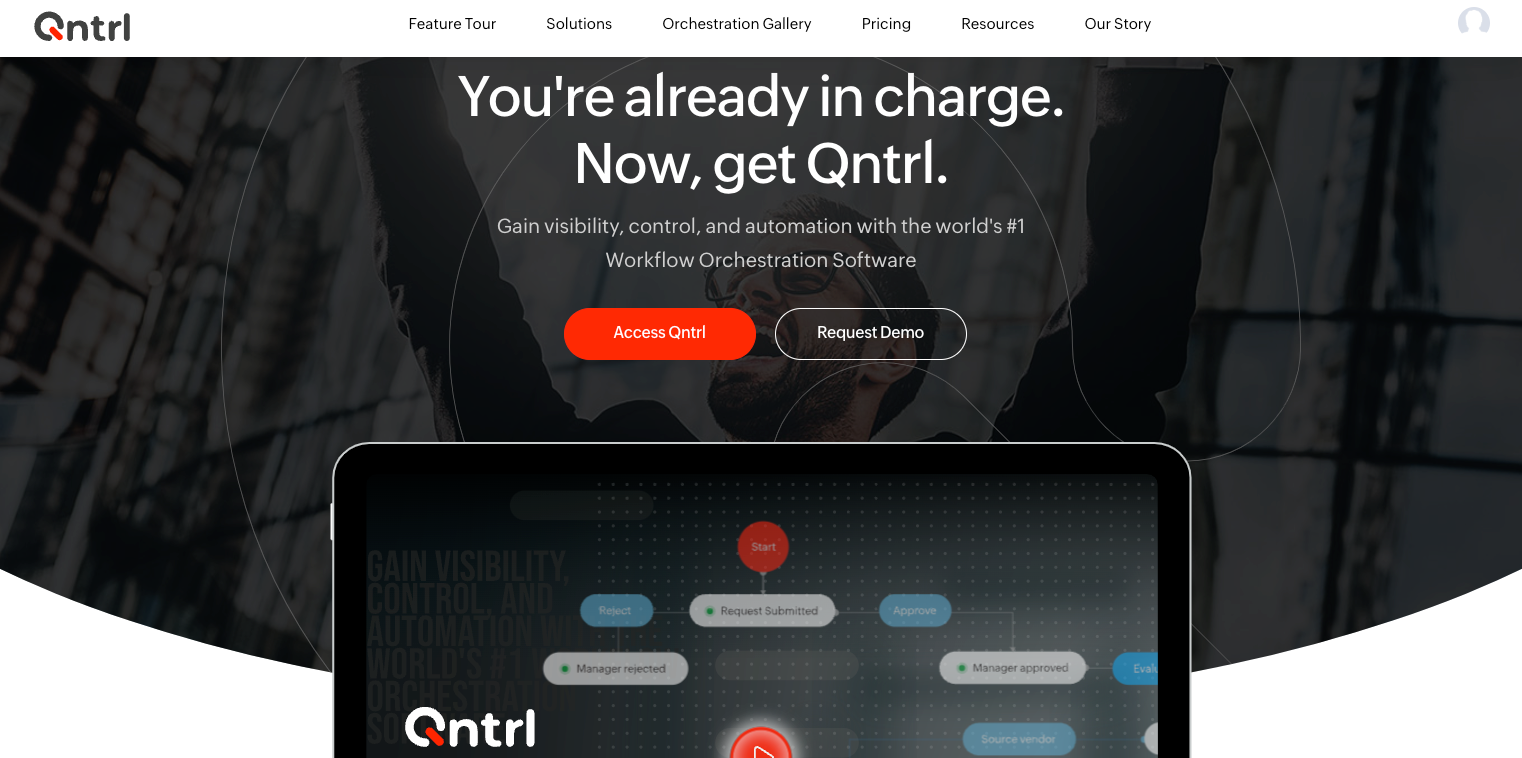 Qntrl is a low-code platform for workflow orchestration that provides automation, control, and visibility to streamline processes and reduce manual labor. Its centralized interface allows users to manage all incoming team requests.
Qntrl offers integrated tools for workflow process managers to design, deploy, and refine workflows for various processes. With its process automation mapping, managers can easily create custom forms to capture important data.
Users can also escalate issues, assign tasks, approve or reject stages, and handle large data transfers from spreadsheets across different verticals.
Pricing of Qntrl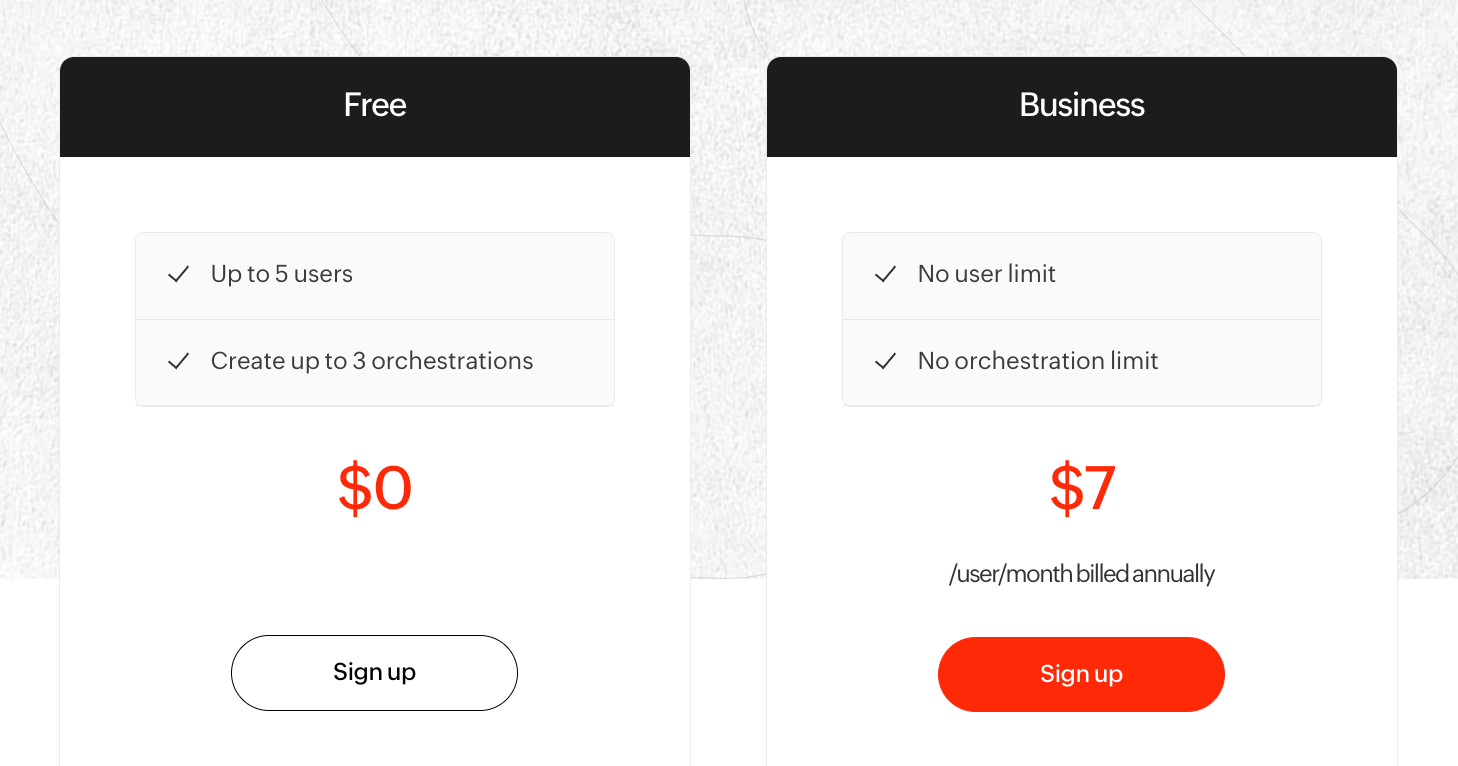 Qntrl offers a free plan for small teams with basic features. Their premium plans start at $7 per user per month (if billed annually) and offer additional features such as custom branding, advanced integrations, and priority support. They also offer a customizable enterprise plan for larger organizations.
Conclusion
In conclusion, workflow management software offers businesses an efficient way to manage their processes and increase productivity by automating repetitive tasks, setting deadlines, assigning tasks, and providing real-time updates.
With a range of features such as process documentation, task tracking, progress monitoring, and collaboration tools, workflow management software can help businesses streamline their operations, save time and resources, and improve communication and collaboration between teams. Whether you're a small business owner or part of a large enterprise, there is a workflow management software that can meet your specific needs and budget.
For almost anyone, I would suggest ClickUp and Monday.com. ClickUp is a highly adaptable system and workflow tool that allows teams to manage tasks, projects, and workflows in a customizable and efficient way. Its features include customizable task management, calendars, project timelines, and goal tracking. ClickUp also offers automation options, integrations with popular apps, and a collaborative environment that allows team members to communicate and work together seamlessly. Its user-friendly interface and affordable pricing make it a popular choice for teams of all sizes and industries.
FAQ
How much does workflow management software cost?
The cost of workflow management software can vary depending on the tool and the features included. Some tools offer free or low-cost plans, while others may require a subscription or per-user fee. It's important to evaluate the cost and features of different options to find the best fit for your budget and needs.
How to Find The Best Workflow Management Tool?
To find the best workflow management tool, start by identifying your team's specific needs and processes. Look for software that offers features like task automation, collaboration, reporting, and customization, and consider factors like pricing, user-friendliness, and customer support before making a decision.
Can a Workflow Management Software Improve Business Processes?
Yes, a workflow management software can significantly improve business processes. It can help automate manual tasks, reduce errors and delays, increase efficiency, and provide real-time visibility into the progress of tasks and projects. By streamlining processes and providing a centralized platform for collaboration and communication, a workflow management software can ultimately lead to better productivity, cost savings, and improved customer satisfaction.
How to Create Custom Workflows?
Creating custom workflows requires identifying the specific steps and tasks involved in a process, determining the order in which they should be completed, and assigning responsibility for each task. Workflow management software can be used to build and automate these custom workflows, allowing for increased efficiency and productivity in business processes.
What Are Repetitive Tasks? Can I Automate?
Repetitive tasks are an integral part of most workflows, and workflow management software can help automate these tasks to save time and reduce errors. With the ability to schedule and assign recurring tasks, users can set up workflows that repeat on a daily, weekly, or monthly basis. Additionally, some workflow management software may allow users to create templates for commonly repeated workflows, further streamlining the process.