What Is a WordPress Management Tool?
A WordPress management tool is a software or service that helps you streamline and automate various tasks involved in managing WordPress websites. These tools provide a centralized platform or interface from where you can handle multiple aspects of your WordPress sites efficiently.
5 Benefits of a WordPress Site Management Tool
1. Time-efficient
By utilizing WordPress management software, individuals can automate repetitive tasks like updates, backups, and security checks, resulting in significant time and effort savings.
2. Enhanced site security
The software actively monitors for security threats, identifies vulnerabilities, and delivers security patches and updates, therefore it helps users to maintain a secure website.
3. User-friendly
WordPress management software is designed with a user-friendly interface, making it accessible and intuitive for beginners and non-technical users.
4. Improved site availability
A WordPress site management system continually monitors website uptime and promptly notifies users if their site experiences downtime, ensuring uninterrupted availability for visitors.
5. Centralized control
With this software, users can conveniently manage all aspects of their website through a unified dashboard, encompassing updates, backups, security, and performance.
7 Tools to Manage Multiple WordPress Sites
Theme name
Free version
Pro
Rating
Installations
1. InfiniteWP
Yes
Starter plan
from $147/year
4.5
based on 155 reviews
300,000+
2. Jetpack
Yes
Starter Plan from $3.95/month (for the 1st year)
4.0
based on 1878 reviews
5+ million
3. iThemes Sync
No
Pro plan from $69/year/5 sites
5.0
based on 4 reviews
60,000+
4. MainWP
Yes
Pro plan
from $17/month (with an annual subscription)
5.0
based on 2,236 reviews
10,000+
5. ManageWP
Yes
Add-ons are available starting at $1-2/month/website
4.5
based on 634 reviews
1+ million
6. WP Remote
Yes
Basic plan starts at $299/year (for 5 sites)
4.5
based on 45 reviews
20,000+
7. CMS Commander
No
Pro plans start at $8/month (for 5 sites)
4.5
based on 25 reviews
10,000+
1. InfiniteWP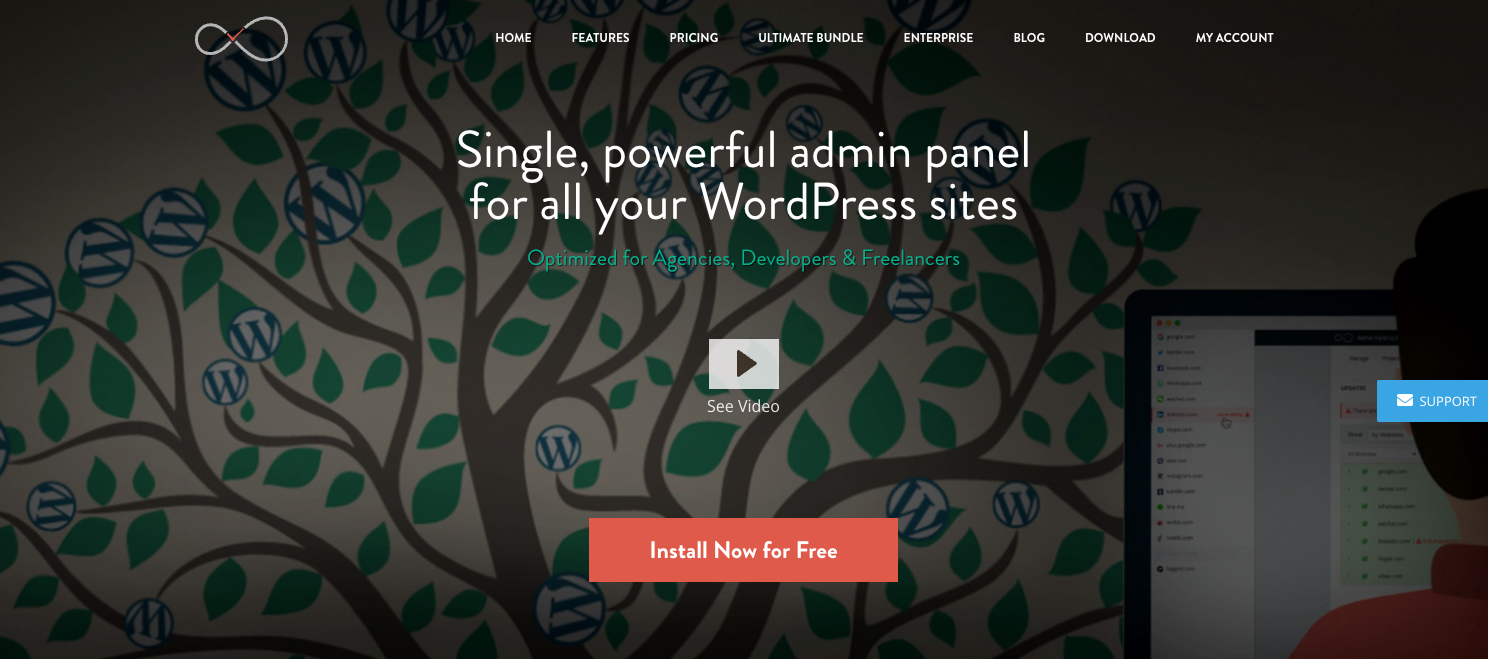 InfiniteWP is a robust WordPress site management tool designed specifically for agencies, developers, and freelancers.
With InfiniteWP, you have the ability to manage an unlimited number of websites with the right plan. However, the free version has limitations and only allows you to handle WordPress plugins, themes, and core updates. It also enables you to create on-demand site backups, but storing them in a remote storage location requires a paid add-on.
But the true power of InfiniteWP lies in its premium plan, which includes all the paid features. These features encompass easy website deployment, staging websites, migrations, malware scanning, uptime monitoring, client reports, comment management, post and page publication, 2-factor authentication, broken link checking, and more.
Furthermore, InfiniteWP allows you to customize the plugin with your own branding, replacing the InfiniteWP logo with your own. This ensures that your clients see your brand identity instead.
It's important to note that InfiniteWP is not a software-as-a-service (SaaS) application. Instead, it offers the flexibility of installing the WordPress management tool directly on your own site. You can install it using an installer plugin, cPanel, additionally, you can manually upload it to your server.
If you'd like to know more about SaaS marketing, read our article on the topic here.
Once the setup is complete, you can add the websites you want to manage and install the InfiniteWP client plugin on each of them. This client plugin establishes a connection between your websites and the InfiniteWP admin panel, granting you extensive control over the sites you manage.
Pricing of InfiniteWP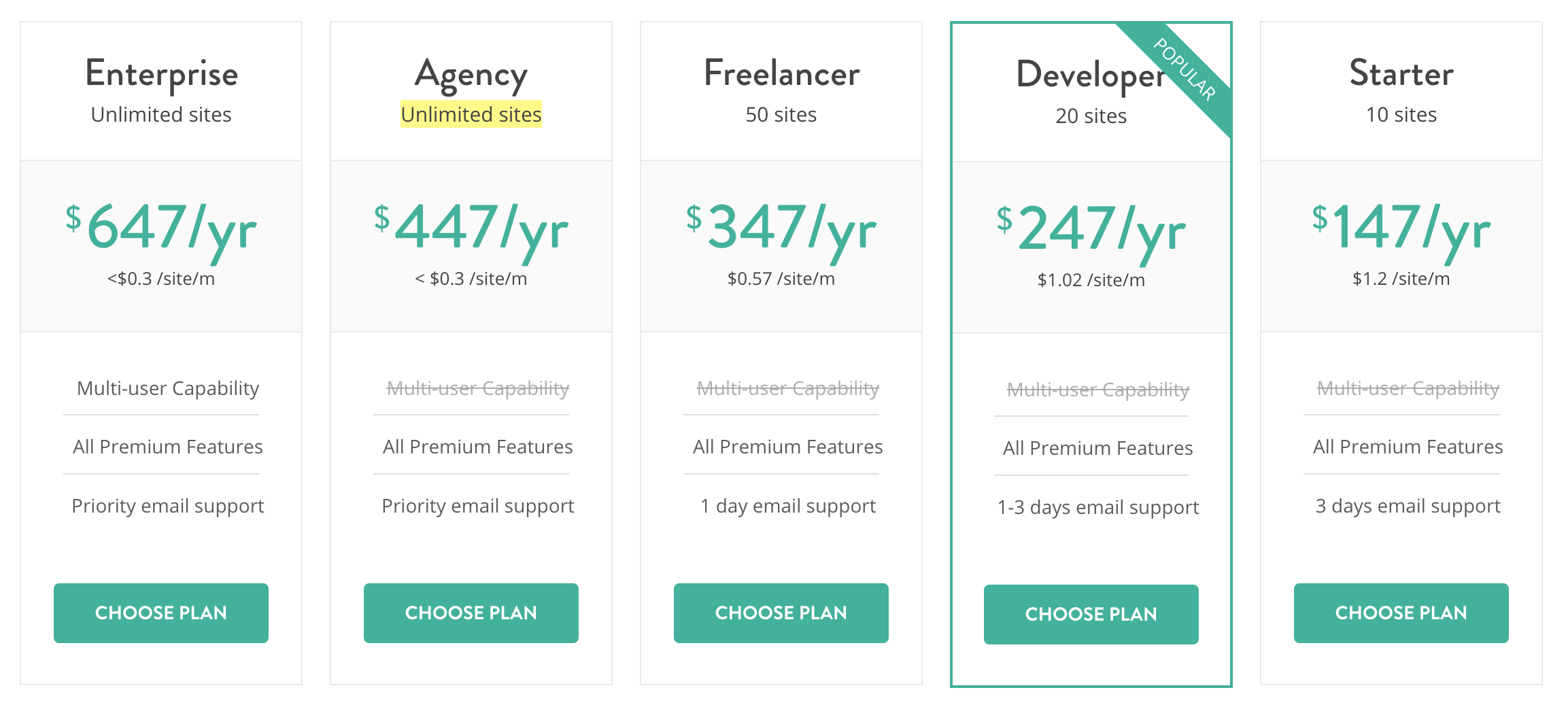 As far as pricing is concerned, InfiniteWP paid plans start from $147 per year for 10 sites.
2. Jetpack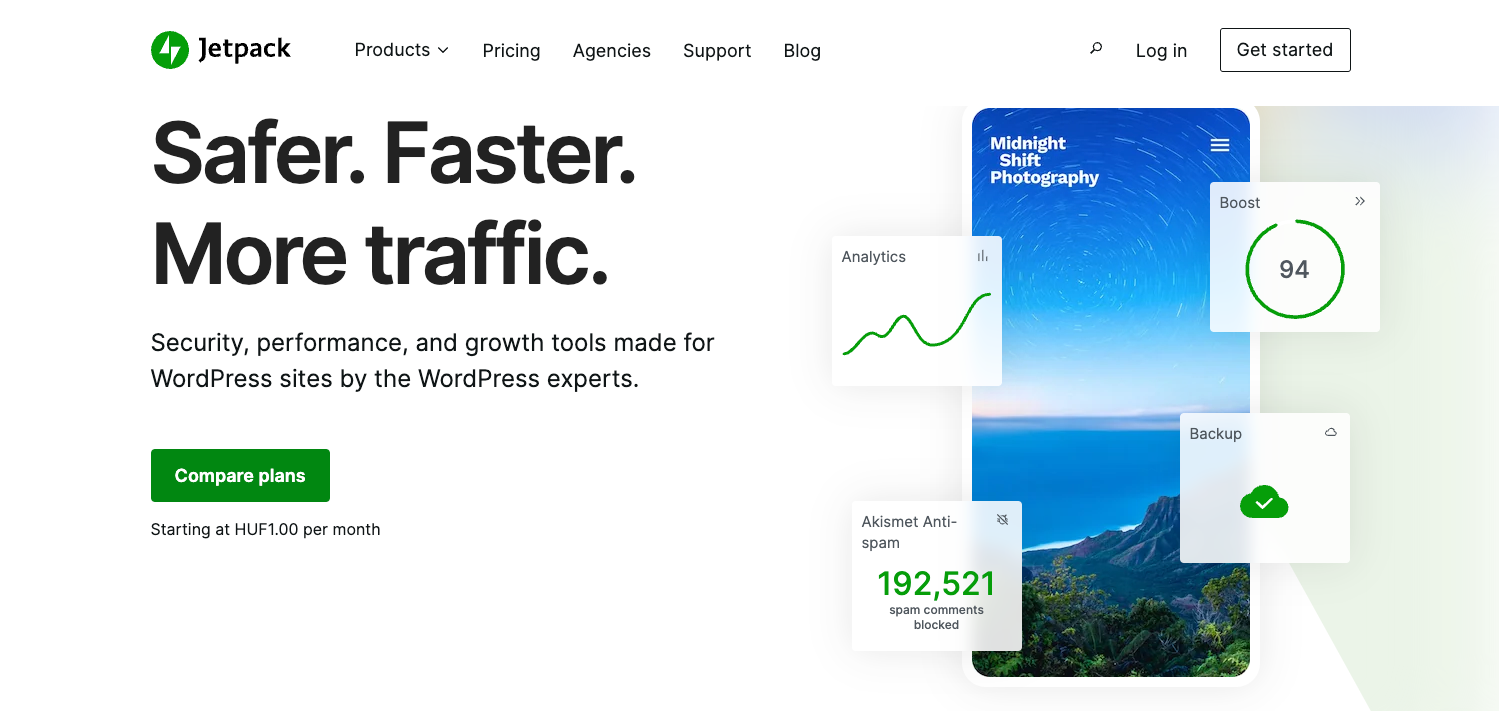 Jetpack is a comprehensive plugin suite that offers a wide range of WordPress site management features. To begin using Jetpack, you will require a WordPress.com account (be aware that there is a difference between WordPress.com and WordPress.org).
The free Jetpack plugin acts similarly as a bridge. So it creates a connection between your website and the WordPress.com servers. It allows you to utilize the WordPress.com dashboard for managing all your WordPress sites.
With the free version of Jetpack, you can oversee WordPress plugins and core updates for all your websites. Additionally, it includes downtime monitoring and basic protection against brute force attacks.
However, to access more advanced features, you will need to upgrade to Jetpack's paid plans. These plans offer various features, including automated backups with Jetpack, malware scanning, security fixes, site activity logs, and more.
Pricing of Jetpack

Although Jetpack has some free features, their paid plans start at $3.95 per month for the 1st year when billed annually. (It will renew at full price.)
3. iThemes Sync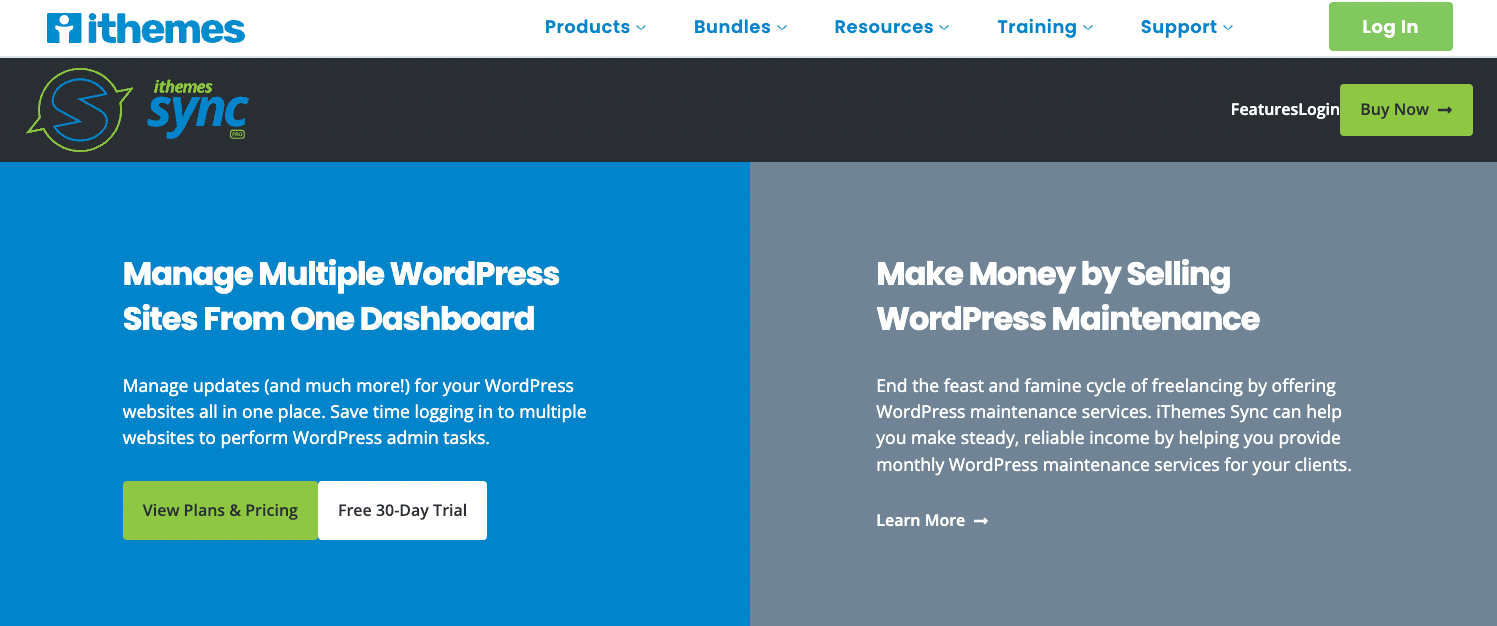 iThemes Sync is a robust WordPress management tool.
This tool provides a centralized dashboard for managing WordPress updates. From this dashboard, you can easily handle updates for your WordPress core, themes, and plugins. Additionally, iThemes Sync enables you to install themes and plugins either from the WordPress.org repository or by manually uploading them.
Furthermore, iThemes Sync offers various features such as uptime monitoring, client reports, user management, security functionalities, and seamless integration with cloud storages, Google Search Console, and more.
One of its notable strengths is its user-friendly and intuitive interface, which simplifies the process of site management.
Pricing of Sync by iThemes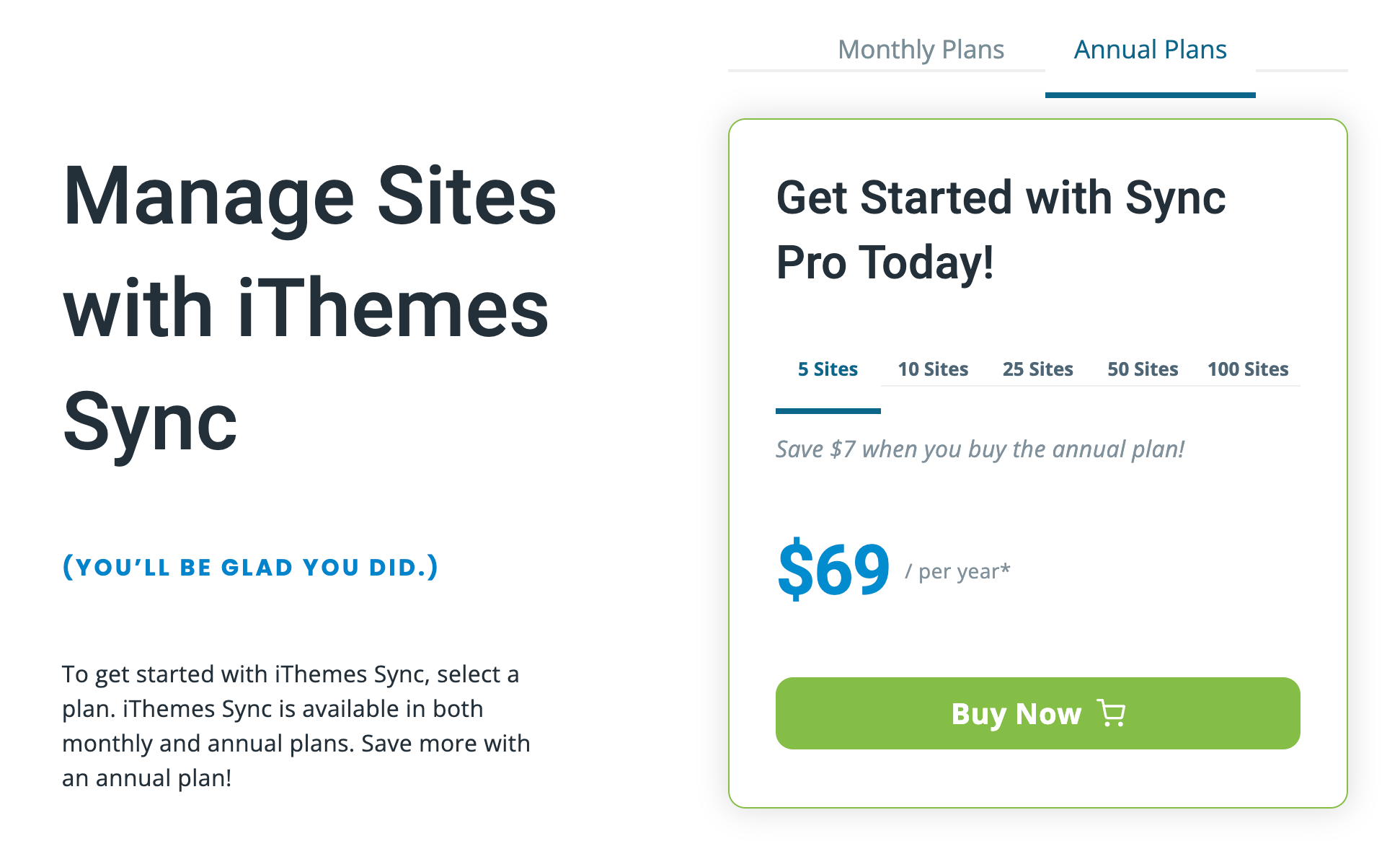 As for pricing, iThemes Sync offers paid plans starting at $67 per year for 5 sites. You can also opt for a plan for up to 100 websites.
4. MainWP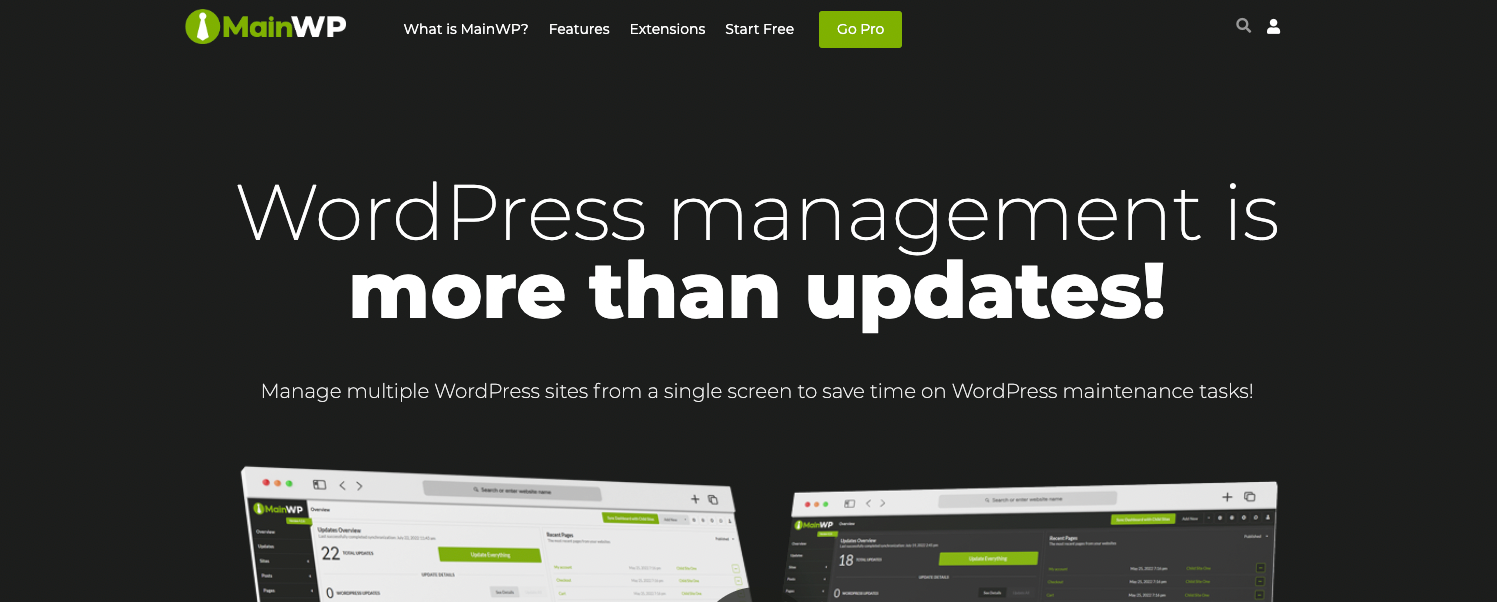 MainWP is a WordPress website management tool that offers a core plugin for free, accompanied by various paid add-ons. To utilize MainWP, you install the admin plugin on a separate WordPress website.
Once installed, you will need to add the MainWP child plugin to each website you wish to manage.
MainWP provides a range of features including effortless update management, uptime monitoring, a security scanner powered by Sucuri, a scanner to identify vulnerable plugins and themes, as well as user and content management capabilities.
In addition, MainWP offers extensions compatible with popular WordPress backup plugins like UpdraftPlus. These extensions allow you to customize and manage your backups according to your preferences. You can also find extensions for bulk article uploads, client reports, access control, and more.
Pricing of MainWP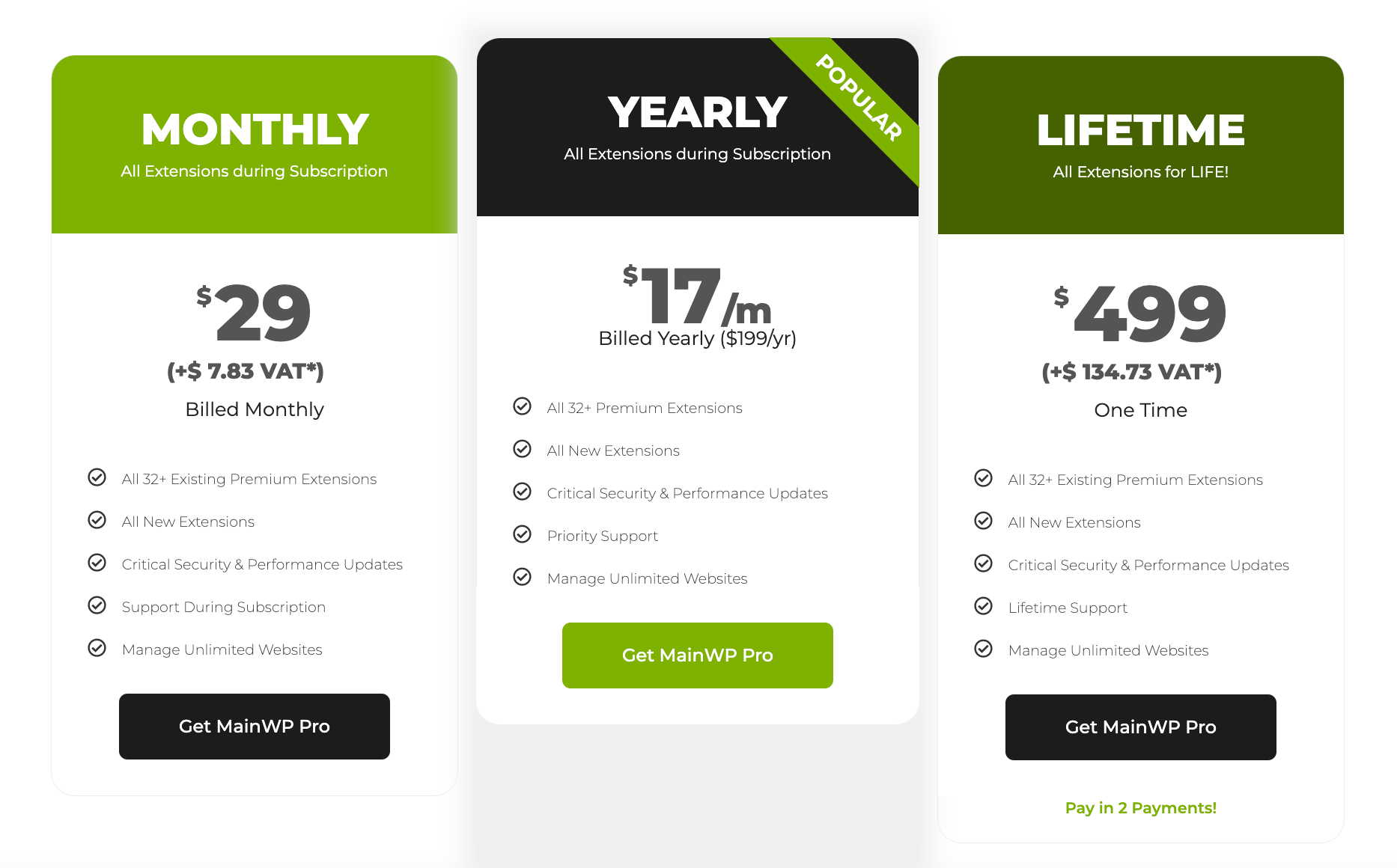 In terms of pricing, the MainWP core plugin is free, while the various extensions are available at different price points. The subscription for all extensions starts at $17 per month when billed annually.
5. ManageWP

ManageWP is a WordPress website management tool that offers a free solution to manage all your WordPress sites conveniently through a single dashboard.
The ManageWP dashboard is hosted on their website, and you establish connections with your websites by installing the Worker plugin on each site. This plugin acts as a link between your websites and the ManageWP dashboard.
Using the unified dashboard, you can effortlessly perform one-click updates for your WordPress plugins, themes, and core files. Additionally, you can moderate comments across all your sites directly from the ManageWP dashboard.
The core features of ManageWP are free and can be utilized for an unlimited number of sites. However, they also provide optional paid add-ons on a monthly subscription basis. The free features include automated monthly backups and security scans, but for real-time backups and automated scheduled security scans, you will need the paid add-ons.
ManageWP offers various noteworthy features, such as performance analysis, uptime monitoring, SEO ranking, and a detailed log of all activities performed by ManageWP on your sites.
For agencies, ManageWP provides client reports that you can share with your clients to keep them informed. They also offer a white-label service, allowing you to completely remove ManageWP branding and provide your clients with a customized user experience under your own brand.
Pricing of ManageWP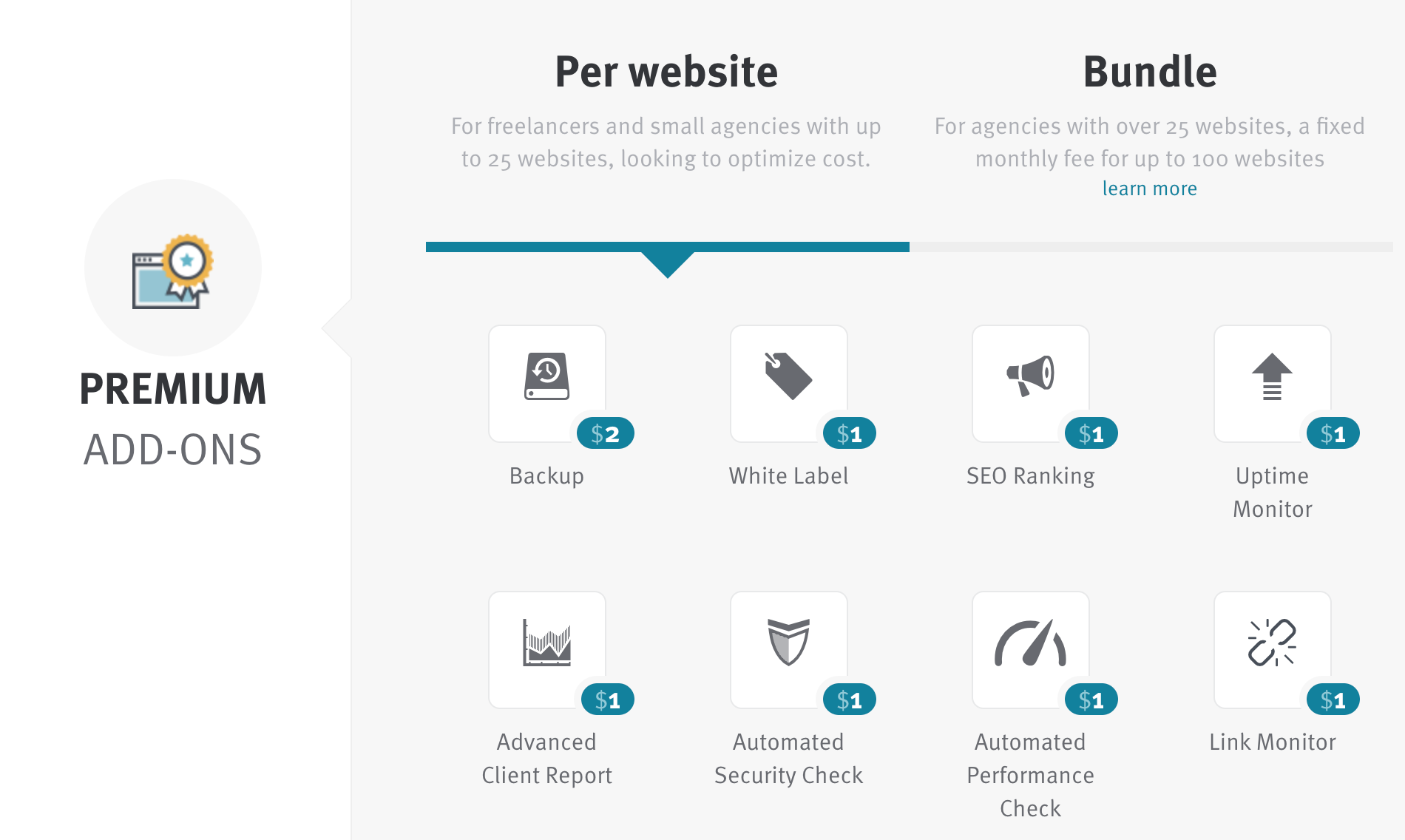 As for pricing, the core features of ManageWP are free for an unlimited number of sites, while the paid add-ons are available on a monthly subscription basis at a rate of $1-2.
6. WP Remote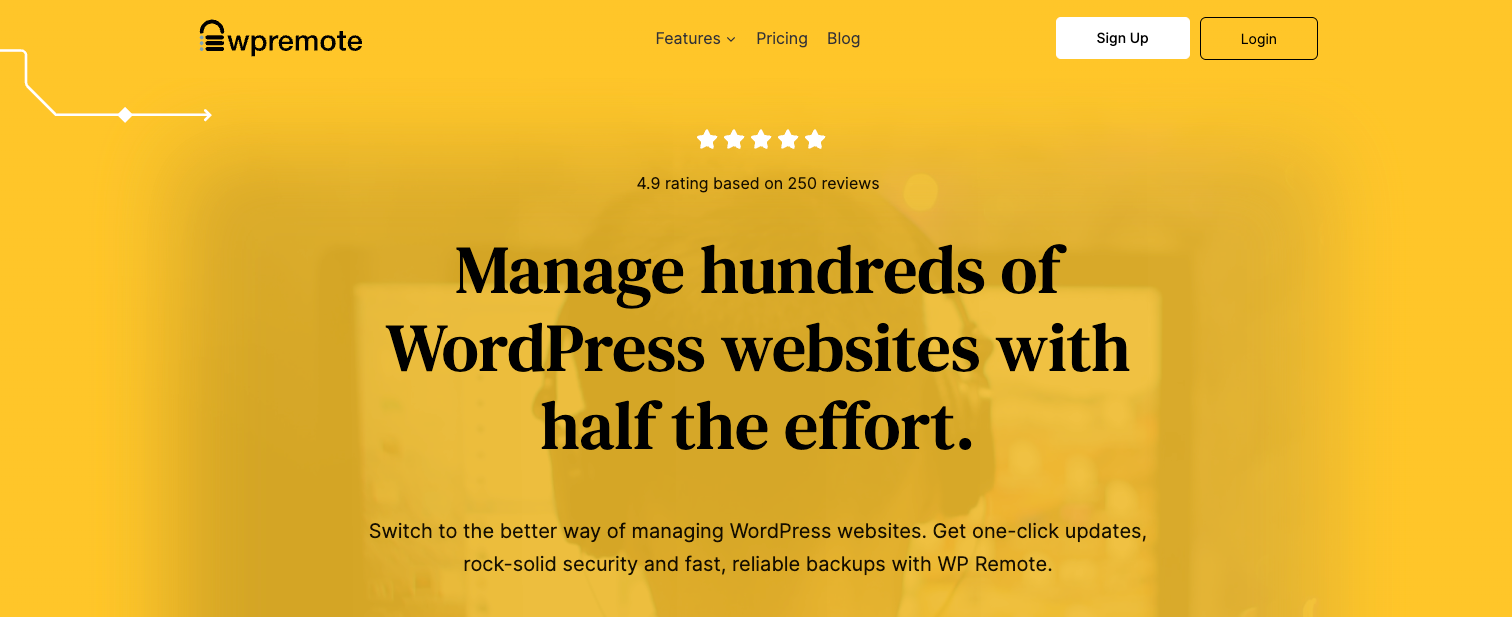 WP Remote provides a straightforward solution for managing updates across all your WordPress sites. It is a streamlined WordPress management tool that offers a more limited set of features compared to some other tools mentioned.
With WP Remote, you can conveniently install updates for WordPress core, plugins, and themes. It also enables you to create backups and easily download them to your computer or store them on AWS or SFTP.
Pricing of WP Remote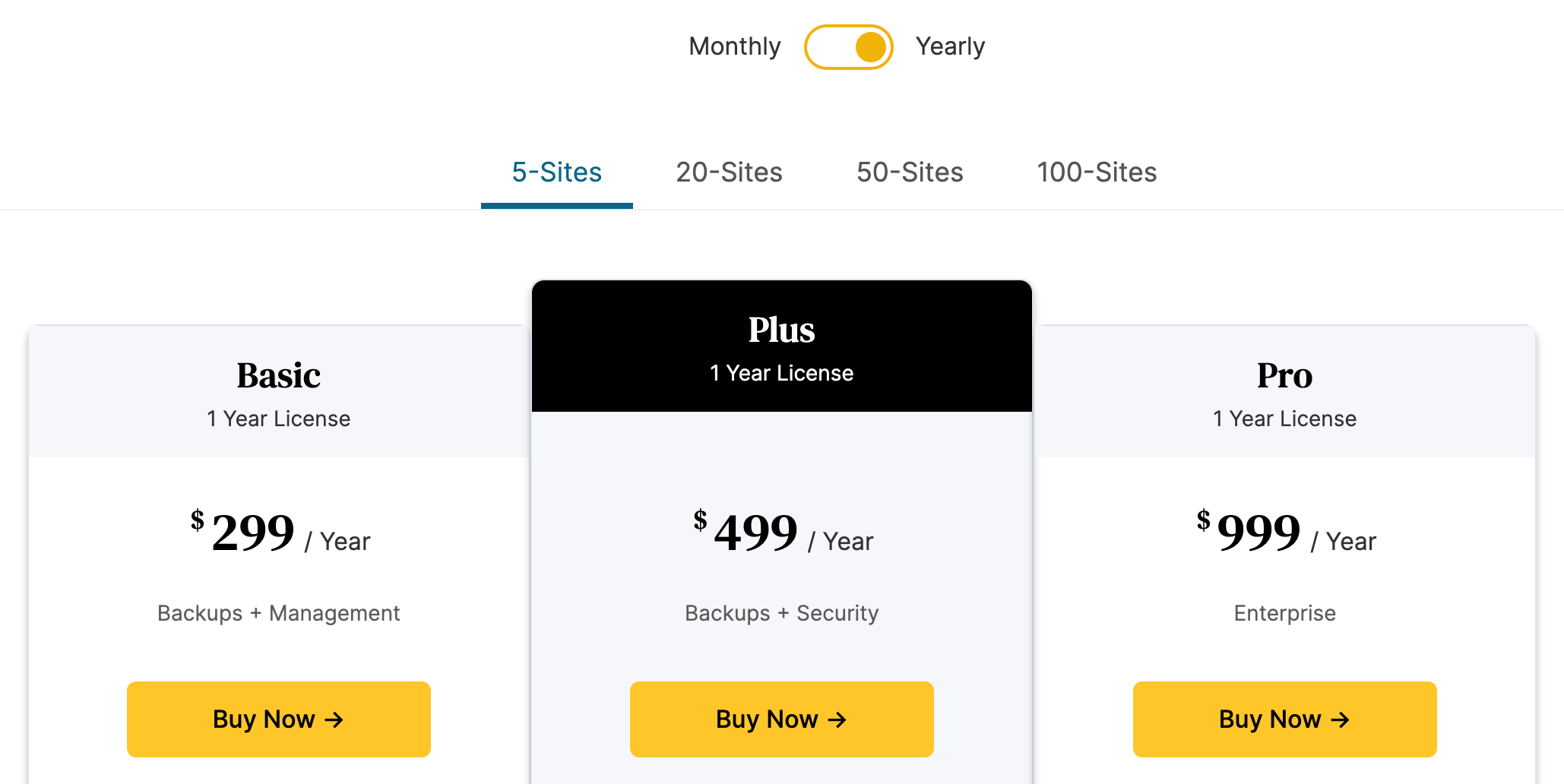 In terms of pricing, WP Remote offers agency plans starting from $29 per month or $299 per year (if billed annually), which allows you to add additional users as needed.
7. CMS Commander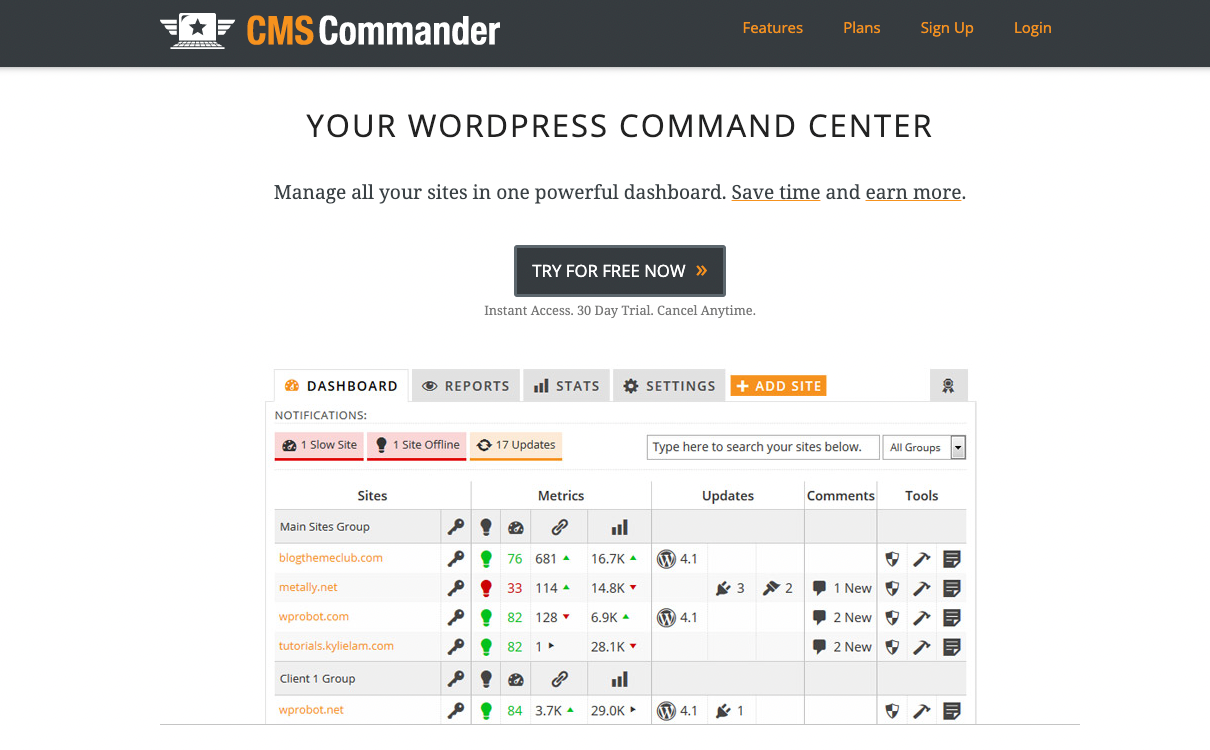 CMS Commander is a premium WordPress website management tool that requires a paid subscription. From the CMS Commander dashboard, you can conveniently manage all your websites. To establish the connection between your websites and the dashboard, you will need to install a client plugin on each site.
The tool provides a range of features, including 1-click updates, backup management, 2-factor authentication, a basic malware scanner, and the ability to customize the branding of your websites, among others.
What sets CMS Commander apart from other tools is its content management capabilities. It enables you to incorporate content from various third-party sources such as YouTube, Flickr, Yelp, and more, and seamlessly integrate it into your websites.
Additionally, CMS Commander integrates with article-spinning services, allowing you to rewrite the content and distribute it across multiple sites. This feature proves valuable for affiliate marketers as well, as it offers integrations with popular affiliate networks like Amazon, ShareASale, Commission Junction, and more.
Pricing of CMS Commander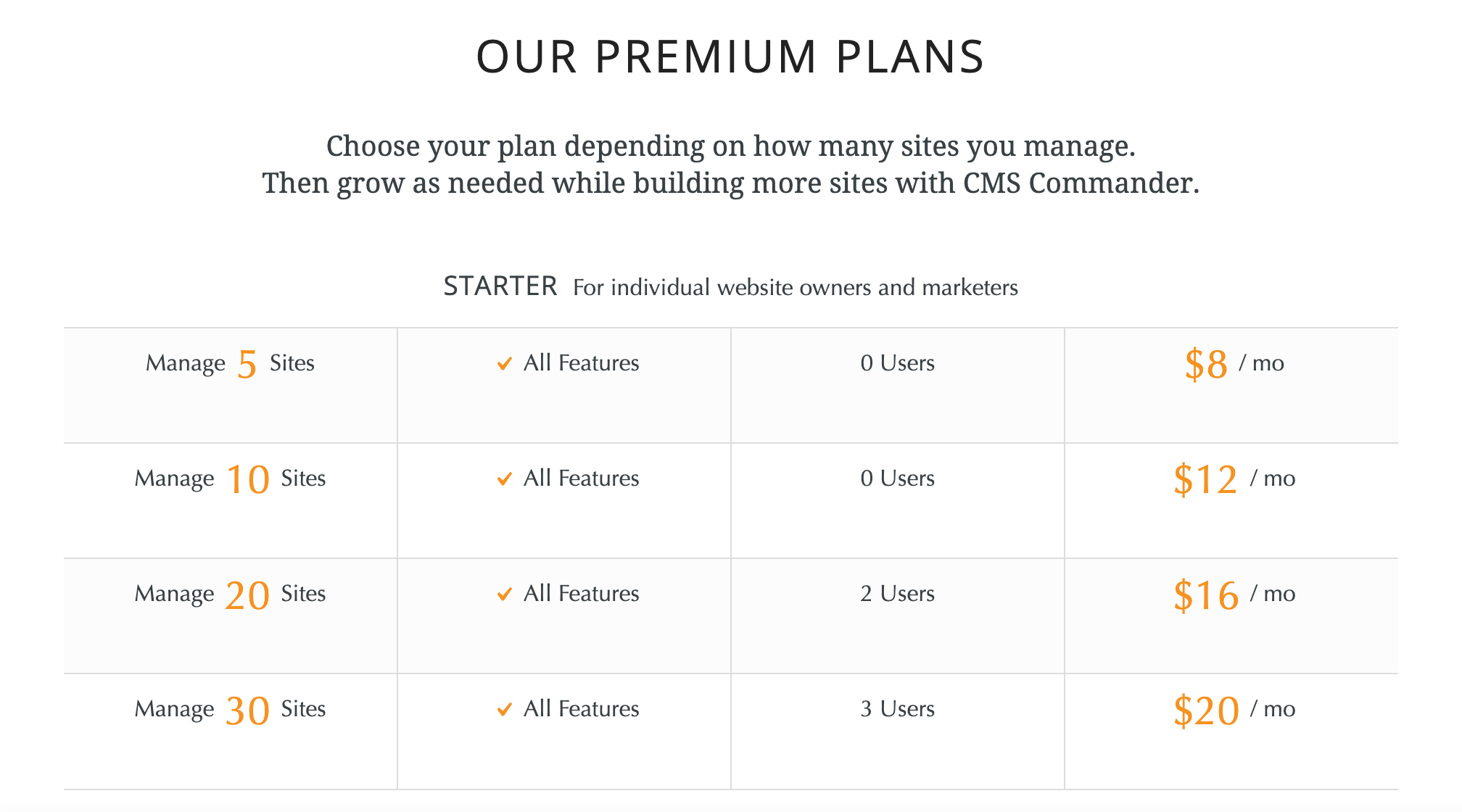 Regarding pricing, CMS Commander offers plans starting from $8 per month for managing up to 5 sites. For agencies and large site networks, they provide business plans starting from $30 per month, accommodating up to 50 sites.
Who Uses WP Management Services?
WordPress site management software is used by a diverse range of individuals and organizations who require a user-friendly and customizable website management tool.
Who are some of the users of WordPress site management software?
Small business owners often use WordPress to create their own websites as it provides an affordable and easy way to create a professional-looking website.
Freelancers who build and provide website maintenance services for WordPress websites for their clients can use WordPress site management software to keep track of all the websites on a single platform, making it easier to manage their work.
Bloggers often use WordPress to create and manage their blogs as it allows them to develop and publish content without technical knowledge. WordPress site management tools provide them with a way to manage all their blogs from one platform.
E-commerce businesses use WordPress to create and manage their online stores. WordPress site management tools offer a range of e-commerce plugins that allow businesses to add features such as shopping carts, payment gateways, and shipping options, providing a robust platform for their online stores.
Conclusion
The choice of the ideal WordPress website management tool depends entirely on your specific requirements. If you are an individual user with a small number of WordPress sites, you might prefer a simpler and more cost-effective solution. For freelancers or agencies working with multiple clients, a more robust and sophisticated tool is ideal.
In terms of features, user-friendliness, and adaptability, InfiniteWP is an ideal WordPress management tool. It offers comprehensive functionalities that cater specifically to the needs of freelancers, agencies, and developers.
However, if you only need to manage a few sites and don't require all the features provided by InfiniteWP, you can consider iThemes Sync or Jetpack for basic website management.
In this article, you got to know some of the best tools for easily managing multiple WordPress sites, so you can choose the most ideal one.
If you want to know more about WordPress and content optimization, check out this article.
FAQ
Why do I need a WordPress management tool?
 A WordPress management tool can greatly simplify website management by providing a single dashboard therefore you can handle multiple websites. It saves time by automating tasks like updates and backups, enhances security by monitoring for vulnerabilities, and provides convenient access to various site management features.
Are WordPress management tools free?
There are both free and paid WordPress management tools available. Free tools often offer a basic set of features, while paid tools typically provide more advanced functionality, additional support, and priority access to updates.
Can I use a WordPress management tool for multiple websites?
Yes, most WordPress management tools are designed to handle multiple websites from a single dashboard. They allow you to manage updates, backups, security, and other tasks across all your websites simultaneously, saving you time and effort.
Are WordPress management tools secure?
WordPress management tools themselves strive to maintain high-security standards. However, it's crucial to choose reputable and trusted tools, keep them up to date, and follow best practices for securing your WordPress sites, such as using strong passwords and keeping plugins/themes updated.
What features should I look for in a WordPress management tool?
The features you should consider is depending on your specific needs. However, some common features to look for include one-click updates for WordPress core, plugins, and themes, backup and restore functionality, security scanning and monitoring, uptime monitoring, content management capabilities, user management, and reporting options.