Het is zeker voor herhaling vatbaar! ☺ De locatie in het centrum, super ingericht en er was van alles meer dan voldoende aanwezig, van kruiden tot Netflix en dvd. ☹ De trap is erg stijl
Jenny Unger-Tettenborn
2023-09-25
Das ist das hübscheste Airbnb Appartement, dass ich jemals gebucht habe.

Vraiment top ☺Explications détaillées pour les accès Très très spacieux Propre, tout confort A 2 pas du centre tout en étant calme. Au top ! ☹Rien

Excellent location very good value for money ☺Great selection of DVDs and a very reasonable honesty bar
Mieux que mieux ! Nous avons passé un excellent we prolongé à Bruges (2 familles). Le logement st jan est TRÈS SPACIEUX (2 grandes Sdb, 3wc) , très confortable et convivial. Propreté et état impeccable. Il offre toutes les commodités et infos pratiques. Nous avions tout ce qu'il nous fallait. Les codes d'entrée permettent d'être totalement indépendant, garage disponible sur réservation (bien regarder la vidéo envoyée à la réservation) Le logement est idéalement situé. On peut tout faire à pied. Nous étions vraiment des rois ! Merci aux propriétaires pour la haute qualité de ce logement.
Brugge Getaway Great apartment, very close in to town, walking to everywhere, parking available, spotless with a great host
We stayed in St. Jacob. The apartment was absolutely awesome. This is be my go to place if I get the chance to come back to Brugge. Thanks, Tom!
Voortreffelijk
Spectacular in every way! I believe this is the very best short term rental in which we have stayed. Everything was amazing. The property is a good size, very clean, warm and inviting. Decorated nicely but not cluttered at all. There is a big comfortable couch and chair for plenty of seating to watch a movie. The kitchen had everything we needed and the greatest coffee maker. Tom the owner/manager created the best instruction and suggestion book I have ever seen. Comfy beds, plenty of storage. Such a perfect location to get to the heart of Bruges. It uses codes instead of keys which is great when traveling with multiple adults. That way people can come and go as they please without worrying about who has the key. But over and above all that, the other amenities were a huge shared garden space with a small pool. Perfect place for wine and cheese. We had the use of a washer dryer and an "honesty" bar. It was filled with tons of beer and other drinks. There is a huge selection of DVDs also. The best surprise was running into Tom and having him show us the basement of the property. It's not for guests use but it has an amazing story he will have to share if you visit. It's from hundreds of years ago. Absolutely fascinating to see this piece of history and I am so grateful that Tom shared it with us!! Our stay here made Bruges that much better. Thank you Tom! Honestly we wish our stay had been longer to enjoy more of the garden area.

Voortreffelijk

It was a pleasure and enjoyable to experience the picturesque Brugge but the Apartment was the best part of Brugge. Than ☺Tom, the owner, was very accomadating and clearing managing with the intent to please, everyone. He has the perfect attitude, personality and he is hard working. ☹Nothing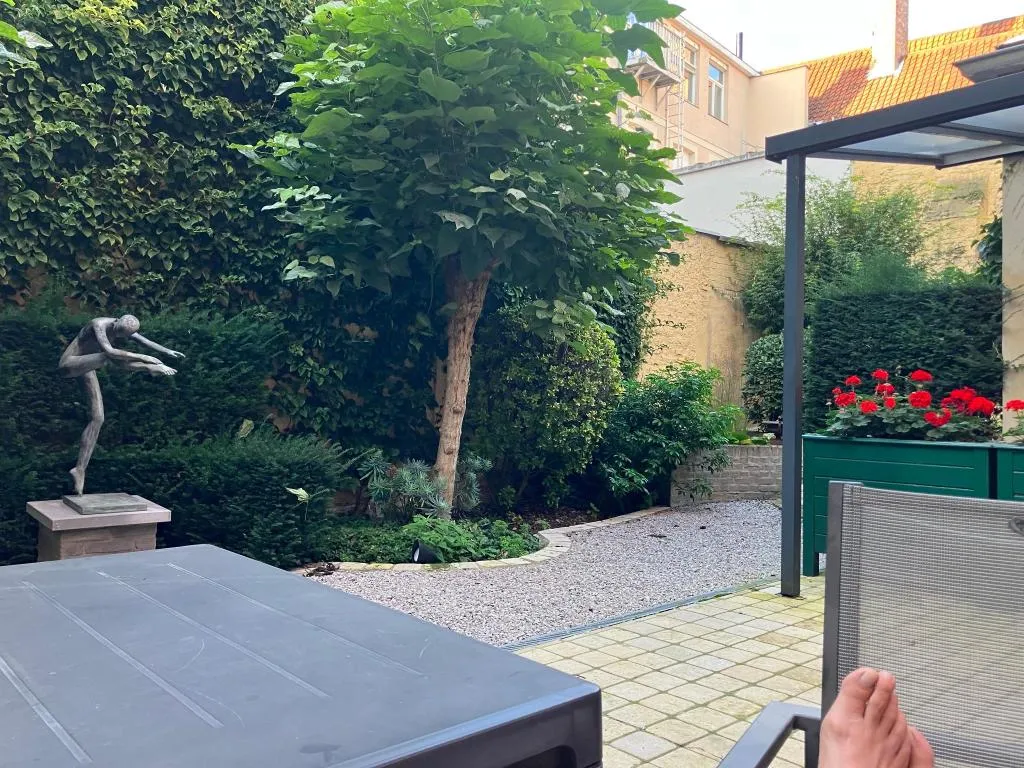 Fantastisch appartement in het mooie Brugge ☺ Het appartement was compleet, van heerlijke koffiemachine tot rituals in de badkamer. Erg blij met airco tijdens de warme dagen van 30 graden. Prima ligging vlakbij centrum en toch rustig. ☹ Niets
Great place to stay in Bruges!

Voortreffelijk

☺Lovely property - great location, and a very pleasant building.
We had a wonderful stay at the St Jan apartment. It was a fantastic space for a multi generational family - close to the main attractions but also managing to retain a peaceful atmosphere. The swimming pool was a wonderful addition - our children loved it! Tom, our host was really accommodating. It was also great to have the honesty bar on hand with an excellent selection of beers, wines and soft drinks. Our family would definitely stay here again - highly recommended!
Dear Sarah, we're thrilled to hear you had a wonderful stay at St Jan apartment. We appreciate your kind words and look forward to welcoming you and your family again. Regards, De Drie Koningen