Chantal Niemand
2023-12-04
Very private, quiet setting. Great pool and spa. Spotlessly clean room. Beautiful garden. Lovely breakfast. Feels like a 5 star hotel. Tania is a great host and very knowledgeable. Highly recommended!
Kia ora Chantal, we take pride in what we do at Pateke Lodge so it pleases us immensely that you felt like you were staying in a 5-star hotel! Thank you for staying with us and we truly appreciate your recommendation. Ka kite
Fantastic stay and fantastic host We throughly enjoyed our stay here. Tania was a fantastic host, a friendly face when we arrived and she made delicious breakfast for us, it was like we were eating out at a cafe! The pool and hot tubs were brilliant and the surrounding trees and garden made it feel like a sanctuary. There were so many little unique touches within the room that did not go unnoticed…chocolate on the pillow, bathrobes, quilted stamp on the toilet paper, fresh jug of water and the breakfast menu was awesome! Well done Tania, we would most definitely stay again if we are ever back up North.
What a beautiful place to stay! Our stay at Pateke Lodge was just what we needed to start off our NZ travels. Beautiful setting with an amazing garden, a great opportunity to relax in thei hot tub too. And when I forgot my kindle after checking out, I immediately got a call so we could head back to pick it up. So no disgruntled driver or friends! Thanks so much for everything!
Superb ☺ Clean, stylish room. Comfortable bed. Delicious breakfast. Beautiful gardens and friendly hosts.
Thank you Georgina!! 😊 Your kind words mean a lot to us, we are happy to hear you enjoyed your stay! Thanks for taking the time to post this review 😊
Highly recommend this beautiful BB We had a wonderfully relaxing 3 night stay. The room is so clean and stylish with lots of lovely touches and the bed is very comfortable. The gardens are lush and beautiful and we enjoyed a very relaxing hot tub. There is also a pool. Breakfast each morning was delicious and delivered to our room. The location is convenient to restaurants and local attractions. Thank you Tania and Troy. We would love to return one day.
Secluded, clean and charming with a pool and spa this is a fantastic gem.
Kia ora Conrad, thank you! We love knowing that our busy corporate guests enjoy the peacefulness here too 😀

Lovely stay ☺ Lovely rooms, facilities and a beautiful garden. Super, friendly service! ☹ Sound tends to come through from the adjoining room.
Hey Graeme, thank you for taking the time to do this review for us!! We are pleased you enjoyed our facilities. Our goal is to ensure our guests have a comfortable stay, so we're very sorry you were disturbed by sound next door 🙁, we are investigating further solutions to mitigate this. Thanks for advising us 🙂
Beautiful peaceful oasis and would definitely recommend to stay here. ☺ This was a fantastic place with a very welcoming host and fabulous garden and rooms. Also great information about local area and walks. Swimming pool and hot tub were also great. ☹ Loved everything here!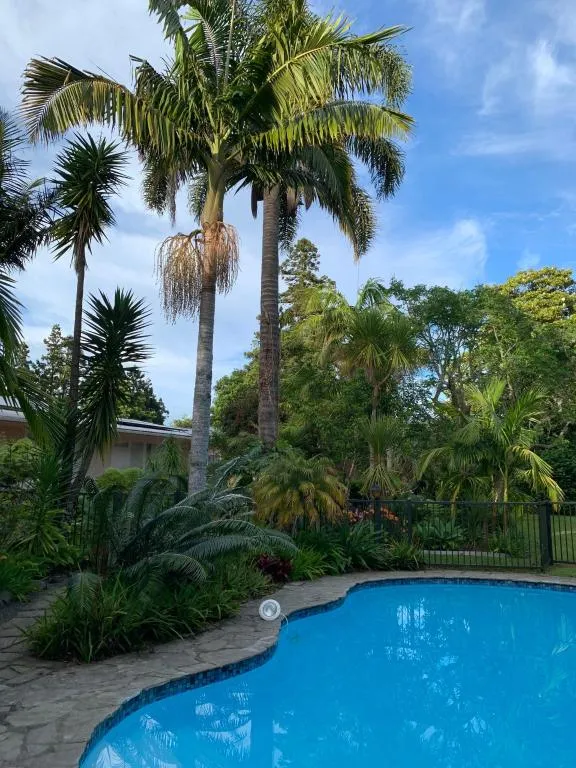 Kia ora Alison, thank you for your kind review 😊 I am so pleased that you, Alistair, and Rachel enjoyed your stay. Your early morning swim was a challenge that I have laid down to subsequent guests 😆
Beautiful environment. Lovely garden delightful host
Im so glad you enjoyed your stay! The e-bikes do make the Twin Coast cycletrail just that bit easier (I wont tell anyone if you dont). Thank you for taking the time to post a review, and tell Vicki it looks like there will be two or three Monstera fruits ready by the end of this week

Exceptional ☺ Everything was exceptional right from the very moment we first made contact. Nothing was an issue. The owners are lovely, welcoming and kind. So many fine details that we really appreciated having had. A peaceful afternoon and evening listening to birdsong and finishing our day with a spa was bliss. In the morning we recieved a fabulous breakfast and left feeling restored and revived, ready for another day. If Peace and tranquility is what you're after Pāteke Lodge is the right place for you.
Thank you for your amazing review!! We are just so pleased we were able to provide such a hard-working family as you, with a place to relax and refresh. Hopefully I will buy a coffee from you one day!
A beautiful property and Tania is a great host.
Aloha and kia ora, thank you Mark! So pleased you and Julie enjoyed your stay with us
Perfect place for what we needed ☺ Loved our big room and yum breakfast and lovely host
Kia ora Ariana thanks so much! We're really glad you all enjoyed a peaceful night's sleep before the half marathon! Hope to see you back next year 😉

Superb
Tania was a wonderful host. We were greeted with a lovely warm welcome, even though we arrived very late in the evening (we got lost and / or distracted on the drive from Auckland). The breakfast was lovely each morning, couldn't get enough of it. All localy made and sourced food and drink where possible. The garden and its sroundering are teaming with beautiful flowers and native birds. It truly is a peaceful and magical setting. We had a fabulous time in Northland, and it was made all the better by staying in Pāteke Lodge. Thank you so very much, Tania.
Kia ora Ruairì! I'm so pleased you and Zoë enjoyed your stay with us! What kind words ☺️ thank you. And the photos you have put up are awesome (you have a fantastic eye). Enjoy the rest of your honeymoon🤵👰‍♀️
Great stay, Highly recommended. We had an excellent and relaxing stay here and Tania was a delightful and welcoming host who gave us great recommendations for restaurants and places to visit. The room was immaculate and very comfortable with lots of lovely touches and the gardens are stunning. Breakfast was brought to our room and was delicious. Highly recommended.
Thanks Teresa, it makes us really happy that you enjoyed your stay 😊

Exceptional

We have stayed at numerous LODGES at similar prices. PATEKE is not really a LODGE, but a good qualit ☺ Very difficult to present a HOT breakfast in relatively cramped room. ☹ Insufficient storage space. Room too small for such wonderful gardens for a longer stay.
Kia ora Robert, we appreciate you taking the time to post a review. We are sorry your stay didn't meet your expectations. The room you booked is our smallest (i think the room dimensions are on Booking.com), and it's a shame the inclement weather kept you inside. I do hope you enjoyed your early morning jacuzzi visits though 😊
James Carberry
2023-10-27
Such a peaceful and relaxing haven with wonderful hosts. A perfect base for a trip to Northland. Thank you Tania and Troy! :)
Thank you James and Jane, we are so pleased you enjoyed your stay with us! Hope you enjoyed the kauri forest 😊
Awesome rooms, great surrounds. Super friendly hosts. We loved staying here and will 100% be back.
Kia ora, thanks Reagan! Really appreciate you taking time to do this lovely review ☺️ Absolutely stoked you enjoyed your stay! See you again some time 😊