Shein dresses So happy with my dresses that I brought. I'm a size 16 in the dresses from Shein and they fit comfortably and the dresses accentuate my curves and hide my stomach. The dresses I chose aren't tight fitting for my rectangular body shape. Will purchase dresses again in the future.
Advertisement
Comfortable & stylish clothing at an affordable price! Shein is an amazing app for buying affordable clothing & accessories in all different styles & fittings. Make sure to check reviews for quality & sizing.
horrible. they lost my package and was given no refund I am extremely disappointed with my experience with Shein. I received a gift card and used it to place a $50 order with the company. Unfortunately, the carrier company lost my package by placing it on top of a fire hose in a local supermarket. I only found out about it after some time, and when I contacted carrier company service, I heard no response. I had to call them to get an email that I could use as proof of my package being lost. When I finally managed to get through to their customer service, they told me that my "package issue has exceeded our regulated handling time limit."My package is lost, the carrier company has said so themselves. However, according to their "logistics," the package was delivered. I am extremely dissatisfied with their lack of care for customers. Even though I would like to continue ordering from Shein, I am unsure if I would do so again. I believe the risk of getting your package lost and getting no help or refund makes this company's reliability a game of roulette.
Huge collection of items to shop. Finding perfect fit can be challenging I just received my first order from Shein. I am not sure what to think about it yet as I have to return the items I ordered. The prices are fairly inexpensive and the items I ordered were fairly good quality minus a little problem with short interior lining around the breasts of the white cami. I think maybe my breast size made the problem worse but now I have to return and order a larger size which is not really ideal since shipping takes a while. I love that I finally found a white blazer that looks like my black blazer (will post a picture of my black blazer for comparison). I have searched for an entire year to find a blazer in this style in white. I do like the white blazer but you can see it is a little bit tight in the sleeves and at the waist it does not hang properly. The material is comfortable and I love that style of blazer. The quality is pretty good for the price. I am hoping a size up will remedy that. I really want it to fit perfectly. I will try to do a return and see how that goes. Then I will update further.
Production Assistant in Los Angeles, CA
2023-09-29
worked Pros:free weekly lunches and benefits Cons:overtime work with minimal pay
Advertisement

Not Transparent You think you are buying an item that you can be return but it's not the case. Not only that you can't return many item (which were not disclosed) you also cannot review item that were not good. They will block the many item to review or to return especially items that already have bad reviews. Dishonest and not transparent company. Wondering if they going to remove this review as well…

Ezzie's Mom S.
2023-09-28
Long time customer, 1st time disappointed I've ordered from Shein for years - and have liked their prices and items. This time an item came broken and there's NO way to reach someone for hep. There is a system on line, but when I try to access it, I'm told the item hasn't arrived. Yet in another place it tells me it arrived days ago.
Merchant Operations in Shenzhen, Guangdong
2023-09-28
fast peace and long working hours Pros:Can learn a lot as a freshman, people willing to help Cons:OT a lot, will need to find the balance
Advertisement

Lead in items and forced labor High levels of lead were found in items purchased from shein. Workers are forced to work at shein. Another sexist company forcing labor on female workers. I no longer will buy from this company.

goldenfishaquarium g.
2023-09-27
Shein reviews Don't leave reviews on shein they make to put 5 stars. If you leave 1 star they won't let you put it. Return is very hard to do. I will not buy from them again

Never Received Items I never received my order. SHEIN uses a company called SpeedX who sent a proof of delivery photo which is NOT MY HOME. Further the photo does not show a package on the porch or an address on the building. Shein says to contact the shipping company and file a complaint with them. Took several days to get a response from SHEIN's shipper only to be told they delivered the order and "if it was lost after delivery" to contact Shein for a refund. There are currently 100s of complaints for this exact thing against SpeedX/Shein. I am urging everyone who has had this experience with SpeedX or SHEIN to file a complaint with the Attorney General's Office. I believe these scammers need to be shut down!
Advertisement
Terrible services and horrible delivery services I want my money to be refunded to me for your irresponsible delivery person who had thrown the parcel at the entrance and unreliable company. Re: SHEIN Order GSHNSU01700117M, I want my money to be refunded. It is clearly stated that the delivery guy had just thrown the parcel on the staircase, on the ground floor. And now my parcel had gone missing by the time I get home and no neighbours is agreeing they have it.
Afiliados Shein
2023-09-27
Más beneficios para los mayoristas Lo q más me gusta del trabajo es mirar las novedades y enseñárselas a los clientes y buscar promoción para mí y poderles dar buen presupuesto Pros Dar más trabajos en casa Cons Más descuentos
Don't Trust This Company If cheap prices is all you care about you might do ok with SHEIN but you stand a 50/50 change of actually receiving your package. They use a company that will leave your package in the lobby of your multi-dwelling apartment building and say, "delivery was a success". SHEIN will not accept any responsibility. Buyers Beware!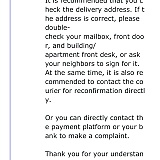 Horrible customer service I've shopped with them several times and had to return multiple items that came in broken. It's been 2 months since I returned an item and I still didn't get a refund. I let them know and they still won't refund. They told me to contact usps, even though they NEVER find lost packages. They were all picked up the same day, all the rest of my Items were refunded, just not the one phone case and instead of refunding since it's been 2 months, they expect me to just not get a refund and deal with it. Too many items come In damaged for Me to shop with them again, especially when they refuse to refund for an item I returned. Not shopping with them ever again.
Advertisement
Decent Most clothes I need to size up, which is fine so I have no issues there, most are pretty comfy and are flattering. I love that they have improved their shipping it's so much better and faster! Overall not bad when it comes to the quality either
Marketing in Los Angeles, CA
2023-09-26
There is potential Pros:Good hours. Everyone is nice. Cons:Not enough room in office. Advice to Management:Please let people work from home. Not everyone is needed in the office especially when there isn't enough space for everyone. Very unprofessional that the lunch tables are used as desks.

Worst site ever I ordered 3 bathing suits on August 14th. It took awhile. I was ok with that. I'm home all day and when I received the email that my parcel was delivered, I checked, right away. There was nothing there. I checked with neighbours. Nothing. Their delivery company verified delivery. Now they are telling me that they will give me a 50% refund. The only problem is that the email won't go through. They are waiting for my answer on the partial refund and it seems as though they've blocked me. Never again!